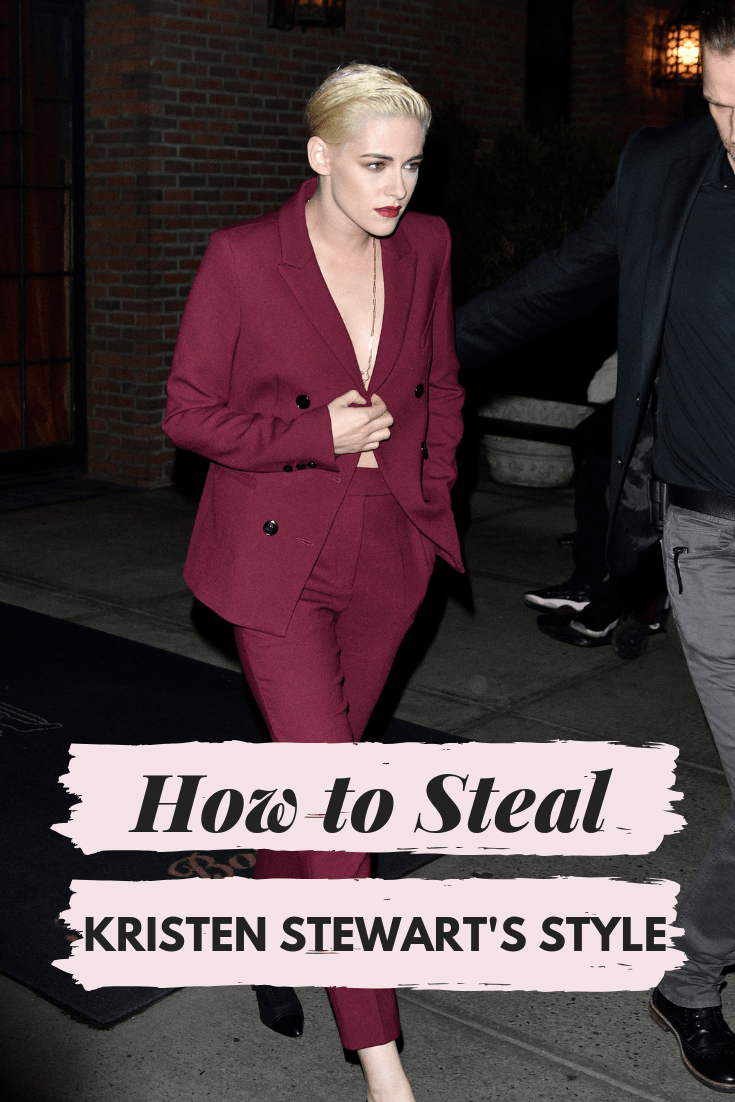 A while back, we listed our favorite celebrity fashion icons, and over the next few months, we'll be breaking down each celebrity's style in depth and showing you how to get her style for yourself. Today, we're showing you how to get Kristen Stewart's style.
Most of us probably recognize her from the massively popular Twilight films, but since the series wrapped, Kristen Stewart has come into her own in the fashion world. Her edgy, cool, and androgynous style makes her an inspiration for us all.
Read on to learn more about Kristen Stewart's life and personal style, and to see some outfits inspired by her look.
Related reading: I Copied Kristen Stewart's Outfits & Here's What Happened
Early Career
Kristen Stewart was born in Los Angeles on April 9th, 1990. Kristen is an actress, model, and a director. Her most well-known work came from her role as Bella in the hit saga Twilight. She took over the Hollywood scene in 2008 when young fans chose sides between werewolves and vampires.
Twilight became an instant hit in Hollywood, mostly because every girl was beyond jealous that two incredibly attractive and supernatural men fought for her love. Twilight competed with another huge blockbuster, Harry Potter, and won multiple awards over it.
Kristen has received many accolades, most notable is becoming the first female American actress to win the César Award, a major achievement.
Vampire Trouble?
Kristen has been through her fair share of controversy, like most women in Hollywood. One of the most interesting was a relationship with co-star Robert Pattinson, in which the two were paid to act as if they were in love. Kristen briefly said of the fake relationship:
"When I was dating Rob, the public was the enemy—and that is no way to live."
Both have come forward and said that the relationship was staged, and both parties received financial compensation. It is believed they were paid to be in a relationship in order to help achieve higher box office numbers for the Twilight Series' final installations.
How to Dress Like Kristen Stewart
The ex-vampire has been keeping a fairly low-profile in recent years (aside from being the face of Chanel), but when the star does resurface, she showcases her cool, androgynous style and makes us envious of her style chops.
Her aesthetic is fantastic inspiration for those who love the idea of mixing items like Chanel couture and Vans high-tops, as you'll see in the looks below.
The Blues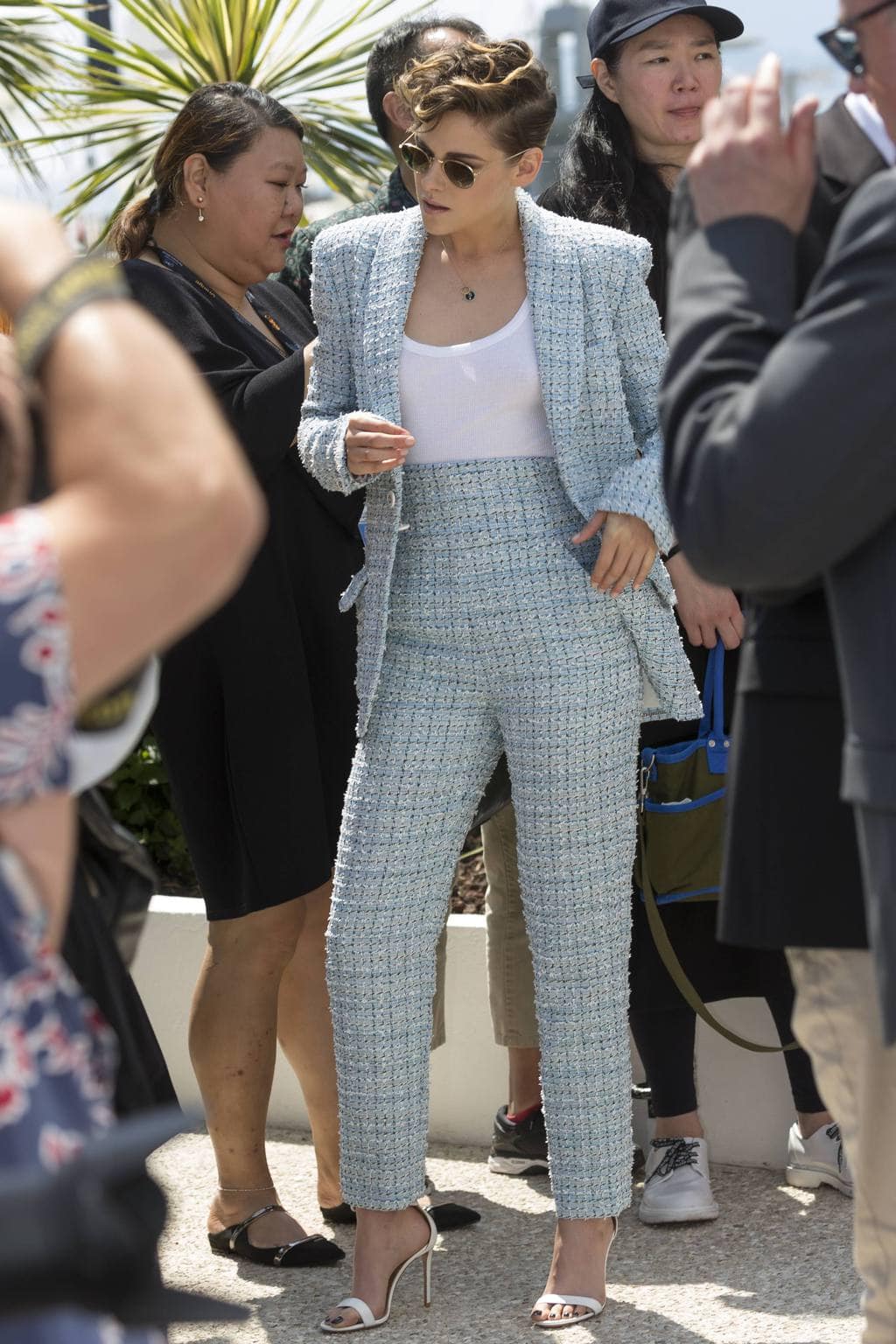 Kristen creates this incredible look with a suit set featuring a unique color and fabric. Her hair is textured and curled on the top, and the subtle shades cast a mysterious look. Another thing I noticed is that Kristen's changed up her jewelry – usually the star is wearing thick chains, but here she is wearing a tiny gem necklace.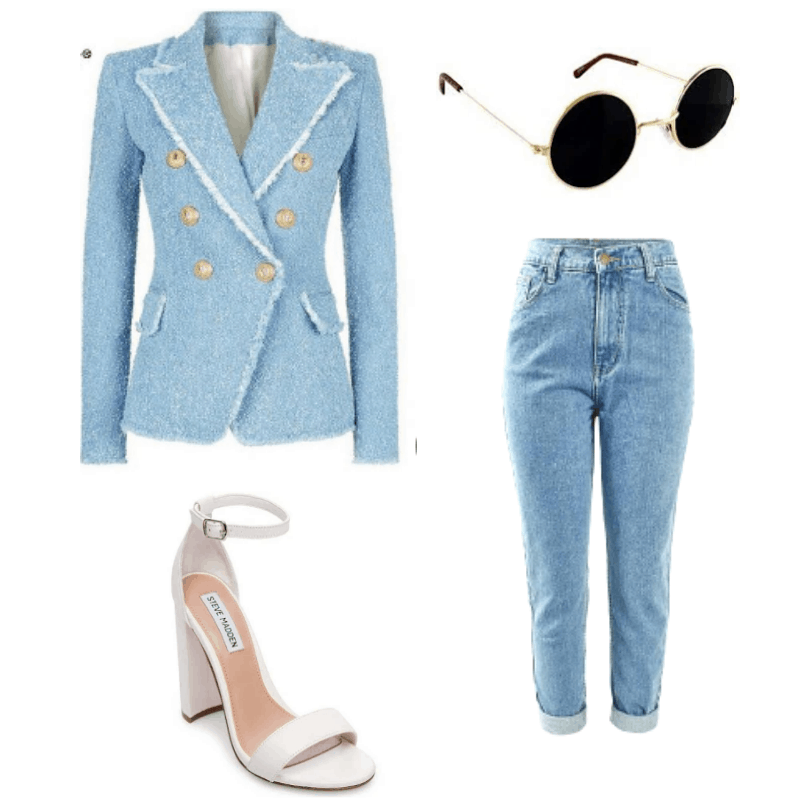 Products: Shoes- (Steve Madden), Jeans- (Grace Queens), Blazer- (Grace Queens), Sunglasses- (Spirit Halloween)
Now, when it comes to recreating this look, I took the creative liberty of making this outfit more "everyday" by switching the tweed trousers with jeans. Since it now skews more casual, this outfit could be worn almost anywhere- class, a meeting, brunch, you name it!
I also love the light color palette, so it's important to find a good white/cream undershirt to match the heels. The heels could also be substituted for Converse or Keds to make it even more casual. It's all up to you and your own individual style.
Tourist Summer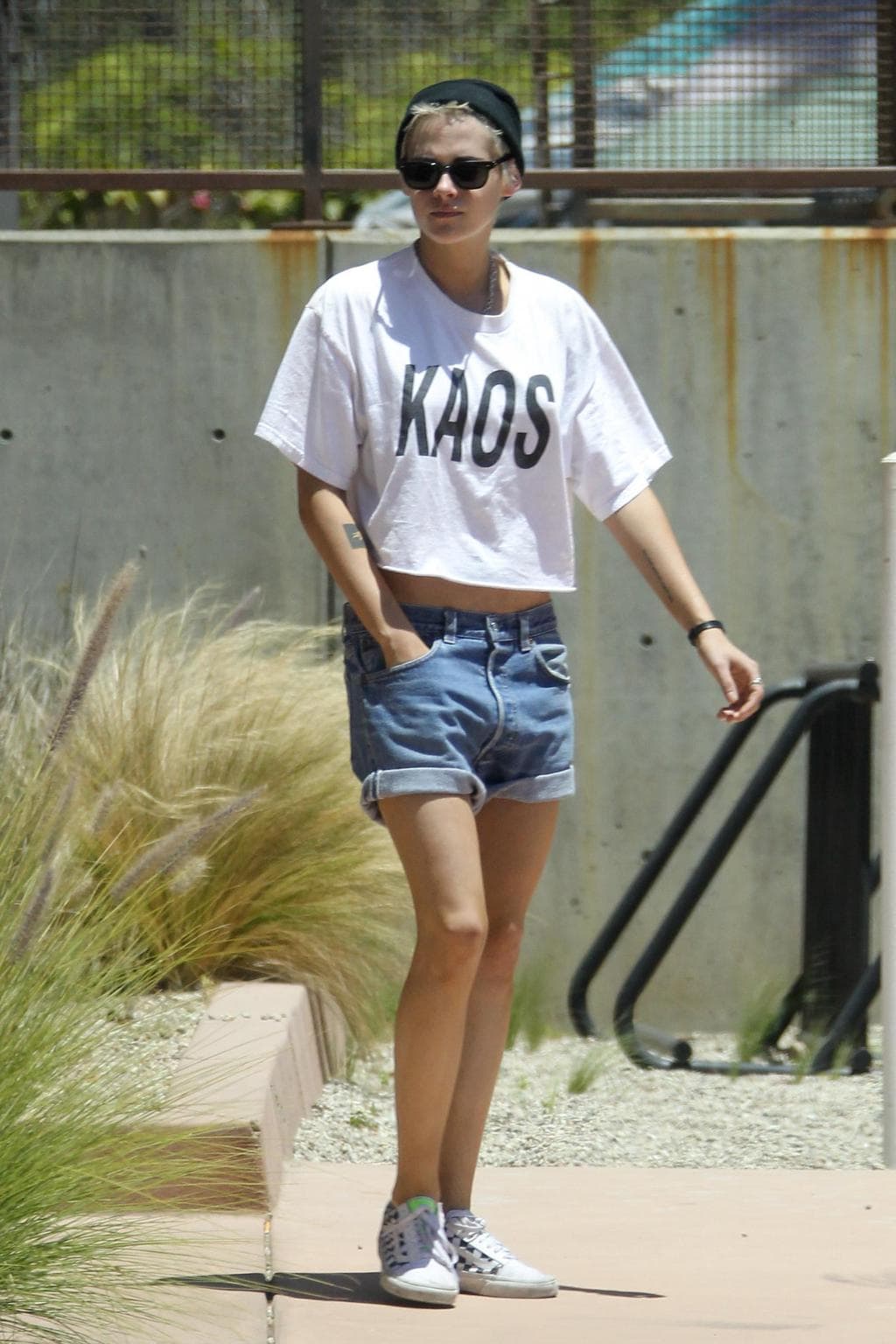 Kristen fits right in with the crowd in this average yet stylish look. Even though it's the middle of summer in this pic, Kristen wears a black beanie to cover newly bleached blonde hair, as well as an oversized white graphic tee. The fit on the top is very unique, and will require lots of searching to come across, but is doable for sure to recreate this look.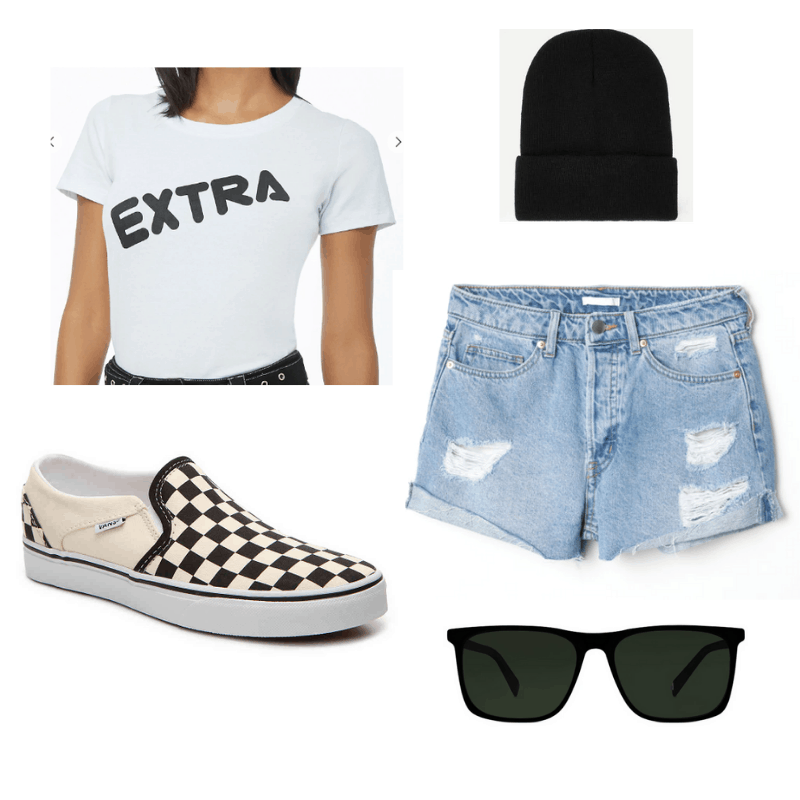 Products: Shoes- (DSW), Sunglasses- (Warby Parker), Shorts- (H&M), T-shirt- (Forever 21), Hat- (Shein)
Get these tourist vibes with your favorite pair of laid-back jean shorts and a uniquely plain t-shirt. Add the summer essentials: old white tennis shoes (perfect for walking along the beach) and dark sunglasses. In regards to the hat situation, instead of a beanie, maybe try a ball cap or a floppy and wide-brimmed hat to protect your skin from the sun.
Pretty Printed Pants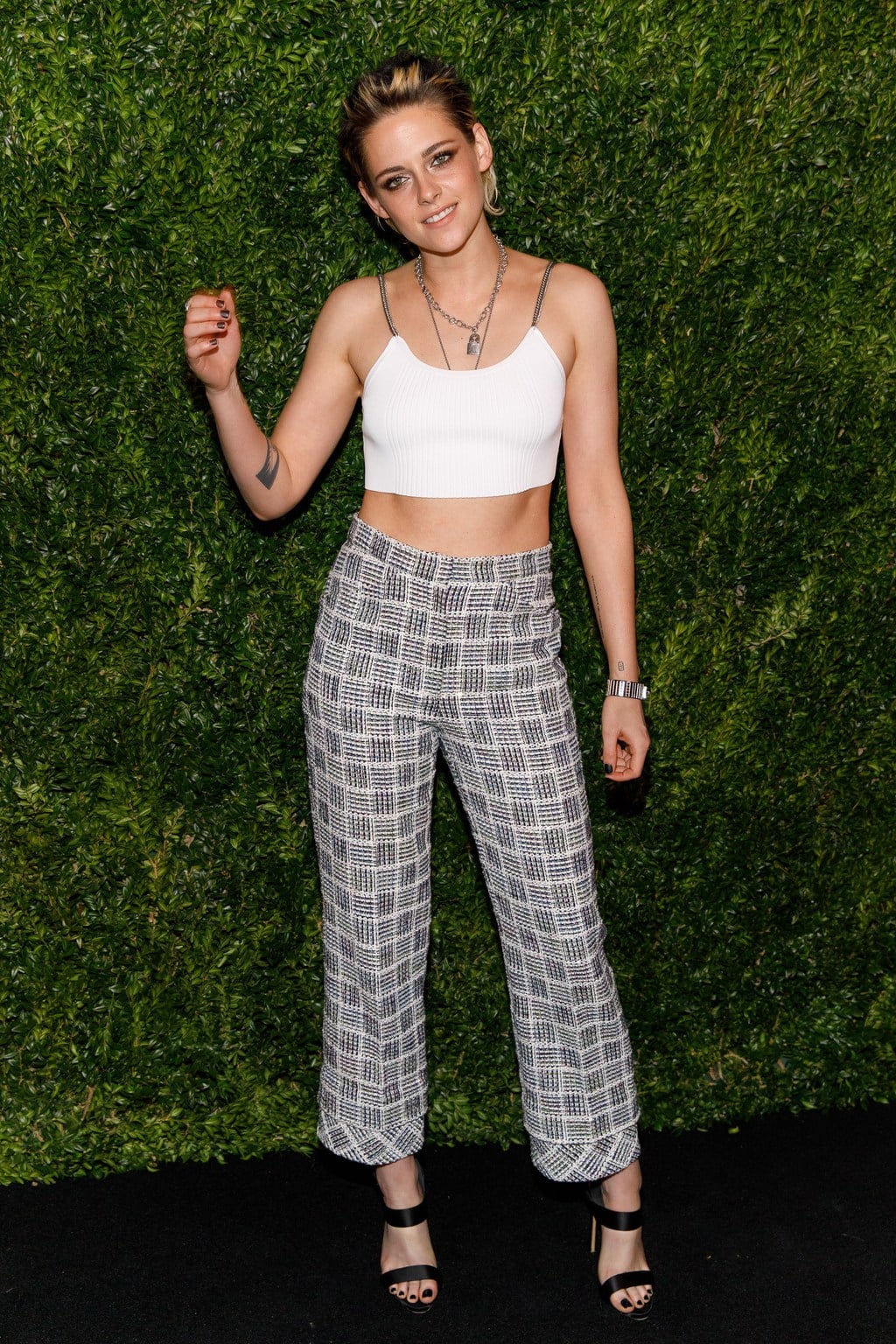 Kristen gives major '90s vibes in this chic outfit. Her short, slicked back yet voluminous hair, intense smoky eye, and glowing skin all give her a classy punk-rock energy. I also think the pairing of chunky silver jewelry is important to achieve this vibe.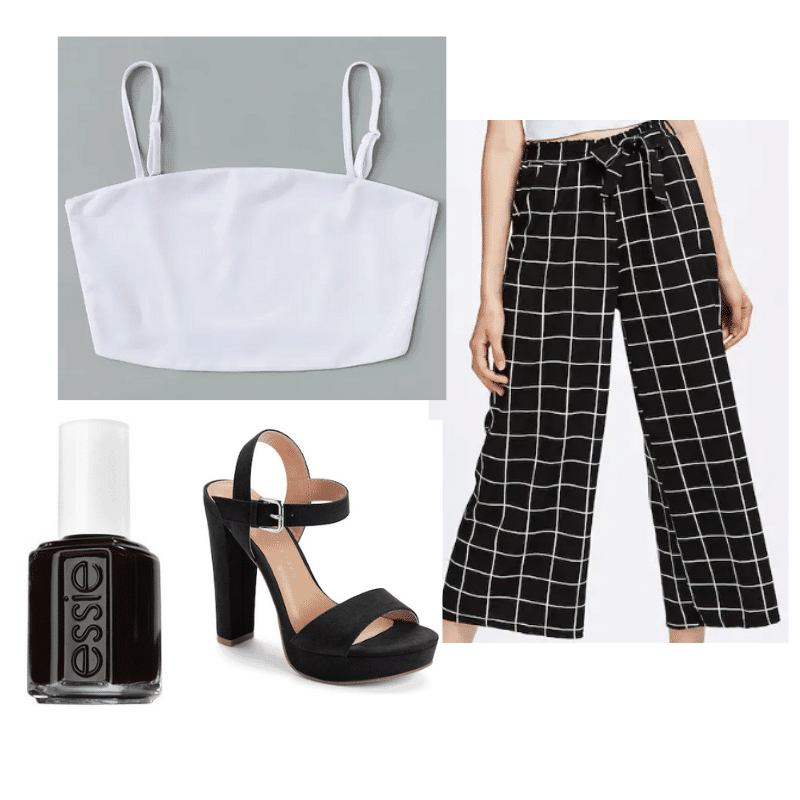 Products: Nails- (Essie), Shoes- (Lauren Conrad), Pants- (Shein), Top- (Shein)
To get this look, the pants are essential. Any printed pants will work, as long as you generally stick to the black-and-white color scheme. Next, the white crop top is important; make sure it's form fitting and comfortable, because the eye will naturally travel from up from the pants to the top.
Lastly, I love that Kristen gravitates toward the color black- check out that pedicure! A necessary detail for this look.
Socks and Sandals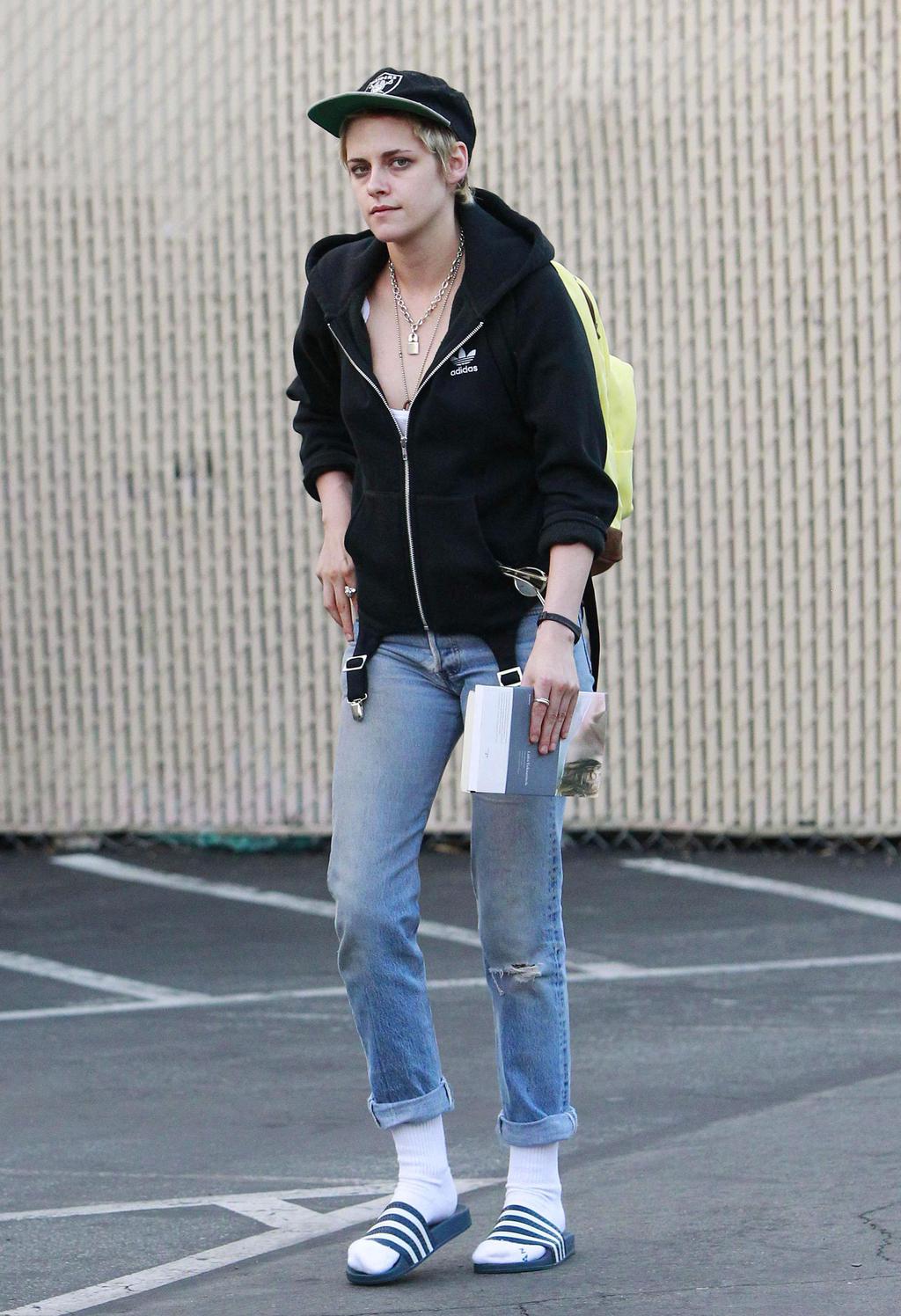 A very casual and everyday look compared to her red carpet outfits, Kristen stares into the camera while wearing a simple hoodie and jean combo, not to mention the classic socks and sandal look.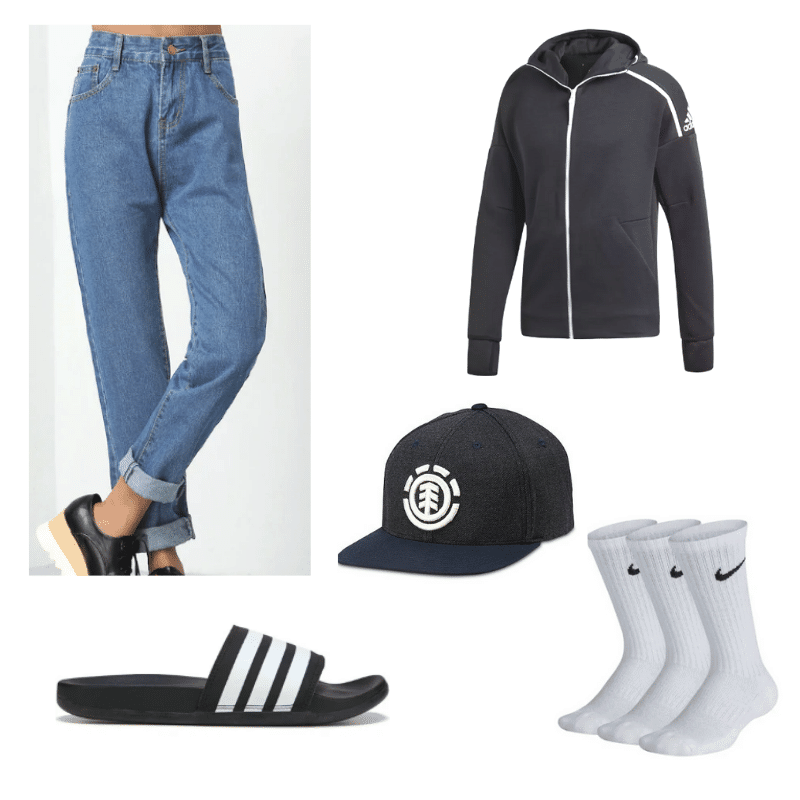 Products: Shoes- (Adidas), Hat- (Element), Socks- (Foot Locker), Hoodie- (Adidas), Jeans- (Shein)
To get this look, just take your favorite everyday jeans, a black hoodie, a flat bill hat, a clean pair of white socks, and the silly slides you've been dying to wear. In addition, Kristen also has a neon yellow backpack and a chain necklace that we've seen before, but feel free to accessorize to your own desire.
What do you think?
Are you a Twilight fan? What do you think of Kristen Stewart's new style? Comment your favorite look below!