I would call my obsession with childrens' TV offerings a "guilty pleasure", but I can't… because I feel no guilt about it.
Listen guys, some shows that are originally meant for kids are just plain great. The fact that so many adults still retain an obsession with shows like Spongebob, Recess, and Pokemon is proof that these shows transcend age boundaries. In fact, most of these shows contain instances of humor that only adults can appreciate!
Nostalgic TV shows are always awesome, but I've recently become attached to several more modern shows that are just as wonderful as those I loved as a child.
The following three shows are just as engaging and well-written as shows made specifically for adults, with the added benefit of having likable characters, brilliant humor, and impressive animation. Read on and get ready for some binge-watching!
Gravity Falls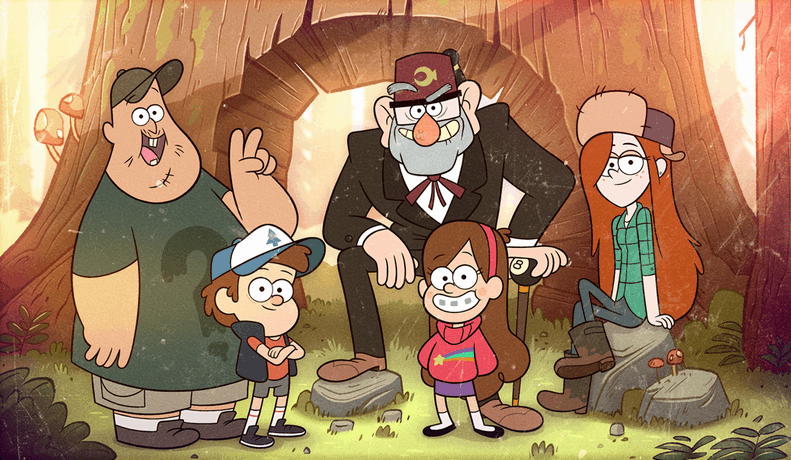 Gravity Falls aired on Disney Channel from 2012-2016, and is centered around twins Dipper and Mabel Pines and their adventures while spending the summer with their great-uncle (Grunkle) Stan in the fictional town of Gravity Falls.
The fantastical elements of the show and the overarching mystery will keep you guessing, but it's really the characters that draw you in. Dipper and Mabel's brother-sister relationship is adorable; Wendy Corduroy (that girl in the hat up there) is everything I wanted Book Ginny Weasley to be that Movie Ginny Weasley never delivered; the side characters are quirky and lovable, and even the villains are well-developed and terrifying.
If that isn't enough, the show is laugh-out-loud hilarious. I would put it up there next to Bob's Burgers.
The show only lasted two seasons because its creator wanted to end the show with a "real conclusion" for his characters (I was sad at the time, but the finale is worth it), so it can easily be binge-watched in no time on Hulu!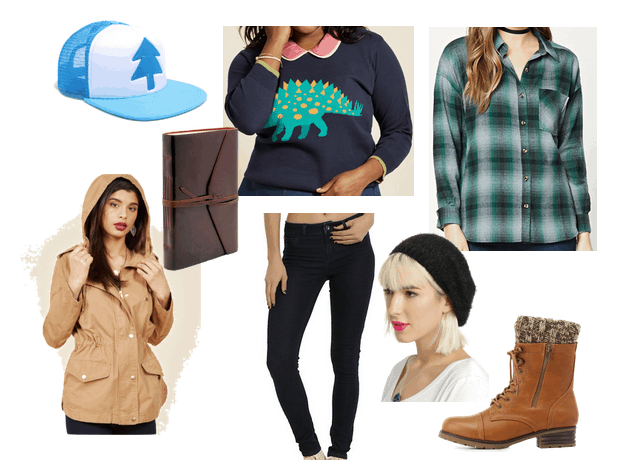 Products: Hat – BoxLunch Gifts, Journal – Barnes and Noble, Jacket – ModCloth, Sweater – ModCloth, Jeans – Hot Topic, Plaid Shirt – Forever 21, Beanie – Hot Topic, Boots – Charlotte Russe
Much of this show takes place in the woods, so it's the perfect inspiration for cute, camp-worthy pieces, like a cozy taupe jacket, jeans, soft grey beanie, and cognac hiking boots.
The rest of these pieces are directly inspired by the characters in the show and their iconic clothing items: Dipper is never without his blue pine tree hat or mysterious journal, which he uses to unlock the secrets of Gravity Falls. Mabel, who has an epic collection of quirky sweaters, would love this dinosaur-embellished one, and this green plaid shirt is a near-exact replica of Wendy's!
Miraculous Ladybug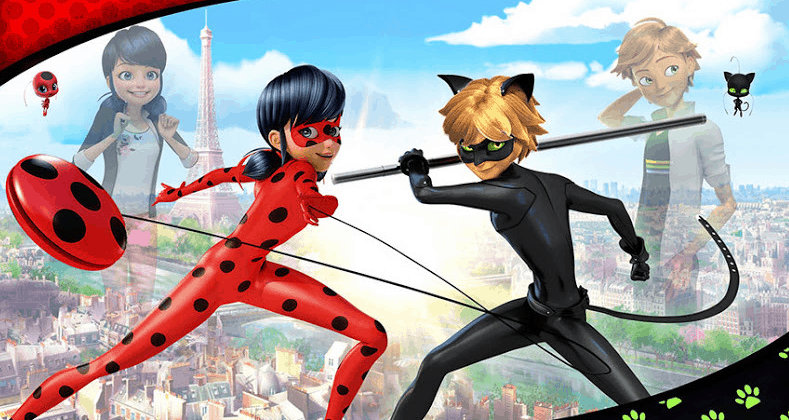 My precious small superhero children, I love you so. This show is ADORABLE.
Miraculous Ladybug centers around super-powered crime-fighting teenage duo Marinette and Adrien (who go by the superhero names of Ladybug and Chat Noir, respectively). They protect the city of Paris from a supervillain named Hawk Moth, who has the power to use other citizens' rage or sadness to control them and turn them into puppet supervillains.
The superhero element is fun enough, but the real reason people love this show is because of the relationship between Ladybug, Chat Noir, and their alter egos. Chat Noir is desperately in love with Ladybug, who doesn't return his affections. Marinette is in love with Adrien, the most popular boy in school who rarely notices that she exists. AND NEITHER OF THEM REALIZE THAT CHAT NOIR/ADRIEN AND MARINETTE/LADYBUG ARE THE SAME PERSON.
Needless to say, I spent the whole season yelling at the TV for them to just BE TOGETHER ALREADY. It's precious and pure and you'll love it.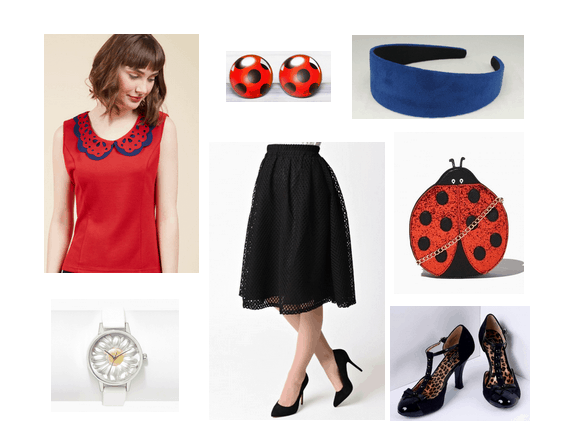 Products: Shirt – ModCloth, Watch – Charming Charlie, Earrings – Etsy, Skirt – Unique Vintage, Headband – Etsy, Purse – Charming Charlie, Shoes – Unique Vintage
When Marinette puts on her Ladybug mask, she instantly becomes more confident and strong, so this outfit is inspired by her super-powered alter-ego!
Pair this lacy-collared red top (reminds me of wings!) with a black skirt and black heels (as long as they don't hurt your feet, is anything more confidence-boosting than a good pair of heels?).
Accessorize with a ladybug purse, a sweet daisy watch, and the ladybug earrings that give Marinette her unique power. Finally, keep your hair in place with a blue velvet headband that references Marinette's hair color.
Over the Garden Wall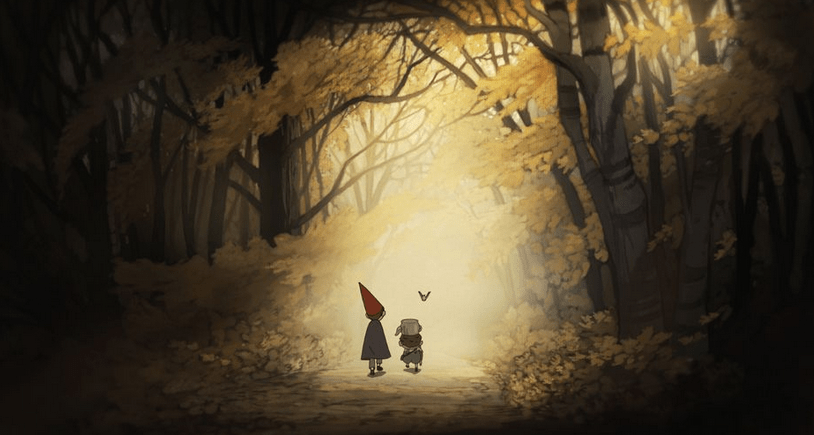 This fantastical mini-series is surprisingly dark and creepy for an animated show, and I love it.
Over the Garden Wall centers around Wirt and Greg, two half-brothers who become lost in a mysterious forest filled with incredible (and often scary) creatures. They befriend a cursed talking bluebird named Beatrice and attempt to find their way back home. It's like a very dark animated fairytale!
I watched the whole thing in like two days and completely freaked out when I watched the finale — it was that surprising and captivating. It originally aired on Cartoon Network but the entire miniseries is now available on Hulu!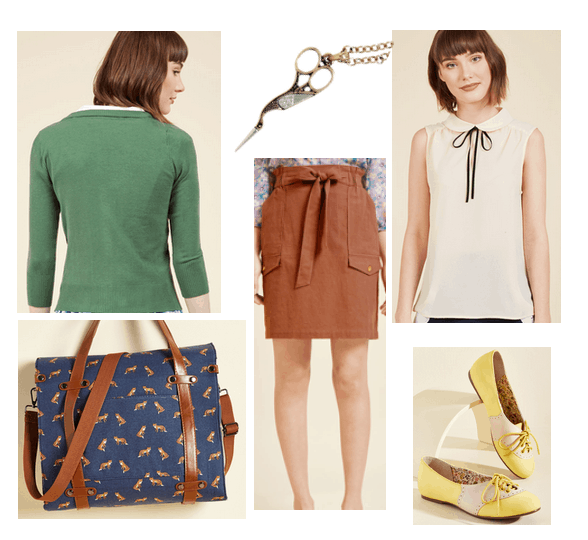 Products: Sweater – ModCloth, Bag – ModCloth, Skirt – ModCloth, Shirt – ModCloth, Shoes – ModCloth
This outfit is inspired by the color aesthetic of the show, which utilizes a muted autumnal palette. I love how this forest green cardigan looks paired with a cognac skirt and a white bow-tied blouse (it also is reminiscent of Greg's outfit!).
Pair these pieces with some sunshine-yellow Oxford flats, then add a fox-printed messenger bag for another touch of forest flair. Finally, accessorize with this subtle allusion to the show: a necklace in the shape of a pair of scissors that ends up playing an important role in the plot.
What do you think?
Will you be watching any of these shows? Do you have a kids' show that you love to watch? Let me know in the comments!