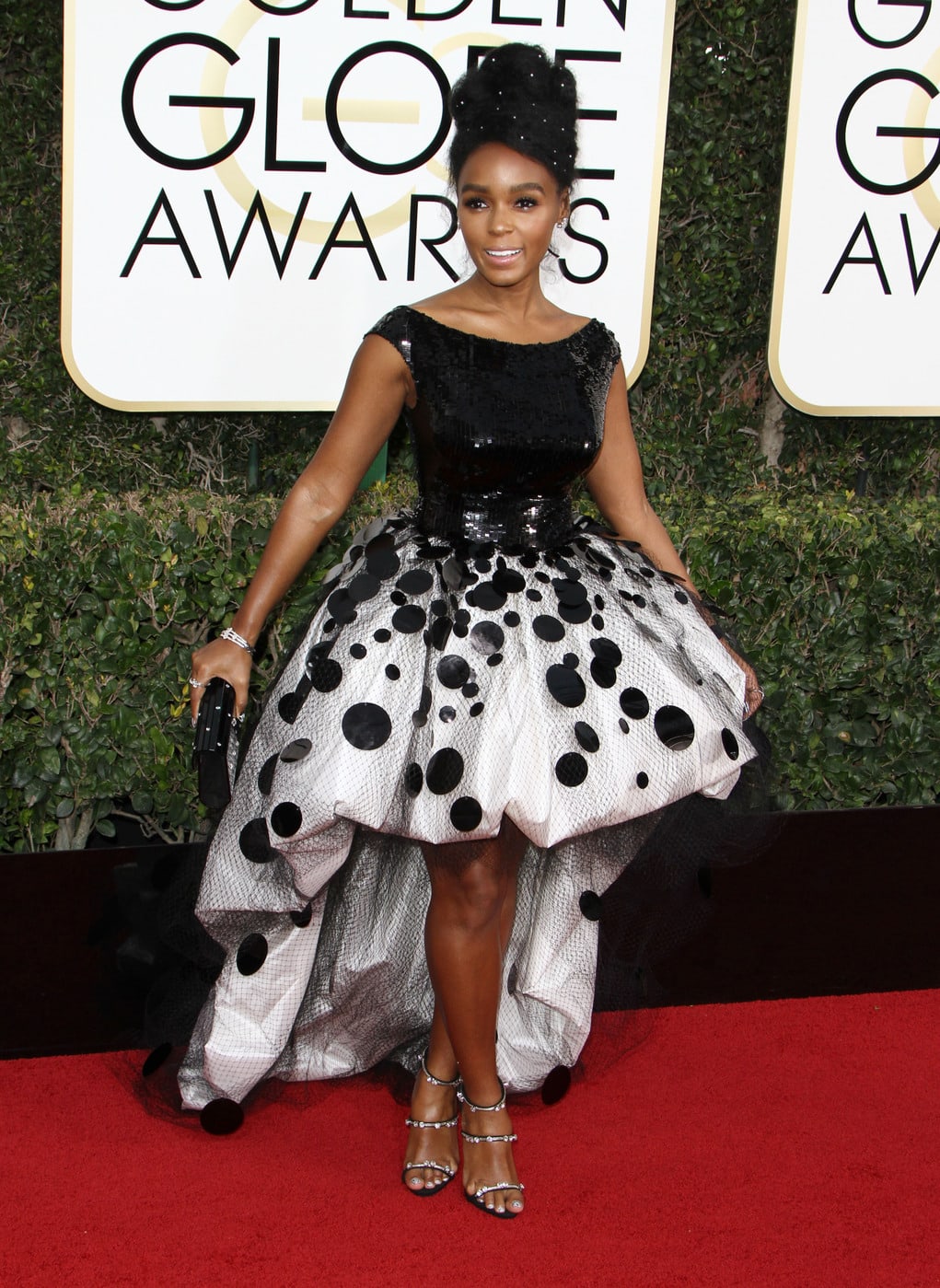 Ah, Janelle. What a lady. She has style, she has flair, she was there (bonus points to whoever got that reference!). As you guys know, I always bring you guys a new fashion queen to take inspiration from. This week, I bring you Janelle Monae, who I just started following on Instagram — and am kicking myself for not following sooner.
If her name is not ringing a bell just yet, here is a brief introduction to her:
She played famous NASA engineer Mary Jackson in the highly acclaimed film Hidden Figures in 2016.
She has three albums and is a well known singer – also, it is useful to add that she was an established singer before crossing over to Hollywood to add film to her resume.
She is an activist – she spoke at the Women's March on Washington last year! She showed her support for Planned Parenthood, feminine reproductive rights, and denounced sexual assault and other crimes against women.
Now if you found that incredibly intriguing and feel like you must see more of her or just feel tempted to stalk her a bit, here is her instagram.
Now, let us talk about Janelle Monae's style, beauty, hair, everything — and how you can copy it for yourself!
Janelle Monae Style: Clothing
Let's start with Janelle's clothing:
I figured here it would be fun to switch up how I offered you guys inspiration. Instead of focusing on Janelle's most casual outfits (TBH, I don't think she really does casual) I decided to begin with a red carpet look.
I remember hearing Janelle say once at an awards show that she plays a big part in what she wears, so I trust the look above is true to her, and not simply prescribed by a stylist.
Something I have known about Janelle since first hearing her music and looking her up in 2010 (this song was my jam in eighth grade, guys) is that she is really into wearing white and black outfits. If there's one thing to know about Janelle, it's this.
Of course, the above look might not be day-to-day wearable for most of us, but it's great inspiration.
To copy its vibe, buy white and black basics that won't go out of style: white t-shirts, long sleeves, an oxford button up in white or pinstripe (Janelle LIVES for prints), and pair with black/white/grey bottoms in exaggerated cuts.
So for example, Janelle will wear super flared black trouser style pants with a ruffly white Victoriana blouse, and maybe a red lip. BAM.
How can you use this and translate it to your style for class? Black skinny jeans or mom jeans to be extra casual; slip on sneakers or flats – hopefully oxfords to get the closest look to hers – and a strong sharp makeup look! BAM for you too.
See how easy that was? Okay, next look.
Now this may be the closest we will ever get to seeing Janelle in a casual look. I get the feeling that she might go to Barnes and Noble like this, and I love that.
It is so great to see how confident and unbothered she is in her looks; if there is one thing I want you guys to learn from this post, it is that your style needs to make you feel like a badass. Please remember that.
Here, Janelle pairs a striped tee (hello, prints!) with a classic moto jacket and what appears to be some sort of ponte or neoprene trouser.
For our sake as college girls though, I totally say go with opaque leggings, or a faux leather legging. Striped tops are easy to find, and this look can be paired with some single strap heels for a night out with your squad or a date, or sneakers for class. The hat can be switched out for a baseball cap or a floppy one — your choice!
Remember: If the items are not your faves but you still crave Janelle's look, just wear head to toe white and black! Red shoes or a red beret would work great for that red pop of color amidst a sea of monochrome.
Now, here's a capsule wardrobe example to copy Janelle Monae's style: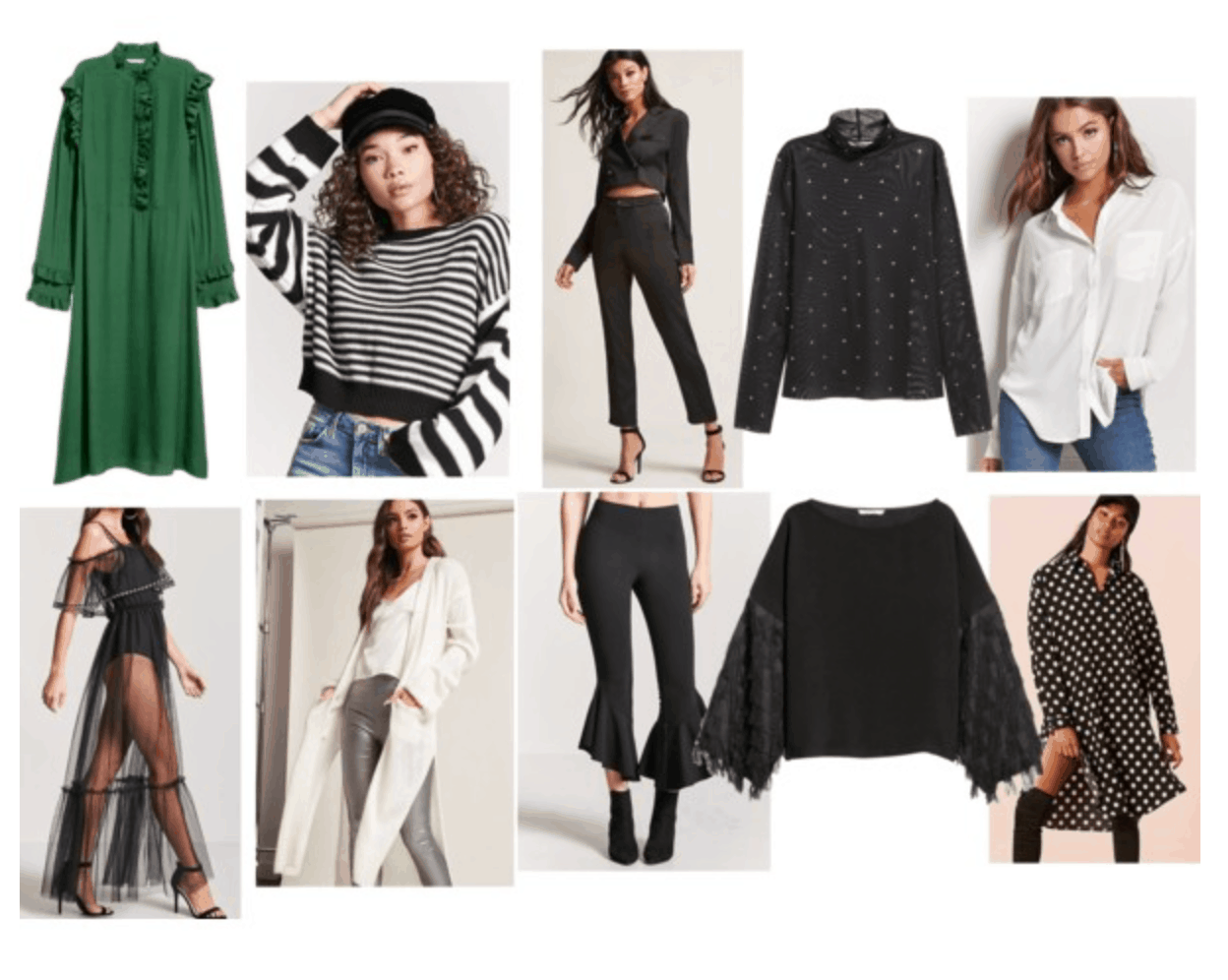 Product Details: Green Dress – H&M, Mesh Maxi – F21, Striped Sweater – F21, White Cardigan – F21, Tuxedo Set – F21, Ruffle Hem Trousers – F21, Wide Furry Top – H&M, Mesh Turtleneck – H&M, White Oxford – F21, Polka Dot Shirt Dress – F21.
I went as authentic as possible with these looks to really create an affordable version of Janelle's style. I also made this wardrobe appropriate for fall weather.
Now, if you live somewhere that is already quite cold like Canada or the UK, or anywhere further north, I suggest layering thin turtlenecks under your dresses, or wearing thermal longsleeves in white or black to keep the theme going. Also tights – tights are your friend, with socks on top of that too.
These items can be worn together, layered, or worn individually. The mesh details are to pay homage to Janelle's love for unexpected texture within her color palette. Because she deals with only two colors, it makes it much easier for her to go crazy style wise and really push fashion boundaries.
I also observed prints so many times that it would have been a crime to not offer some options. Stripes are a simple way to ease into the prints, although I suggest polka dots too, or stars, which made an appearance on runways this year. I suspect that they will trickle down into retail and remain a bit longer.
Janelle Monae Style: Accessories and Shoes
Next stop, Accessories and Shoes!
For this section, I had to use three pictures, as it was difficult to find photos without Janelle's feet cut off. So here is a close up of her hands!
When she appears on red carpets, Janelle sports a load of jewelry that can be stacked. Rarely mixing metals, she will balance her look: if she were to wear a choker, she would wear stud earrings. A long but thin necklace or body chain would leave her wearing larger earrings.
Janelle is a fashion pro when it comes to extras: She is aware of her intense prints sitting next to her jewels, so she lets the prints speak for her instead of just aimlessly covering herself in prints and sparkles.
I had to share this photo. For all my natural haired girls out there and other fellow curly headed friends, join me in staring at this genius way of using your hair as yet another potential canvas to decorate.
I cannot suggest that we all buy Chanel pins as those cost roughly the same as our tuitions, but any sparkly barrettes should work, especially as the holidays approach!
This last shot helps provide an idea of the shoes Janelle reaches for when not necessarily shooting or doing press stuff.
Janelle's shoes are Stella McCartney, and they are a good representation of her style: modern, bold, neutral color palette, yet well tailored and adding structure to her look. A sneaker can replace this, as could a sporty sandal if it is still hot where you are, or some other flatform or a trendy platform sneaker. Just keep the look white and black and you should be good to go!
Here is where I would start looking for a shoes and accessories capsule: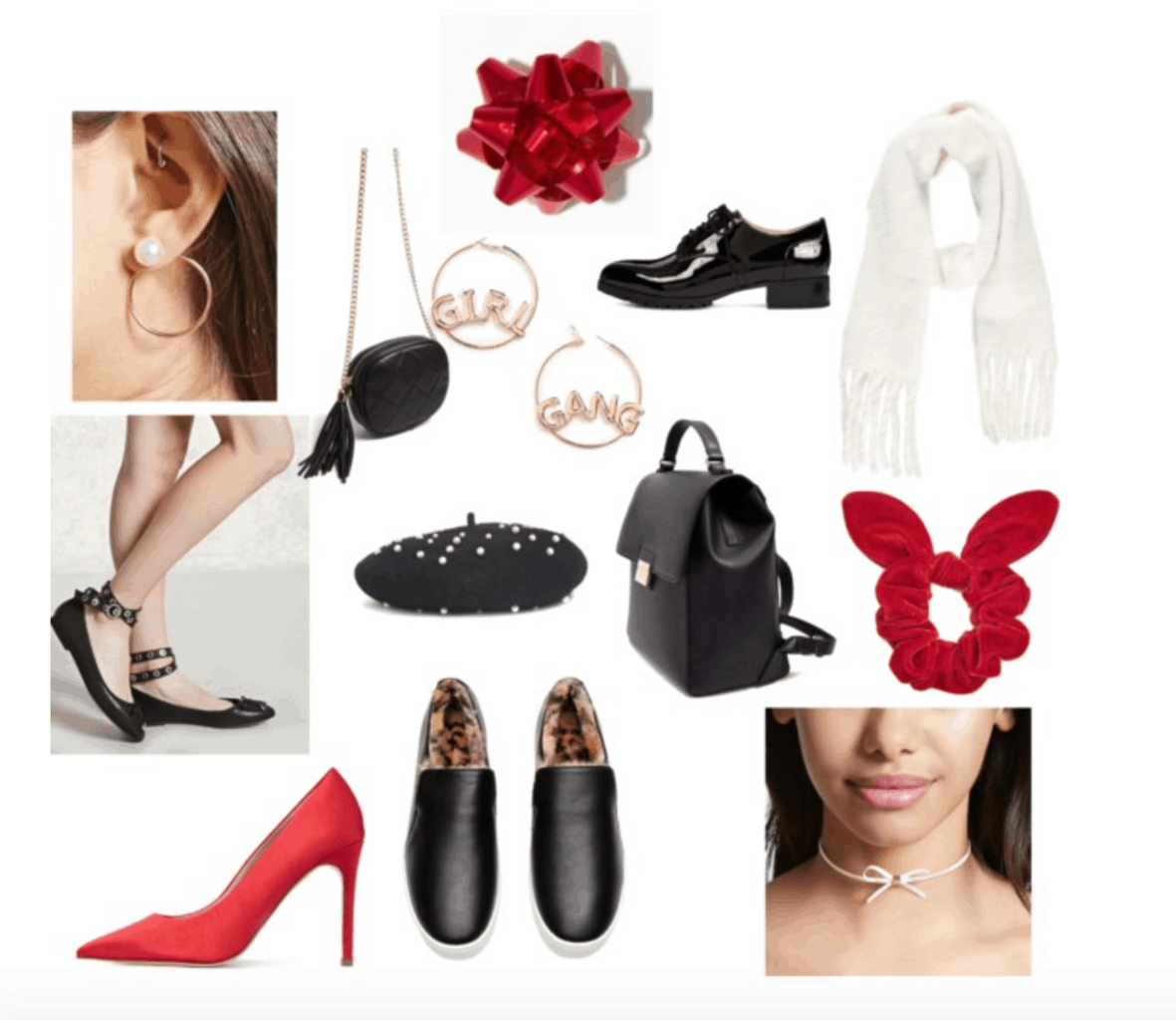 Product Details: Pearl Ear Jackets – F21, Studded Ballet Flats – F21, Red pumps – H&M, Furry Slip Ons – H&M, Pearled Beret – F21, Chain Link Bag – F21, Girl Gang Hoops – F21, Wrapped Up in a Bow Hair Clip – Charming Charlie, Oxfords – Nine West, Backpack – F21, White Scarf – F21, Red Ponytail Tie – F21, Leather Choker – F21.
The accessories and shoes here were chosen with function in mind. I think it is reasonable to assume that many College Fashion readers are girls on the go, and that a good amount of you guys wear heels for networking or professional events.
I have this vision where I walk into one of these events with a head to toe black look, and then kill it with this pair of red pumps. BAM. (I've decided to keep saying that for this article because Janelle makes a statement every time she walks outside, and so should you.)
Sneakers, flats, oxfords are all classic shoes that we are no strangers to, but details like fur lining, and patent finishes, and grommets and punk straps make for a much larger impact stylewise.
A red bow on the ponytail holder and one on a choker are direct references to Janelle's love for bow ties and her tuxes. Remember that she also likes to remind people of her intersectional feminist agenda *standing ovation*, so wear your slogans like a proud female!
And if you have a bad hair day, remember any hat goes here – just remember the white and black dress code.
Janelle Monae Style: Beauty and Hair Routine
Last but not least, Janelle's Beauty and Hair!
This is the chic-est faux-hawk I have yet to see, ever. Janelle reminds me a bit of Zendaya here, as the two of them are hair chameleons and somehow manage to pull off every hairstyle under the sun.
There is no typical hair 'look' for Janelle right now, although I have seen her wear space buns, a regular ballerina bun, long braids, a beehive, and even a bob – and that is just a taste of what she has done with her hair.
So get yourself some good hairspray and bobby pins friends, and brush up on your braiding skills or make some youtube hair tutorial playlists. If you are anything like me and skimp on makeup, doing something cool with your hair makes you feel just as put together!
The red lip is classic Janelle Monae just like it is for Gwen Stefani and Christina Aguilera. It is loud, draws attention to your mouth (which an outspoken activist like Janelle might use to her advantage), and for us college girls, it helps us wear less makeup while hiding the little effort we put into the look.
Janelle wears a red lip, or a sixties nude lip. Either way, she wears mascara and a minimal eye look, with little blush or bronzer. It is really all about the lips here.
A snapshot of Janelle's beauty and hair drawer might include the following: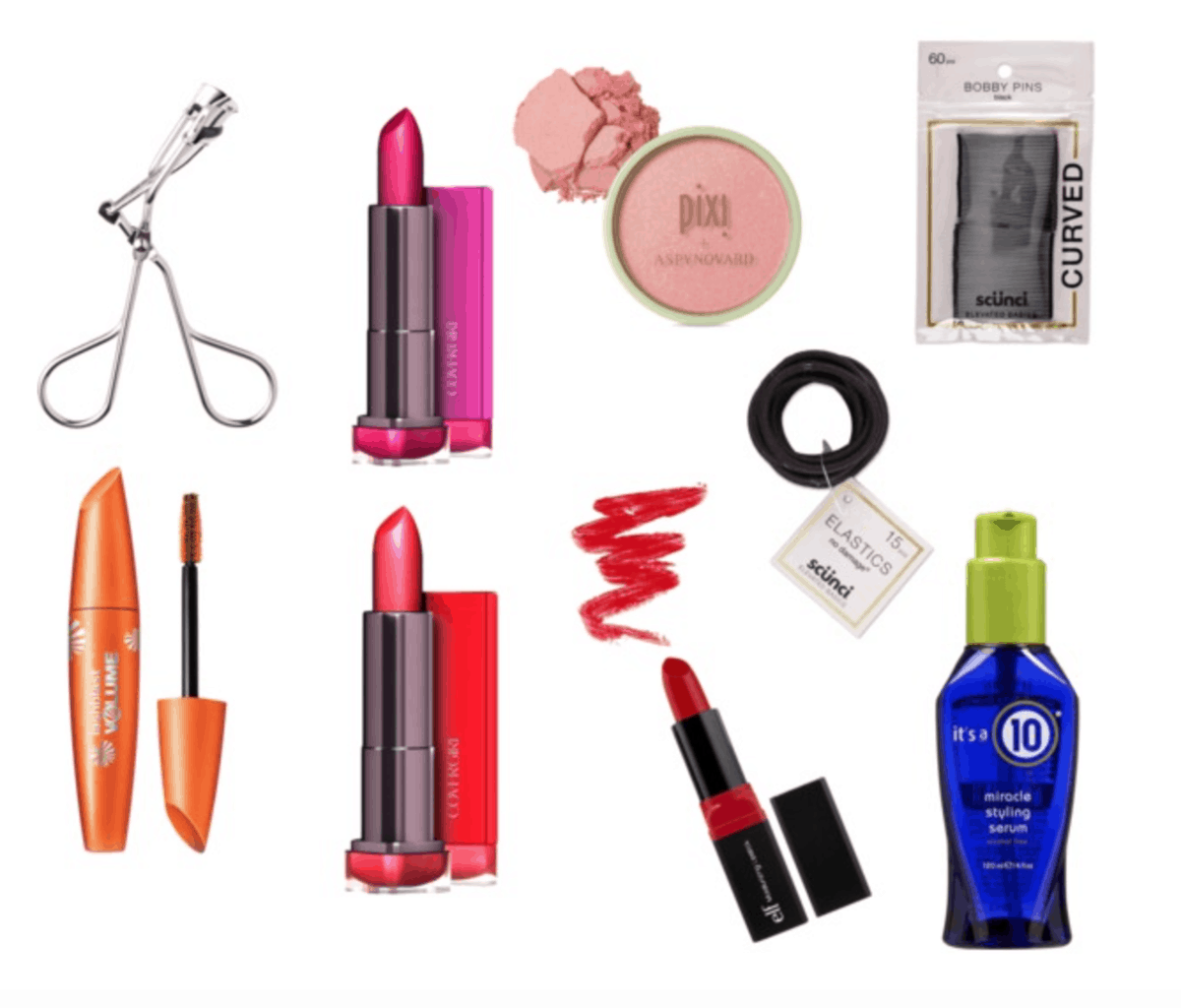 Product Details: Eyelash Curler – e.l.f. Cosmetics, Pink Lipstick – CoverGirl, Blush – Pixi, Bobby Pins – Target, Mascara – CoverGirl, Red Lipstick 1 – CoverGirl, Red Lipstick 2 – e.l.f. Cosmetics, Elastics – Target, Hair Serum – It's A 10
For beauty, I focused on lips and eyes, since Janelle seems to let her outfits speak louder than her makeup. Granted, she has great skin and facial features, so she does not need to adjust because her loud clothing never overshadows her.
As Janelle was a Covergirl spokesmodel for a while (and hello, it's affordable), I chose some Covergirl mascara to get your lashes matching your black and white ensembles, plus an e.l.f. curler that obviously goes with the mascara.
I also threw in some strong lip colors. If you are dead set on emulating Janelle, you need a red lip. Alternatively, you could do a strong lip in a different shade, like a corally red option, or a cute pink!
I also added a highlighter here because her skin is really glowy, and if midterms have got you down, swipe some of this cruelty free goodness onto your cheekbones and BAM! – You're a queen in black and white.
Pins and hair ties are good if you want to create any of your hairstyles, and serum will provide smoothness in case the bobby pins don't hold everything down.
Janelle Monae's Style 101:
Okay, let's recap!!!
Wearing black and white is a must. Let your favorite bright color (for Janelle, it's red) be your pop of flavor in every look.
Textures are your friend for these looks. Think mesh, faux fur, wool, etc.
Layer up! It will provide more chances to achieve that BAM look you're going for, and will keep my northern friends warm.
Lips should rank higher than the rest of your face in terms of makeup priorities.
In terms of hairstyles, feel free to switch it up, since Janelle really changes her hair like a mood ring.
And there you have it! A look that shouts BAM when you step out of your dorm/apartment/house onto campus and that will keep everyone wondering if you are a jazz or r&b singer, an artist, an actress, a model, or a very chic professional woman. BAM.
Let me know what you thought and give it a go!
Or just take a look at Janelle's instagram and let this post prove to you that social media can serve as great place for brainstorming looks!