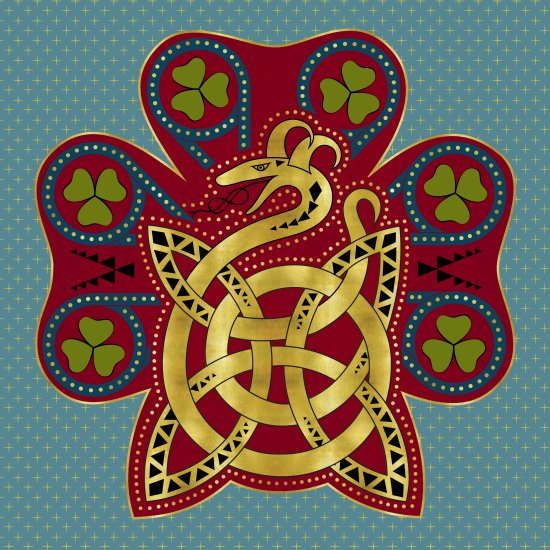 As mentioned in my last article in this series (on fashion inspired by Pukwudgie house), the Ilvermorny house I most wanted to be sorted into was Horned Serpent.
As a confirmed Ravenclaw, I had thought that being sorted into the American wizarding school house that also valued knowledge and creativity would be a cinch, even though Pottermore was pretty clear that the houses of Ilvermorny Wizarding School were not meant to serve as direct parallels to their Hogwarts counterparts.
But come on. It's pretty hard not to notice similarities between Horned Serpent and Ravenclaw: Ravenclaw students are known to value wit and knowledge, and the Horned Serpent house is said to represent the mind and favors scholars.
Even though I was ultimately sorted into Pukwudgie, I'm sure most college students would, like me, agree that an affinity for these qualities would be helpful for academic life. So I saw this house as the perfect inspiration for some academically-oriented fashion choices! Read ahead for some stylish outfits that will help you stand out at an internship, career fair, or presentation:
"Represents the Mind"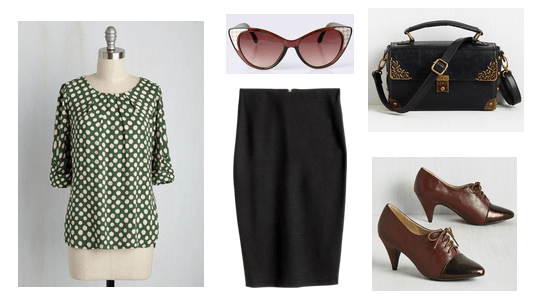 Products: Blouse, Sunglasses, Skirt, Bag, Shoes
If Ilvermorny as a whole represents the entire being of a person, Horned Serpent is meant to represent the mind.
Show off your smart style while appearing graceful and confident with a sleek black pencil skirt and brown cat-eye sunglasses. Vintage-inspired accessories with gold details, like brown heels and a black box purse, are a nice nod to the respect Horned Serpent students likely have for history and what it can teach us.
Finally, this green-and-white polka-dotted blouse just screamed "serpent" to me, and also added a nice pop of color to break up the brown-and-black color palette found in the rest of the look.
"Favors Scholars"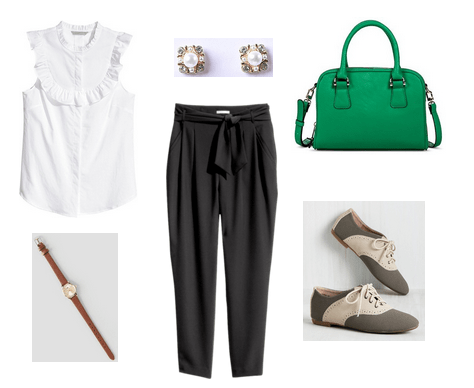 Products: Shirt, Watch, Earrings, Pants, Purse, Shoes
The Horned Serpent house is characterized by its preference for scholars, and no color combination says "scholar" to me more than black and white.
This monochromatic outfit takes menswear-inspired pieces such as oxfords, watches, and trousers, and makes them elegant and trendy through details such as the ruffled bib collar of the white blouse, the bow-tie waist of the trousers, and the visually interesting color-blocking of the shoes.
To accessorize, finish with some dainty jeweled earrings for that vintage feel, as well as a bright green tote for a pop of serpent-inspired color.
"Jewel Set Into Its Forehead"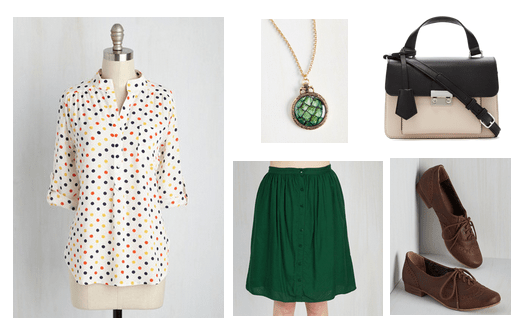 Products: Shirt, Necklace, Skirt, Bag, Shoes
The creature that serves as mascot for this Ilvermorny house is, naturally, the horned serpent, an elegant snake with a jewel set into its forehead with whom Ilvermorny founder Isolt Sayre forms a special bond.
For an outfit as inspired by the beauty and mystery of this creature, use a green scale necklace as the centerpiece for this bright (yet scholarly!) look. The menswear trend is brought in again with these brown oxfords, which are offset by this colorful polka-dotted blouse and green skirt.
School supplies can be easily stored in this sleek black-and-white structured bag, completing an outfit that will help you stand out in class.
What do you think?
Would you be comfortable wearing any of these outfits to a class or internship? What do you do to get yourself more excited for school? Let me know in the comments!