Inspired by the feminist Disney princess ranking list that's been making the rounds lately, we wanted to take the concept further and create a College Fashion listing of awesome, inspiring princesses outside of the Disney sphere. Be prepared for some quality #girlboss inspiration.
Princess Odette
From: The Swan Princess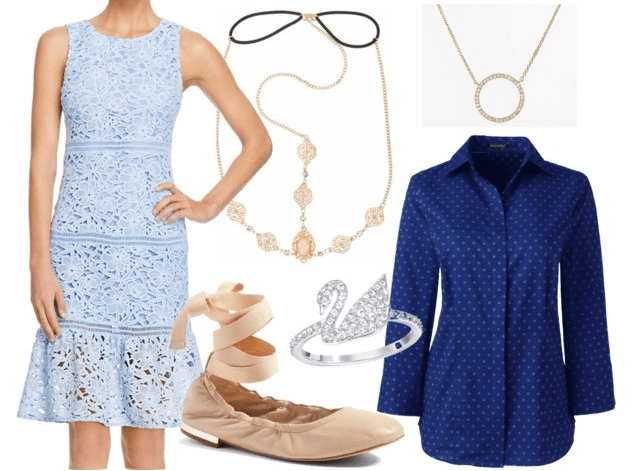 Products: Dress – Bloomingdale's | Headchain – Icing | Necklace – Nordstrom | Shirt – Lands' End | Ring – Swarovski | Flat – Nordstrom
Odette doesn't get nearly as much credit as she deserves for her initiative and noble defiance against the evil Rothbart in the first film. I mean, are we forgetting the fact that the spell can literally only be broken by Rothbart or Prince Derek, but that Odette still makes several brave attempts to flee and says she'd rather die than submit to her captor? Talk about a strong will.
Perhaps Odette's greatest instance of general awareness, however, is when she makes this woke AF reply to Derek's profession of love:
Derek: "You're all I ever wanted. You're beautiful."

Odette: "Thank you. But what else?"

Derek: "What else?"

Odette: "Is beauty all that matters to you?"
Basically, ya girl is willing to forsake true love because she knows it's not truuu love if you're only in love with outer beauty. Luckily for Odette, Prince Derek catches up quickly and, of course, they end up happily ever after. Aww! (But, seriously, Derek, WHAT were you thinking?)
Barbie Rapunzel
From: Barbie as Rapunzel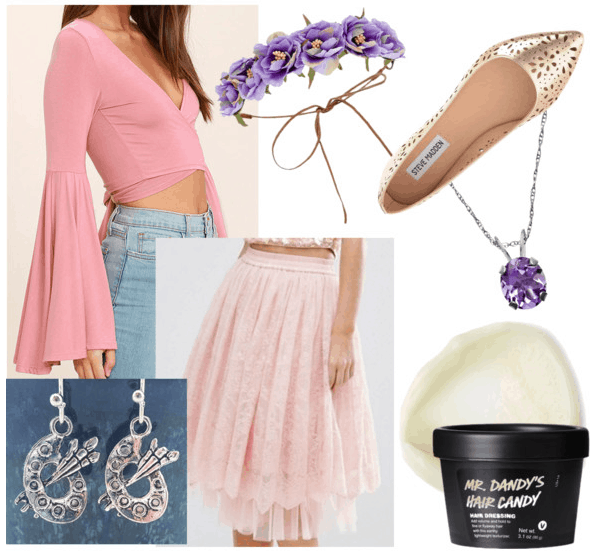 Products: Top – Lulus | Skirt – ASOS | Earring – Etsy | Headwrap – Forever 21 | Flat – Zappos | Necklace – Kohl's | Hair Product – Lush
Like Odette, Barbie Rapunzel's just another princess stuck in DiD mode (Damsel in Distress, if you don't know). Except that she's totally not.
If anything, Rapunzel proves herself time and time again to have the upper hand over her jailer, the evil witch Gothel. Using a magical paintbrush as a portal to the outside world, she slips off to the nearby village, attends a masked ball, and even wins the love of a neighboring prince — all while she's supposedly doing "chores" for her old lady. You go, girlfriend!
And despite encountering adversity in the face of liberation, Rapunzel always makes sure that her friends come first. (Now that's the kind of thinking we can definitely get behind!) Her liberality and selfishness throughout the film may not be revolutionary, but it sure is admirable.
Princess Fiona
From: Shrek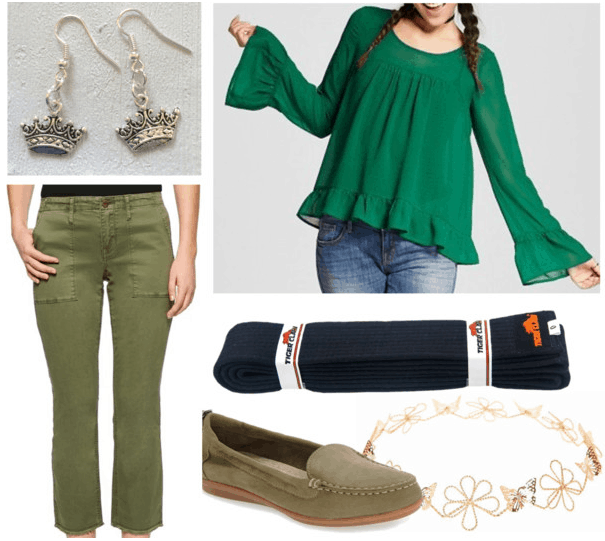 Products: Earring – Etsy | Top – Target | Pant – Nordstrom | Belt – Amazon |  Loafer – Nordstrom | Crown – Icing
What can I say about this grade-A baddy princess that hasn't already been pointed out by everyone else? Fiona inverts all of the princess norms: she doesn't fall for the aristocrat, she's got kind of an unconventional look, she isn't afraid to be sassy and bossy and REAL, and she's got killer martial arts moves — show me a Disney princess who can take on the whole of Monsieur Hood's merry gang of (extremely misogynistic and racist) men.
Also, despite your personal feelings about Shrek: Forever After, can we just take a moment to appreciate the following exchange?
Shrek: "You know, I always thought I'd rescued you from the Dragon's Keep."

Fiona: "You did."

Shrek: "No. It was you who rescued me."
AAAHH! #ShrekandFionaForever.
Ready for more?
Tune in for Part Two, featuring three more kick butt non-Disney heroines you'll totes want to emulate. And don't forget to leave a comment/share!