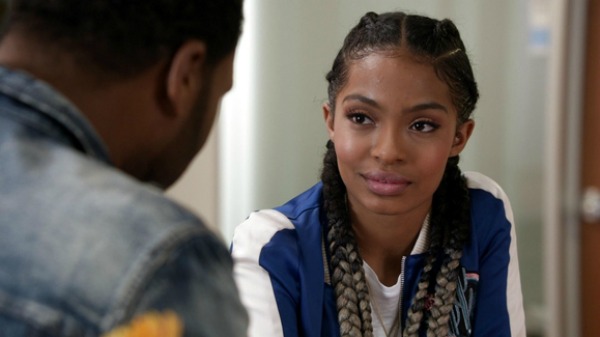 Sex and the City and Gossip Girl, while obviously still iconic, have long ended. This summer Pretty Little Liars will come to a close. The time has come, ladies: We need to find a new, fearless TV style icon. And I don't think we need to look much further than ABC's sitcom Black-ish.
The hit show is currently in its third season. It's hilarious, quirky, and unafraid to tackle hot-button political issues. It stars the Johnson family and chronicles their life as an upper-class black family living in LA. The Johnson's oldest daughter, Zoey, played by Yara Shahidi (yes, the girl who got a college recommendation letter from Michelle Obama), has taken the small-screen style torch from the likes of Carrie, Blair, and Aria.
Zoey is the definition of a fashionista. Not only is she always experimenting with cool shapes, colors, prints, and layers, but in one episode she even gets an opportunity to intern at Teen Vogue (fun fact: Yara Shahidi guest edited a recent issue IRL). She is smart, sassy, and fun-loving, and it shows in her wardrobe.
Zoey's key pieces are bold printed tops, major earrings, chic pants, and whimsical tees and sweaters. When channeling her vibe, more is more, so don't be afraid to take a risk and try some seemingly crazy combos.
Below, I've styled three outfits that are so Zoey. Use these to get comfortable with her wild style, then keep the momentum going by putting together your own daring looks.
Look #1: Mixed Prints and Posh Pants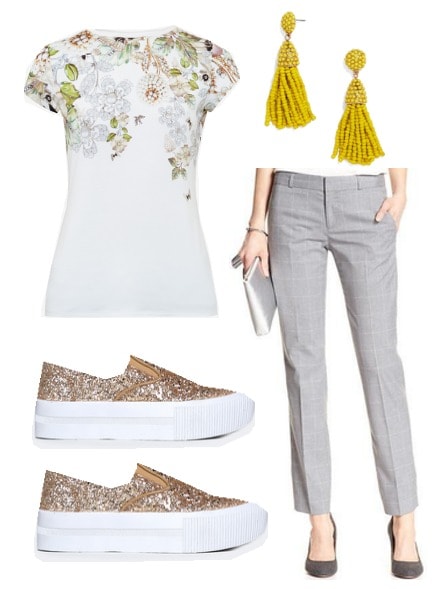 Products: Tee – Ted Baker, Pants – Banana Republic Factory, Sneakers – Zooshoo, Earrings – Nordstrom.
Unlike so many stylish TV ladies, Zoey definitely prefers cool pants to skirts and dresses. It's not a choice most teen girls would make, but it makes her look so fresh, so polished, so 2017. From BF jeans to cropped trousers, Zoey's collection of pants is enviable.
She loves prints like florals and checks, and she especially loves them together. A floral tee makes otherwise businesslike windowpane-print pants look young and fun. Zoey often opts for cool flats over heels, and I think these glittery platform sneakers would be right at home in her closet.
Finally, because Zoey's ensembles are so bright and busy, she knows not to over-accessorize. One fabulous piece of statement jewelry is all you need.
Look #2: Fun Layers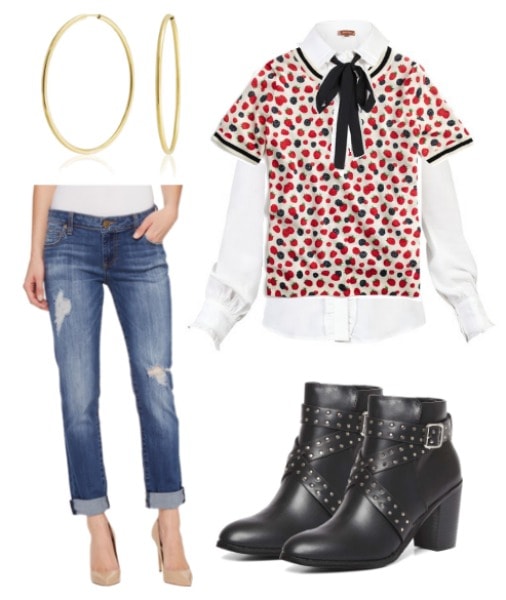 Product Info: Blouse – John Lewis, Sweater – Nordstrom, Jeans – Zappos, Booties – Dorothy Perkins, Earrings – Bling Jewelry.
Layering a tee or sweater over a bow blouse is one of Zoey's go-to styling tricks. I'd think she'd be totally into the whimsical berry print of this short-sleeved sweater, and the ruffles on the blouse underneath lend a high-fashion vibe.
Slightly distressed BF jeans make the look bold and edgy, not prim, and studded black ankle booties are cute without stealing attention from the rest of the look. Finish off the ensemble with Zoey's signature big earrings. Sorry, Regina George, but hoop earrings are Zoey's thing.
Look #3: Flirty Mini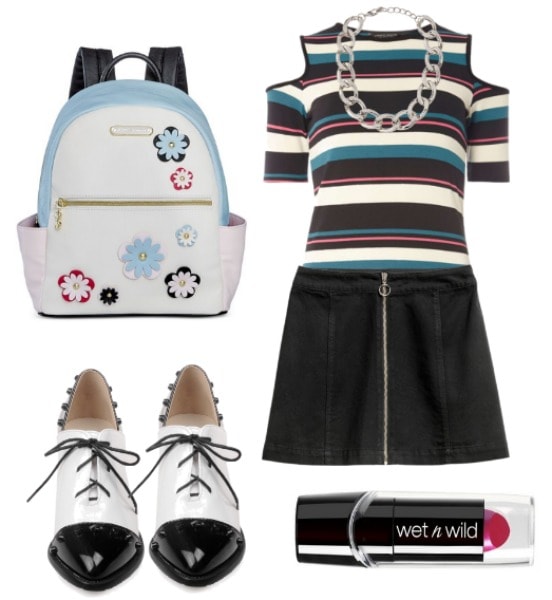 Products: Top – Dorothy Perkins, Skirt – H&M, Shoes – Amazon, Backpack – Macy's, Necklace – Last Call, Lipstick – Wet n Wild.
Just because Zoey loves pants, doesn't mean she doesn't love rocking a fun dress or little skirt every once in a while (A-line silhouettes are her fave). The zipper detail and faux-suede texture make this black mini anything but basic, and it pairs perfectly with trendy, graphic stripes.
A chunky heel and studs give these oxfords a super cool twist, and the color blocking echoes the stripes in the top in an eye-catching way. Once again, one great statement bauble is all you need in the way of jewelry.
Add two more of Zoey's style staples — pink lipstick and a fun Betsey Johnson backpack — and you're ready to go.
What do you think?
Are you a fan of Black-ish? What do you think of Zoey's style? Would you rock any of these bold looks? Let me know in the comments!