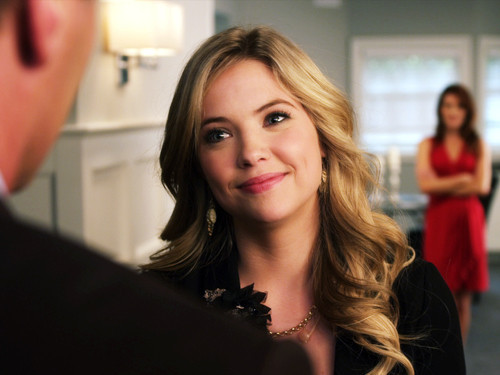 Hanna is quickly becoming my favorite character on Pretty Little Liars, and not just because of her killer (pardon the pun) style; the girl really has a heart of gold. She may be a Queen Bee, but in recent episodes, as she has faced enough troubles — family, friends, love, money, self-esteem — to make the average girl ditch the perfect curls and fall into a fashion rut. In addition, Hanna has shown a heartfelt and selfless side that Regina George never could… all while looking picture-perfect.
This post, the third in my series on Pretty Little Liars fashion, is all about how you can achieve Hanna's trendy, feminine and glamorous style:
Who is Hanna Marin?
When we first met Hanna Marin, she was strutting down the hallways of Rosewood High like she owned the place… that is, when she wasn't shoplifting from ritzy department stores. Not exactly the best start for the fab four's sole blonde. But there's more to Hanna's story than just that of a poor little rich girl who rules the school.
Before Alison's disappearance, Hanna was "Hefty Hanna," an insecure and overweight outsider who longed to be the popular girl. Fast-forward to a year after Alison's disappearance and Hanna has reinvented herself: She's lost the extra weight, become besties with fellow outcast-turned-It-girl Mona, swapped sweats for designer duds and snagged the boyfriend of her dreams.
But, of course, nothing's as perfect as it seems. Her parents' divorce left a strain on her household, particularly in the financial department. While her mother begs for mortgage extensions and can barely afford to keep the fridge stocked, Hanna struggles to keep up the illusion of perfection she's worked so hard to create. As she barters her designer bags for cash, forms a flirty bond with the school nerd and spends less time with her best friend Mona, Hanna begins to feel her It-girl status slipping away… The question is whether she still cares.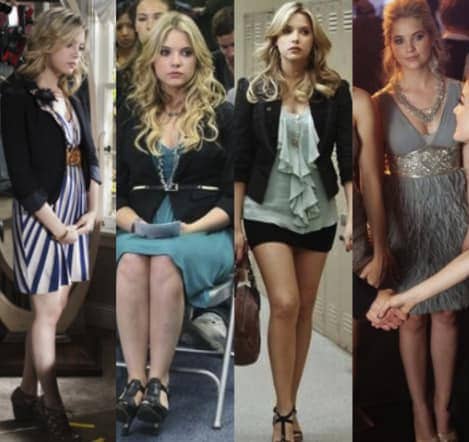 How to Dress Like Hanna
Each of the Pretty Little Liars has a unique style… Aria dresses edgy bohemian, Spencer's the prep and Emily prefers a sporty look, but what about Hanna?
Her style is trickier to pinpoint because her ensembles are eclectic. She borrows elements of everyone's wardrobe to create looks that are strikingly chic with a touch of trend, femininity and glamor. Hanna looks like she's heading to a hip soiree everyday rather than just trekking to class. Her look is very young Hollywood: It's flirty and girly with a trendy edge.
Here are some tips for getting Hanna's eclectic aesthetic for yourself:
The hallway is a runway. In Hanna's world, there's no such thing as dressing down. School — despite what moms usually say about it "not being a fashion show" — is her place to shine, and she wouldn't pass up the opportunity to show off her style regardless of impracticality or discomfort. To dress like Hanna, you have to approach dressing for everyday activities as an exciting chance to create something to be seen and make yourself stand out.
Balance girly frills with pieces borrowed from the boys. Hanna frequently mixes contrasting styles in one ensemble, pairing flirty dresses and ruffled tops with menswear-inspired structured blazers. To do this yourself, try putting a fitted jacket or boyfriend blazer over your favorite frilly dress.
Go blue. (Or find your signature hue.) Hanna wears so much blue! Sometimes her entire outfit is composed of blue garments, but it never looks dull because she's knows how to work the monotone look. The trick? Mix up the shades! You can wear an outfit in all one color if you wear items in different shades of the hue. Just pick a color you love that flatters your skin and hair.
Define your waist. Hanna utilizes belts to define her natural waist, particularly when she's wearing lots of layers. Wear a skinny belt over a blazer or buckle a thick one over your favorite fit-n-flare dress.
Enhance your outfit with eye-catching jewelry. Unlike Emily, Hanna doesn't go minimal on the jewelry front: You'll often seeing her layering long necklaces, reading texts from A with big cocktail rings on her fingers, or sporting big gold hoops in her ears.
Look luxe without spending big bucks. Hanna was accustomed to shopping at the pricey stores and wearing the hippest designer labels but now, like us college students, she finds herself adjusting to life in a "one paycheck family." Fortunately, budget shopping doesn't mean you have to let go of looking luxurious. Seek out designer collaboration lines at inexpensive retailers (like the Go International collections at Target, I Heart Ronson and Olsenboye at JCPenney or Vera Wang and Lauren Conrad's collections for Kohl's) and don't settle for fabrics that look cheaply made or shabby. Splurge on wardrobe investments like a nice coat, a pair of jeans that fit like a dream or a versatile leather bag.
Be put-together, polished and poised. If you want to steal Hanna's style, you've got to master looking perfectly polished. On any given day, whether she's just doing homework in her kitchen or scouting out A in the woods, Hanna looks put-together and walks with poise.
Outfits for Inspiration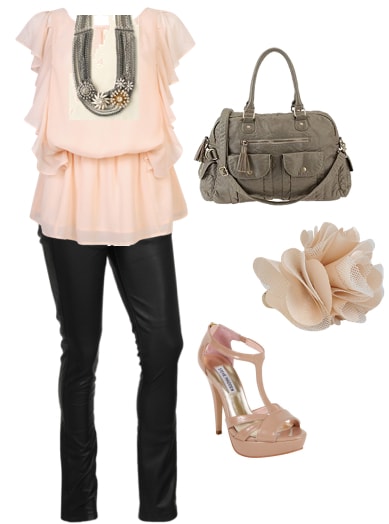 Product Info – Chiffon Top: Forever 21, Necklace: Stella & Dot, Faux-Leather Pants: Forever 21, Bag: Urban Outfitters, Ring: Forever 21, Heels: Steve Madden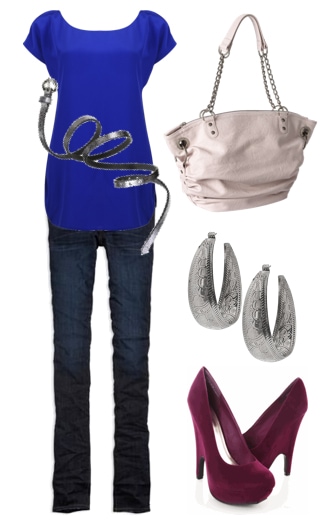 Product Info – Top: Forever 21, Jeans: American Eagle, Belt (Use to cinch natural waist): Gap, Bag: Nordstrom, Earrings: Forever 21, Wedges: Ami Clubwear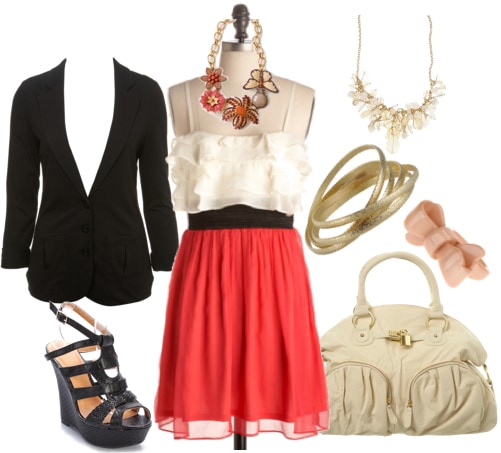 Product Info – Dress: ModCloth, Blazer: Miss Selfridge, Wedges: Qupid, Flower Necklace: Stella & Dot (I think this necklace perfectly complements the dress. The problem? It's pricey. I couldn't find a similar one for less, so I included it for inspiration along with a budget-friendly necklace choice.), Stone Necklace: Urban Outfitters, Bangles: Forever 21, Ring: Urban Outfitters, Bag: Miss Selfridge
Get Hanna's Pretty Beauty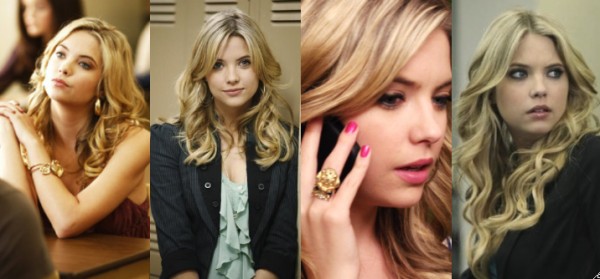 Following my last post on Emily's style, several of you asked for more on the girls' beauty looks, so here are some tips and product suggestions to help you achieve Hanna's Pretty look:
Pick shades to complement your eye color: Hanna's eyeshadow for day always intensifies her stunning blue eyes. Make your own eyes pop by picking hues that complement their color. Products like Intense i-Color from Almay offer packages of shadows based on eye color so you get the perfect shades to enhance your brown, green, blue or hazel sparklers.
Rim and highlight your eyes: Hanna always lines her eyes and uses shadow with a hint of shimmer to make her baby blues sparkle. Apply a highlighter (shimmery shadow or cream) at the inner corners of your eyes and at the brow bone under your brow's arch.
Naturally pink pout: A sheer gloss in a subtle pink or natural tone is all Hanna needs for her perfect pout.
Perfect curls: Perfect ringlet curls with a middle part are Hanna's signature hair look. Up until the summer finale, she'd never worn her hair straight in an episode. So use a 1 inch barrel curling iron all over to get the Hanna aesthetic.
Trendy nail colors: Have fun with your nails and paint on trendy colors like those Hanna prefers. Not one to be bland, she always rocks bold shades like near-black or vibrant fuchsia.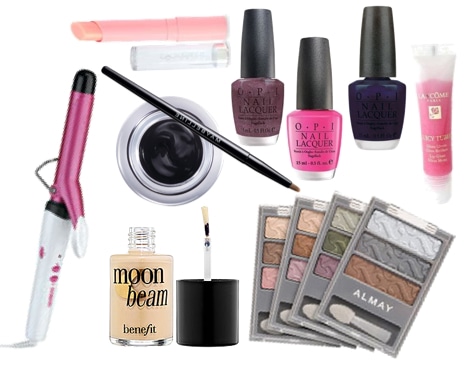 Product Info – Curling Iron: Conair, Sheer Gloss: CoverGirl Lipslicks, Gel Eyeliner: Maybelline, Highlighter: Moon Beam by Benefit, Eyeshadows: Almay, Nail Polish from Left to Right: Lincoln Park After Dark, Indi-a-Mood for Love and Russian Navy, all from OPI, Lipgloss: Lancome
What do you think?
Did you enjoy this post? Who is your favorite of the Pretty Little Liars? What do you think of Hanna's style and the suggestions here? Please leave a comment!