This post may contain affiliate links, which means we may receive a commission if you purchase through our links. Please
read our full disclosure here
.
Admit it: when attempting to describe a person's style, catch-all words like "preppy," "girly," "goth," "sporty," probably pop into your head first, right? I know it's easy to categorize clothing into neat little boxes, high school-style, but where's the fun in that?
Let's face it: The idea that we should each pick one "style" and stick with it is both outdated and boring. So this week's challenge dares you to combine two distinct styles to create a new look. Though this can be tricky to get the hang of at first, the following tips will help you pull it off in a way that makes you look fashion-forward yet effortless.
Ready to take the challenge? Read on to get inspired, and make sure to send us your outfit photos (details at the end of the post) so we can see the results!
Tips & Tricks for Mixing Styles in an Outfit
Be unexpected. This point of this challenge is to do something out of the norm. If you combine two styles that are similar (such as girly and glam), the purpose of the challenge is defeated.
Look for contrast. Courtney Love did it in the '90s by pairing lacy slip dresses with tough biker boots and leather jackets. Go for extremes; try wearing a geeky graphic tee with a floral skirt and heels, or a pair of thick-framed non-prescription glasses with a polished polo.
Experiment with price ranges. "High-Low" fashion, turned into an art form by style bloggers and celebs alike, is both wildly popular and essential for girls on a budget. There's something very "street-chic" about pairing a designer dress you saved for months to buy with a pair of cloth mary-janes purchased in Chinatown.
Mix it up by occasion. Rock a glittery pair of stilettos with a basic t-shirt, or a fancy dress with a more casual pair of shoes if you're feeling daring!
Wear with confidence. You may run into individuals who don't yet understand the idea of fashion freedom. If you receive any irritated stares from disgruntled individuals for pairing a punky studded belt with a pair of rope sandals, know that you look great because you're doing something different.
Remember, it's a CHALLENGE! If you feel a bit out of your comfort zone, pat yourself on the back for daring to try something new and broadening your wardrobe horizons! 🙂
Outfit Ideas
1. Good Girl Gone Bad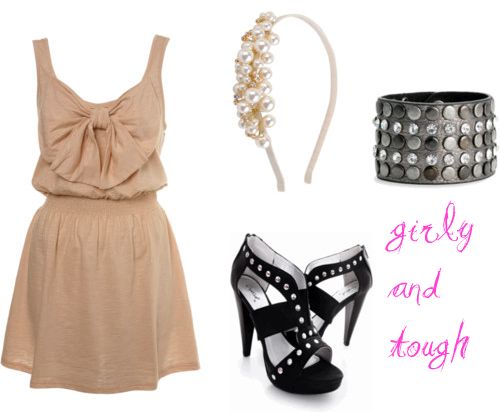 Rocker-chic accessories can give a girly dress a real kick! Start with a feminine frock–I like this one for its muted tone and bow decoration! Slick your hair back with a frilly headband to continue with the girly look. Next, to mix in some edge, throw on a pair of tough-gal stilettos and a studded cuff for an outfit that would make Leighton Meester proud!
2. Bohemian Prep-sody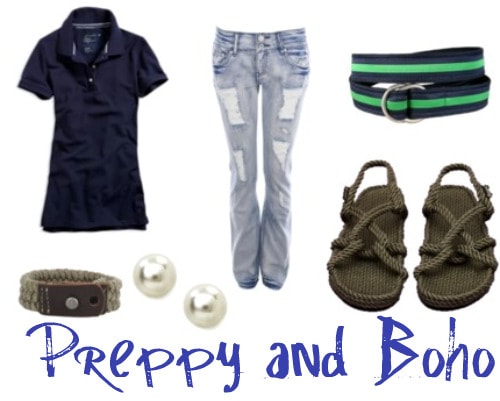 Polo, Jeans, Belt, Shoes, Bracelet, Earrings
Usually pair your polo shirts with freshly-ironed khakis? Break the mold and rock a proper polo with a pair of ripped-up jeans–skinny or boyfriend cuts look great, but stick with flared jeans for the most "boho-chic" look. A D-ring ribbon belt will contrast nicely with a pair of rope sandals, as will a pair of pearl studs with a woven bracelet.
3. You Say Goodbye, I Say "High-Low"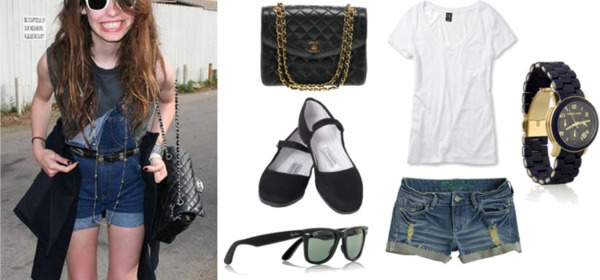 Shirt, Shorts, Shoes, Sunglasses, Watch, Purse
If you're like me, you're probably put off when people pitch "high-low" fashion as a novel idea–after all, pairing a basic t-shirt with your designer jeans is a no-brainer! However, you would be surprised to know how many people actually don't think its okay to pair their expensive watch or purse with a regular casual outfit.
This idea, obviously, is silly–if you have a piece you're proud of, you should feel free to wear it with anything! Not only will your item's "cost per wear" decrease, but it'll add style to otherwise-bland outfits.
To mimic Corey Kennedy's high-low look, start with a white v-neck and jean shorts, which are a little more practical than her overalls. Next, add some cloth mary-janes: I found my favorite pair at Urban Outfitters! Next, use this neutral base as a canvas for standout accessories, like a great pair of sunglasses and a classic watch. I love this timepiece by Michael Kors–menswear-inspired watches are very on-trend at the moment! Most of us won't be able to afford a Chanel purse like Corey's for many, many years, so swap it out for your favorite leather bag!
CF Reader Looks
Here are some looks sent in by CF readers! If you want to see your look featured here, read the instructions below for sending in your outfit photos!
Sandra – University of Bonne – Cologne, Germany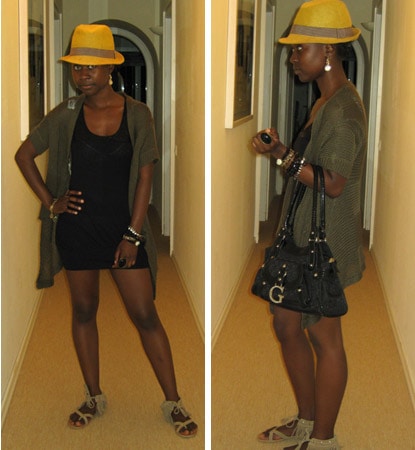 "I decided to dress down my black night-on-the-town little dress with a mixture of earthy colors to create a boho-chic look. This outfit consists of my fave nude gladiators, a short sleeved olive cardigan, a cool straw hat (from the men's department, they are cheaper) and not forgetting lots of bracelets and a big chunky ring. I think this outfit is perfect for a day of shopping with the girls or lunch with the girls."
Rocked the Challenge? Send in Photos to be Featured Here!
Now that you're inspired, we want you to take the challenge and send us photos of your challenge outfit! Be an inspiration to other CF readers (and get a little taste of fame) by sending us your pics!
To see your challenge photos featured here (along with a blurb about you and a link to your blog, if you have one), take some pics of you rocking contrasting styles, and attach them to an email to fashionchallenge AT collegefashion.net with your name, school, blog link, and a description of what you're wearing. (See examples here and here!)
Can't wait to see what you guys come up with!
What do you think?
Will you be trying this challenge, or do you think its a major fashion don't? Do you already mix styles? How do you feel about "hihg-low" fashion? What challenges would you like to see in the future? Sound off in the comments!!