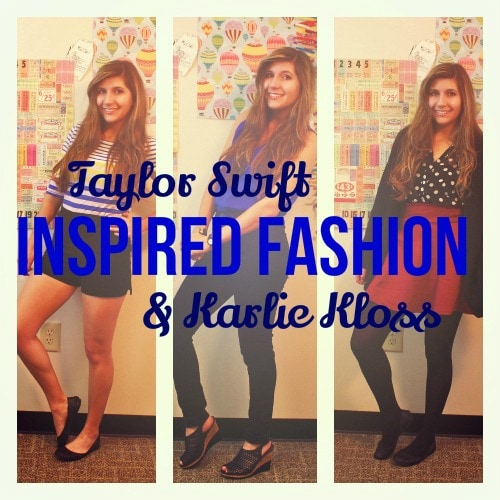 Karlie Kloss and Taylor Swift recently made news when they went on a roadtrip together. I was a little bummed out they didn't invite me, but I was more surprised at the transformation of Taylor Swift's style.
I was so inspired by their casual yet put-together ensembles that I decided to create several Kloss and Swift-inspired outfits using things I already had in my closet. Scroll down to see the looks:
1. Indigo Blues
I saw some pictures of Karlie Kloss wearing bright blue, and it looked incredible. Indigo is one of my all time favorite colors to wear, and I paired this blouse with black high-waisted jeans and wedges, because there is no way my miniature height can compete with the Kloss. I kept accessories pretty simple with this dented-on-purpose silver bangle and super basic black watch.
2. Stripes for Days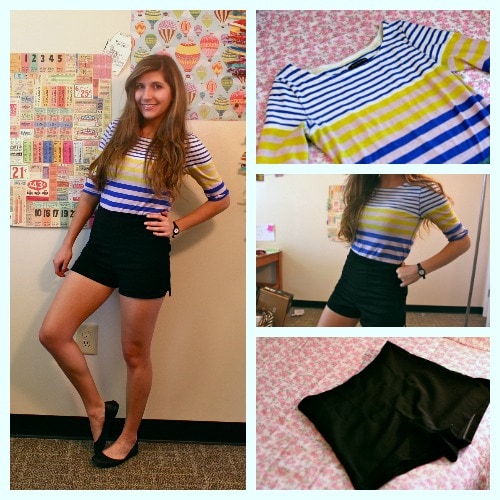 No matter how much her style changes, T. Swizzle always seems to have a plethora of striped tops. Ignoring the mess behind me in that photo (it's finals week), I love how effortlessly cute striped tops and high-waisted shorts look together.I knew you were not trouble when I put you on.
3. Forever and Always Taylor Swift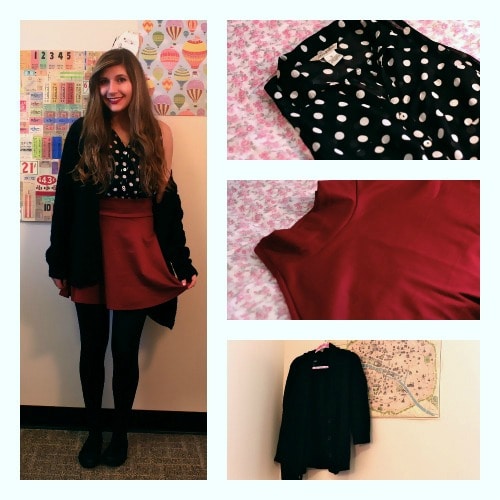 Dressing like Taylor Swift is like wearing a red skirt, polka dots on top, easy cardigan we all know.
This outfit is much more like the classic Swifty. Cute, girly, burning red. I paired basic tights with a red high-waisted skirt, a black polka top collared shirt, and a chunky cardigan.
This outfit is great for hanging out with friends and eating red velvet cupcakes because they match your outfit. I did use that as a reason once to justify eating a red velvet cupcake. But, do you ever need to justify cupcakes? Enjoying life is the reason.
4. Road Tripping Swiftly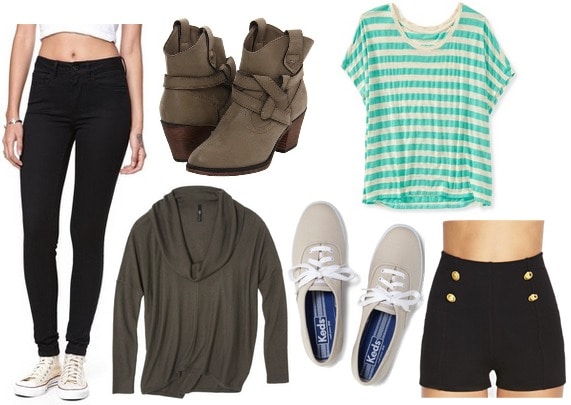 Product info: Jeans—PacSun, Olive Sweater—Target, Boots—Zappos, Striped Top—Aeropostale, Flats—Macy's, Shorts—Forever 21
These outfits are a closer match to Taylor Swift and Karlie Kloss' personal style. In their Instagram road trip, Karlie wore an olive sweater, and they both had on ankle boots. (Sidenote: Let me know if you liked having an outfit set in addition to my own photos!)
Your turn!
Do you like Taylor Swift's new style? Would you go on a road trip with Karlie Kloss? Let me know in the comments which of these outfits is your favorite!