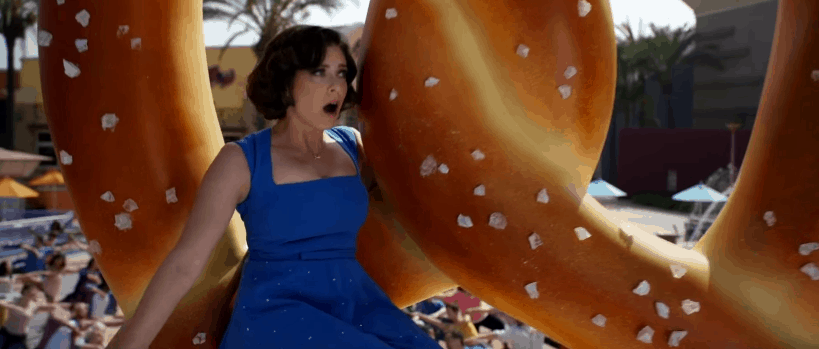 After binging the two seasons available on Netflix, I can attest that the CW's Crazy Ex-Girlfriend is AMAZING. From its hilariously clever musical numbers to Rachel Bloom's charming performances, this show is not only one of the freshest things to come to TV, but it's also among the smartest.
Rachel Bloom plays Rebecca Bunch, a top notch lawyer who drops her perfect-yet-mundane life in New York to move to West Covina, CA after she catches up with her summer fling from years ago. While this is a bit rash, unlike what the title suggests, Rebecca is far from crazy. The show uses this sexist stereotype in a comedic way to not only counteract it but to also shed light on real mental health issues.
Rebecca Bunch's Style
Our Spanx-loving heroine not only has the voice of an angel, but she rocks some killer outfits too. Rebecca loves a good pantsuit and she's definitely no stranger to funky prints. Loose fitting, flowy garments are her hallelujah and as per the song, Heavy Boobs, she can definitely make them look sexy when she needs to.
Rebecca's look is effortlessly chic, suave and sophisticated. So, if you want to dress like the sweetest little lawyer on TV right now, keep reading for some inspiration.
Look 1: Rebecca's Feeling Blue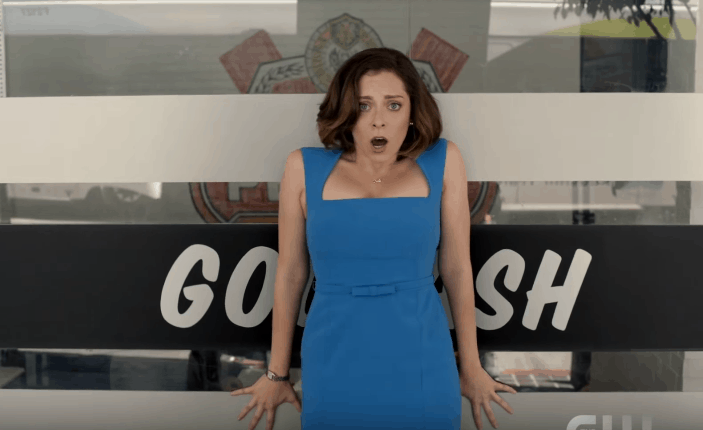 This is Rebecca Bunch. The mildly insane look on her face tells you that she's either done something impulsive or she's about to. In fact, she's just turned down a promotion, quit her job entirely, and is about to hightail it to West Covina.
Fashion features heavily in this sequence: Upon leaving the office for the final time, Rebecca throws off her tight, structured blazer and sings her way to CA. Once she arrives in West Covina, her blue dress gets a more fluid, A-line shape, plus diamond embellishments. She also swaps her black pumps for silver ones, better suited to her fancier new life.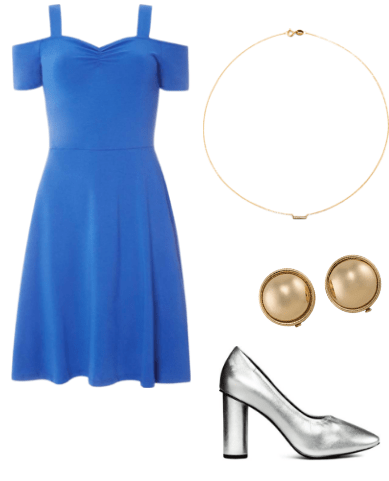 Products: Dress – Dorothy Perkins, Shoes – H&M, Earrings – Bloomingdale's, Necklace – Sole Society
If you want to steal this look, simply grab a pair of your own shiny silver shoes to jazz up a bright blue A-line dress. Make sure that dress has either straps, cap sleeves or short sleeves because Rebecca is all about having her arms out now that she's in sunny West Covina.
Rebecca also loves small jewelry because her outfits are typically busy to begin with. So simply add some gold studs and a dainty golden bar necklace. You're all set to fly out to West Covina (or dinner with friends), too.
Look 2: I'm a Good Person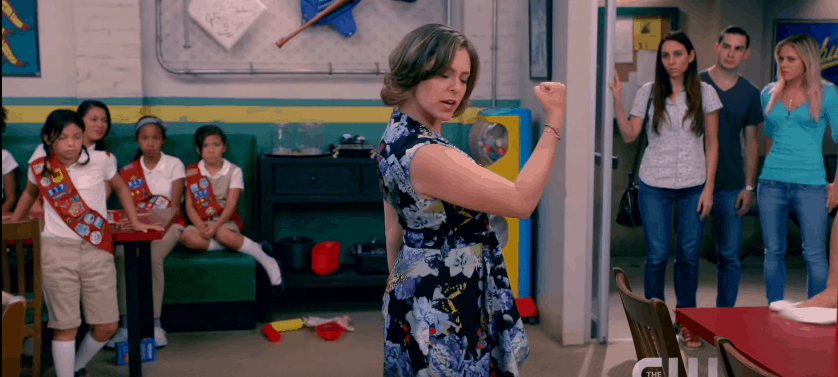 Once Rebecca gets comfortable in West Covina, her style changes to reflect her freer lifestyle. (Bye-bye, bodycon dresses!) The outfit above is a prime example of the kind of loose, relaxed outfit she wears when she's out and about.
To replicate this look, start with a yellow babydoll dress with a little peek-a-boo cutout (so that the girls, ahem, can breathe). Throw an olive green bag over your shoulders and add some matching earrings to for more color. Slide on some simple black heels and finish with a watch, a necessity for a young businesswoman like Rebecca.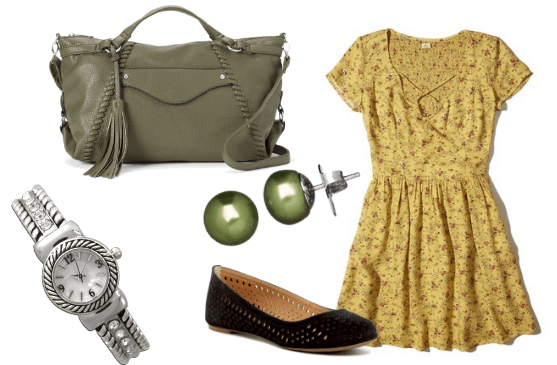 Products: Dress – Hollister, Shoes – Nordstrom Rack, Earrings – Kohl's, Bag – Kohl's, Watch – JCPenney
Look 3: The Sexy Getting Ready Song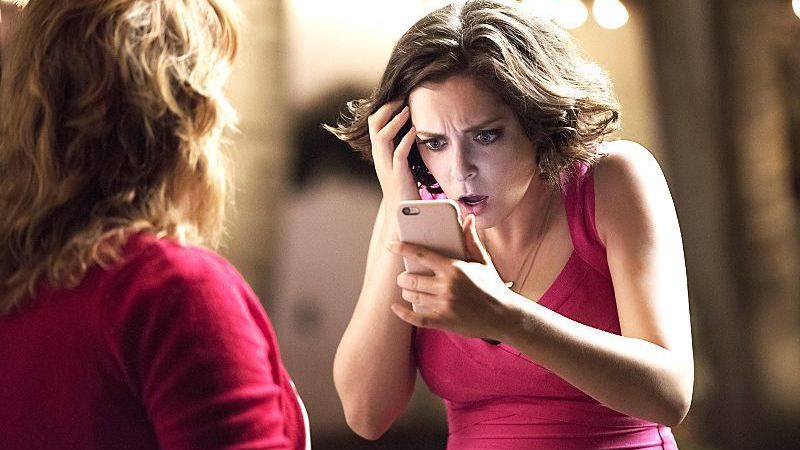 The Sexy Getting Ready Song is one of the most hilarious numbers on the show and it depicts Rebecca getting ready to meet Josh at a party after she's moved across the country for him.
In this scene, Rebecca wears a skin-tight bodycon dress and it's one of the last times we see her in this sort of restrictive style. Loose-fitting wrap dresses become Rebecca's go-tos once she settles in West Covina and gets more comfortable with herself.
To get this look, start with a figure-hugging dress in a bold magenta tone. Rebecca loves simple extras, so add some classic black pumps and a matching clutch. Add extra color with red nail polish and ruby-tone earrings. Finish the look with a gold circle pendant to draw attention to the dress's plunging neckline.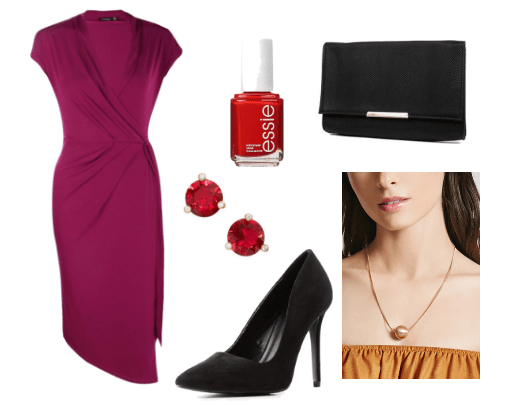 Products: Dress – Boohoo, Shoes – Charlotte Russe, Necklace – Forever 21, Polish – Target, Earrings – Nordstrom, Clutch – Lord & Taylor
What do you think?
What do you think about the show? Do you love it or hate it? Which outfit do you like most? How do you feel about Rebecca's style and more importantly, her "crazy" antics on the show? Let me know in the comments.