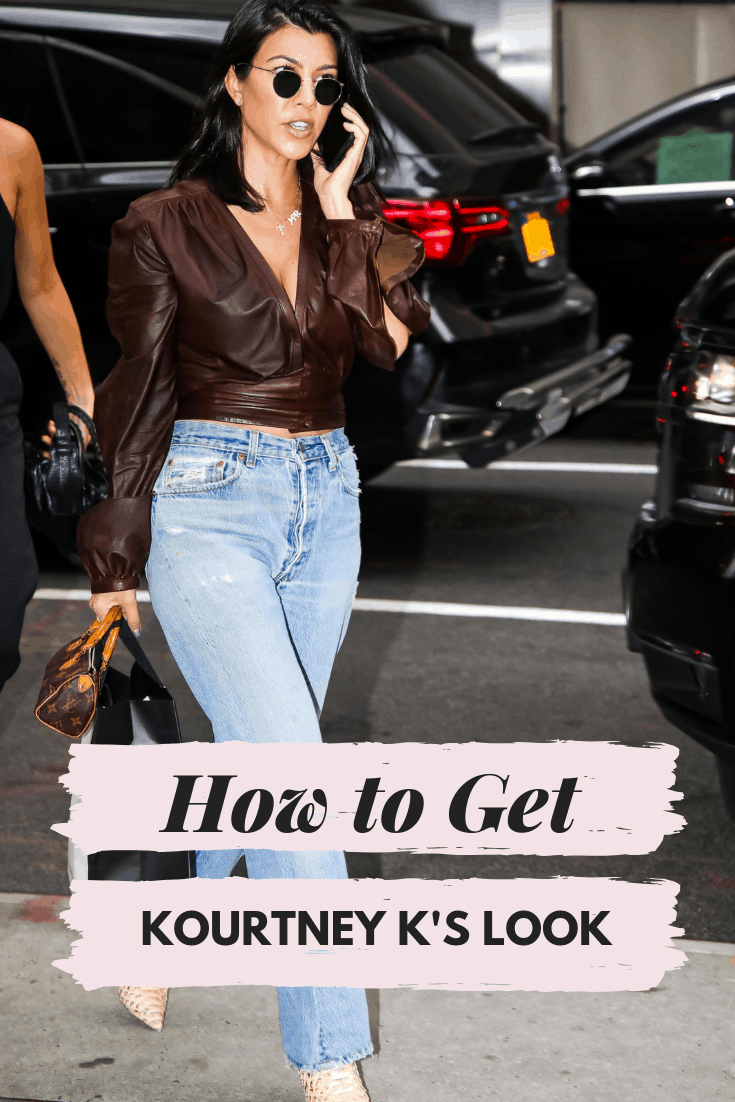 A while back, we listed our favorite celebrity fashion icons, and over the next few months, we'll be breaking down each celebrity's style in depth and showing you how to get her style for yourself. Today, we're showing you how to get Kourtney Kardashian's style.
One of the infamous Kardashians, Kourtney Kardashian is known for her levelheadedness and unique sense of style, as well as her killer confidence. It's easy to forget that Kourtney is in her late thirties and a mother of three! Kourtney is a prime style role model for women everywhere, including those of us in college.
About Kourtney
Kourtney Kardashian was born on April 18, 1979, in Los Angeles, California. Kourtney was the first child of Robert Kardashian and Kris Jenner. She is the oldest of the four children they would have together.
She graduated from the University of Arizona in 2002, and her modeling career kicked off soon after in 2005. She has since continued to model, helped her younger sisters out of every situation they found themselves in, traveled the world, developed an online persona, and handled business with a notoriously messy man. And above all, she continues to be one of the hottest 39-year-old women (and mother of three) in the industry.
Kourtney Disick?
Kourtney and Scott Disick had (and still have) one of the most dysfunctional, weird, off-and-on relationships in all of Hollywood. And yet, at the end of the day we all rooted for something to work out between the two, but over the years it's become clearly flawed.
The relationship was all captured on the screen with the socially questionable reality TV show that has every viewer hooked on the silly, often meaningless rich lives of the Kardashian family – and fans had a love/hate relationship with Scott.
Kourtney and Scott dated for about nine years and had three beautiful children together: Mason, Penelope, and Reign. Scott and Kourtney's relationship ended here and there due to insecurity amongst the two, but mostly it came down to Scott. With alcohol issues as well as the possibility of involvement with other women outside the relationship, a clear line had to be drawn. However, the two did not break up permanently until 2015. Since then, they have both been rumored to be with other people.
And yet, we have to think back to all of the times Scott has recognized Kourtney for the fantastic woman she is, saying in a 2012 interview that still rings truth:
"Honestly, she's pretty fantastic and really doesn't do that much wrong, so I wish she did. It would make my life a little easier if she made more mistakes. But no, I mean I probably don't deserve such a good person, but she makes me better, so I do deserve that."
Who knows, maybe the two may just find love again!
How to Dress Like Kourtney
Now, Kourtney may have had her ups and downs in life, but her body and style is that of a Greek goddess. She not only rocks the clothing she wears, but she has her own distinct look. She will always be remembered as a model, but she is so much more, including a mother and a businesswoman.
Sunrise Dream
Kourtney travels all over the globe, and her confident and sassy personality shines as bright as the matching colors in this set. This dress does the perfect job of emphasizing her features, and looks both comfortable and chic. And we have to give it up to way her drink matches the entire look – mimosas anyone?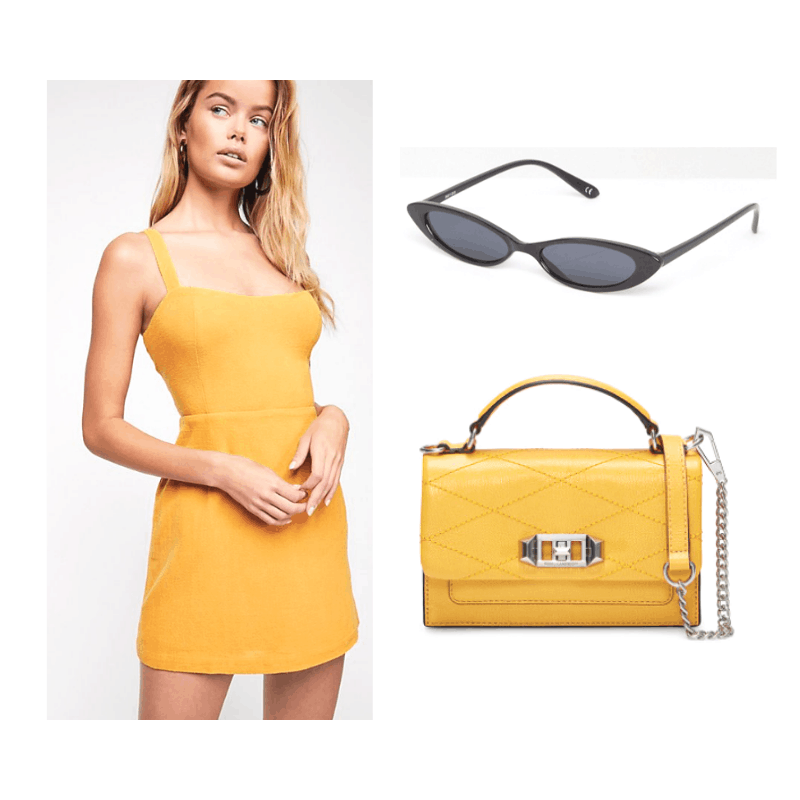 Products: Dress- (Free People), Bag- (Rebecca Minkoff), Sunglasses- (Asos)
Get this cheerful look with a bright and tropical dress, preferably one in orange or yellow to replicate the sun-vibes. Next, match whatever color dress you chose to a clutch, and throw on your favorite pair of shades (I love Kourtney's slender cat-eye sunglasses). Keep in mind that the idea behind this look is beach-y and vibrant, so pick sandals or heels to show some toe!
Sport & Sass
Kourtney pulls off this slimming, yet comfortably athletic look – the perfect outfit for a day of errands or chasing after kids. The colors in the bodysuit and sweatpants match perfectly, with the combination of maroon, burgundy, and red feeding off each other. And with any pair of athletic sneakers, this look becomes both picture-worthy and easily movable.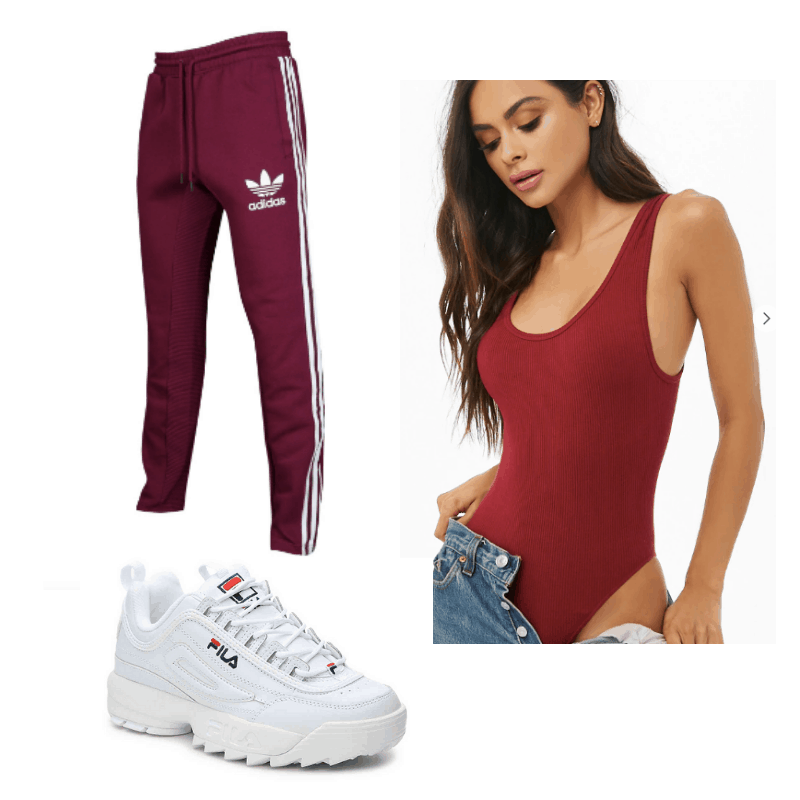 Products: Shoes- (DSW), Pants- (Champs), Bodysuit- (Forever 21)
Get this look with that pair of Fila chunky sneakers you've been dying to wear, a nicely fitted bodysuit in either red or maroon, and custom-colored sweatpants (Adidas has striped sides, which give that extra pop to the outfit).
Sailing Chic
Taken in Italy, the colors in this picture make Kourtney's fashion choices look even more perfect. With the color scheme of mustard and turquoise, this outfit is goals for more than just the dream vacation sailing trip. In all of Kourtney's outfits we've looked at, her ability to match is uncanny. The hat/blouse combo ties everything together to create this ideal boating look.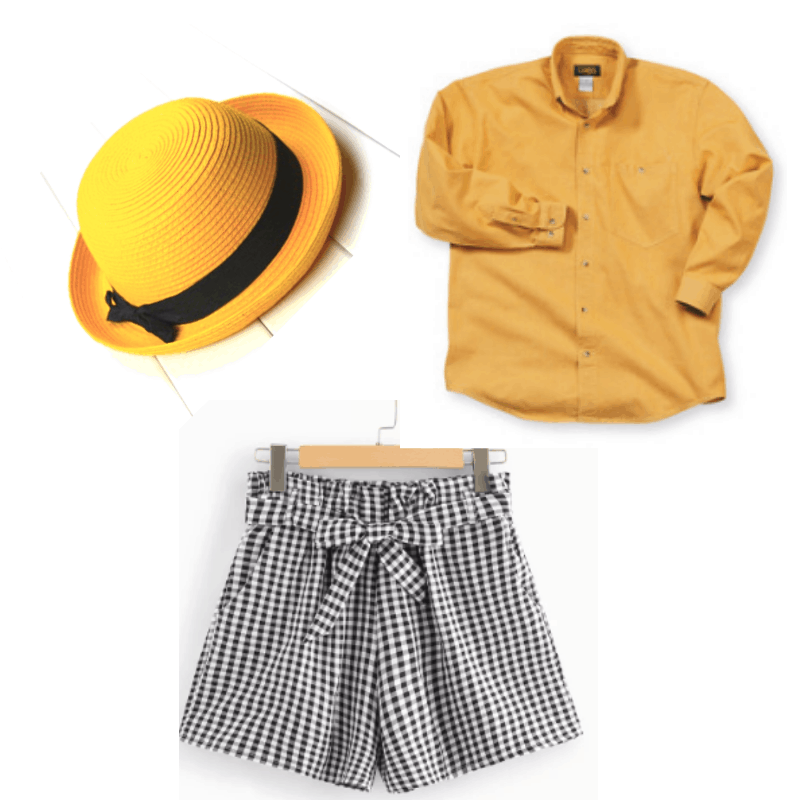 Products: Shorts- (Romwe), Hat- (Walmart), Blouse- (OpenTip)
Another easy look to recreate, Kourtney takes three simple items to put together one cute outfit. Find a yellow-tinted, beach-y hat (good for keeping the sun off your face) paired with a similarly-colored loose and light blouse, then tie it up at the bottom to copy the laid-back look.
Lastly, checkered shorts give this look some pop and pattern, plus the black ties in perfectly with the warm mustard scheme. For shoes, Kourtney may be barefoot, but a good pair of sandals will tie everything together for that ultimate "boating in Italy" look.
What do you think?
Are you a Kardashian fan or follower? If so, does Kourtney's closet fit your style? Comment below which look you love most, and check back next week for our celebrity style guide!