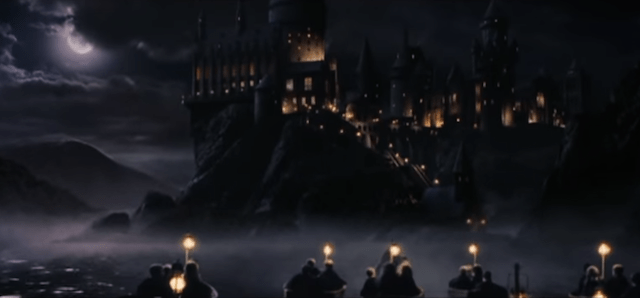 Congratulations! Back-to-school season is right around the corner, and your letter from Hogwarts has arrived. Maybe it's a few years later than expected, but don't feel bad. We can't all be ready for a magical boarding school at age 11!
With the letter, you probably received a long list of supplies you need to purchase, like Fantastic Beasts and Where to Find Them, a wizard-appropriate pet, and, of course, a wand from Ollivanders. It's a very thorough shopping guide, but there's one thing you'll find missing from it: clothes!
Now, I know what you're going to say. Hogwarts students wear uniforms. And honestly, as uniforms go, they aren't so bad! Those v-neck cardigans and pencil skirts are reasonably flattering.
That being said, there's only so long you can wear the same charcoal skirts and shapeless robes as every single person you know before you start to go mad. You'll need to find special occasions to let your personal style fly, and when they come, you'll want to be prepared.
Packing Tips for Hogwarts:
Don't worry about overpacking. Unlike basically every other dormitory in the world, Hogwarts can actually accommodate a lot of your stuff! Remember Hermione Granger's magical Mary Poppins bag? A simple charm can help you stay organized.
Although your letter says you can bring a cat, an owl, or a toad– and some students have even snuck in rats– the fashionable wizard or witch should ignore the rest and go for an owl. How else will get your clothing deliveries at a school with no UPS or online shopping?
Embrace hats. You're not a real wizard until you've developed an unhealthy obsession with funky hats. In the wizarding world, the more hats, the better, so don't be shy when it comes to headgear.
Trip to Hogsmeade
Hogsmeade is a quaint village near Hogwarts, with popular and enchanting stores like Honeydukes and Zonko's Joke Shop. With a guardian's signature, students in their third year and above have the opportunity to leave the castle for field trips into town. First-years aren't technically allowed to visit Hogsmeade, but neither was a permission-less Harry Potter, and that didn't stop him.
The best part of Hogsmeade trips, other than the magic candy and quirky shopping, is the chance to slip out of your uniform for a bit. Pick something cute and cozy for sipping butterbeer at the Three Broomsticks or sightseeing at the Shrieking Shack.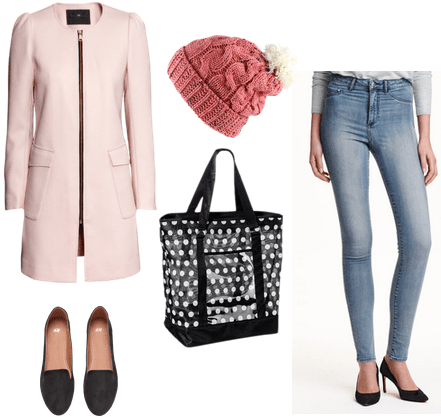 Product information: Coat, Hat, Pants, Shoes, Bag
Since your limited time in Hogsmeade is your best chance to totally mix things up in terms of wardrobe, stick to pieces you can't wear normally. Pink has almost no presence at Hogwarts (except in the wardrobe of a certain Defense Against the Dark Arts teacher…), so go all out with a structured pink coat and magenta hat. They'll keep you cozy as you stroll around window shopping, and you'll definitely stand out among the other students. Plus, the romantic color is perfect for a date in town with a lucky witch or wizard!
You'll probably be longing for some old muggle conveniences, so wear a classic pair of skinny jeans. Polka dots are also virtually absent from Hogwarts, so give them a go on your trip. Make sure to bring a bag big enough to fit all your souvenirs and candy.
Quidditch Game
Quidditch is the center of student entertainment at Hogwarts. Even if you aren't a fan of muggle sports, you'll love the high-stakes flying and passionate fan base. Quidditch games are the perfect place to show off your house pride, and they allow for a lot more wardrobe freedom.
People tend to go crazy with Quidditch team swag (remember Luna Lovegood's giant lion hat?), so make sure to attend your first Quidditch match decked out head-to-toe in house colors. This outfit is for a future Ravenclaw (my personal favorite), but can be adapted to fit any team.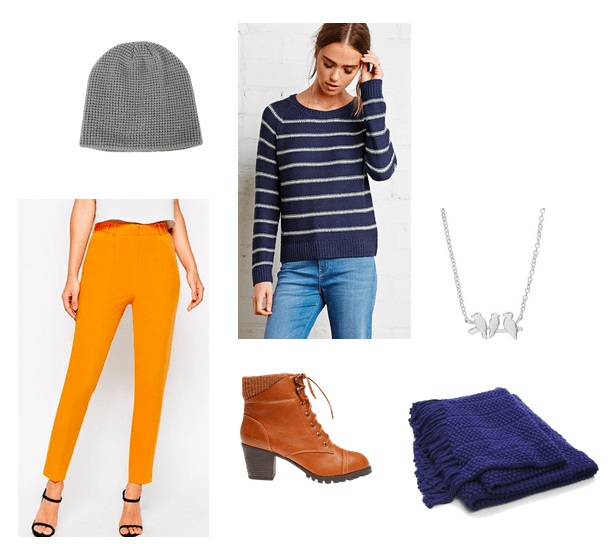 Product Information: Sweater, Hat, Pants, Necklace, Shoes, Blanket
Wear something cozy, like a sweater, since the stands can get chilly. This one has the classic Hogwarts stripes. The Ravenclaw colors are a topic of debate, so tie in all possible house combinations with deep navy, gray, and an eye-catching bronze shade.
Just like any muggle sporting event, you'll want to bring a fuzzy blanket to wrap around yourself. Finish off your spirited look with a thematic necklace, like this Ravenclaw-esque bird pendant. Go team!
Yule Ball
Getting accepted at Hogwarts is an amazing opportunity. The one downside? You'll have to give up on your prom dreams. Hogwarts is definitely not about that.
Luckily, they sometimes throw a festive ball during the holidays called a Yule Ball. Unless you get invited to one of Horace Slughorn's highly exclusive parties, it'll be the only black-tie event you attend during your seven years at school, so make it count!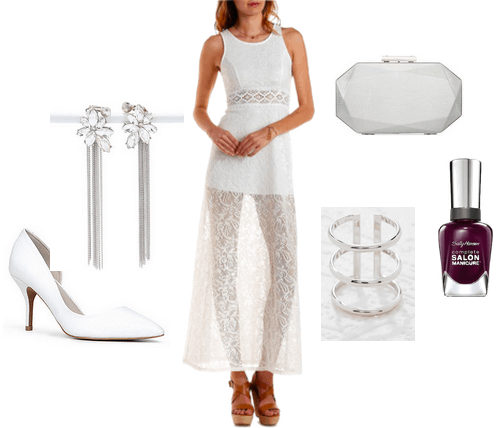 Product Information: Dress, Shoes, Ring, Earrings, Clutch, Nail Polish
For the Yule Ball, go for a "winter wonderland" vibe. This long, lacy white dress is sophisticated, daring, and evocative of the snowy weather and decor. Cool-toned accessories, dramatic nails, and these icicle-shaped earrings pull together a bewitching holiday look that will charm famous athletes and old friends alike.
Your thoughts?
Would you wear these outfits? What are you doing for back-to-school at your university? Got any requests for my next "How to Dress…" article? Let me know!