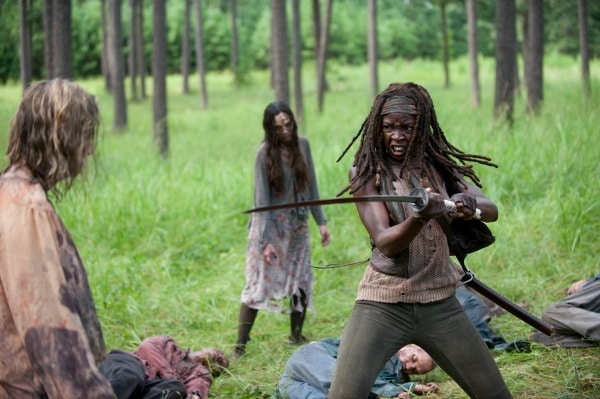 So you've spent the last three months running in the woods, most of your friends are dead, and the zombies are hot on your trail. We get it. Fashion is probably not your top priority. It's hard to focus on picking a stylish outfit when society has collapsed and you're fending off attacks from mindless brain-eaters on the daily. That's what we're here for.
When choosing an outfit for a zombie apocalypse, practicality is key. The days of stilettos and mini-skirts are behind you. If you want to be a savvy fashionista and survive, you'll have to keep a few things in mind:
Clothing options are limited. Forever 21 and Charlotte Russe aren't exactly open for business anymore. You'll have to stick with what you can loot in-between battles, so don't get your heart set on a custom Gucci bag. Stick to basic, versatile pieces that you can find everywhere.
Speaking of bags, the chunky tote is queen in the zombie apocalypse. A wristlet for your keys and makeup might have done the trick once upon a time, but now you need a bag big enough for all your possessions, food and some sort of weapon. All hail the mom bag!
Just as it was before the apocalypse, layering is a girl's best friend. While The Walking Dead and 28 Days Later might lead you to believe zombies only attack in mild, forested areas, an outbreak can actually happen anywhere. You'll want to tailor your look to your specific locale, but you should be prepared to fight zombies in the hot sun and on cold, rainy nights. You may even need to break out your inner Jon Snow and fight some winter zombies! Layering is an easy way to survive the elements.
To assist with your end-of-the-world prep, here are three chic and practical outfits for surviving a zombie apocalypse (or, you know, a weekend camping trip with friends).
Light on Your Feet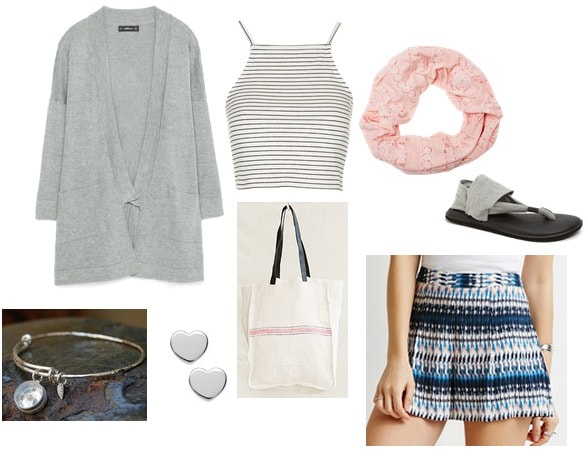 Product information: Cardigan, Top, Scarf, Sandals, Shorts, Earrings, Bracelet, Bag
Choose something light, like this striped crop top, for your bottom layer to keep things cool. Because of the lack of department stores, matching won't always be easy. That's okay! Mixing prints creates a fun, bold look, and if you can't be bold during a zombie apocalypse, when can you be? Choose wild patterned shorts to mix things up.
Scarves are a must because they're such a versatile clothing item. They can be a fashion accessory, a wrap to warm you up, and even a tourniquet in case a member of your party gets injured.
Throw on some cute and comfortable sandals, but make sure they have a back strap. A zombie fight is no time for flip-flops. Heart earrings will keep your spirits high during the darkest days, and a compass bracelet is a must-have for any survivalist.
Staying Stealth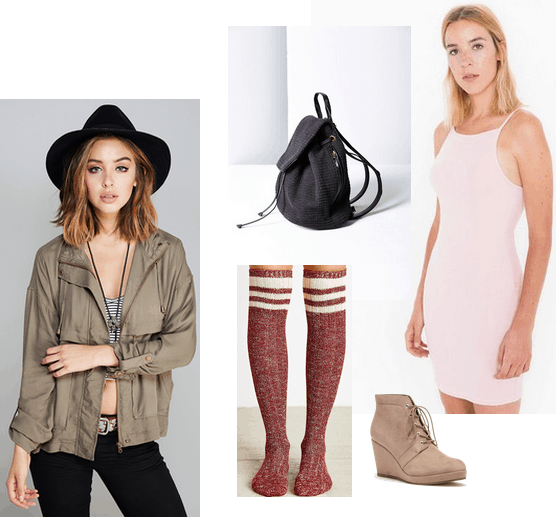 Product Information: Jacket, Bag, Socks, Boots, Dress
The extent of zombie vision isn't known, so it's smart to pick up something camouflaged. Stay hidden in the underbrush with this lightweight, effortlessly wearable green jacket and a neutral dress.
Boots are the best footwear for running from zombies, so pick up a sturdy pair. They'll also be handy in messy terrain or on cold days.
Speaking of cold days, knee-high socks are a great choice for regulating temperature. They're warm, easily removable, and don't impede movement. They can even double as shinguards!
Keep your arms free for fighting with a small backpack. You'll never lose your supplies since they're always attached to you. It's the perfect defense against would-be thieves and saboteurs.
Winter is Coming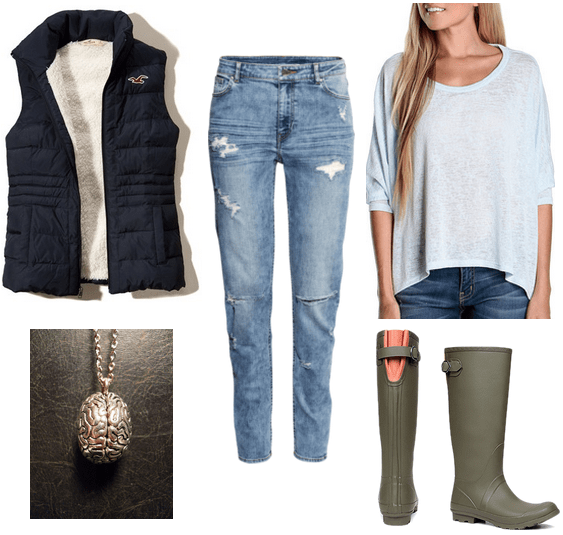 Product information: Vest, Necklace, Jeans, Shirt, Boots
A bulky jacket can make movement difficult, so staying agile in a wintry environment is tricky. Try a puffer vest instead of a puffer jacket to keep your core warm while leaving your arms free to swing. This piece can also double as a pillow at night.
Tall rain boots, though perhaps a little clunkier in fast-paced situations, offer good coverage in both rain and snow while keeping your feet safe and warm. The coral pop on these will add some fun to your bleak days.
Pants are a must in a snowy climate, but go for a looser girlfriend jean that gives you freedom to run. Skinny jeans have no place in a zombie apocalypse!
It's important to keep a sense of humor in the darkest of days, so finish off your look with this tongue-and-cheek brain necklace. Show those zombies that they haven't broken you down!
What do you think?
Are we missing any key items for a zombie slayer get-up? Would you wear these looks outside of the apocalypse? Let us know in the comments below!