Over the years, we've covered so many films with stylish characters and great costumes. But have you ever paid attention to the production design of these amazing films?
In the new column Style and Art Direction, I will create outfits inspired by a film's art direction and visual feeling. This means I will take inspiration not from a film's costumes, but rather from the overall aesthetic of the film itself.
Today, I'm kicking things off with the 2013 film "Her," written and directed by Spike Jonze and winner of the 2014 Oscar for Best Original Screenplay. Let's get started!
About the Movie "Her"
Her stars Joaquin Phoenix, who plays Theodore Twombly, an introverted and depressed divorcee who develops a romantic relationship with a Siri-esque computer operating system named Samantha (voiced by Scarlett Johansson).
This film is a total eye-opener, asking us to examine our collective relationship with technology. With such quirky subject matter, it's only natural that the film's art direction would be beautiful and unique.
Below, I'll show you three outfits inspired by the visual feeling of "Her":
"Her" Movie Fashion – Outfit #1: Theodore's Home Office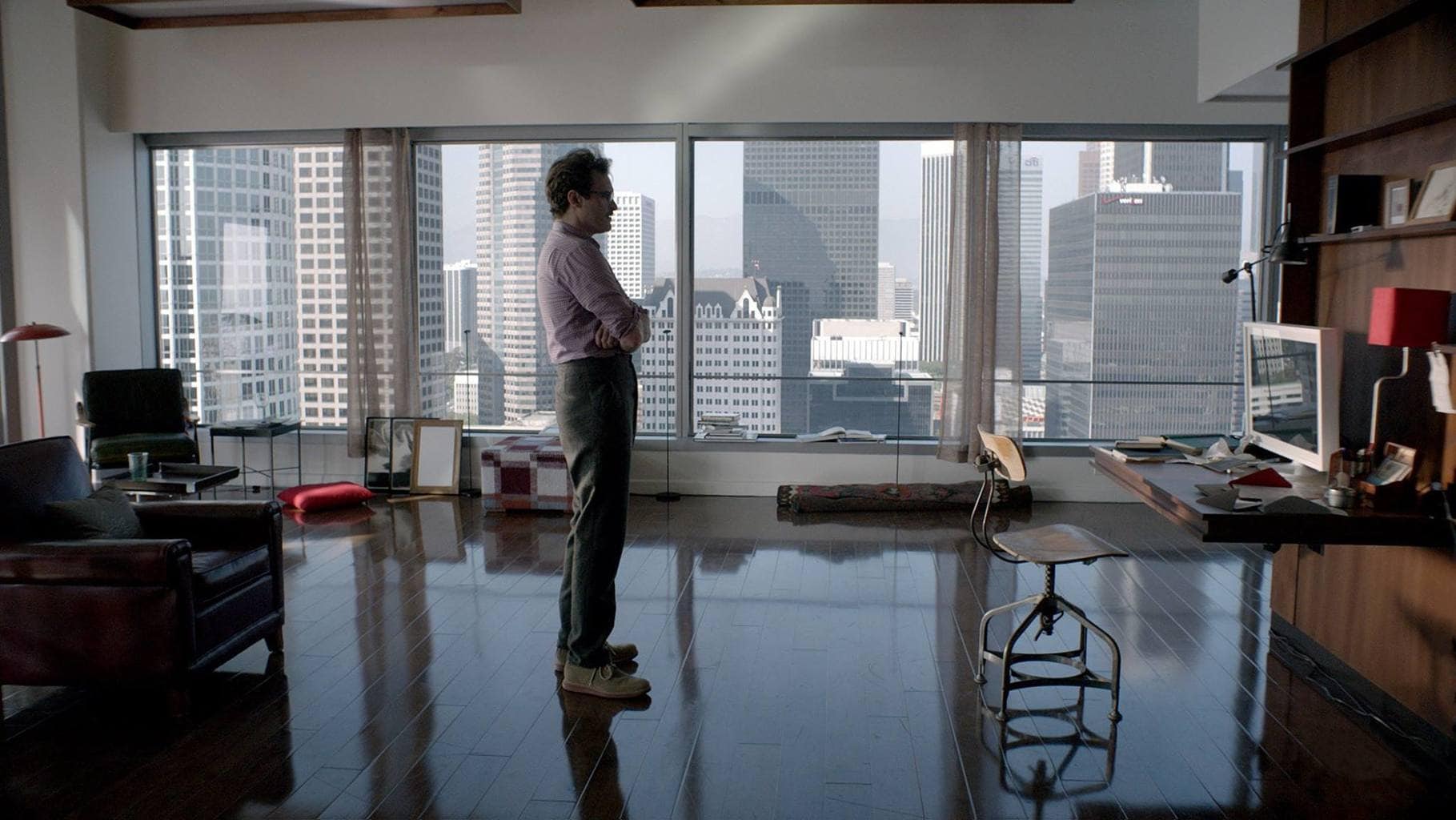 This is Theodore's studio apartment, which mixes stark, mid-century modern furniture with natural finishes and plenty of shine. My favorite part about this setting is the breathtaking view of the Los Angeles skyline.
The office buildings surrounding Theodore's home give off a professional vibe, as does his desk, so I started with a blazer and pencil skirt. However, this setting is Theodore's home, his space to let loose, so I made sure to choose pieces that appeared young and fun rather than strictly professional.
To continue on with the office-meets-relaxed style, add a pair of lace-up pointed toe high heels. To allude to the apartment's incredible views, rock a galaxy print crop top. Finish the look with gleaming hoop earrings.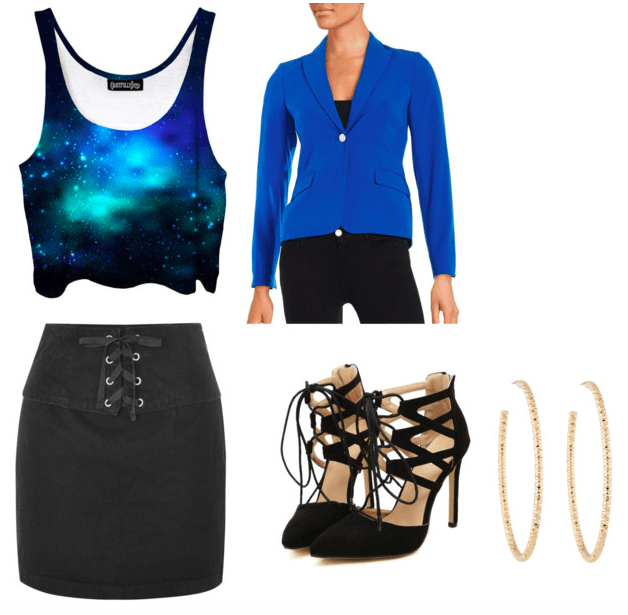 Products: Top – Etsy, Blazer – Lord and Taylor, Skirt – Nordstrom, Heels – Woopshop, Earrings – Last Call
"Her" Movie Fashion – Outfit #2: The Shared Space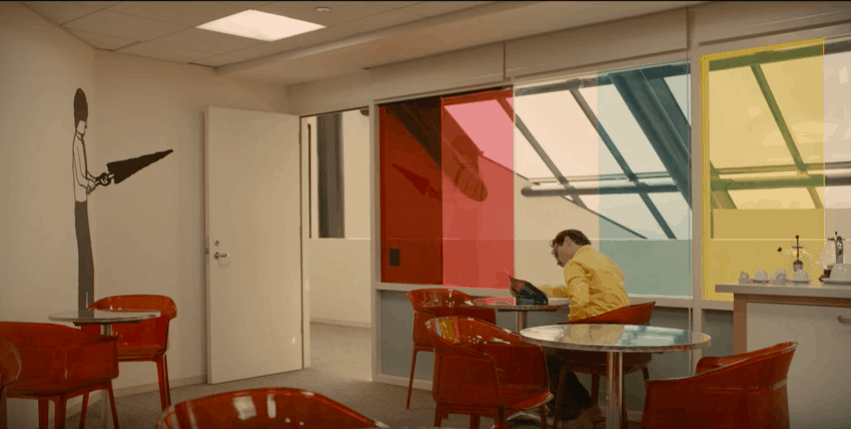 This is the shared space where Theodore works. His workplace is shown a lot throughout the film, and it has a moody, melancholy feel, despite incorporating many bright colors.
The translucent glass panes seen in this shot give off a cloudy, rainy day vibe, so I created a look fit for inclement weather.
For a rainy day outfit inspired by "Her," start off with basics, namely some boyfriend jeans and a striped boatneck tee. To match the red chairs, add a raincoat and Vans that are the exact same color. Don't forget the most important item — an umbrella!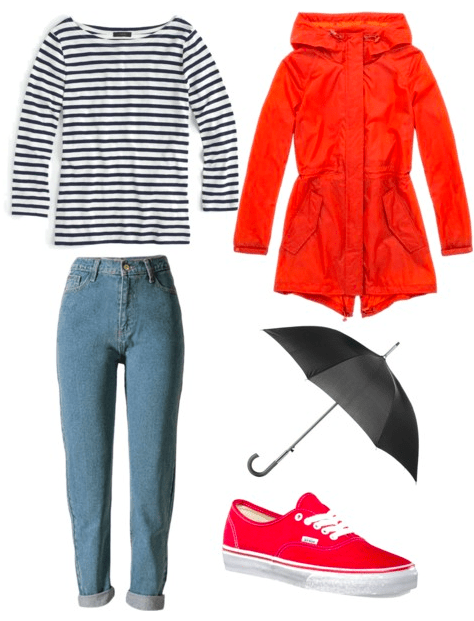 Products: Shirt – J.Crew, Jeans – Amazon, Raincoat – Orchard Mile, Umbrella – Lord and Taylor, Shoes – Vans
"Her" Movie Fashion – Outfit #3: Theodore's Workplace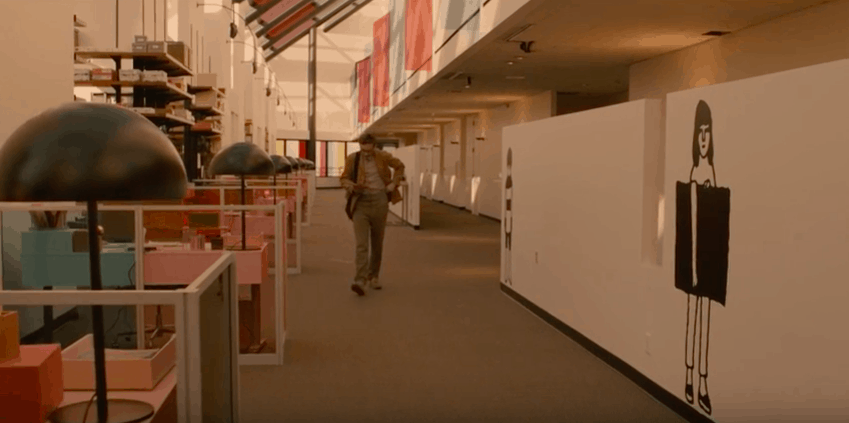 Theodore works at a business where he writes professional love letters for people who are unable to write themselves. This is why his workplace is so colorful. To be honest, I certainly wouldn't mind going to an office every day if it looked like this!
Since this is a casual office setting, this outfit is more professional than the first, while still being relaxed. I can see this working for a casual Friday at your fashion internship!
To channel Theodore's colorful office space, play with color by mixing red-orange trousers and green heels. Since the pants and heels are so bold, add a basic tee and a black bag for balance. Here, I chose a cute black clutch so that you will be ready to go out on a Friday night after work.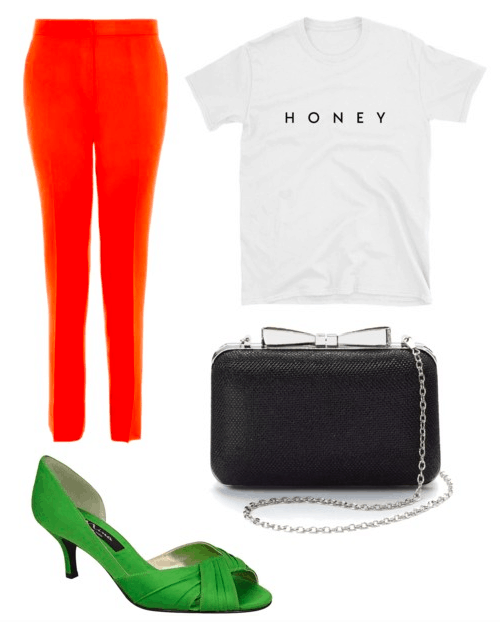 Products: Trousers – Topshop, Shirt – Etsy, Heels – Lord and Taylor, Clutch – Kohl's
What do you think?
Have you seen "Her"? What was your favorite part? Did the art direction and set design inspire you? How would you describe the movie's aesthetic? Let me know in the comments below.