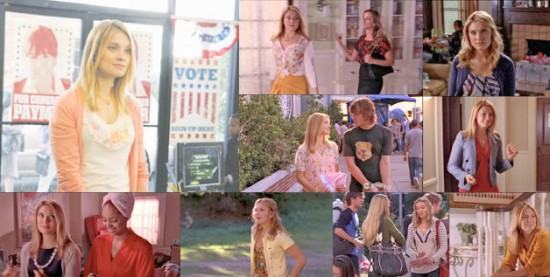 In addition to The Vampire Diaries and One Tree Hill, one of the most-requested TV series among CF readers has been Greek! We've received your emails and comments, and, in response, today we're launching our new series on fashion from the popular show.
For those of you who aren't familiar with Greek, here's a rundown: The ABC Family comedy-drama series follows the lives of college students living and dating while being part of their school's Greek system. The show was a hit for four seasons but, sadly, has come to an end: The series finale aired on March 7th.
Already missing your Greek fix? Never fear! Over the weeks to come, I'll break down the styles of some of your favorite Greek characters. First up is Casey Cartwright, a sister in the (fictitious) ZBZ sorority, and one of the main characters on the show. As you'll see below, she has a super cute wardrobe that's easy for college students to emulate.
Casey's Style
A preppy sorority girl through-and-through, Casey has a style that is chic and classic, while still being youthful and fun. Printed blouses, cardigans and skirts in pretty pastels are her closet staples.
The trick to emulating Casey's pretty, sophisticated style is to find the perfect balance of classic prep and trend-conscious dressing. Also, Casey's style is very put-together: She's not a girl to be seen in her boyfriend's sweatpants and a t-shirt. Finally, for her day and night looks, it's all about youthful femininity.
Pretty Blouses
Aside from her collection of ZBZ t-shirts, Casey doesn't really rock "casual" staples. Her idea of casual wear involves silky blouses, pretty floral tops and patterned tanks. Although floral tops aren't a new trend, Casey has a certain way of pulling them together with other pieces to create a modern look.
To emulate her style, tuck your blouse into a fitted skirt or a pair of khaki shorts. Nip your waist in with a skinny belt and you'll be the epitome of casual chic.
Product Information: Top Row – Old Navy, Forever 21, dElias, Old Navy; Bottom Row – Charlotte Russe, dElias, Ann Taylor LOFT, Forever 21
Classic Cardigans
There really isn't a better match for a silky blouse than a lush cardigan. And Casey knows this – almost all of her outfits include a sweater or cardigan of some sort, usually in a pattern or color that complements her top.
Although cardigans are a favorite of older generations, they can also be youthful and playful, a fact that's evident in Casey's looks. To channel Casey, opt for sweaters in fun colors or patterns, and don't be afraid to mix and match prints. A floral top in light pastels, worn with the Forever 21 striped cardigan below would be an adorable, Casey-esque combination!
Product Information: Top Row – Charlotte Russe, Old Navy, Old Navy, Old Navy; Bottom Row – dElias, Old Navy, Old Navy, Forever 21
Preppy Bottoms
Now that we've discussed tops, it's time to add the last piece of the preppy, sorority girl look – khaki or twill shorts. Unlike the California look of the 90210 girls, Casey favors chinos over denim cut-offs. The trick to making these types of bottoms work is to avoid cuts that are too loose or long, as they tend to look matronly.
For shorts, opt for a pair that hits right above mid-thigh, and that fits you well through your hips and waist. The same trick goes goes for skirts. Whether khaki, plaid or twill, your skirt should be conservative but still youthful.
To achieve Casey's look, all that's left to do is tuck your blouse in, add a pretty skinny belt and throw on a cardigan!
Product Information: Top Row – Forever 21, Old Navy, Old Navy, dElias; Bottom Row – Old Navy, Old Navy, Old Navy
Tying it All Together
Casey's style is quintessential collegiate prep, which perfectly reflects her responsible and classy disposition. The great thing about Casey's style is that it is easy to emulate with you existing wardrobe. Next time you're getting dressed, tuck your top into your skirt and add a classy cardigan. The small gesture is an instant outfit-changer.
Your thoughts?
What do you think of Casey's style? Do you favor her style over those of the other television characters that have been featured? I love to hear your feedback and comments each week – be sure to leave a comment!