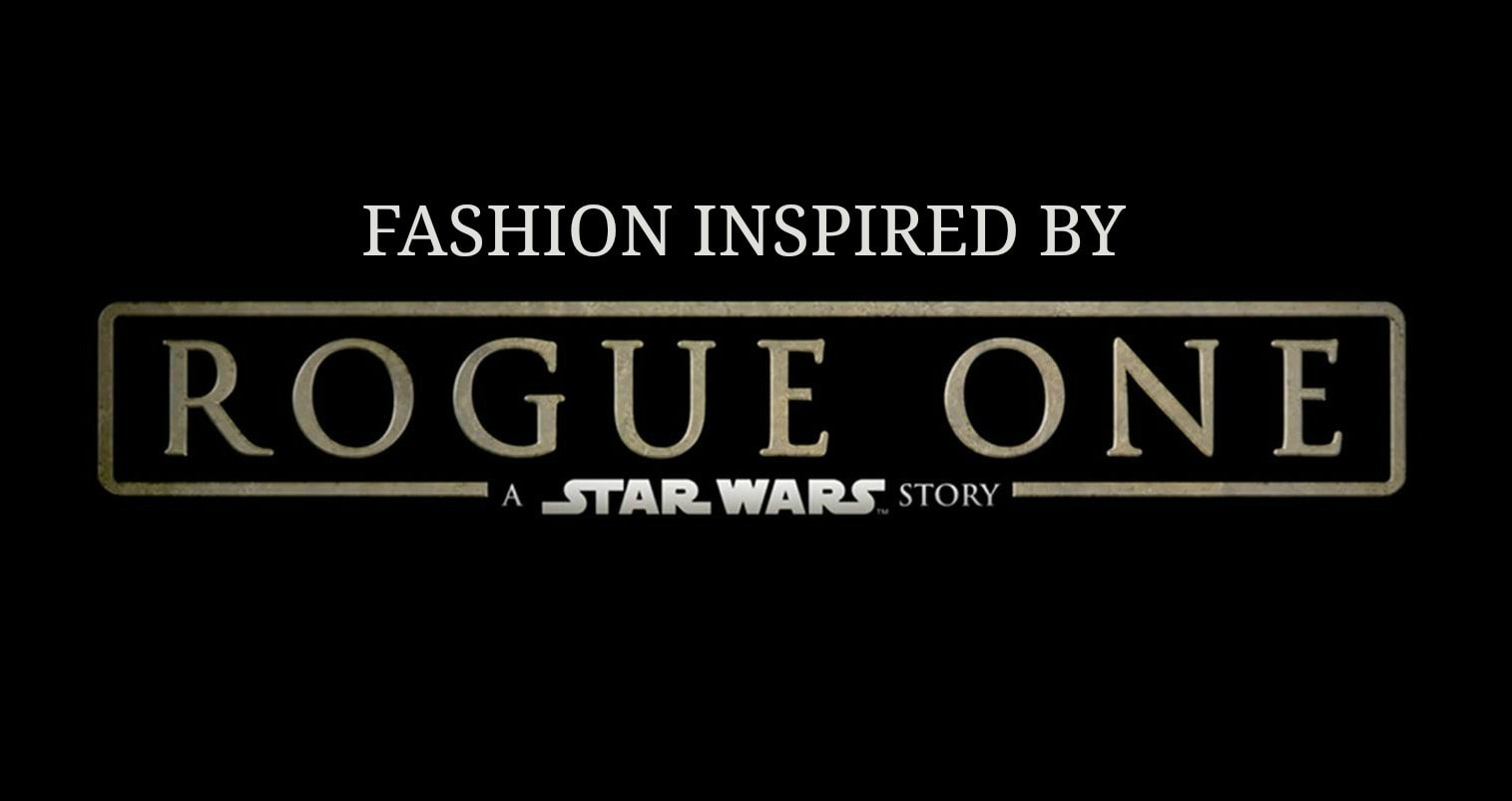 I'll admit to an occasional gripe about Hollywood's over-reliance on franchises and lack of original ideas, but let's be real, I really can't complain if that means I get to watch a new Star Wars movie every year!
Rogue One: A Star Wars Story is a standalone movie that isn't really a true prequel or a sequel (midquel?) to the trilogies; even if you've never seen Star Wars (blasphemy!), you'll likely still enjoy it. In many ways, it's less like a sci-fi flick and more like a gritty war movie, although die-hard fans will appreciate many of the references.
Minor spoilers ahead!
About Rogue One: A Star Wars Story
Fans of the original trilogy know that Star Wars IV: A New Hope, centers around the Rebel Alliance's mission to destroy the Death Star, a planet-sized weapon of mass destruction created by the totalitarian Empire.
Fortuitously, Rebels have acquired the blueprints of the Death Star and discovered that there's a tiny but fatal flaw in the design that could prove to be the key in winning the battle.
For years, fans have griped about the unlikely nature of this plot point: after all, shouldn't at least one peon in the massive Empire have noticed a devastating architectural weakness in their super-weapon? And just how did the Rebels get ahold of those blueprints, anyways?
Rogue One, which takes place shortly before A New Hope, answers those questions while introducing us to new faces and reacquainting us with some familiar ones.
The new merry band of plucky misfits and scoundrels with the weight of the world on their shoulders includes criminal Jyn Erso (Felicity Jones), Alliance veteran Cassian Andor (Diego Luna), defected Empire pilot Bodhi Rook (Riz Ahmed), blind spiritual warrior Chirrut Imwe (Donnie Yen), ruthless mercenary Baze Malbus (Jiang Wen), and sarcastic droid K-230 (Alan Tudyk).
Outfits Inspired by Rogue One
Jyn Erso
Jyn Erso is a career criminal who has no interest in taking sides in the war. However, when her past catches up to her, she has no choice but to enter the fray. She doesn't care for the rigid rules of the Alliance, though, and decides to take matters into her own hands. (Seriously, I'm trying to make this synopsis as vague as possible.)
Although Jyn can be reckless at times, she's also extremely practical, which is reflected in her clothing. Snag her utilitarian style with a comfy blue henley and quilted brown vest. Drapey pants and rugged boots won't hold you back if you need to escape some stormtroopers. Finally, stay warm with a pair of leather gloves and a wool scarf.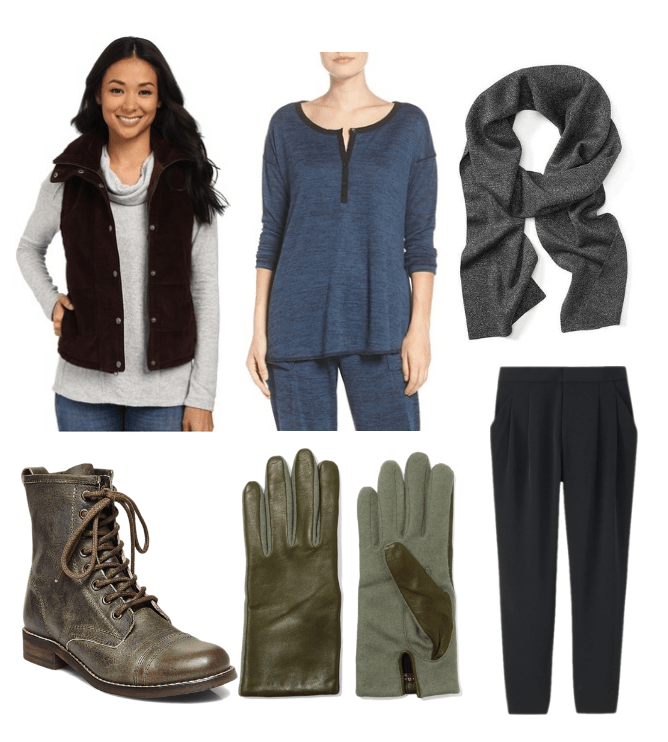 Products: Top – Nordstrom, Vest – 6PM, Pants – Uniqlo, Boots – Amazon, Scarf – Banana Republic, Gloves – The Outnet
Captain Cassian Andor
Captain Cassian Andor is a soft-spoken but effective leader who believes deeply in the cause but still grapples with the morality of his actions. Like Jyn, his wardrobe is more about practicality than style, although that still always seems to translate to snazzy costumes in the world of Hollywood.
You can get a licensed replica of Cassian's fur-lined parka from Columbia, but it'll set you back a cool $450. If that's out of your range (mine, too), try a similar blue winter coat and stick to an earthy palette. An olive bomber jacket, sturdy buckled boots, and a distressed knapsack will give you that "Rebel pilot/intelligence officer" look!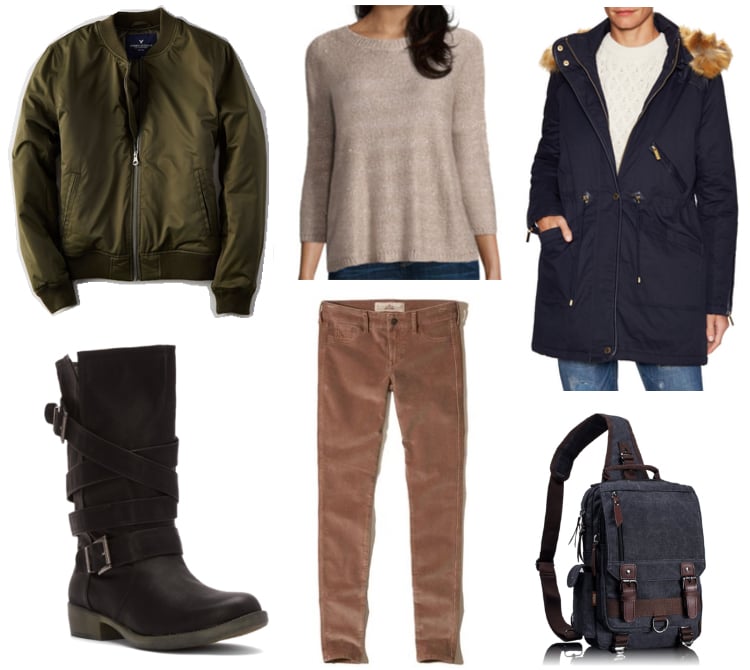 Products: Parka – Gilt, Sweater – JCPenney, Jacket – AEO, Pants – Hollister, Boots – Amazon, Bag – Amazon
Director Orson Krennic
Director Orson Krennic (Sam Mendelsohn) is a rather refreshing villain, because he's not a Sith Lord or a sadist who delights in killing. He's essentially a glorified project manager who's just really disgruntled about his jerk boss trying to take credit for his work. The Death Star was his idea, gosh darn it! (Don't get me wrong, though, he's still pretty bad.)
With the exception of Lando Calrissian and Bail Organa, nobody in the Star Wars Universe rocks a cape quite like the villains. You, too, can blatantly disregard the sage advice of Edna Mode, and try out a dramatic white cape-vest-hybrid. Pair it with black pants and sleek gray boots for a striking contrast. Add some panache with a metallic clutch and a Death Star-shaped ring as an homage to Krennic's pride and joy.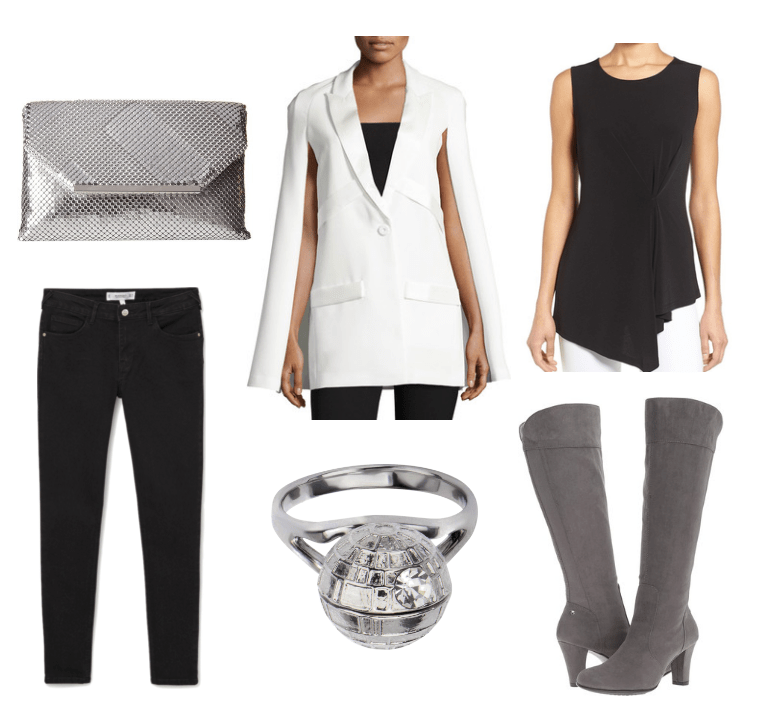 Products: Cape – LastCall, Top – Nordstrom, Pants – Mango, Boots – 6PM, Ring – JCPenney, Clutch – 6PM
What did you think?
Would you wear these outfits? Have you seen Rogue One? What'd you think? Let us know in the comments!