This summer, it seems like movie theaters are brimming with remakes/reboots of beloved older film franchises (Mad Max: Fury Road, Jurassic World, Terminator Genisys, and Poltergeist spring to mind).
I'm the first to admit that I'm missing a good chunk of cinema education: of those four, I've only seen the original Terminator movie. (Yep, I've never seen Jurassic Park!) I'm pretty pleased to have listened to the hype and stepped into the world of Mad Max, though, because the movie was both intensely awesome and awesomely intense. (Also shiny and chrome.)
Know Your Geek: About Mad Max
Mad Max: Fury Road is the fourth film in director George Miller's Mad Max franchise. While the first three movies starred Mel Gibson as the titular Road Warrior, Fury Road features Tom Hardy as the rugged survivor.
In addition to Hardy, the movie stars Charlize Theron, Nicholas Hoult, Hugh Keays-Byrne, Rosie Huntington-Whitely, Riley Keough, Zoë Kravitz, Abbey Lee, and Courtney Eaton.
In the future, mankind struggles to survive in an apocalyptic wasteland ruled by the villainous Immortan Joe and his army of War Boys. When Mad Max is captured by Joe's henchmen, he joins forces with the formidable Imperator Furiosa, who is attempting to lead Joe's wives to freedom. The entire movie is essentially an extended chase scene, but that's kind of what makes it great!
Outfits Inspired by Mad Max: Fury Road
Mad Max
My name is Max. My world is fire and blood.
Max is dressed much like you'd expect a grizzled apocalyptic road warrior to look: lots of leather and buckles and dirt. Instead of a literal interpretation, I chose to go with a more wearable outfit that's also inspired by the surprisingly beautiful desert backdrop of the movie.
Pair a teal dress with a vivid watercolor scarf to evoke the changing colors of the desert sky. A pair of buckled boots reminiscent of Max's chains toughen up the ensemble. Accessorize with scarlet leather earrings and a circular ring that references his status as a universal "blood bag." Finally, slip on a weathered jacket to complete the look. You're ready to hit the road!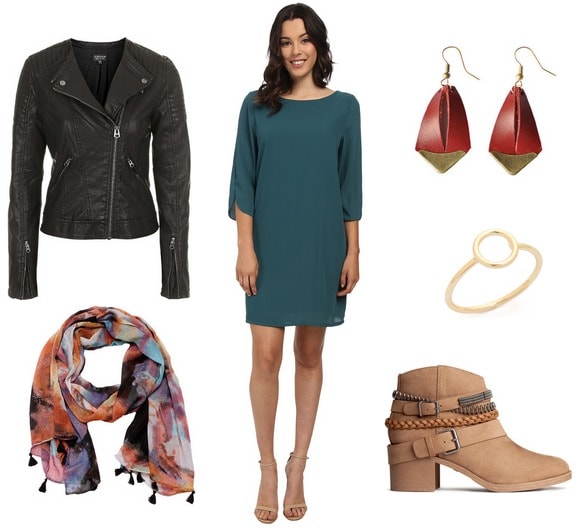 Product Information: Jacket, Dress, Scarf, Boots, Ring, Earrings
The Imperator Furiosa
Out here, everything hurts. You wanna get through this? Do as I say. Now pick up what you can and run.
Furiosa is a tough-as-nails commander who has risen to the top of the ranks of Immortan Joe's army. Although he considers her his most valuable soldier, she's secretly on a path of revenge against the ruthless Joe. Her mission is to free Joe's most prized "possessions"– his five young wives– and return with them to her ancestral home.
For a simple and practical look inspired by Furiosa, start with a basic tank top and loose-fitting trousers. Toughen up the outfit with a faux leather vest and rugged flat boots. As a reference to her childhood home, slip on a pair of leaf earrings. Last but not least, swap her full-on face paint for a more wearable smokey eye.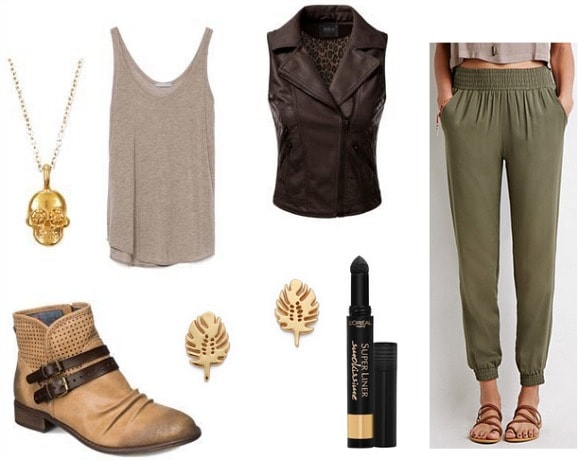 Product Information: Tank Top, Vest, Pants, Boots, Earrings, Necklace, Eyeliner
The Five Wives
We are not things!
To ensure a healthy heir, Immortan Joe has selected five young women– the Splendid Angharad, Capable, Toast the Knowing, The Dag, and Cheedo the Fragile– as his captive wives. Determined to gain their freedom, the wives board Furiosa's War Rig in search of a better life out in the desert. Though they might look like a page out of the Victoria's Secret Nuclear Desert Apocalypse Summer 2015 collection, the five women are hardly helpless damsels in distress.
For an eclectic look inspired by these five brave ladies, start with a trendy cropped peasant blouse reminiscent of their gauzy attire. Next, add an asymmetrical jersey skirt and a pair of tough green boots. Lock-and-key shaped earrings reference the wives' captivity, while a colorful necklace made of seed beads and an inspirational bracelet symbolize their hopes to restart their lives in the Green Place.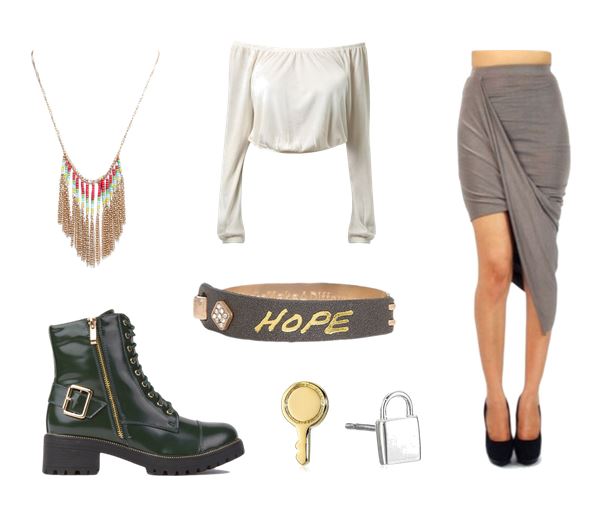 Product Information: Top, Skirt, Boots, Necklace, Earrings, Bracelet
The Doof Warrior
*Insert guitar and flamethrower magic here*
Much has been made of Fury Road's inexplicable yet incredibly awesome onesie-wearing, flame-throwing guitarist, also known as the Doof Warrior.
For those days when you just want to ride into battle stride a giant truck covered in speakers and rock out amidst the surrounding chaos, this outfit's got you covered. Start with a bright red romper, then add chunky heeled sandals. Accessorize with flame-shaped earrings and bangles made from re-fashioned guitar strings.
Congratulations, you are now ready to rock. We salute you.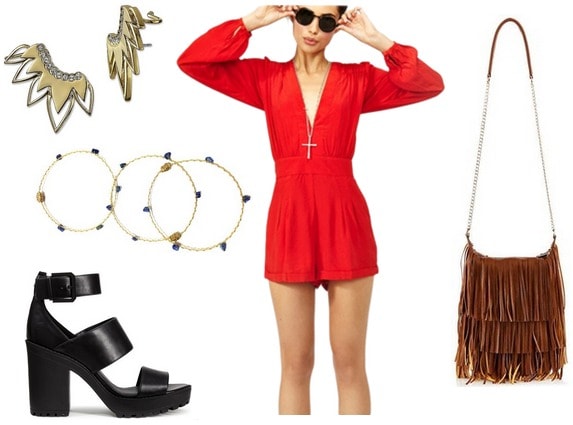 Product Information: Romper, Heels, Bag, Earrings, Bangles
What did you think?
Would you wear these outfits? Have you seen Mad Max: Fury Road yet? What did you think? What other geeky inspirations would you like us to cover? Let us know in the comments!