TV Fashion Recap is a biweekly column featuring the best of TV fashion. Every other week, we recreate our favorite outfits from the most recent episodes of all of the hottest shows. Stay tuned; we may feature your favorite show next!

Every other week, I break down the best of TV fashion, featuring my favorite looks from the last two weeks. This week, I was inspired by Game of Thrones and Pretty Little Liars. Read on to check out the outfits!
1. Game of Thrones (Season 5, Episode 10): Myrcella's Pale Pink Dress and Gold Accessories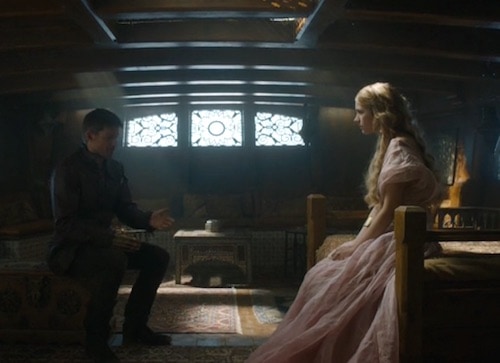 I was rocking myself in the corner, blubbering incoherently, during the entire season finale of Game of Thrones. If you haven't seen it yet, you're in for a real treat– and by treat I mean total devastation. I knew it was going to be bad because I read the books, but I wasn't prepared for the emotional trauma.
That said, if you haven't seen Game of Thrones yet, you really, really need to– the show is so addictive. It's got fantasy, political intrigue, and attractive bearded men (my three key criteria for great shows).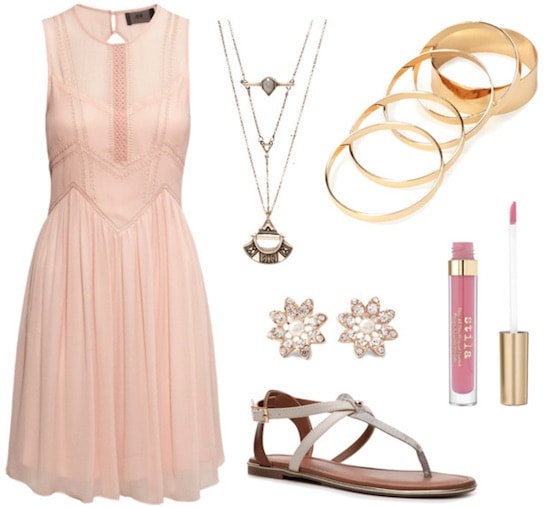 Dress, Necklace, Bracelets, Earrings, Lipgloss, Sandals
To recreate Myrcella's gorgeous outfit, which would be perfect for a date or bridal shower, start with a pale pink dress. This one has beautiful embroidery reminiscent of medieval dresses, and the added benefit of not breaking the bank. Grab a pair of strappy faux leather sandals for a summer-ready look.
Next, slip on a gold cuff bracelet (or stack a few!) and a pendant necklace. Don't go too overboard with extra accessories– a pair of earrings will do the trick. Myrcella's outfit works because of its subtlety. Finish with a few swipes of a pink lipstick or gloss to mimic Myrcella's fresh-faced look.
2. Pretty Little Liars (Season 6, Episode 3): Aria's Black and Red Lace Top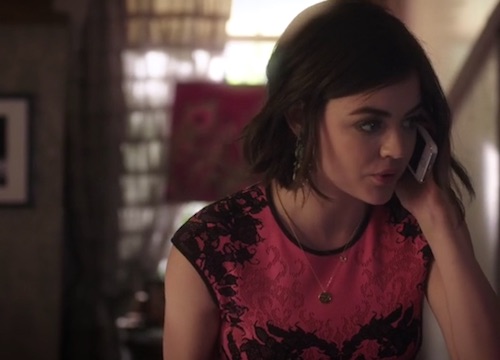 Pretty Little Liars is going to be the death of me. I keep swearing that I won't watch the show anymore because I can't handle the drama and plot twists (not that Game of Thrones is any better), but I just can't. It's too good.
If you haven't given it a try yet, I'd definitely recommend it. It's like Scandal or How to Get Away With Murder set in high school. Just hearing the premise makes me want to watch all six seasons again.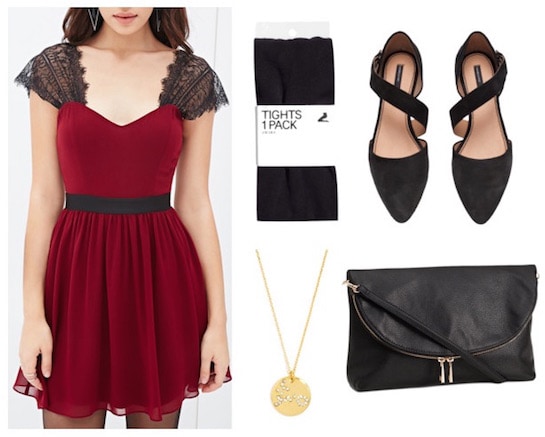 Dress, Tights, Shoes, Necklace, Purse
To recreate the look, start with a black-and-red lace dress or tunic. Grab a pair of black tights or jeans, then slip on a pair of cute flats. Next, put on a gold circle pendant– this one has your zodiac constellation on it, which the quirky Aria would adore.
For the finishing touch, clutch a cute black faux leather clutch bag (I know, I know, I'm cringing at my bad puns, too).
Your thoughts?
What do you think of these looks? Did we miss any amazing outfits from the past week of TV? Which shows do you think deserve a spot on the next TV Fashion Recap post? Leave a comment below and tell us what you think!