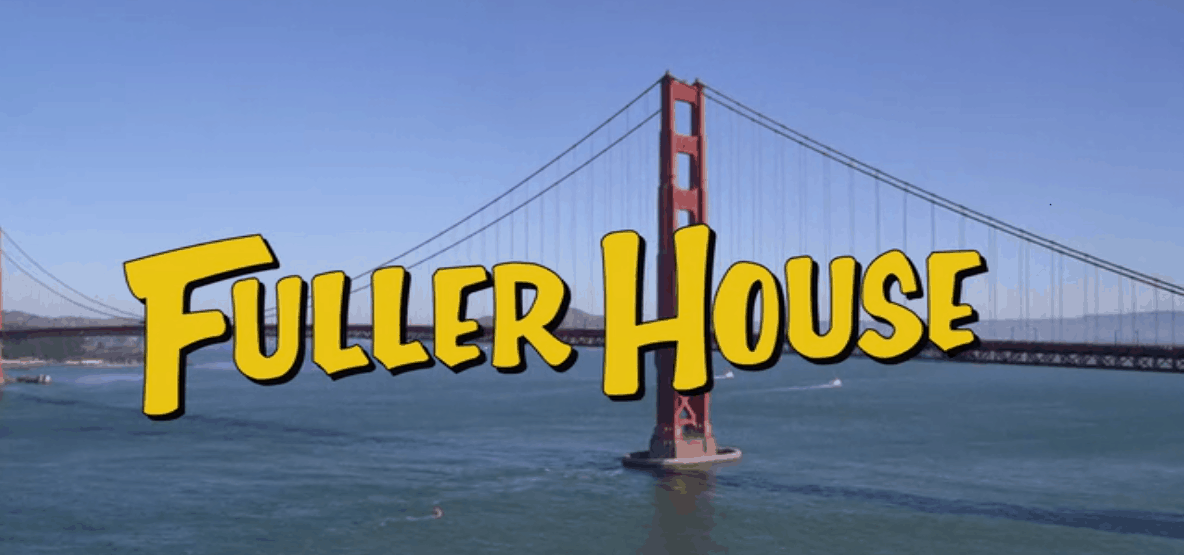 By now, you've probably heard that Fuller House, the much-hyped sequel to our childhoods (AKA the beloved sitcom Full House) premiered in late February on Netflix.
The sequel mirrors the premise of the original show: DJ Fuller (nee DJ Tanner), a recently widowed single mother of three boys, enlists the help of Stephanie Tanner, her free-spirited younger sister, and Kimmy Gibbler, her soon-to-be divorced BFF and mother of a feisty middle schooler, Ramona, who all move into the Tanner family home in San Francisco.
While the reboot retains the light-hearted hilarity and cheeky fourth-wall awareness of the original Full House (Dancing With the Stars cameos, shade thrown at Mary-Kate and Ashley Olsen, and a very on-point reference to Alanis Morissette's You Oughta Know), it also boasts a female-centric cast that tackles many of the struggles of the modern woman, including dating, divorce, female friendship (she-wolf pack!) and motherhood. Each leading lady has her own take on what it means to be a modern woman as well as her own distinctive and enviable style.
DJ Fuller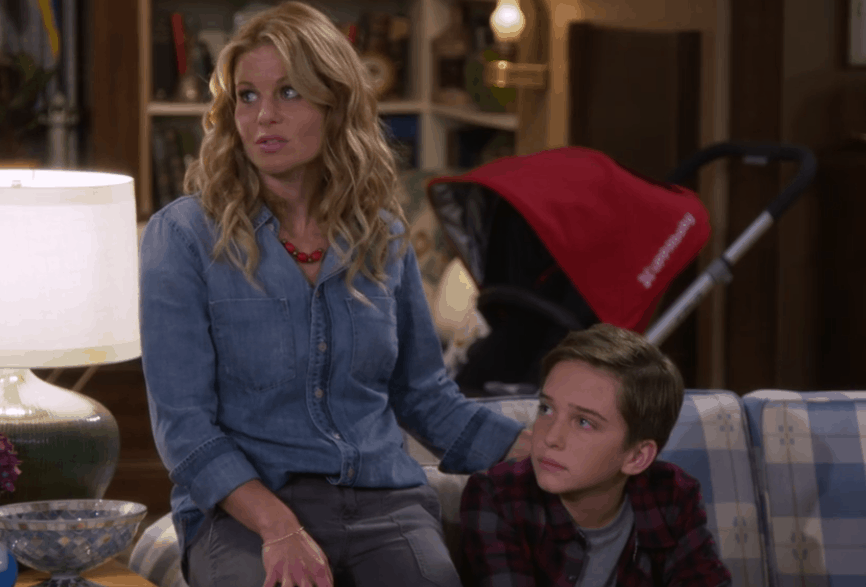 Aside from the whole widowed mother of three thing, DJ hasn't changed a bit since the original Full House – she's an ambitious and hardworking veterinarian with a strong sense of responsibility and duty to her family, and girl's snark game is as strong as ever.
DJ is basically super-mom to her three boys and Ramona, but is not without her flaws, such as being unable to deliver bad news or not being able to make tough decisions without endless worrying and deliberation.
Products: Lipstick, Necklace, Blouse, Jeans, Flannel, Booties
As a super-mom on the go, DJ's style is pretty comfy and no-nonsense, often turning to trendy denim cuts paired with loose blouses, though DJ is never without a full head of beachy waves or at least one piece of sparkly jewelry. DJ is also prone to '90s throwbacks – lucky for her, that look is super "on fleek" right now.
For a DJ-inspired look, try pairing a ripped pair of boyfriend jeans with a floaty white blouse and a men's flannel tied around your waist for a bit of '90s flair. A pair of stacked heels and a blingy statement necklace add a little bit of feminine oomph, while a muted nude rose lipstick adds an unfussy touch of sexy color.
Stephanie Tanner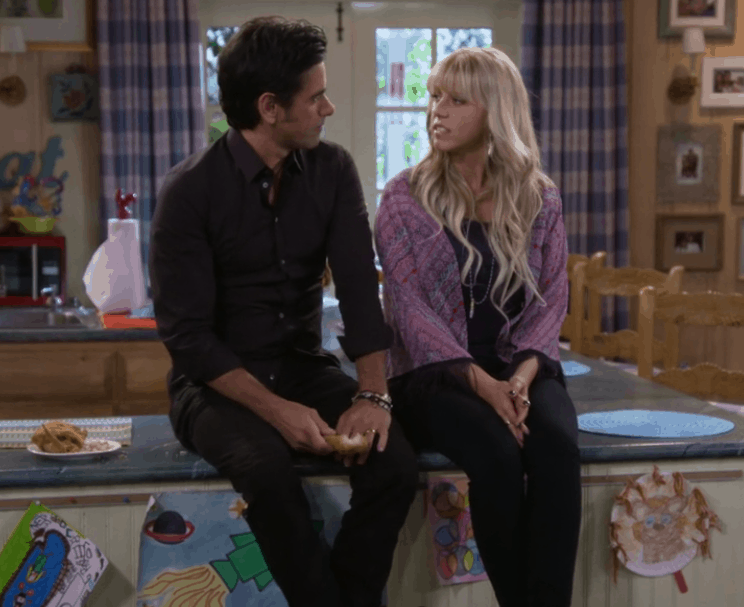 Before sweeping in to help out her oldest sister, Stephanie Tanner was living the jet-set life of a high-profile DJ (as DJ Tanner, no less), performing at festivals like Coachella and vacationing all over the world. Stephanie is independent, tech-savvy, and the epitome of cool, but parenting doesn't come as naturally to her as it does to DJ and Kimmy.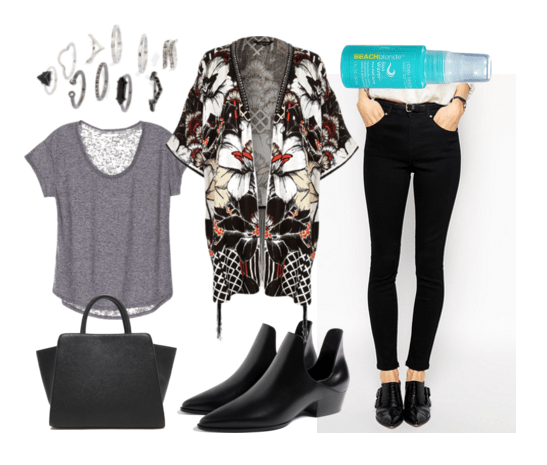 Products: Rings, Tee, Bag, Kimono, Booties, Salt Spray, Jeans
Stephanie's style is fitting for an ex-rockstar DJ, featuring cool silhouettes, muted neutral bases, loads of edgy jewelry, and floaty kimono jackets and vests. (Uncle Jesse would approve.)
For this stylish Stephanie-inspired look, start with a neutral base of black cigarette jeans and a loose gray scoop-neck tee. Throw on a cool kimono and a pair of pointy leather booties, then pile on edgy accessories like a handful of dainty silver rings or layers of long necklaces. Finish the look with bed-heady waves and a trendy trapeze bag.
Kimmy Gibbler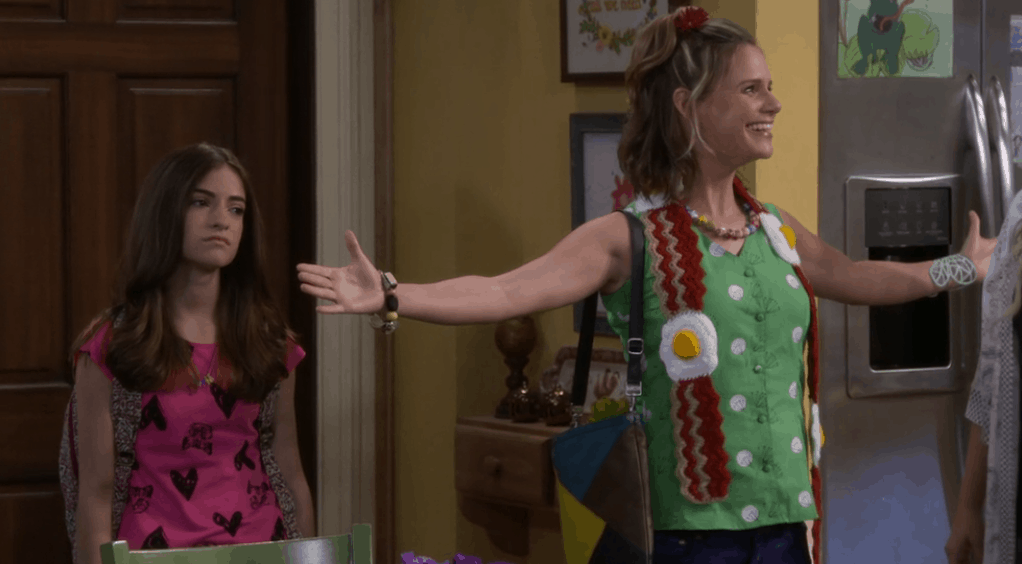 DJ's best friend from high school, Kimmy Gibbler, is back and as Kimmy as ever – she's outspoken, boisterous, sassy, and savvy. She singlehandedly runs a successful party planning business and raises her daughter Ramona while her coparent travels the country as a racecar driver, all while letting the criticism from her haters roll right off her back.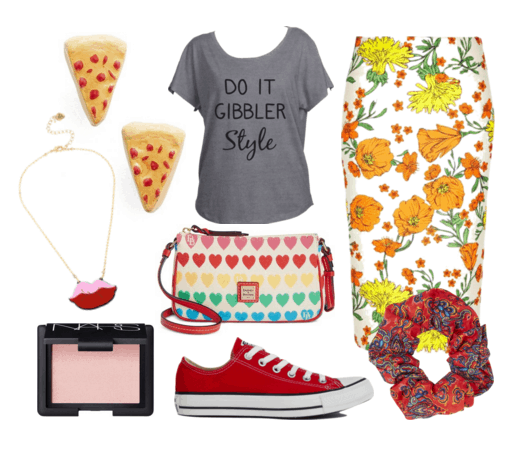 Products: Earrings, Tee, Skirt, Necklace, Bag, Scrunchie, Blush, Sneakers
Kimmy's style, like her personality, is loud and in-your-face. Kimmy is drawn to mixing retro prints and unique items (like the now-infamous bacon and eggs scarf) and is often seen wearing items that promote her party planing business like the savvy business-lady she is.
For a sassy look that Kimmy would wear in a heartbeat, pair a retro printed pencil skirt with a Gibbler-style tee and a pair of low top Converse sneakers. Then, pile on graphic accessories, like pizza earrings, a lip necklace, and a colorful heart printed purse. Tie your hair up in a half pony with a paisley printed scrunchie for a '90s throwback feel, and finish with a light blush on your cheeks – Kimmy is definitely not afraid of a little color!
What do you think?
Are you a fan of Fuller House? Would you wear any of these looks? Which Fuller House lady is your favorite? Let me know in the comments below!