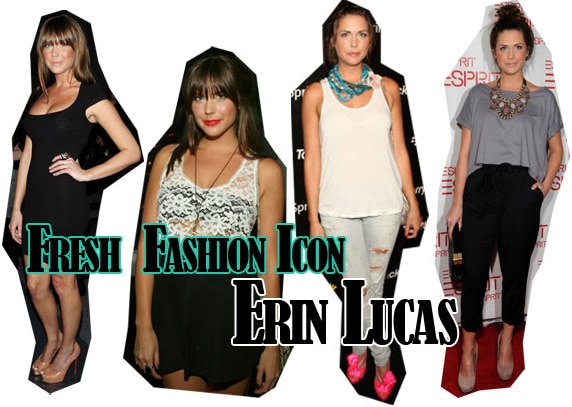 You probably know her best from season one of The City, but don't write her off as another reality star with boring style. Erin Lucas, model, actress, and daughter of AC/DC bassist Cliff Williams, has her own style and isn't afraid to show it off. Whether she's rocking the red carpet in a LBD, jeans, or a fun pair of heels, she is always on-trend and always looking good. Want to know how to get Erin's fashion-forward style? Read on!
1. Rock Your LBD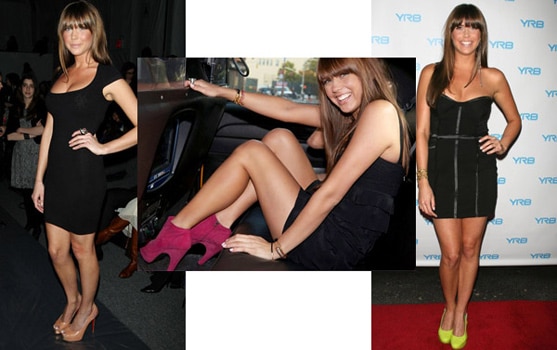 No stranger to the LBD (little black dress), Erin Lucas turns wearing this oldie but goodie into an art form. Whether her little black dress is ruffled, stretchy, or tailored, she chooses body-hugging garments that show off her shape and lovely legs.
Get the Look: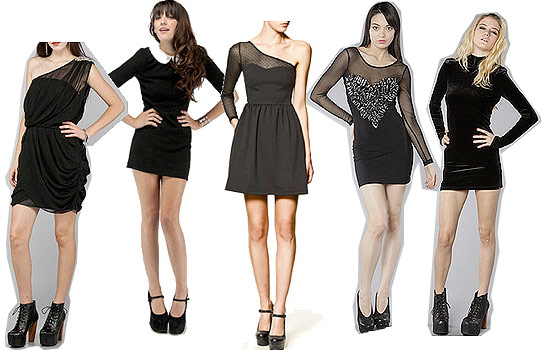 (Clockwise from Far Left: Wrap Dress, Slice Dress, Bustier, Batwing Dress, Cotton Spandex U-Jersey Dress)
As everyone has a different shape, I tried to chose dresses that could show off everyone's best assets. So if you have great arms, you can wear the jersey wrap dress I chose. And if you're more daring, you can try on the slice dress- which shows off hints of your body without giving everything away. If you like strapless dresses, which are great on any shape, I found a fab strapless dress that can be worn for any special occasion. And if you love your shoulders and want to be a bit more covered, you can slip on this great batwing dress that is both sexy yet conservative. Finally if you like a bit of a surprise, I found a simple dress with a "u" cut out in the back, meaning you can be all business in the front and party in the back.
Whatever your LBD style, your outfit is never complete without shoes. And one tip that I have when it comes to wearing heels with a LBD to stay away from black heels! Unless they are spectacular (like these babies), black heels are only going to make your LBD drab. Make like Erin, and look for shoes (which you will see more of later in this article) with unusual styles, colors, or other attributes; they make your outfit pop that much more.
2. Wear Pants instead of a Dress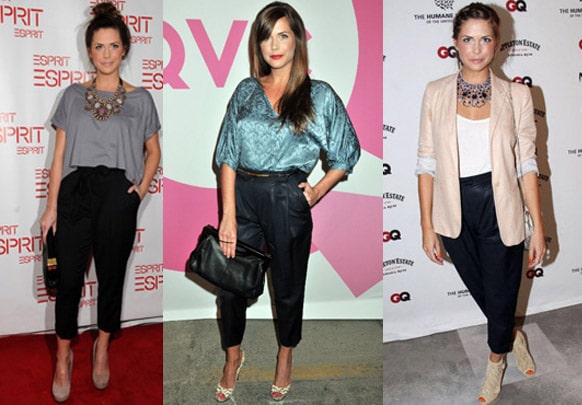 One thing I love about Erin's style is that she isn't afraid to wear pants on the red carpet or to formal affairs. She has fully embraced the trousers trend, and flaunts it effortlessly- and with style.
Get the Look: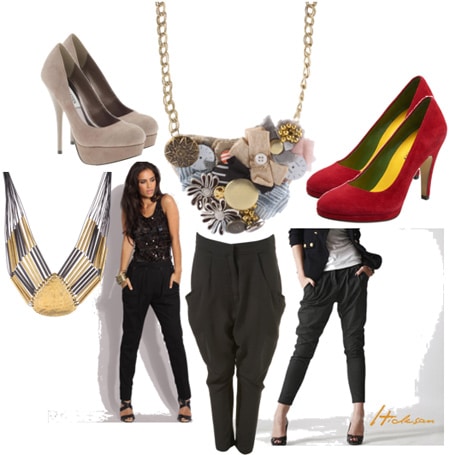 (Nude Pumps, Bib Necklace, Red Pumps, Metal Necklace, Harem Pants 1, 2, 3)
Erin styles her trousers with a bevy of cute accessories to offset their otherwise-masculine look. When you rock menswear-inspired trousers, I recommend wearing a basic tee or blouse in any color up top, and adding a statement necklace like the ones I chose above. And, if you're more daring, you can even rock a crop top Erin does in the picture on the left.
Like the LBD, the trousers above, which are big on top and slim on the bottom, are a great platform for an amazing pair of heels. I chose two, one pair in a cute nude color, and another pair in a yummy cherry red. Don these heels with one of the pairs of trousers I picked out for you and you'll look chic and stylish wherever you go.
3. Don't be afraid of Color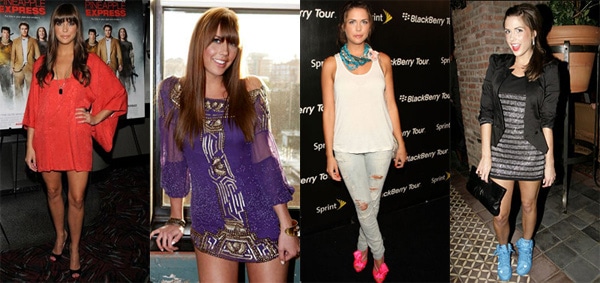 Color is great: it brightens up your outfit, ads variety to any look, and is easy on the eyes. Erin knows this, and as such, she fully embraces the magical powers that pops of color bring to the table. While she wears fun and functional clothing, she also makes things even more interesting by choosing bright colors and including them in her outfit. I love that she isn't afraid to wear a fun pink shoe, or rock a pair of blue sneakers with her cocktail dress.
Get the Look: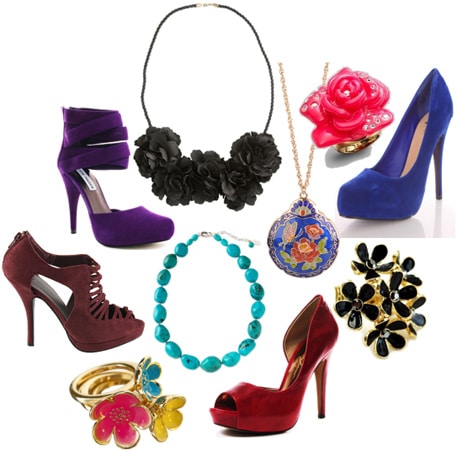 (Purple Heels, Floral Necklace, Pendant Necklace, Rose Ring, Blue Pumps, Cutout Heels, Teal Necklace, Black Ring, Flower Ring, Red Peeptoe)
For the color section, I have chosen a bunch of accessories that will add pops of color and variety to your outfit. Whether you choose some blue suede pumps, a snazzy rose ring, or a teal beaded necklace, when paired with a basic outfit, these accessories will instantly jazz up an ordinary outfit and take it to extraordinary.
Thoughts?
Erin takes chances when it comes to trends and fashion, and that really makes her stand out above the rest of the fashion crowd. What do you think of her style? Do you like the pieces I pulled to get her looks? Will you be using any of the tips I suggested? Whatever your thoughts, let me know in the comments!