If you're looking for a way to seamlessly transition into the new season, there's no better way to bring spring into your wardrobe than by wearing pieces with the season's signature symbol: florals.
When it came to finding a painting to draw inspiration from, I immediately thought of one of my favorite paintings. (Alright, more like my favorite painting, ever.) This week's Fashion Inspired by Art post features the notable Vincent van Gogh, and a piece from his most productive period as an artist: "Almond Blossoms."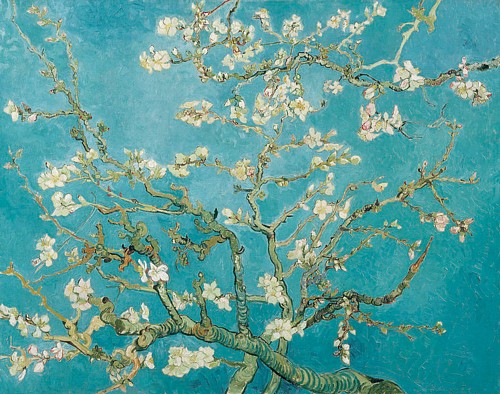 Vincent van Gogh's "Almond Blossoms" (1890) via Wikimedia Commons (Click image to enlarge)
Read on to learn more about Van Gogh, and to see three outfits inspired by these iconic blossoms.
About Vincent van Gogh
Vincent van Gogh was born on March 30, 1853 in the Netherlands, and began painting during his late twenties. Van Gogh's work ranged from a variety of subjects, such as still life compositions, self portraits, landscapes, and paintings of plants, such as cypress trees and sunflowers.
His work, however, was appreciated by few during his time, and most acclaim for his works occurred posthumously.
It was in the year of 1888 that Van Gogh entered the most vigorous period of his career as a painter. Van Gogh found himself inspired by the sun in Provence of southern France, and felt that the light helped to emphasize the outlines and contrasts of various subjects.
In 1888 and 1890, Van Gogh painted a series of works under the moniker "Almond Blossoms," which depicted almond trees in bloom. He channeled and combined techniques from both Divisionist and Impressionist movements, as well as elements found in Japanese wood-cutting.
I've admired Van Gogh's works ever since I came across them as a child, and to this day "Almond Blossoms" is at the top of my list of favorite paintings. In fact, I'm currently looking for a nice print or poster of the piece to hang up at home! It was during this search that I decided to put together three outfits inspired by this painting, which are included below.
Outfits Inspired by Vincent van Gogh's "Almond Blossoms"
Aesthetics of Ambition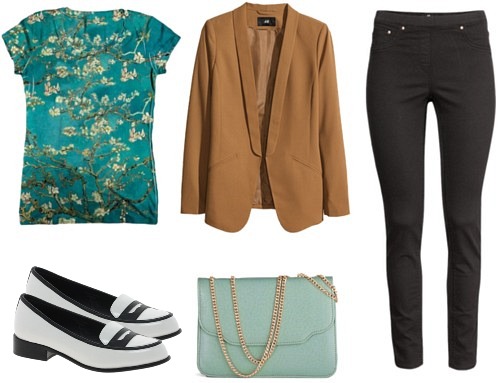 Shirt, Blazer, Pants, Shoes, Bag
Have an upcoming presentation in the art department? Taking a trip to the museum? This outfit is tailored enough to show you're serious about working your creative smarts, but still brings with it a freshness akin to spring. With Van Gogh's painting printed on your shirt, it's sure to be a real conversation starter!
The neutral blazer, dark pants, and light shoes work together to draw attention to the shirt centerpiece, while the pastel bag provides a nice contrast to the louder blue of the shirt. How's that for subject emphasis?
Want to add a little bit of more fun to the outfit? Consider adding a detachable collar, such as a Peter Pan collar. Its rounded shape softens the sleek blazer, and looks a lot like flower petals.
Fair Florals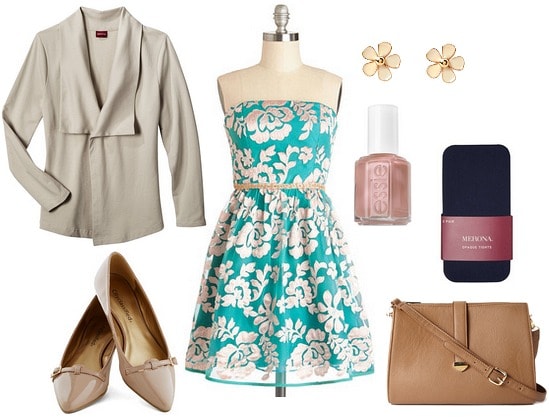 Jacket, Cardigan, Dress, Earrings, Nail Color, Bag, Tights, Shoes
Think of this second outfit as a more relaxed alternative to the previous ensemble. Van Gogh found blossoming trees to be a symbol of awakening and hope, and with this flowy dress and cardigan, you can bring with you that lighthearted and carefree spirit of spring.
The creamy brown color of the shoes and bag further contribute to this tranquil vibe. And how cute are these flower earrings? They're perfect for adding some life to a gloomy Monday morning. Add a similar shade to your nails if you want to balance the vibrant blue a bit more. If you're interested in a pop of color, go for an eye-catching pink polish instead.
If you'll be outside and the temperature might pose a problem, you could also swap out the cardigan for a coat in a similar color or even a longer draped jacket. The cinched belt on the dress will define your shape and draw the eye to the center, even with a lengthier, loose-fitting coat.
Balmy Blossom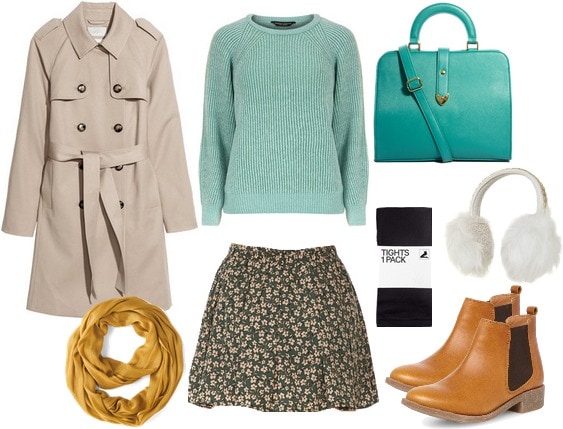 Coat, Earmuffs, Sweater, Skirt, Bag,Tights, Boots
Still cold where you are? No worries – winter will end eventually, but in the meantime, brave the rest of it (and those early, chilly morning classes) with this cheerful getup. If you're seeking some extra warmth, double up on your tights or opt for fleece-lined leggings.
Still shivering at the thought of wearing a floral skirt this time of year? Switch it out with these floral print jeans from Forever 21. Denim goes with everything, and it won't compete with the aqua sweater and turquoise bag.
I decided to include a mustard yellow scarf as "Almond Blossoms" contains similar tones in the tree branches. I also like the idea of adding fluffy white earmuffs, especially because the petals in the painting are the lightest, softest elements of the entire composition. They'll keep you extra warm, too!
While the florals have lots of character, it's the Chelsea boots and bag that stand out as the most vivid parts of this last set, since they add contrast to an otherwise quiet outfit. The lighter garments settle towards the top of your frame while the louder pieces appear in bottom half, much like how the varying saturations of paint appear in "Almond Blossoms."
Final Thoughts:
When creating outfits to shift one's wardrobe towards spring fashion, I found this painting to be incredibly helpful – apart from the obvious element of the flowers, it was the colors in Van Gogh's piece that convinced me to feature it. The colors in unison are serene and calming, but the blue flaunts a certain energy that can help wake up your closet while still existing on the "cool" end of the color spectrum.
Try playing around with the color scheme you see in the painting and see what you can come up with! Using your own artistic eye, you'll be sure to greet the new season looking not only prepared, but fabulous.
Even if spring isn't here yet, we all know how forward the fashion world can be – but there's no need to rush. It's all about finding what works best for you and branching out from there.
Here's some food for thought from Van Gogh himself:
"Great things are not done by impulse, but by a series of small things brought together."
What do you think?
Are you a fan of floral elements in fashion? Which of these outfits do you like the most? Van Gogh's work has been featured here on College Fashion before – are there any more of his pieces you find inspiring? I'd love to hear your input in the comments below!