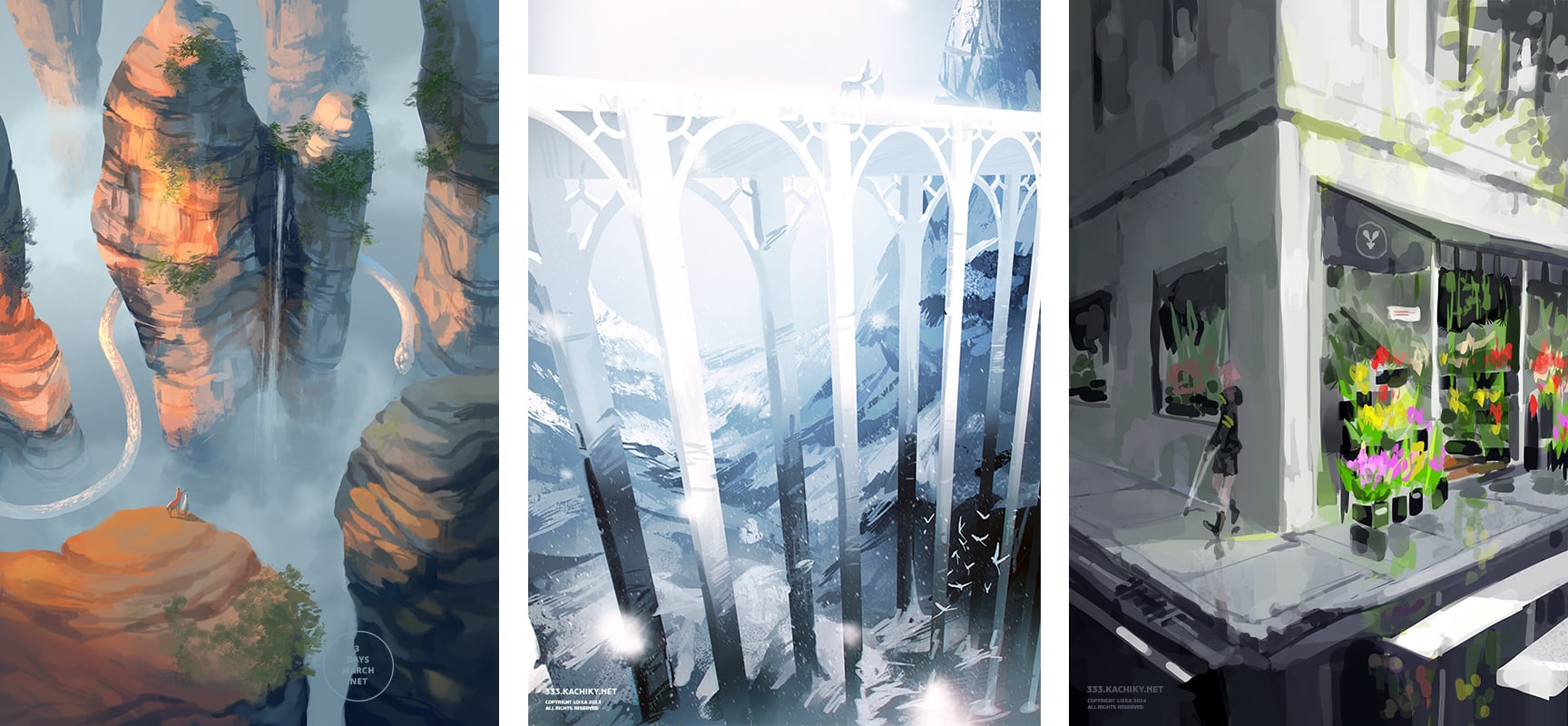 This week's Fashion Inspired by Art series features fantasy world of 3 days march. Keep reading to learn more about the creator behind the magic, along with three outfits inspired by her works.
About the Artist and "3 days march"
3 days march is the illustration-packed website of Loika, or Yan Qin Weng. Loika creates stories with her pen, publishing visual narratives of nature, fantasy, journey. For more direct interaction with her followers, Loika answers questions and gives insight on her drawing process through her sketchblog.
When asked whether her world-building came from pure imagination, Loika responded,
"If I'd grown up in a blank room and never left it I would never have been able to dream up the places I do; we all need building blocks to make things … It might be the way a cloud settles over a mountain, or the colour of sunlight at 5pm, or something more specific like what a naturally occurring sinkhole looks like in the middle of an ocean. Those things are real, and they're unspeakably beautiful. I don't make them up – I don't have the ability to make them up – I only interpret them, and sometimes shift them into a different context to make what is strange, stranger."
Many of Loika's works feature the characters Ashir (the spellmaker) and Aucis (the Keeper). Their forms can be seen peppered throughout her illustrations, oftentimes dwarfed by immense landscapes and other fantastic environments. Loika has recently begun writing companion narratives to her art pieces, elucidating her characters' backstories and more.
Outfits Inspired by "3 days march"
Outfit 1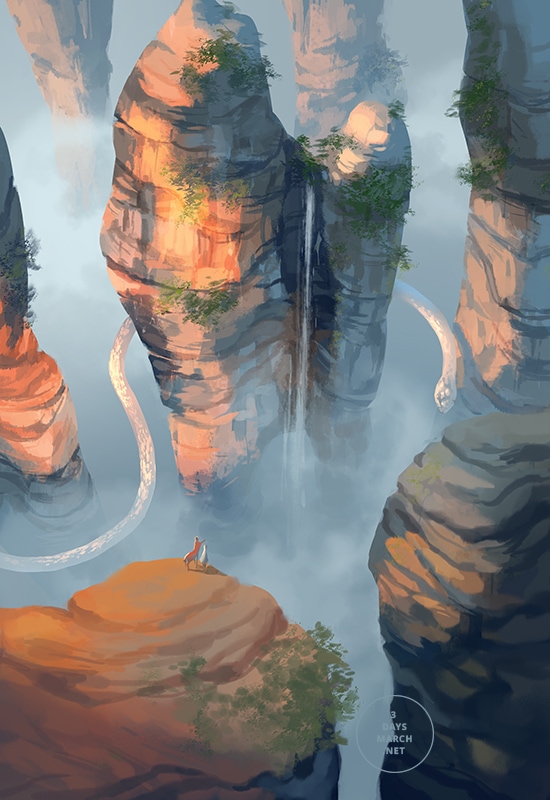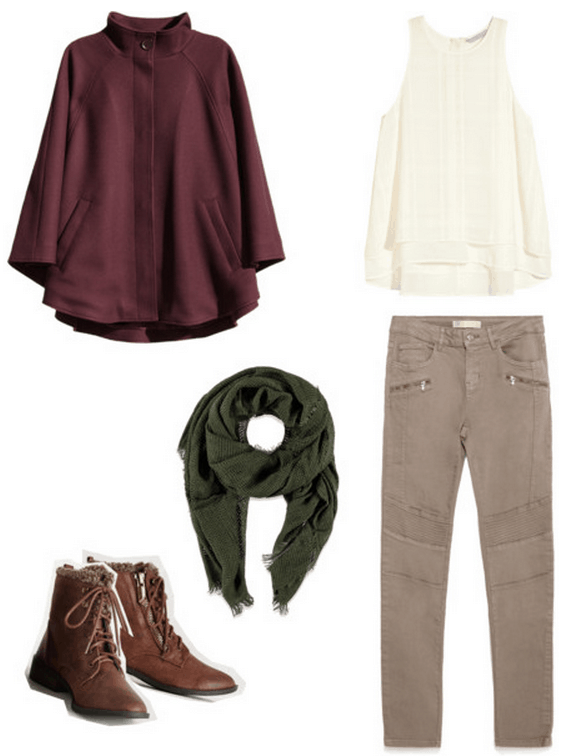 Products: Coat, Tank Top, Pants, Boots, Scarf
In this piece, the Keeper and the spellmaker look upon a vast expanse of rock and fog. A serpent-like creature snakes (quite literally) around the main center rock. Themes of mysticism, fantasy, and earthy magic remind one of Studio Ghibli's Spirited Away or even the earth-bending tribes of Avatar the Last Airbender.
I created this first outfit with the Keeper in mind. Often in Loika's works, the Keeper is depicted in a red coat. With ponchos trending this season, I picked out a deep red option from H&M. The rest of the outfit reflects what you could wear if you were to traverse the landscape yourself: durable cargo pants, warm boots, and an evergreen-colored scarf to match the foliage. The light and airy blouse is reminiscent of the rising fog at the base of the illustration.
Outfit 2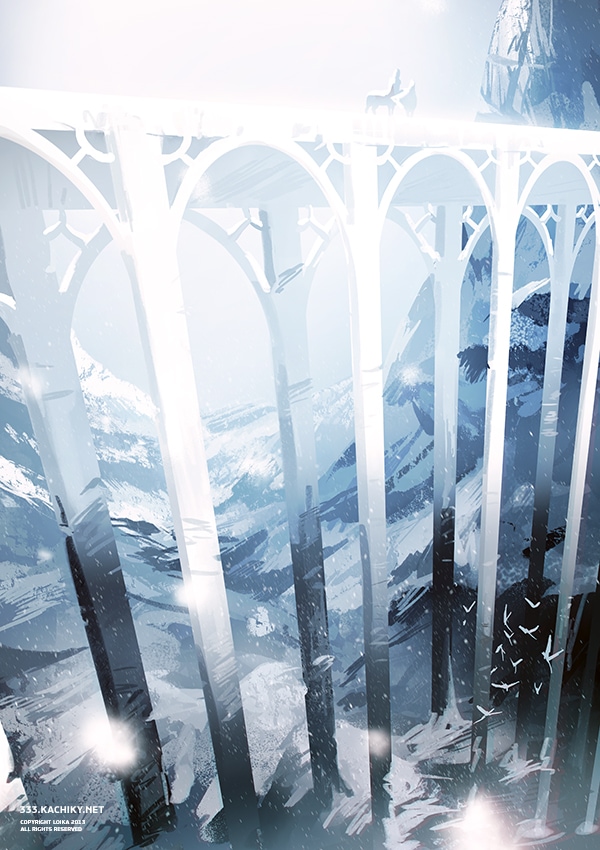 Outfit 2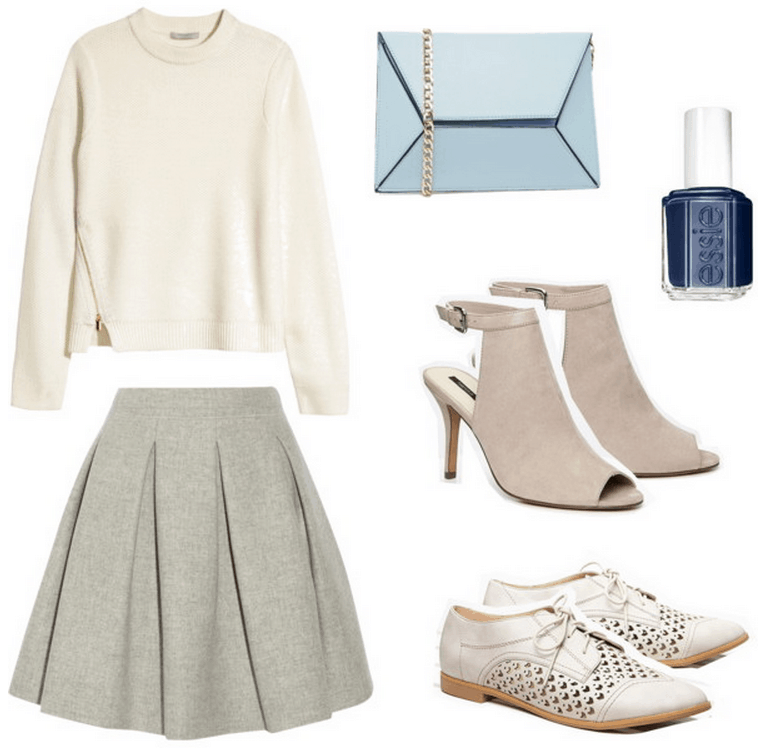 Products: Sweater, Skirt, Purse, Boots, Oxfords, Nail Polish
This second illustration depicts a brittle and enchanting winter setting. The Keeper and the spellmaker are encased by the bright, frosty air as they make their way across a magnificent bridge. The setting radiates freshness, the embodiment of a clean winter morning.
I took inspiration from the illustration's clean lines – the zippered sweater, the crisp pleated skirt, the solid peep-toe heels. I translated the color palette of cool tones, baby blues, winter greys, and blackened navy, into the accessories. This ensemble is fit for transitioning your summer items, like light-colored skirts and perforated flats, into fall.
Outfit 3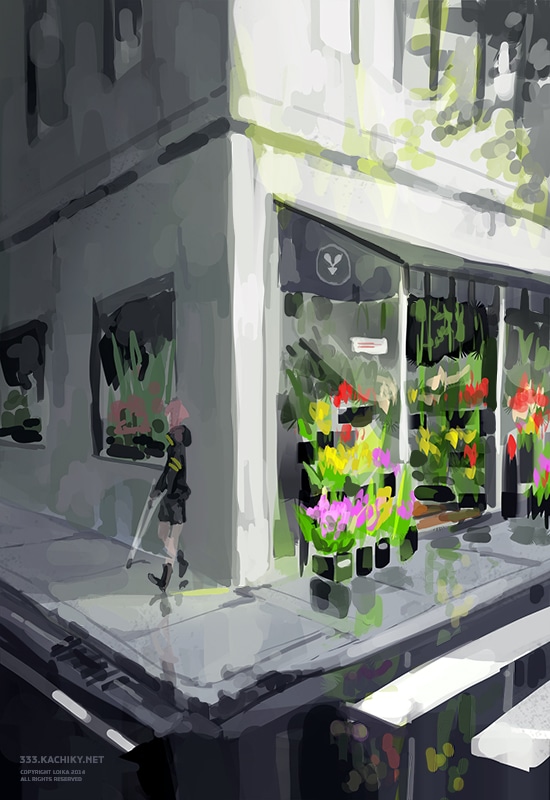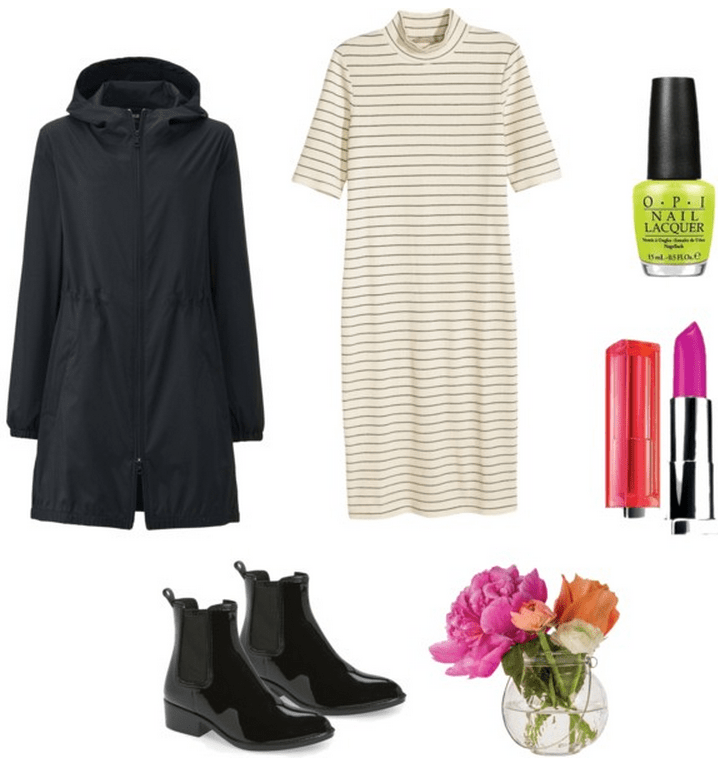 Products: Dress, Jacket, Boots, Nail Polish, Lipstick, Flowers
In this last illustration, an ambiguous figure lingers near a florist. The scene is a city after rain, as emphasized by hazy puddle reflections of flowers and boots. Unlike many of Loika's other works, this illustration depicts an urban city environment.
Inspired by the contrast between the black, white, and neon colors in this scene, I created a rainy day outfit (in anticipation of El Nino's rainstorms!) that someone in this metropolitan environment would wear. The knee-length mock neck dress is a classy step up from a typical striped dress. A long raincoat paired with rubber boots complete the rain-resistant ensemble. To tie in the neon accents, consider bright chartreuse nail polish and bright fuchsia lipstick.
Final Thoughts
Big thanks to Loika for graciously answering my questions about her artwork as well as allowing me to feature her on College Fashion. Like she wrote in her answer to a follower, imagination and creativity all come from somewhere. Loika's vast ability to create magical, whimsical art continues to inspire me to imagine and create.
What do you think?
Are you interested in illustrated environments? What inspires your creative ideas? Are you as excited for the upcoming rainy season as I am? What other kinds of works do you want to see in this Fashion Inspired by Art series? Let me know in the comments below!