In this week's Fashion Inspired by Art, we'll be taking a look at one of the works of Édouard Manet, known as a heavy influencer in the transition between the Realism and Impressionism art movements. Below you'll find three spring outfits for different styles based on A Bar at the Folies-Bergère and learn more about Manet's influence on art history.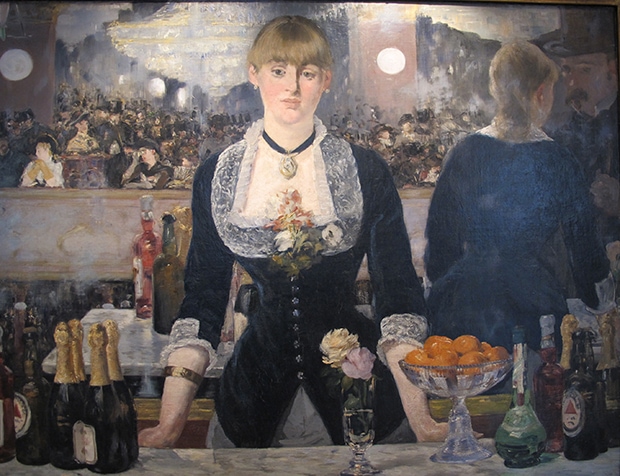 Édouard Manet
Édouard Manet was a 19th-century French painter who was one of the first to paint modern life. Not to be confused with Claude Monet, who is a famous impressionist painter from the same time period, Manet heavily influenced the transition from the Realism art movement to Impressionism.
Manet painted modern life in a way that was rarely done. Art at the time tended to be romanticized, highlighting ideals that didn't align with reality. Manet's work was then criticized for lacking detail and dimension, but today, it is easy to see how his quick, flat use of brush and color inspired impressionists.
The work above depicts a bartender in a very real way. She does not represent an unattainable ideal of beauty, and she has a very plain expression as though she is looking out at the viewer, awaiting their order. However, the reflection in the mirror doesn't exactly line up with what you would expect to see. The gentleman seems to be looking at an angle, not straight-on as he would if he were standing where the viewer is. At the time, Manet was criticized for not understanding perspective. However, art historians believe that Manet's work sought to make viewers question why they viewed art in one restricted way.
Lady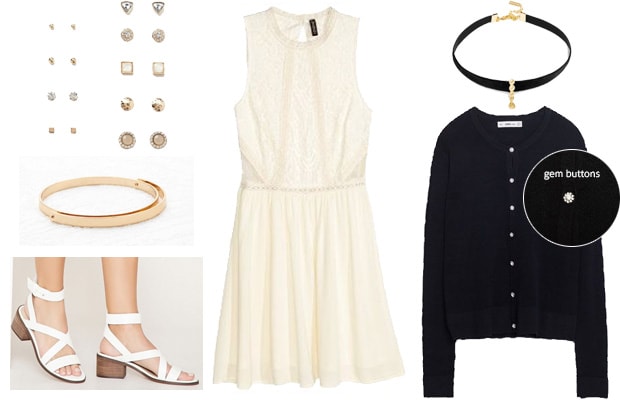 Products: Earrings, Bangle, Sandals, Dress, Choker, Cardigan
This outfit is a modern take on the bartender's dress. It would be something great to wear for a semi-formal event, or you can tweak some of the accessories to make it a more casual look.
This pretty lace dress is perfect for spring. Adding a choker makes it less doll-like. If it's cold out, throw on a cardigan (I especially love the button detailing on the one above). Accessorize how you want and add some white heeled sandals to capture an elegant springtime vibe.
Gentleman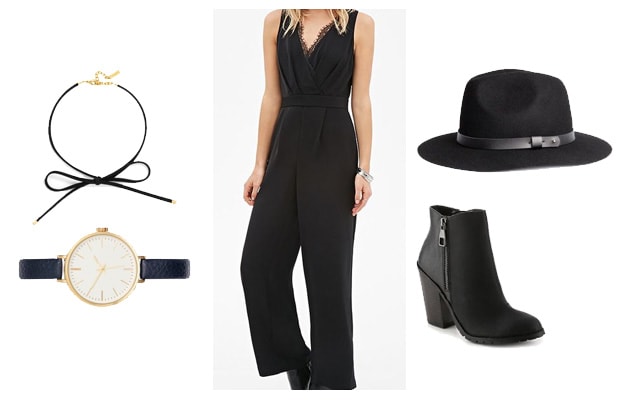 Products: Choker, Watch, Jumpsuit, Hat, Booties
This outfit is based around the man in the picture, or whoever is supposed to be standing where the viewer is. Instead of taking this look in a strictly formal direction, I chose a jumpsuit for a mix of feminine and masculine.
The structure of the jumpsuit makes this great to wear for a variety of occasions. For a casual look, add a sleek hat to keep the sun out of your eyes and add edge with a bold choker. Throw on a simple watch and some booties and you have an easy but chic outfit!
A Modern Twist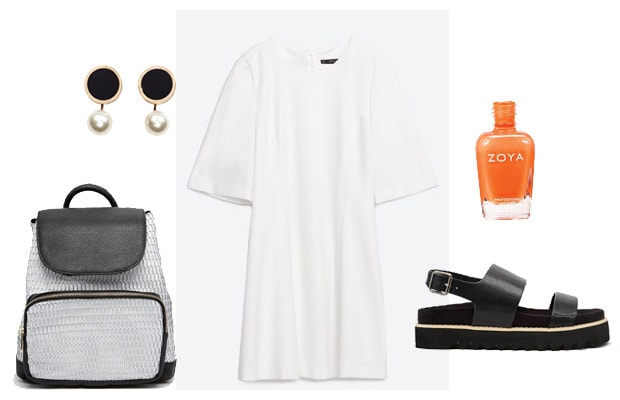 Products: Earrings, Backpack, Dress, Nail Polish, Sandals
This outfit is loosely inspired by the elements of the painting. Earrings don't have to be as delicate as the ones worn in Manet's painting, and a t-shirt dress is just as fun as a girly laced one. And for some fun color, check out this orange nail polish, chosen as a reference to the bowl of oranges in the painting.
Now let's accessorize. For a street-styled look, add formal jewelry like these pearl earrings to contrast with casual platform sandals. Throw on a cute backpack and you're ready for a day out in the springtime.
What are your thoughts?
Have you seen Manet's other work? What do you think of these outfits? What is your personal style most like? I love hearing your comments and feedback down below!