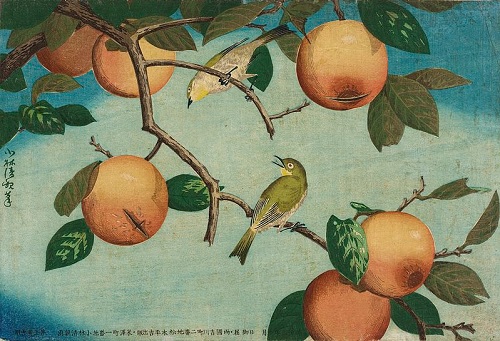 Kobayashi Kiyochika's "Persimmons and White-Eyes" (1880), via Wikimedia Commons
This week's Fashion Inspired by Art features the work of Kobayashi Kiyochika, a Japanese artist from the Meiji period. Read on to learn more about Kiyochika, and to see three outfits inspired by this earthy woodblock print.
About Kobayashi Kiyochika
Born on September 10, 1847, Kobayashi Kiyochika was a Japanese ukiyo-e painter and printmaker. He is known for his works that depict scenes of Tokyo undergoing the shift into modernity.
He studied Western art under Charles Wirgman, and channeled various elements and traditions of Western art. His woodblock prints depict both styles and objects of Western discipline, such as railroads and clock towers.
Kiyochika's primary work consisted of illustrations and sketches for various publications. He died on November 28, 1915.
Though much of his work displayed urban scenes, the added Western subjects in his paintings colored his images with a gloomy, dark atmosphere. For this post, I decided to feature one of Kiyochika's woodblock prints depicting a nature scene due to its range of colors and the fact that it corresponds so well to the season.
Outfits Inspired by Kobayashi Kiyochika's "Persimmons and White-Eyes"
Creature Comforts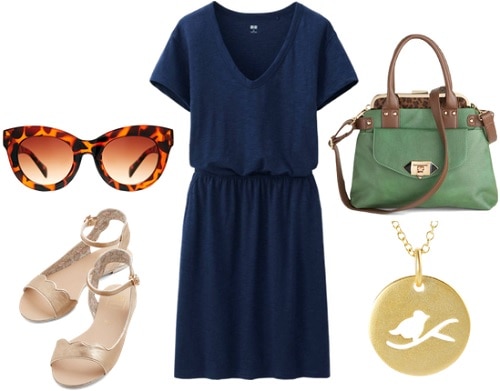 Sunglasses, Shoes, Dress, Bag, Necklace
This first look uses a dark blue as its base in order to balance accessories in a variety of colors, just as the sky backdrop of Kiyochika's print complements the colors of the fruits and birds. Sporting a comfortable fit, this navy dress is ideal for a sunny day, and can be dressed up or down to your taste. The waistline would look great with a braided belt!
The pattern on these trendy sunglasses matches the protruding inside pattern of the bag. The scalloped detail and slight shimmer on the shoes adds a subtle sweetness, while the bird pendant neatly ties together the relaxed feel of the outfit.
Casual Globetrotter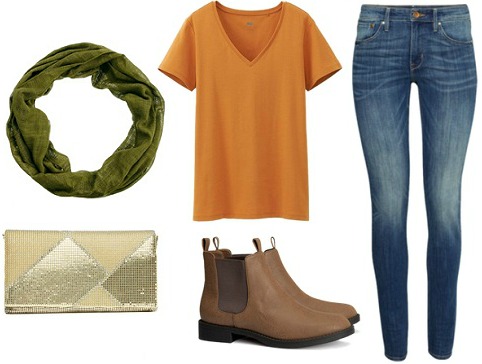 Scarf,Clutch Purse, Shirt, Boots, Jeans
When you plan on running errands all day, or need to head somewhere directly after a final exam, you'll want to wear something simple and chic. This second outfit focuses on easy-to-wear pieces in a range of earthy colors. That way, you can still give off a subtle bohemian vibe when you're in a hurry!
If you've got an exam in the early A.M., you'll want to be comfortable during the chilly morning – or if you happen to be in one of those classrooms with uncontrollable air conditioning. Try swapping the scarf with a light cardigan in a similar shade, or opt for a woven, textured cardigan if you want to stay a bit warmer.
The sparkly geometric clutch provides a great contrast to the laid-back feel of your outfit. Want to add more contrast? Swipe on some rose nail polish – it complements the warm colors of your outfit better than a pastel pink – and add a matte topcoat to further bring out the shine of your bag.
Fun in Forest Green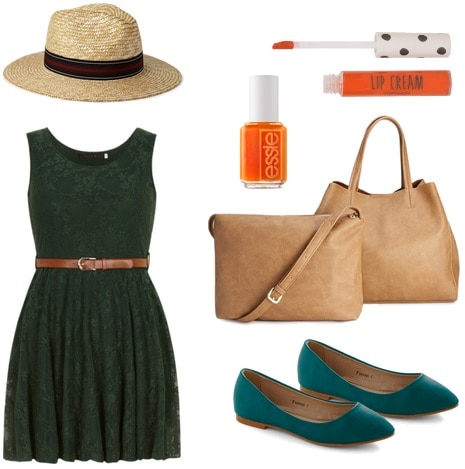 Hat, Dress, Nail Polish, Lip Color, Bags, Shoes
This last outfit is perfect for welcoming the weekend and the summer months ahead. Whether you're having a picnic in the park with your friends or browsing stores for summer sales, the look above will give you both summer style and comfort. This convenient bag set from Forever 21 will guarantee that you have more than enough room for your essentials, and it comes in three colors.
Keep things fresh with bright lips and nails. If you're not quite ready to sport orange just yet, you can never go wrong with summery pinks and reds for both your lips and nails.
Want to add a cute motif or accessory to channel the subjects in Kiyochika's print? Check out this collection of fruit jewelry (made from real and carefully preserved fruit!) and these unique bird earrings. There's also the option of wooden phone cases, so you can bring that nature-chic vibe with you wherever you go.
Final Thoughts:
I'm a big fan of earthy colors and think they work incredibly well for summer. I find them easier to wear than the pastels sweeping the field right now, so incorporating them into your outfit is a great way to show your fashion smarts in the warm months.
Earthy colors are a great foundation for bohemian looks, and you can build them up further with small details, like animal-themed jewelry or statement outerwear. Bohemian fashion exerts a very carefree feeling, so don't be too worried about matching or clashing – just experiment and have fun!
What do you think?
Are you a fan of earthy colors? Do you find Kiyochika's work inspiring? Which of these outfits is your favorite? I'd love to hear your input in the comments section below!