This week's Fashion Inspired by Art is based on Jean-Michel Basquiat's Scull. Basquiat is known for his abstract, street art styled paintings that offer social commentary and underlying messages. Below you'll find three outfits inspired by Basquiat's amazing street art and learn more about the artist!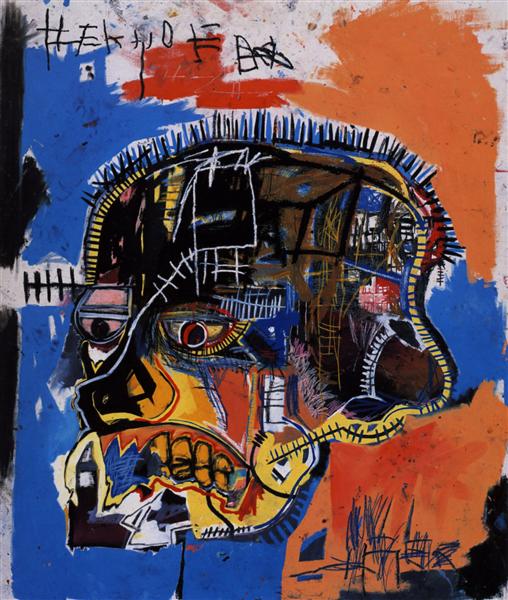 Jean-Michel Basquiat
Jean-Michel Basquiat was an American artist known for his street art and similarly styled paintings. He first became known through SAMO, a graffiti duo who wrote on the Lower East Side of Manhattan in the 1970s, when both the hip hop and street art movements were growing in full force. By the 1980s, he began to show in galleries.
Basquiat's work explores social commentary and dichotomies (such as wealth vs. poverty) through a mix of poetry, painting, and abstraction. Scull is a great representation of his style. Its mix of graffiti creates the powerful impression that the head is full of forms. The face is peeled off in areas, exposing teeth and bone without really showing it. Basquiat's abstract lines and shapes coalesce to form what looks like a skull.
Graphic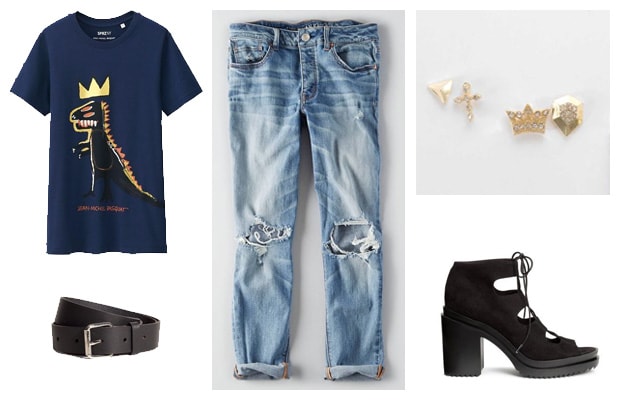 Products: Graphic Tee, Belt, Jeans, Earrings, Heels
This outfit is based off a graphic tee that features another one of Basquiat's works in a similar style to Scull. Pair this bold graphic tee with some ripped boyfriend jeans for a relaxed look. If the shirt is too oversized, go with a half or full tuck for a more interesting silhouette. Add some dainty earrings (crowns to match the shirt!) and some cute heels for a chic look.
Color Pop
Products: Tee, Jewelry Set, Bralette, Sneakers, Leggings
This look is inspired by the bold colors and edgy subject matter of Basquiat's work. It's street-inspired fashion to reflect his street art roots. Let the shoes be the star of the show by keeping the rest of your outfit monochromatic. Pair a loose shirt with some skinny jeans or leggings to balance each other out. For a more edgy look, add a strappy bralette to peek out from under the shirt. Accessorize with some cage-shaped rings or a bracelet.
Blue and Orange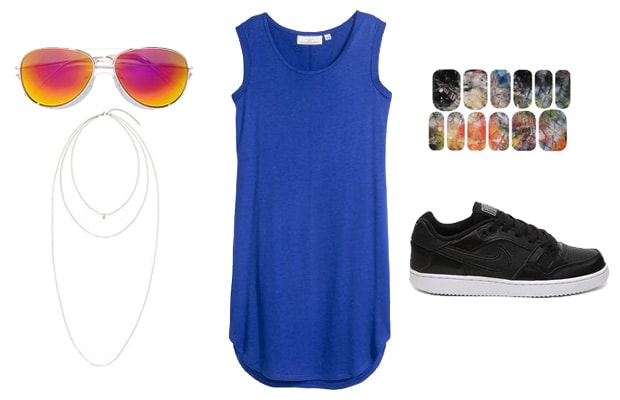 Products: Sunglasses, Necklace, Dress, Nail Wraps, Sneakers
No surprise here, this outfit is inspired by blue and orange! This bold blue dress makes for an easy outfit that still looks like you put thought into it. You can pair it with black sneakers for a casual street vibe, but it would work with any other kind of shoe. Throw on some mirrored sunglasses for more color and a layered necklace to drape over the dress. Finally, I thought these affordable graffiti-esque nail wraps were a fun detail.
What are your thoughts?
What do you think about Basquiat's work? Which outfit is your favorite? What artwork would you like to see featured next? Let me know what you think in the comments below! I love reading your feedback.