Summer brings a series of blue-and-white images to mind: a blue sky with white clouds, a blue ocean with white sands… or maybe those cute blue-and-white summer dresses that caught your eye in a shop window. If you're a fan of this color combination, then you're going to love this post!
This week's Fashion Inspired by Art features a watercolor painting by Georgia O'Keeffe, an American artist considered to be the "Mother of American Modernism".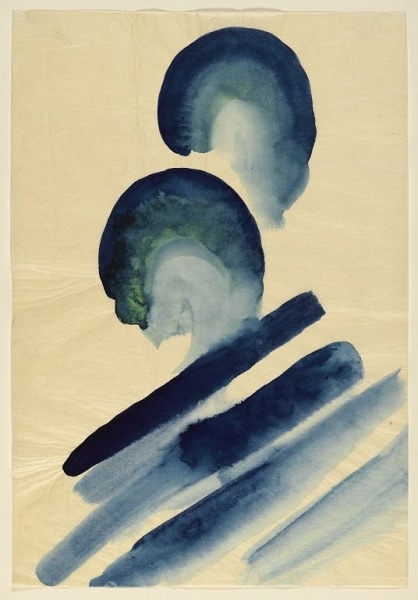 Georgia O'Keeffe's "Blue 2" (1916) via Wikimedia Commons
Read on to learn more about O'Keeffe, and to see three outfits inspired by her watercolors.
About Georgia O'Keeffe
Georgia O'Keeffe was born in Wisconsin on November 15, 1887. It wasn't until 1916 that she first came to be known within the New York art community. Her paintings ranged from enlarged images of various flowers to paintings of buildings in New York. Her career took her from New York, to Hawaii, and finally New Mexico, where she settled in 1949.
O'Keeffe lost her central vision in 1972, but continued to work with pencil and charcoal. She moved to Santa Fe in 1984 and died on March 6, 1986.
Her work continues to endure a great legacy, and O'Keeffe is recognized as the "Mother of American Modernism." You can view more of her work here.
Outfits Inspired by Georgia O'Keeffe's "Blue 2"
Art in the Accents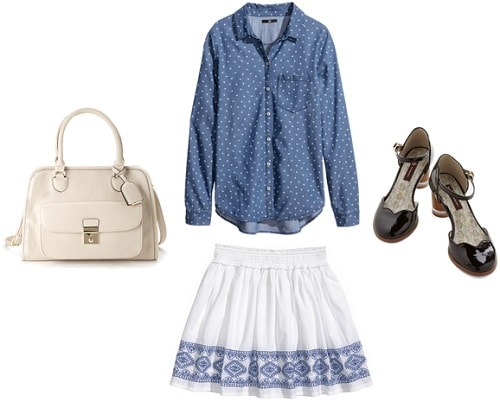 If you have plans to check out that new museum exhibit or bookstore, consider an outfit with the perfect combination of casual and formal. Here, we experimented with comfortable clothes and structured accessories – as well as subtle patterns – to create a balanced ensemble.
Wear the denim shirt untucked for a carefree feel, or tuck it into the embroidered skirt if you'd like to play up the prim and proper – just be sure to add a cute belt to tie it all together.
The white bag and black shoes seamlessly add a touch of contrast and dimension to your look. You can also switch it up and try a black bag with white shoes instead.
If it's a pop of color you're looking for, consider slipping on some pink sunglasses or a pink felt hat to complete the look.
Seaside Stripes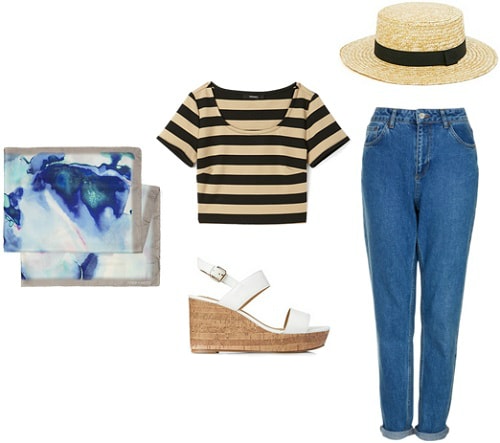 Scarf, Shirt, Shoes, Hat, Jeans
Whether you'll be walking along the beach boardwalk or simply enjoying a sunny day, this outfit is ideal for a carefree weekend. Wearing the blue-and-white color combo with stripes is an easy way to add a nautical vibe to your outfit. Take it a step further by adding a hint of red with your makeup or jewelry.
Between the crop top and high-waisted pants, this outfit will broadcast your trendiest style smarts. The watercolor design on the scarf softens the bold stripes and lets you show off your artsy side. You can also opt for a canvas tote bag with a watercolor image on it – Zazzle has pages and pages of options for you to browse.
Finish the ensemble with a summery straw hat and white wedged sandals. Not a fan of wedges? ASOS has a wide range of white sandals to choose from.
Charm and Play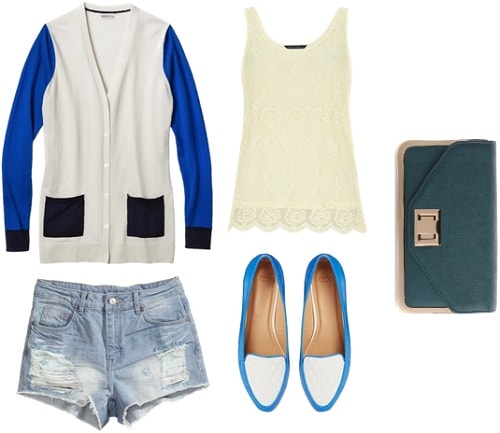 Cardigan, Shorts, Lace Top, Loafers, Clutch Purse
Maybe you'll be out and about all day. In that case, you'll want something like this last outfit set – something simple, yet chic.
The common color family in your outfit allows all the different styles to work together. The structured and color-blocked designs of the cardigan and loafers provide a great contrast to the distressed shorts and lacy top. If you want something a little neater, swap the shorts for this pair, or consider making a switch to jeans instead.
The color of the framed clutch channels the hint of blue-green on O'Keeffe's painting and – just as it works on her watercolors – blends right into the pure blues of your ensemble. You can even paint your nails with a creamy beige shade to bring more of the painting into your outfit.
Final Thoughts:
I find that variations of blue and white work well in each season, since you can build a variety of looks from that color combination. Whether you want to play it fancy or fun, blue and white helps you hit the right notes of excitement and elegance. Plus, it's a lot more refreshing in the summer than wearing an all-black outfit!
Of course, there are also subtle ways of incorporating this pairing to your look. Try blue-and-white nail art or blue-and-white accessories for a quick, easy means to try out the color combination.
What do you think?
Do you find O'Keeffe's watercolor inspiring? What's your favorite way to wear blue and white together? Which of these outfits do you like the most? I'd love to hear your input in the comments section below!