Waaaaay back in July, CF reader Shawna asked me to do a post inspired by Carel Fabritius' "The Goldfinch," which I promised I would do… after I read the book which piqued her interest in the painting: Donna Tartt's Pulitzer prize-winning novel of the same name. Because I'm literally the slowest reader ever, (my deepest, darkest, English major shame…) I wasn't able to crack the spine on this book until now.
The book is absolutely lovely; the language is poetic but readable, the first-person narration is believable and nuanced, and the characters are surprising and multifaceted. I also love how this particular painting becomes a driving force in the development of the main character. I'm less than halfway through, (no spoilers, pleeeeaase!) and I can't wait to read more.
So, thank you Shawna for both the book recommendation and post suggestion.This Fashion Inspired by Art post is for you!
Carel Fabritius' "The Goldfinch" (1654) via Wikimedia Commons.
About Carel Fabritius
Born in 1622 in modern-day Netherlands, Carel Fabritius was the son of a painter and a schoolmaster. Fabritius worked as a carpenter for some time in his youth, but in 1641 he found himself working in Rembrandt's workshop.
He proved himself to be a bright pupil, creating skilled studies of his mentor's work, as well as skillful paintings in his own right, such as "The Raising of Lazarus" and "Self Portrait." Unlike several of Rembrandt's pupils, he developed his own style of painting, and spent most of his career exploring and honing his technical skills.
In 1650 Fabritius moved to Delft, where he entered the Lucas Guild in 1652. He influenced many young painters in Delft, including Johannes Vermeer, who became his pupil. Unfortunately, he died in 1654 in a gunpowder explosion that devastated nearly a quarter of Delft.
Not only was the painter's life cut short, but the majority of his work was destroyed. This is why his surviving paintings, such as the "The Goldfinch," are so valuable.
Outfits Inspired by "The Goldfinch"
Outfit #1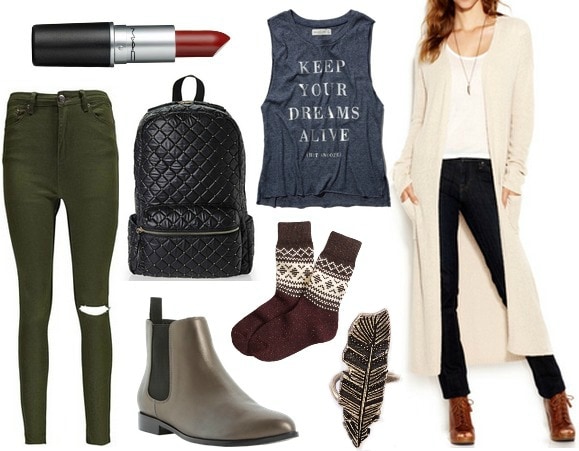 Lipstick (in Ruby Woo), Jeans, Backpack, Chelsea Boots, Socks, Ring, Tank, Duster
In "The Goldfinch," the cream-colored background takes up most of the frame; this tempers the blues, reds, yellows, and greens that make up the focus of the painting – the bird and its perch. The same philosophy works in this outfit here – a soft, cream-colored duster helps to tone down a colorful outfit of army green pants, a blue statement tank, and red socks.
Add other neutral accessories, like warm gray booties and a black backpack, as well as a fun feather ring that nods back to the painting. A perfect red lip adds a bit of polish that makes this cute and cozy outfit perfect for class.
Outfit #2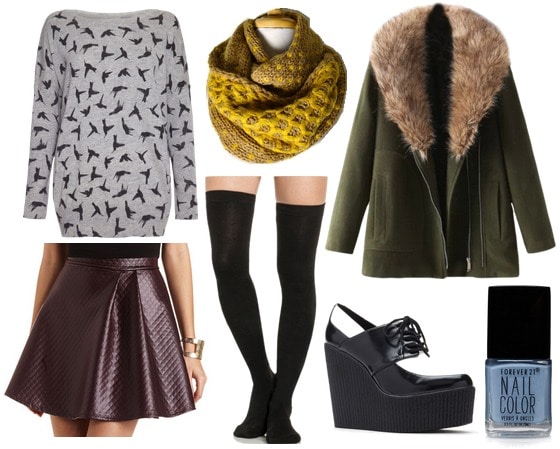 Sweater, Skirt, Scarf, Socks, Jacket, Platforms, Nail Polish
I couldn't not include this adorable patterned sweater – I'm such a sucker for cute sweaters! Tuck this put-a-bird-on-it beauty into a high-waisted faux leather skirt and add thigh-high socks and cute oxford wedges for a sweet yet sexy weekend look.
A nubby, mustard-yellow infinity scarf and a faux fur-collared army coat will keep you warm on chillier days, while a few coats of this china blue nail polish will add a quirky element that is reminiscent of the goldfinch's perch in the painting.
Outfit #3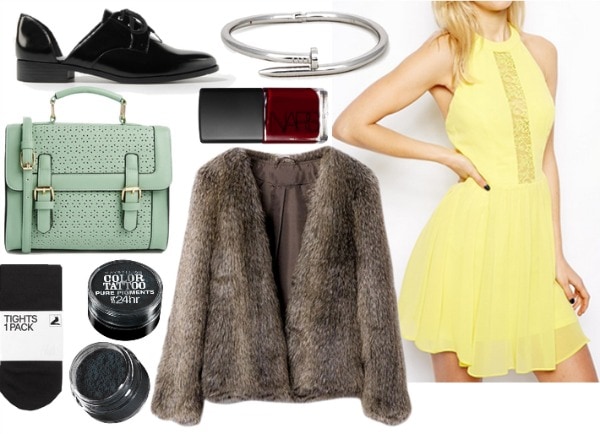 Oxfords, Bag, Tights, Eyeshadow (in Black Mystery), Bracelet, Nail Polish, Fur Coat, Dress
A canary yellow lace dress isn't exactly the first thing we'd think of wearing in the winter, but when paired with thick tights and a warm faux fur coat, it becomes totally weather-appropriate. The color of the faux fur effortlessly evokes the softer colors of the goldfinch's feathers, while the mint green bag brings out the unexpected dimensions in the painting's shadows.
Trendy cut-out oxfords, a dark, brooding eyeshadow, and red nails take this look from day to night, while an edgy nail-shaped bracelet is reminiscent of the rings and chain in the painting.
What do you think?
What do you think of this painting? Would you wear any of these outfits? Have you read Donna Tartt's The Goldfinch? Do you have any suggestions for this column? Let me know in the comments below!