What is it about black and white that seems so classic, yet so mysterious? Is it the prevalence of black-and-white imagery in religion, literature, music, and art? Is it our subconscious connotations with darkness and light, and the cognitive dissonance the contrast between them creates? Or is it because it's SO EASY to create chic outfits using black and white elements?
In today's Fashion Inspired by Art post, I'll be showing you how to create witchy, artistic black-and-white looks based off of the beautiful, bewitching illustrations of Aubrey Beardsley for Oscar Wilde's opus, the play "Salomé":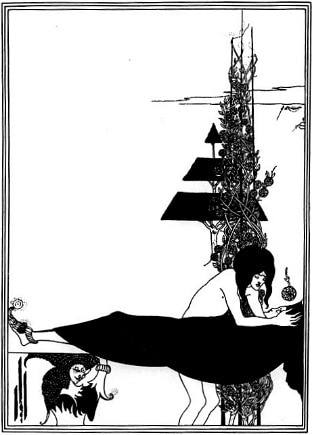 Aubrey Beardsley's "The Platonic Lament" (1894) via Wikimedia Commons. (Click image to enlarge.)
I do a lot of work in black-and-white and in ink, and sometimes working without color can be really limiting and frustrating. I am just totally blown away by how skillfully Beardsley uses black and white to enhance his composition, and how perfectly the drawings captured the beauty, darkness, and mysticism of Oscar Wilde's "Salomé."
About Aubrey Beardsley and "Salomé"
Born in 1872 to upper-middle class parents in Brighton, England, Beardsley grew up in a home surrounded by the arts. In his youth, he had many poems and drawings published, and in his early teens he toured as a musician with his sister Mabel.
He began a career as a professional illustrator at 19; he was influenced by Japanese woodcut prints and the paintings of Henri de Toulouse-Lautrec, and associated with Art Nouveau, aestheticism, and decadence. His work proved to be controversial, as his obsession with the intersection of the erotic and grotesque led him to highly sexual and disturbing topics, such as Aristophanes "Lysistrata" and Oscar Wilde's "Salomé."
The eponymous "Salomé" tells the story of King Herod's stepdaughter on the night of her death. She falls in love with the imprisoned mystic, Jokanaan (John the Baptist) and uses her stepfather's lust for her to have the prisoner beheaded after he spurns her advances. Many important motifs and images of the play, such as the interplay of black and white, the moon, eyes and the gaze, and the 'duality' of feminine sexuality are present in Beardsley's illustrations, which were printed in the first English edition of the play, in 1894.
Shortly after, in 1898, Beardsley died of tuberculosis. Despite his brief creative life, the influence of his work is still seen today in the work of many illustrators, graphic novelists, and artists.
Outfits Inspired by the "Salomé" illustrations
The Peacock Skirt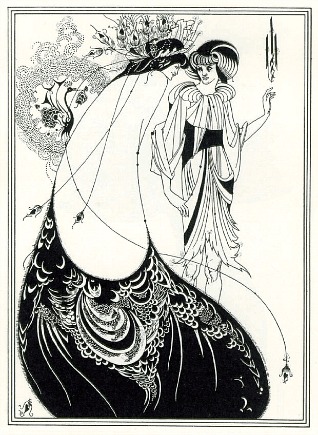 Aubrey Beardsley's "The Peacock Skirt" (1894) via Wikimedia Commons. (Click image to enlarge.)
"The Peacock Skirt" is one of the first illustrations in the set, and shows a Syrian soldier (on the right) gazing at the beautiful Salomé in her royal finery; the peacock motif of her cloak is a foreshadowing detail that alludes to her deal with Herod, and his promise to her of riches and royalty (symbolized through 50 white peacocks with gold beaks and purple feet) if she forgets her love for Jokanaan.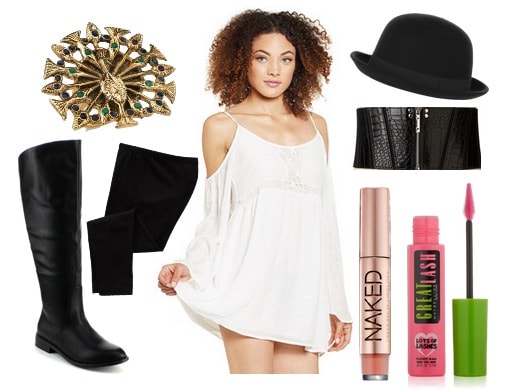 Ring, Boots, Leggings, Dress, Bowler, Belt, Lip Gloss, Mascara
This ensemble combines the Young Syrian's look with Salomé's: the gauzy, flowy white dress cinched with a wide obi-style belt emulates the soldier's garment, while a large statement ring with a peacock-feather design mirrors the princess's finery. A pair of tall black boots keep the outfit fall-appropriate, and pair of warm leggings and a cute hat will keep you warm on chillier days. (Put a peacock feather in your cap for a fun dandy touch.)
Some unassuming but pretty makeup, like a shimmery neutral lip gloss and mascara, will keep the focus on your outfit, but neutral looks like this are also the perfect canvas for a bold lip, bright eyeshadow, or holographic nail polish.
John and Salomé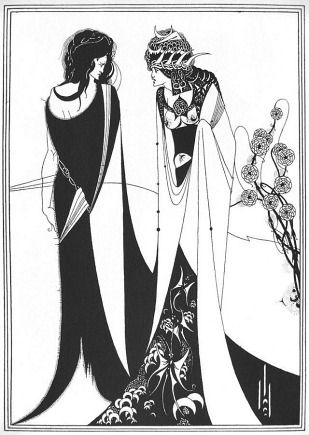 Aubrey Beardsley's "John and Salomé" (1894) via Wikimedia Commons. (Click image to enlarge.)
Here, we see the meeting of Salomé and Jokanaan. Salomé, the figure on the right, is again decked out in her white royal finery, covered in feminine and cerebral symbols, such as butterflies, carnations, and slivers of moon. This is in direct contrast to Jokanaan, who is dressed almost entirely in black, and is without ornamentation.
The dichotomy of black and white is particularly important in these scene: Salomé is both attracted and repelled by the impoverished Jokanaan; to her, his white skin is like that of a leper, but his black hair is beautiful. The two are depicted similarly, however – her infatuation with the mystic is made identical to the young Syrian's and Herod's infatuation with her.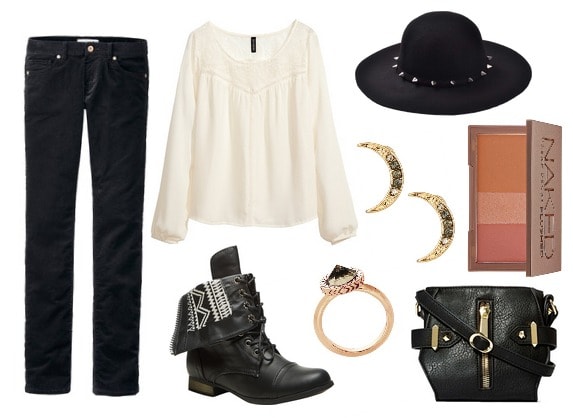 Jeans, Blouse, Hat, Boots, Ring, Earrings, Bag, Bronzer
Like Salomé's outfit, this getup is all about the accessories. A creamy blouse, black jeans, and fold-down boots are the perfect canvas for your favorite baubles. Here, I've included sparkly moon earrings, a large cocktail ring, and a spiked hat, but a metal collar or statement necklace would look fabulous, too. Finish with some well-blended bronzer to complete this polished but bohemian look.
The Stomach Dance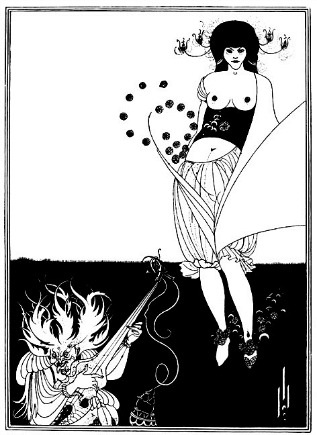 Aubrey Beardsley's "The Stomach Dance'" (1894) via Wikimedia Commons. (Click image to enlarge.)
When Oscar Wilde saw Beardsley's illustration of Salomé's 'dance of the seven veils', he was incredibly disappointed: Salomé's expression is stony, her body language tense. Yet it is easy to understand why Beardsley depicts her this way.
Salomé performs the dance for her lecherous stepfather in order to get what she wants, not for the sake of her love of dance or her pride in her craft. This is reinforced by the cackling lute player in the corner, who may represent Herod's lust.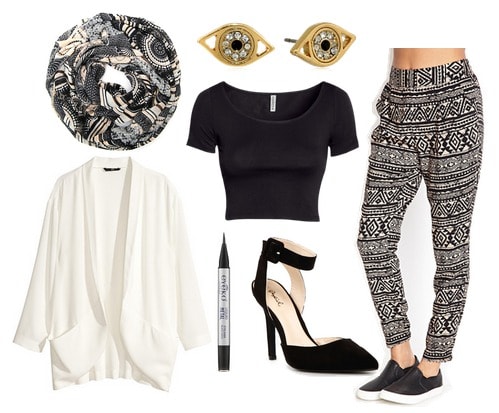 Scarf, Jacket, Earrings, Top, Eyeliner, Heels, Harem Pants
Despite this, Salomé's outfit is still luxurious and befitting a skilled dancer. Black-and-white printed harem pants emulate her trouser's silhouette, while a crop top bares just enough skin to still be appropriate for your afternoon lecture.
Cover up with a structured jacket, then add a black-and-white scarf in a contrasting print to give the outfit some interest. Finish with a swipe of eyeliner and strappy black heels to polish off this slouchy and comfy ensemble.
The Dancer's Reward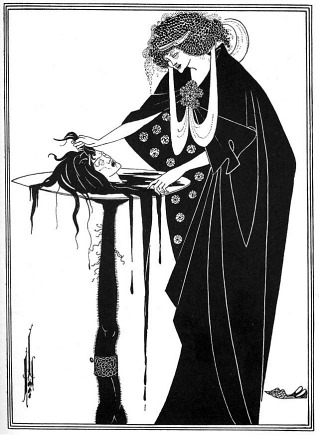 Aubrey Beardsley's "The Dancer's Reward" (1894) via Wikimedia Commons. (Click image to enlarge.)
In the final illustration of the set, Beardsley shows Salomé claiming her prize after her dance: the head of Jokanaan. The text that accompanied this illustration is one of Salome's monologues, in which she claims she still loves Jokanaan and he can no longer refuse her advances.
Her demented stare and powerful grip on the prophet's head perfectly illuminate the hidden themes of the play – the Victorian era's fear of female sexuality and women's independence, and the defilement of the individual through the gaze of the other.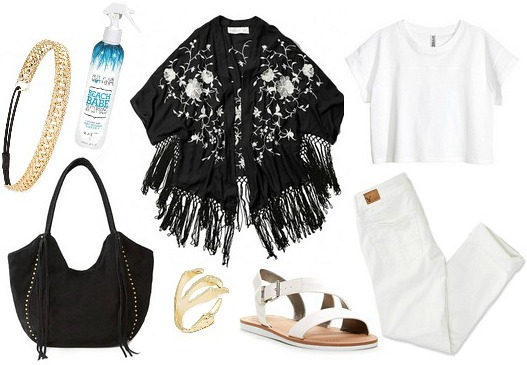 Headband, Salt Spray, Kimono, Top, Purse, Ring, Sandals, Jeans
I thought this kimono jacket was the perfect modern counterpart to Salomé's carnation-embroidered robes; it's the star of this outfit, and perfectly proves how one interesting piece can pull together an otherwise basic outfit. Keep the contrast heightened with a simple white top, jeans, and strappy sandals.
A black suede bag adds a touch of luxury, while the fringe detail nods to the kimono. Finish the look with a gold chain headband and a few other gold pieces, like this creepy-cool claw midi ring. A spritz of sea salt spray will give your hair some body without looking quite as ridiculous as Salomé's.
What do you think?
How do you feel about Aubrey Beardsley's illustrations? What about the story of Salomé? How often do you wear neutral, monochromatic looks? What art would you like to see featured in this column? Let me know in the comments below!