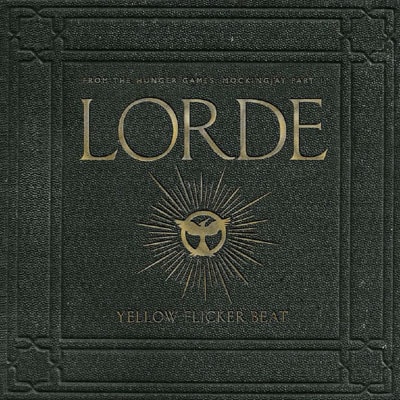 Official Single Cover
Lorde recently released her song "Yellow Flicker Beat," the lead single for the The Hunger Games: Mockingjay – Part 1 Soundtrack. As Lorde stated in a Tumblr post, this was her attempt at getting inside protagonist Katniss Everdeen's head, and the chilling lyrics prove that she took the challenge to its fullest.
The song starts off slow and somber, building upon her smooth, haunting vocals to an intense and driving chorus. Lorde sings what could easily be some thoughts racing through Katniss' mind about power, rebellion, and triumph, laced with clever wordplay about fire that ties into the story.
Below I've assembled three outfits inspired by "Yellow Flicker Beat." Scroll down to check them out!
Princess Cut from Marble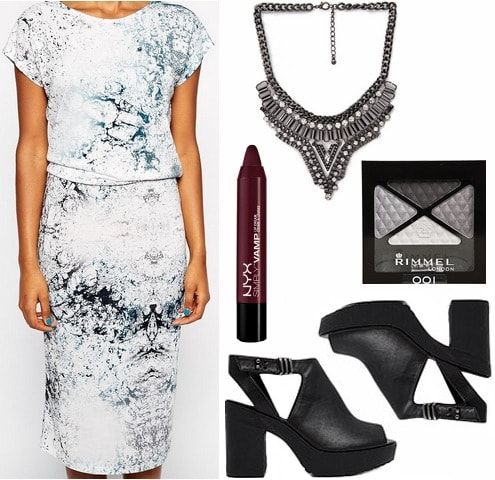 Product Information: Dress, Necklace, Shoes, Lipstick, Eye Shadow
Taken straight from the lyrics, this look features a midi dress with a cool marble pattern. This song is very dark and powerful, which led me to picture a princess from a dystopian world with bold vampy makeup and extravagant statement jewelry. For the sake of practicality, though, we'll keep the expensive jewels to a minimum (Lorde said it best herself: we'll never be royals).
Although a dress of this length may seem a little daunting, it can be styled so many different ways and would be a cool piece to incorporate into your wardrobe. I paired this dress with chunky cut-out heels for a little extra edge.
Flood of Rubies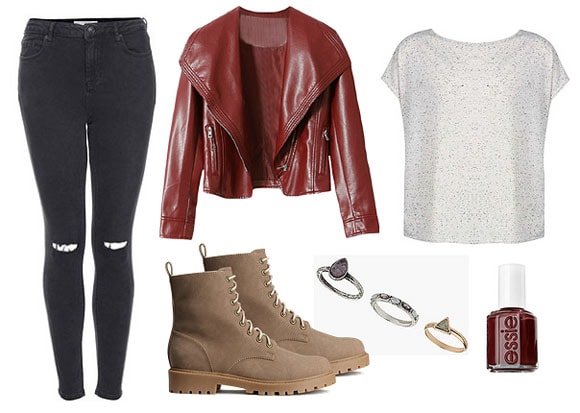 Product Information: Jacket, Jeans, Shirt, Shoes, Nail Polish, Rings
Lorde continues with vivid imagery of a tough heroine whose blood is made of rubies and other valuable gems. The color of the jacket and nail polish not only represents the lyric perfectly, but is also a gorgeous hue to wear this fall. Balance out the bold red jacket with a clean-cut speckled t-shirt and ripped jeans. The look isn't complete without hardcore combat boots, as well as some gem-embellished rings.
Sparking Up My Heart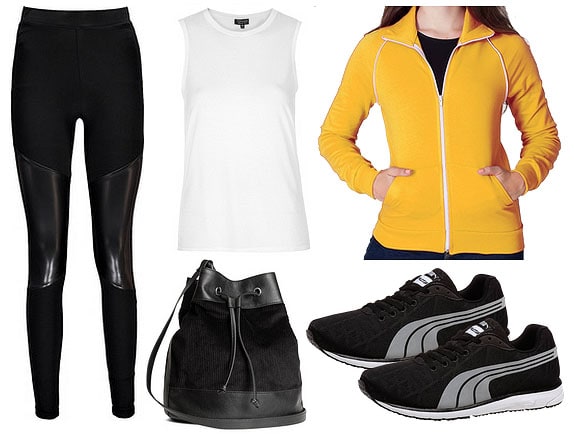 Product Information: Hoodie, Tank Top, Leggings, Shoes, Bag
A spark is quick and bright and the catalyst for a much bigger flame. That being said, the pulsing high-energy chorus, coupled with the image of a spark makes me think of someone who is on the move and ready for action.
This sporty outfit works well as comfy-casual street wear or for an actual workout (pretending you're training for The Hunger Games is probably great motivation) with sleek tennis-shoes and a simple tank top. A bright, golden yellow hoodie incorporates a flame-like color into the look, while black leggings with faux-leather detailing and a functional bucket bag finish it off.
What do you think?
How do you like Lorde's new single? Are you looking forward to the upcoming Hunger Games movie? Would you wear any of these outfits? Would you like to see more posts like this in the future? Let me know in the comments below!