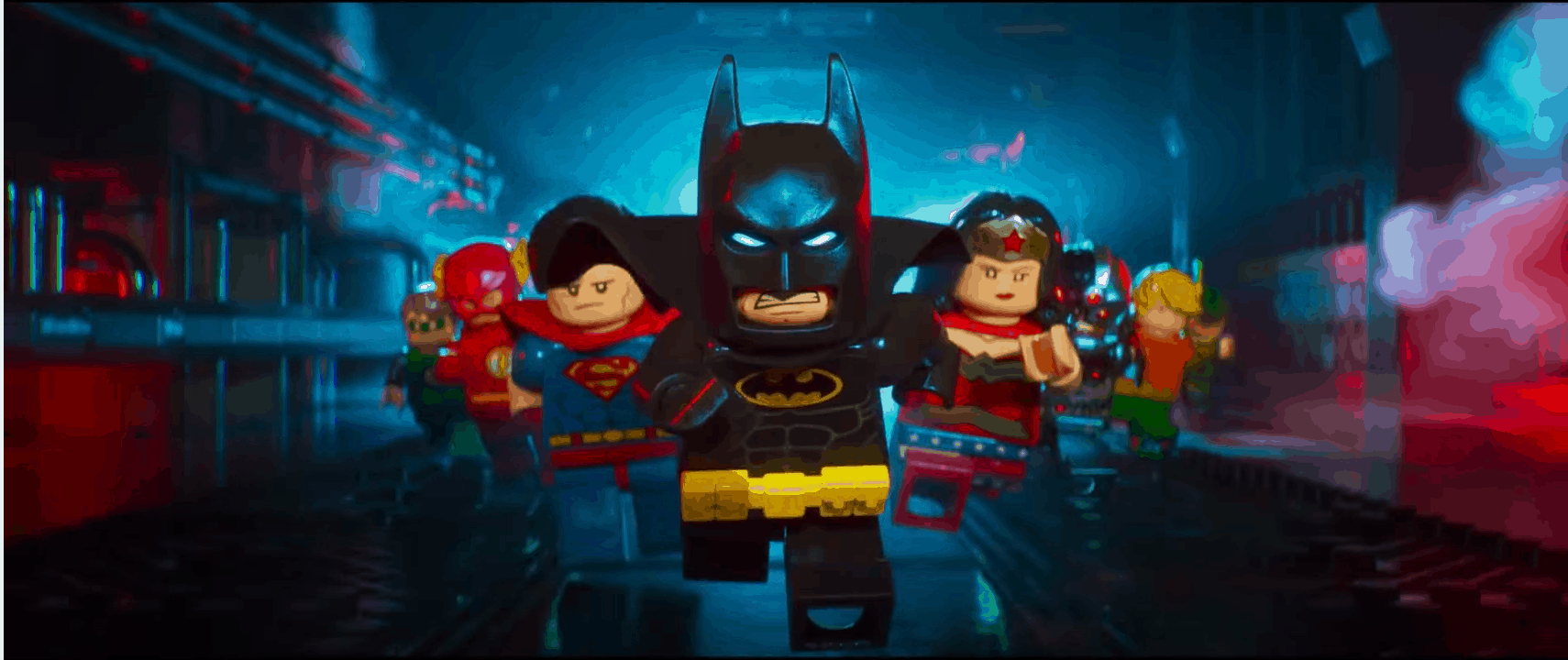 Here's a short list of people who should drop everything and go watch The Lego Batman Movie right now: people who like superheroes, people who enjoy laughing so hard they may fall out of their chair, people who were once children, people in general.
I've already seen this movie twice, and I'm telling you guys, it just gets funnier each time. I love it because it parodies the brooding darkness of some of the more recent Batman movies (looking at you, Dark Knight trilogy), while still retaining a really cute message about family and friendship.
Would it be going too far to say that this is my new favorite Batman movie? Can a parody count as a Batman movie? Whatever, it's my favorite. It's hilarious, exciting, and attention-grabbing from the very first line, and everyone should go see it.
I foresee a lot of people dressing up as the Lego versions of the famous Batman franchise characters for Halloween (or cosplaying them at the next comic convention!), but if subtlety is more your style, I've put together some outfits inspired by the looks of the three main heroes of The Lego Batman Movie!
Batman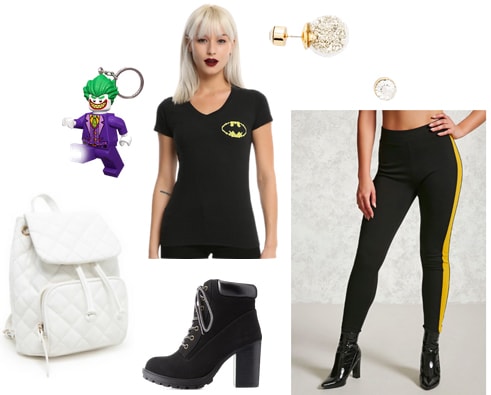 Products: Keychain – Toys R Us, Backpack – Forever 21, Shirt – Hot Topic, Boots – Charlotte Russe, Earrings – Forever 21, Leggings – Forever 21
Batman has to be first, obviously. He'd get angry if anyone was mentioned before him. Lego Batman can be conceited, brooding, and antisocial, but he's also heroic and compassionate towards the people he cares about, and he eventually learns a valuable lesson about letting people in.
For a more subtle replica of his signature suit, pair a black t-shirt emblazoned with the Lego Batman logo with these yellow striped leggings. I personally fear rocking heeled combat boots with leggings, but channel Batman's bravery and try out this style trend! Finally, wear some gold confetti-filled earrings and a white quilted backpack, which you can accessorize with this Lego Joker keychain to reference Batman's "greatest enemy".
Robin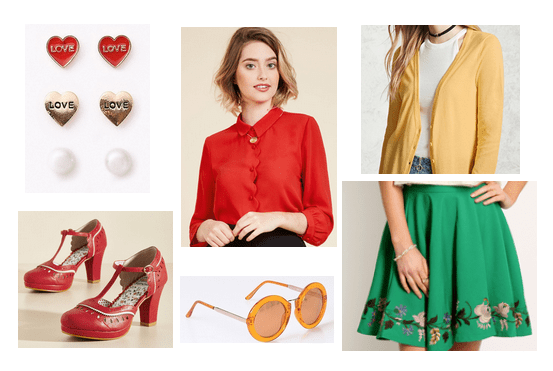 Products: Earrings – Unique Vintage, Shoes – ModCloth, Shirt – ModCloth, Sunglasses – Unique Vintage, Cardigan – Forever 21, Skirt – Ruche
Robin (aka Dick Grayson) is Batman's loyal and trusted sidekick, and the Lego version of this character is a precious cinnamon roll who must be protected. He's just so cute and optimistic and pure. I want to hug him.
Robin's superhero costume is pretty tacky, not gonna lie, but the color palette is super cute when translated into more modern clothes. Transform the red, green, and yellow color scheme into a more wearable outfit in the form of a red scalloped blouse, yellow cardigan, and bright green skirt with flowery details. Complete the look with some cute red heels, as well as some heart-shaped earrings to reference Robin's sweet and loving personality. Finally, replace Robin's enormous round goggles with some fun yellow sunglasses.
Barbara Gordon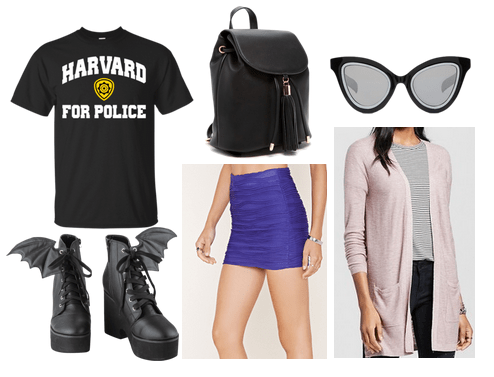 Products: Shirt – MVT Apparel, Boots – Hot Topic, Backpack – Forever 21, Skirt – Forever 21, Sunglasses – Forever 21, Cardigan – Target
Barbara Gordon is the new police commissioner, and is as far from damsel-in-distress as you can possibly get. She is compassionate and kind, but also tough, logical, and fearless. She is comedically introduced as having been to "Harvard for Police", and I actually managed to find a t-shirt replica of the tank she wears in the movie! You're welcome.
Barb's colors are black and purple, so combine these colors in an outfit set that includes both tough and girly details to reflect Barbara's complex personality: try pairing the casual t-shirt with a purple skirt and comfy lilac cardigan, then accessorize with a black fringed backpack, killer batwing combat boots, and some fierce shades that definitely look like superhero googles.
What do you think?
Will you be seeing The Lego Batman Movie? If you have already, what was your favorite part? And who was your favorite character? Let me know in the comments!