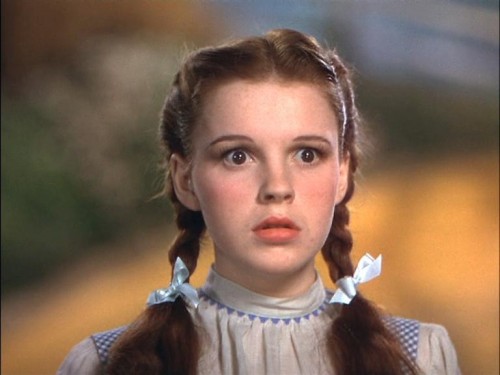 One of the most iconic characters in American film, Dorothy Gale from the classic movie The Wizard of Oz has inspired and delighted audiences for decades. From her ruby red slippers to her adorable little dog Toto, Dorothy's adventures on the Yellow Brick Road are adored by fans young and old. By the end of the movie, she has us all saying "There's no place like home," with a click of her magical – and stylish – shoes.
Even though the film was released in 1939, Judy Garland's Dorothy remains a fabulous source of fashion inspiration! Her gingham print dress and girly aesthetic can be used to inspire your everyday looks. Below, I've created several outfits inspired by Dorothy Gale. Scroll down to view them all!
There's No Place Like Home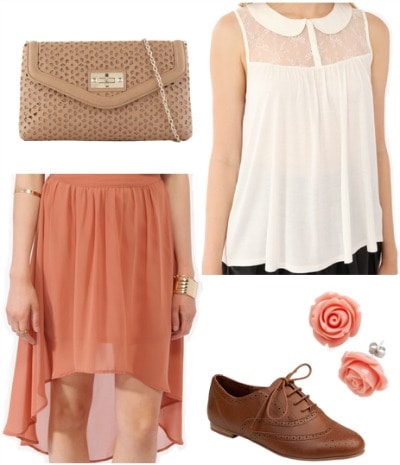 Top, Skirt, Oxfords, Bag, Earrings
Dorothy's life in Kansas may be in grayscale, but you can rock this Technicolor outfit inspired by life on the prairie! Wear a pretty cream blouse tucked into a trendy high-low skirt for a relaxed, romantic feel. Slip on a pair of oxfords, grab a clutch bag, and put in poppy-colored stud earrings to complete the look!
Somewhere Over the Rainbow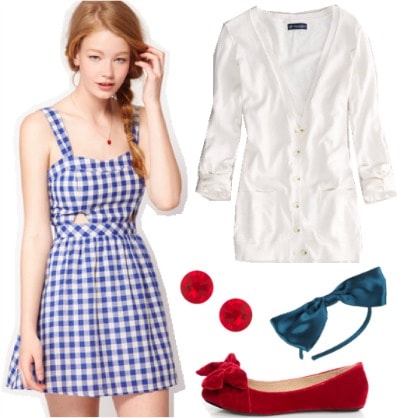 Dress, Cardigan, Flats, Earrings, Headband
You definitely aren't in Kansas anymore in this cute ensemble. Wear a gingham print sundress that channels Dorothy's iconic blue and white frock. Accessorize with a white cardigan and a pair of bold red ballet flats. Simple accessories like ruby red earrings and a bow headband keep the look super girly!
Off to See the Wizard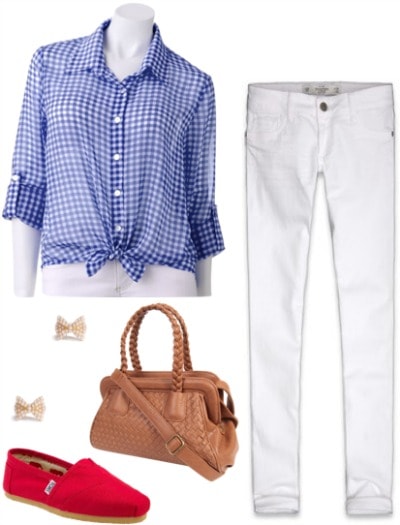 Top, Jeggings, TOMS, Bag, Earrings
Traveling down the Yellow Brick Road is a lot more fun in this casual but cute look! Pair a checked button-up shirt with white jeggings. Wear with bright red TOMS, and grab a woven satchel bag for a fun twist on Dorothy's picnic basket. Bow earrings complete the ensemble!
Merry Old Land of Oz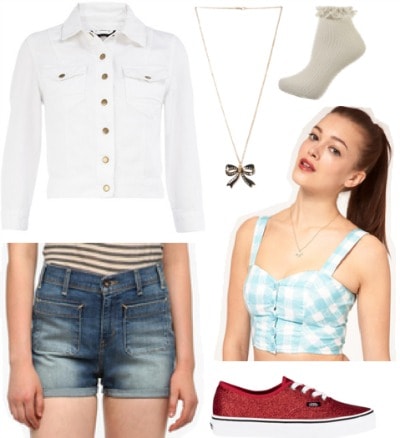 Top, Jacket, Shorts, Sneakers, Necklace, Socks
Go for a trendy look inspired by Dorothy in a gingham crop top and high-waisted denim shorts. Wear with a white jean jacket and a pair of red glitter sneakers. Ruffle socks and a cute bow necklace finish the look!
Bonus Look: And Toto, Too?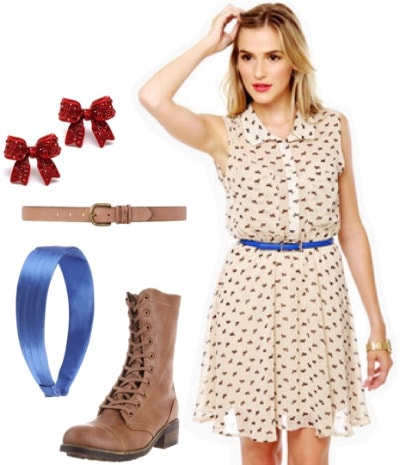 Dress, Boots, Belt, Headband, Earrings
We can't forget about Dorothy's adorable sidekick, Toto! This adorable terrier-printed dress pays tribute to America's favorite dog. Pair it with lace-up boots for a bit of an edge. Add a belt, satin headband, and bow earrings to complete the outfit.
What do you think?
Are you inspired by Dorothy Gale? Would you wear any of the looks above? Which one is your favorite? Would you like to see more posts like these in the future? Let me know in the comments!