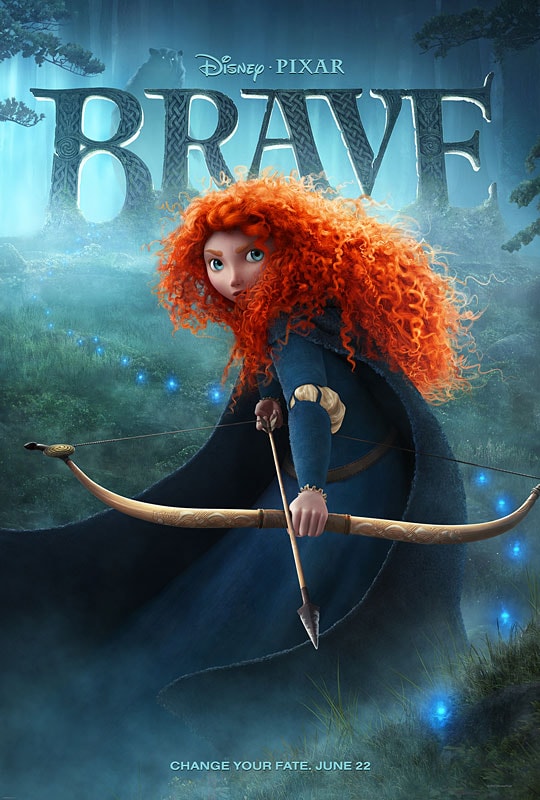 Images c/o Disney/Pixar
Disney/Pixar's highly anticipated new movie "Brave" (in theaters this Friday, June 22nd) is a "princess film" that's truly unlike any other. This time around, Disney/Pixar takes viewers into a world full of magic and wonder in the Scottish highlands… with a decidedly fabulous (and non-traditional) heroine!
If you haven't yet heard about Brave, watch the official trailer here and check out the following synopsis:
"Since ancient times, stories of epic battles and mystical legends have been passed through the generations across the rugged and mysterious Highlands of Scotland. From Disney and Pixar, a new tale joins the lore when the courageous Merida (voice of Kelly Macdonald) confronts tradition and challenges destiny to change her fate.

'Brave' follows the heroic journey of Merida, a skilled archer and headstrong daughter of King Fergus (voice of Billy Connolly) and Queen Elinor (voice of Emma Thompson). Determined to carve her own path in life, Merida defies an age-old custom sacred to the unruly and uproarious lords of the land: massive Lord MacGuffin (voice of Kevin McKidd), surly Lord Macintosh (voice of Craig Ferguson) and cantankerous Lord Dingwall (voice of Robbie Coltrane). Merida's actions inadvertently unleash chaos and fury in the kingdom, and when she turns to an eccentric Witch (voice of Julie Walters) for help, she is granted an ill-fated wish. The ensuing peril forces Merida to harness all of her skills and resources – including her clever and mischievous triplet brothers – to undo a beastly curse before it's too late, discovering the meaning of true bravery."
Although Merida is a princess, she's definitely not sold on the idea. She'd prefer to "shoot for her own hand" rather than choose a prince to do so. Because of her independent nature, she also is a great source of fashion (and personal) inspiration! Her style is exceptionally unique, aided by her Scottish heritage. Below, I've created several outfits inspired by Merida and the movie.Scroll down to view them all!
Change Your Fate
Option 1
Dress – Dorothy Perkins, Oxfords – Steve Madden, Bag – ASOS, Belt – Forever21, Necklace – PacSun, Bracelet – Forever21, Earrings – Forever21
Much to the dismay of her mother, Merida is exceptionally adventurous and loves nothing more than heading out into the forest on her horse, shooting targets with her bow and arrow.
While you may not be venturing into the hills of Scotland anytime soon, you can steal Merida's traditional style and give it a bit of a modern touch. Wear a button-up shirtdress with a perforated faux leather belt. Slip on a pair of oxfords for a look that's both trendy and comfy, and grab a mini satchel bag to store the essentials. While you may not be able to practice archery on campus, you can sport an arrow charm necklace as a wink to Merida's favorite pastime. Finish the look off with embellished stud earrings and a pearlescent, flower-accented bracelet to match the frills on Merida's dress.
Option 2
Dress – ASOS, Ankle Booties – Lulus.com, Bag – Forever21, Necklace – Forever21, Ring – Forever21
For a little more of an edgy-girly appeal, wear a pretty chiffon dress with some fierce lace-up ankle booties. Add a tan cross-body bag, a link bib necklace, and a fun vintage-inspired arrow ring to complete the ensemble!
I'll Shoot For My Own Hand!
Option 1
Dress – Modcloth, Flats – Topshop, Headband – Forever21, Bracelet – Forever21, Earrings – Romwe
Merida is determined to do things her own way, even if that means breaking tradition and choosing to shoot for herself. Capture her sassy aesthetic with a cute blue dress and a pair of metallic ballet flats. A satin headband adds a classic vibe, while the statement bracelet and arrow stud earrings add a bit of flair.
Option 2
Dress – Forever21, Pumps – Steve Madden, Bag – Swell.com, Belt – Anthropologie, Bracelet – Nordstrom
Try out a chiffon maxi dress in an aqua hue for a trendy look inspired by the Scottish princess! Wear with a metallic belt, suede pumps, and a satchel bag. An arrow bangle bracelet hits the target to finish the chic outfit.
Bonus Look: Kilt Craze
Dress – ASOS, Ankle Booties – Steve Madden, Bag – Tilly's, Scarf – Modcloth, Belt – Maurices
After watching this trailer, I couldn't resist adding in a kilt-inspired outfit to this post! Try a checked-print shirtdress updated with a belt and lace-up combat boots. Grab a cross-body bag and a grey scarf to put the final touches on the ensemble.
What do you think?
Are you excited to go see Brave this weekend? Would you wear any of the outfits above? Which one is your favorite? Would you like to see more posts like these in the future? Let me know in the comments!