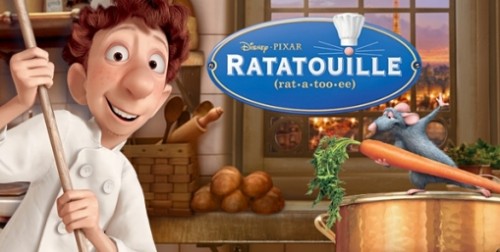 Disney Pixar's Ratatouille (2007) has easily become one of their most loved computer-animated films. Centered around the message, "Anyone can cook," the story follows Remy, a rat who loves to cook and dreams of becoming a chef. Then fate steps in and takes Remy on a journey to Paris. While there, he befriends a human named Linguini, and together, they team up to live out each others' dreams. Overall, the flick is a heartwarming tale about two unlikely friends who come together and do something great.
Being a Disney Pixar animated movie, Ratatouille is beautifully done, with the settings and characters brought to life on screen in stunning detail. Because of this, the movie is perfect to use as a source of inspiration for your own personal wardrobe.
Even though you may not be a rodent or a chef, you can achieve looks inspired by the Disney favorite in your everyday outfits. Scroll down to view them all!
Remy Outfit
Photo Credit | Dress, Cardigan, Flats, Earrings
Remy is the star of our story. He may be small, but he has a huge dream – to become a chef. Being a rat, though, makes that dream difficult to reach. Remy is smart but very different from the rest of his rodent family. His unique outlook can get him into trouble sometimes, but it also ultimately leads to his success.
Grab Remy's signature cuteness in this adorable outfit: Wear a pretty striped strapless dress with an off-white cardigan. Slip on a pair of girly ballerina flats in a neutral color and put in utensil earrings as a nod to Remy's love for cooking!
Emile Outfit
Photo Credit | Top, Pants, Boots, Necklace
Emile is Remy's not-so-adventurous brother, but nonetheless often joins Remy on many of his adventures. He'd rather be eating, all the time, and he'll eat whatever he can find, which disgusts Remy, who has a more developed sense of taste. However, Emile is a very loyal sidekick and a quite lovable character throughout the movie.
Steal Emile's look and pair an oversized sweater with a pair of skinny pants, both in neutral colors. Add combat boots for a bit of edgy flair. To tie off the outfit, wear a necklace with a cute cheese charm as a wink to one of your favorite furry friends.
Linguini Outfit
Photo Credit | Dress, Pumps, Belt, Earrings
Linguini becomes Remy's friend under unlikely circumstances. He's awkward and can't really cook, which is a problem since he works at a restaurant, a job he so desperately needs. His shy personality is quite adorable, and, overall, he really values his friendship with his "Little Chef," who we know and love as Remy.
In this outfit inspired by Linguini himself, wear a simple pleated shirtdress with a pair of neutral colored Mary-Jane pumps. Accent the dress with a tan belt, and put in cute mouse earrings inspired by Linguini's rodent pal for a unique look.
Colette Outfit
Photo Credit | Top, Jacket, Jeggings, Earrings
Colette is a no-nonsense type of girl, at least when it comes to her job as a cook. She's very dedicated and passionate about her work. She's also assigned to help train Linguini in learning the ropes of the restaurant, and quickly becomes a faithful friend.
Borrow her edgy vibe and wear a simple button blouse with a pair of jeggings. Tuck them into suede ankle booties, and wear a leatherette jacket for a more relaxed appeal. Simple faux pearl studs finish of this look, which is sure to be a recipe for fashion success!
What do you think?
Have you seen Ratatouille? Would you wear any of the looks above? Which one is your favorite? Would you like to see more posts like these in the future? Let me know in the comments!