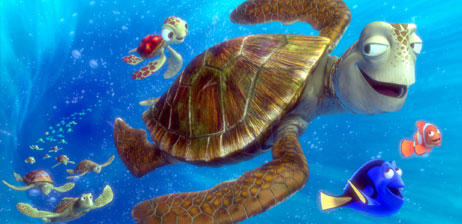 A few years ago, Disney and Pixar teamed up to create one of their most beloved films of all time, taking audiences under the sea and into the lives of loveable, reef-dwelling critters.
For those of you who haven't seen it,Finding Nemo is a heartwarming story about an adventurous little clown fish named Nemo who finds himself in a bit of a tussle after being taken from his home in the ocean and put in an aquarium in a dentist's office. His overprotective but caring dad Marlin sets out to find him with the help of another fish named Dory, who unfortunately suffers from short-term memory loss. This charming little fish tale is a favorite of young and old alike and is also perfect to use as a source of inspiration for your own outfits!
I know many of you requested this in the comments on our previous Disney posts, so below, I've created three different looks based on some of the characters in Finding Nemo. Scroll down to view them all!
Nemo Outfit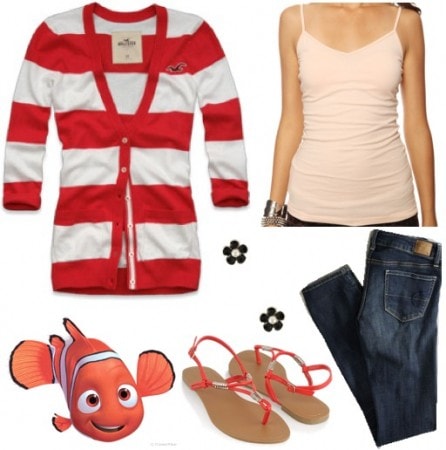 Photo Credit | Cardigan, Tank, Jeans, Shoes, Earrings
Capture Nemo's bright signature stripes in this look! Wear a coral and cream striped cardigan over a neutral color tank with skinny jeans. Slip on a pair of colorful sandals and add flower studs to complete the ensemble.
Dory Outfit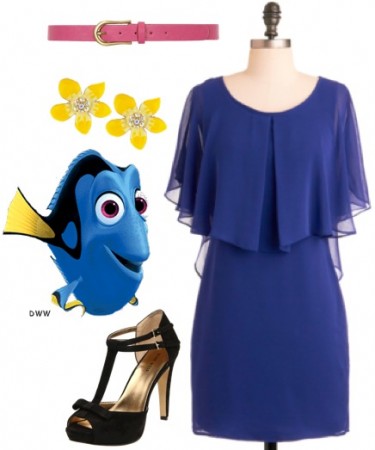 Photo Credit | Dress, Shoes, Earrings, Belt
Channel Dory's fun appeal in this deep blue dress and a pair of t-strap heels! Add a pink belt to the dress for an updated look, and wear yellow flower studs for a cute finish.
Squirt Outfit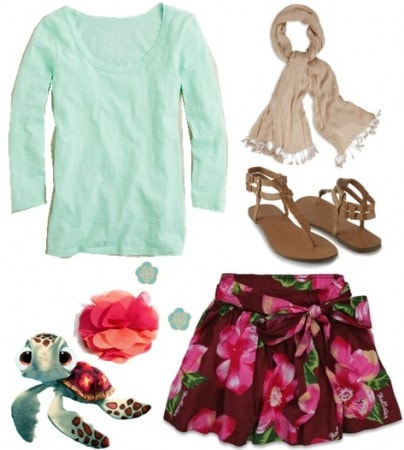 Photo Credit | Top, Skirt, Shoes, Scarf, Earrings, Hair Clip
Squirt is a baby sea turtle who loves to ride the waves of the East Australian Current with his dad, Crush. Get inspired by his cute surfer look with a pretty floral skirt and a mint green tee. Add a neutral-toned scarf, simple gladiator sandals, and floral earrings. For extra flair, put a cute flower hair clip in your hair.
What do you think?
Have you seen Finding Nemo? Would you wear any of the looks above? Which one is your favorite? Would you like to see more posts like these in the future? Let me know in the comments!