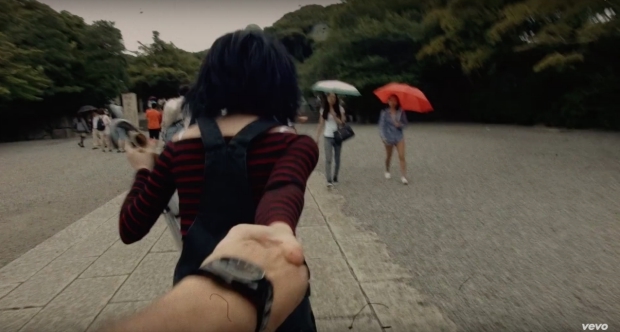 Carly Rae Jepsen recently released a super-fun and super-hip music video to go along with her super-catchy single, "Run Away With Me".
The video features big city adventures and plenty of insanely cute and Pinterest-worthy outfits. Check it out below!
Carly Rae Jepsen - Run Away With Me
The video is full of perfect summer-to-fall transition outfits— it's like winning a back-to-school fashion jackpot.
While I could definitely make the world's longest post on all of Carly's adorable and enviable ensembles, here are three looks inspired by her style in the music video:
1. Stuck On My Heart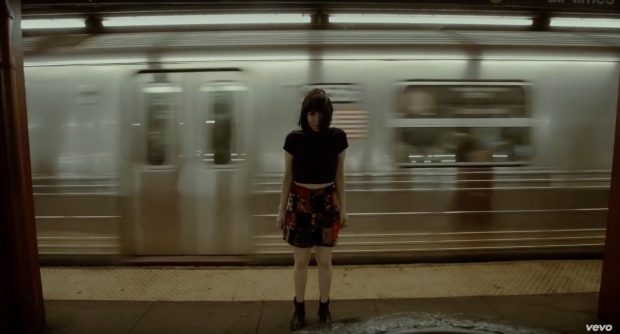 While I don't typically stand in front of moving subways while someone videotapes me, Carly sure does look cute while doing it in this crop top and patterned mini-skirt combo.
But seriously, did she miss the subway? Is she just hanging out down there? I don't know, but one thing's for sure: it's artsy and fun!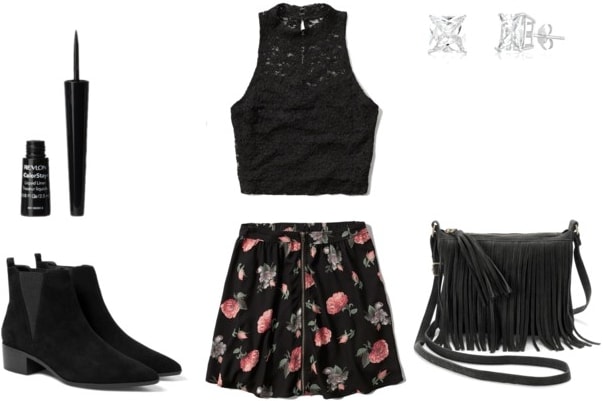 Crop Top // Skirt // Booties // Purse // Earrings // Eyeliner
Begin with a mock-neck cropped shirt. The lace detailing on this one is so pretty. Add a patterned mini-skirt for visual interest– there are plenty of fun designs out there. The skirt pictured here is a beautiful lavender and blush-colored floral print.
Add a simple pair of shiny stud earrings to keep the attention on the fun neckline of the top, and put all of your essentials in a fringe-covered crossbody bag. A swipe of jet-black eyeliner creates just the right amount of drama. Slip on a killer pair of black boots (which were most definitely made for walkin') and you're ready to head out the door.
2. We Never Sleep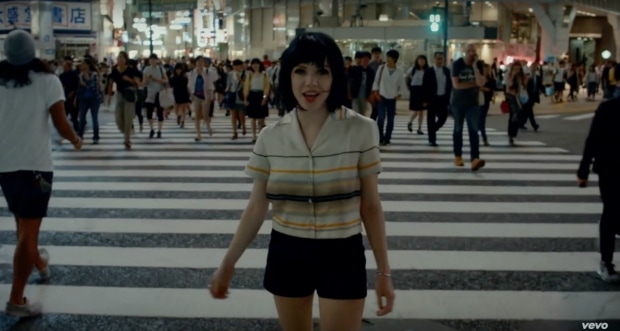 Sometimes, a girl's just gotta keep it simple. This cute and casual look features green, yellow, black, and cream– the perfect fall color palette!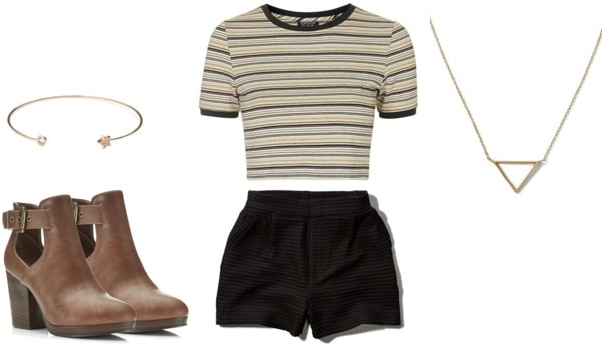 Top // Shorts // Booties // Necklace // Bangle
To start, throw on a striped tee and black tap shorts. Booties with fun cut-outs and metal hardware add plenty of interest. Finish off the look with delicate gold jewelry– I love the combo of this dainty triangle necklace and tiny star bangle.
3. I'm Sick of the Party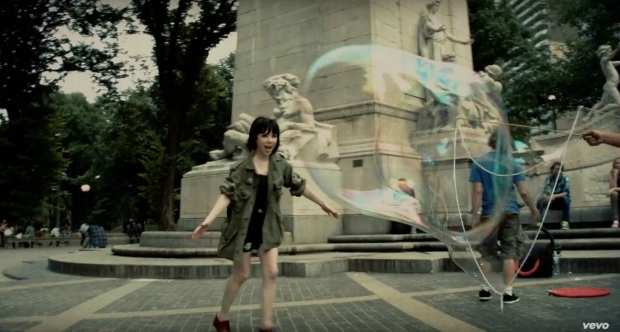 Here's an outfit that's perfect for all your running-through-gigantic-bubble desires. In all seriousness, this is a great summer-to-fall transition look that can take you straight from campus to dinner downtown.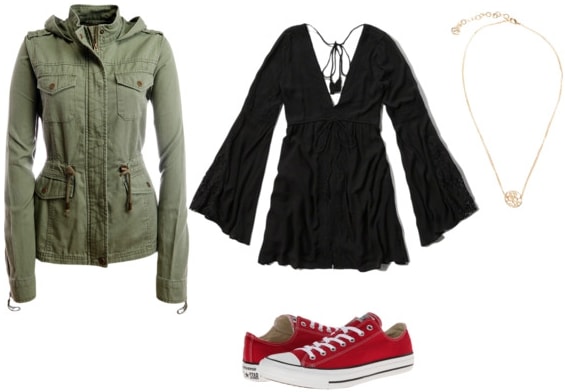 Dress // Jacket // Sneakers // Necklace
Start with a basic LBD. The bell sleeves on this one add just the right amount of trendiness. Layer it under an olive green anorak– I love how many pockets this jacket has.
I chose to go a bit more casual with the shoe selection, which works especially well if you'll be walking a lot while wearing this outfit. Accessorize in a plain yet sophisticated way with a gold pendant necklace, and you're all set for whatever adventures may befall you.
Thoughts? Comments? Opinions?
Do you like Carly's most recent music video? Have you listened to her brand-new album? Are you a fan of her trendy style in this video? Which of these looks is your favorite? Let me know in the comments below!