Remember the days of American Girl dolls? If you're like me, you had your favorite one picked out, and – whether you owned that doll or just wished you did – your choice was probably a reflection of your personality.
To help you get in touch with your inner child, our latest series takes fashion inspiration from these elementary school favorites, using them to inspire real-life-wearable outfits you can rock today. Think it can't be done? Watch us prove you wrong…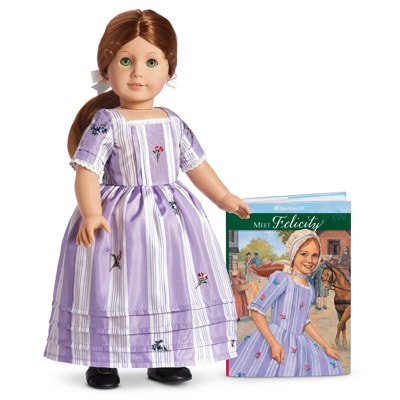 About Felicity
Felicity Merriman was the spunky animal lover of the American Girl historical dolls. Her stories, set in colonial Williamsburg, Virginia, in 1774, gave many of her adventures a very patriotic theme.
Whether you had a Felicity doll or always wanted one, Felicity and her colonial attire can actually be a great source of fashion inspiration! (And no, we aren't talking about those "dress like your doll" matching outfits… but how many of you owned those, too? Be honest!)  Below, I've created a series of outfits inspired by Felicity. Scroll down to view them all!
5 American Girl Felicity Outfits
1. Tea Time
Product Information:
While she wasn't always fond of tea time, Felicity always dressed in pretty floral dresses for the occasion. Channel her style with a cute floral dress and lace-accented cardigan. Wear with oxfords, a horseshoe charm necklace, and dainty floral studs to finish off this super cute, tea-time-inspired look.
2. Equestrian At Heart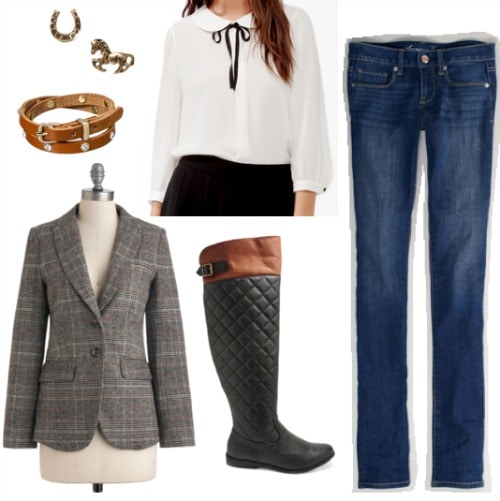 Product Information:
If Felicity was your favorite, you probably loved her most for her love for animals, especially horses. Above, I created a modern-day equestrian outfit inspired by Felicity, featuring pieces that are on trend for this season.
To get this look, wear a bow-tie blouse under a plaid blazer, and pull on a pair of skinnies. Choose quilted riding boots for an equestrian flair, and accessorize with a faux leather strap bracelet and mix-and-match horse stud earrings to complete the ensemble.
3. Laced Jacket and Petticoat (Felicity's School Outfit)
The berry red, green, and white floral motif of the short gown is trimmed in white ruffles at the neckline and sleeves. A berry red chord is used to lace the front of it shut. The lengthy skirt is cherry red brocade as well. The mob cap is white and has a lace ruffle trim.
4. Christmas Gown and Stomacher
A sapphire-colored taffeta dress with white lace ruffles at the throat and the sleeves. Moreover, the dress includes gathered sapphire silk trim along the corners of the skirt opening, along the stomacher, and along the sleeves. Moreover, the stomachers are fastened to the bodice with metal snaps. Sapphire taffeta also makes up the petticoat. It's designed to be worn under a gown. The petticoat is visible underneath the main dress through an opening in the center of the skirt.
Two replaceable stomachers that attach to the gown's bodice are included with the ensemble. Both stomachers are sapphire in color, but one has white lace on it. The other has three rows of pink ribbon with pearls in the middle of each row for decoration. Whichever stomacher is in use right now noticeably alters the gown's overall appearance and feel.
5. Felicity's Summer Outfit
A long, white dress with short sleeves, ruffled lace trim on the sleeves and neckline, blue ribbon trim on the sleeves, and decorative folds near the bottom of the skirt are all included in the Summer Gown and Lace Cap. Together with a blue and white sash with blue, pink, and green flower embroidery, it also includes a white lace cap with ruffle trim.
The straw hat that is included with the pair of brocade slippers has a blue ribbon running horizontally across the top, leaving additional ribbon on the sides to knot the hat. The hat also contains green foliage and pink flowers. There are also gray slippers with white ribbon bows made of brocade.
What do you think?
Did you have American Girl dolls? Was Felicity one of your favorites? Are you inspired by Felicity's colonial style? Would you wear any of the looks above? Which one is your favorite? Would you like to see more posts like these in the future? Let me know in the comments!
If you're feeling inspired by Felicity Merriman's gorgeous doll style, then make sure you take a peek at our related post below —