While she may not always appear on the show, Alison Dilaurentis has definitely made an impression on Pretty Little Liars fans like myself – not only for her mysterious disappearance and death, but also for her peculiar personality. On the surface, she might just seem like another teen girl obsessed with popularity, but beneath those gorgeous blonde locks is a darker side to Rosewood's former queen bee. Each week, I'm intrigued by all of the secrets her four best friends continue to uncover about Ali and her past.
Though she's not in every episode, when Ali does appear on the show – whether in a flashback scene or an eerie ghost-like encounter with one of the girls – she always looks absolutely flawless. Her style is girlywith a bit of an edge. She loves wearing dresses and blouses with pumps or pretty wedges, and many of these pieces feature floral prints and shades of pink. But like her personality, her wardrobe isn't strictly sweet.
Because of her signature style, Ali has certainly become one of my fashion favorites on the show. Below, I've created several looks inspired by her wardrobe for you to use as inspiration for your own outfits. Scroll down to view them all!
Pretty Little Liar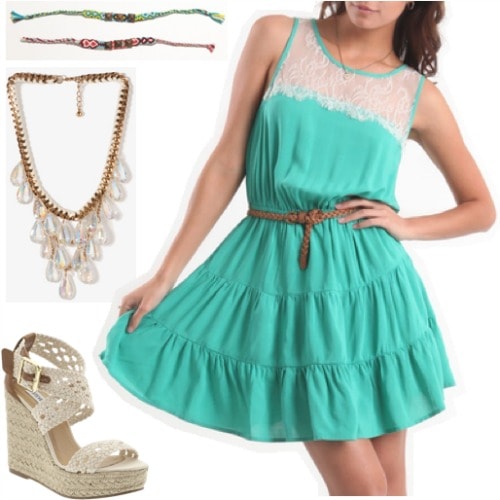 Dress, Wedges, Necklace, Bracelets
Capture Ali's pretty style with a lace-accented dress and crochet wedges, then add a tiered statement necklace for a trendy aesthetic. On the show, Ali gave Spencer, Hanna, Aria, and Emily friendship bracelets to match her own, so tie on a few bracelets similar to theirs to complete the outfit!
Secrets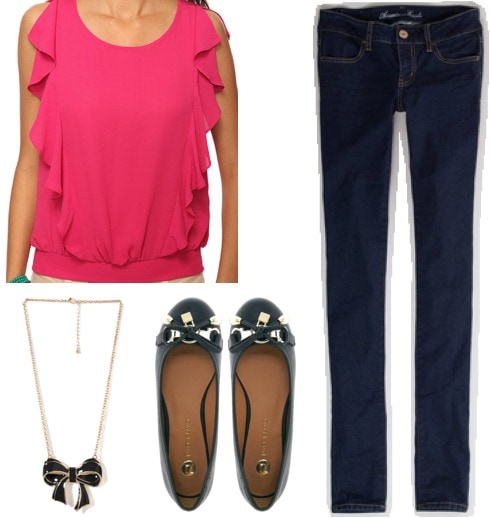 Blouse, Jeggings, Flats, Necklace
It's no secret that Ali had major style! For this look, start by pairing a bright pink ruffle blouse with dark wash jeggings. Ballet flats with padlock charms pay tribute to Ali's obsession with locks and keys, while a bow necklace adds a girly flair to finish the look.
Kiss And Tell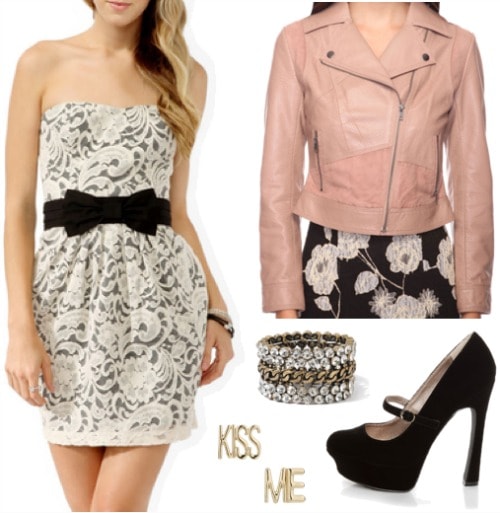 Dress, Jacket, Pumps, Earrings, Bracelet
For a slightly edgier look inspired by Ali, wear a strapless lace dress under a faux leather moto jacket. Mary Jane pumps give off a feminine vibe, and flirty "Kiss Me" earrings add a fun touch. Add a stacked chain and rhinestone bracelet for a look that's girly yet a little bit tough.
What do you think?
Are you a fan of Pretty Little Liars? What do you think of Alison DiLaurentis? Are you inspired by Ali's style? Would you wear any of the looks above? Which outfit is your favorite? Would you like to see more posts like these in the future? Let me know in the comments!