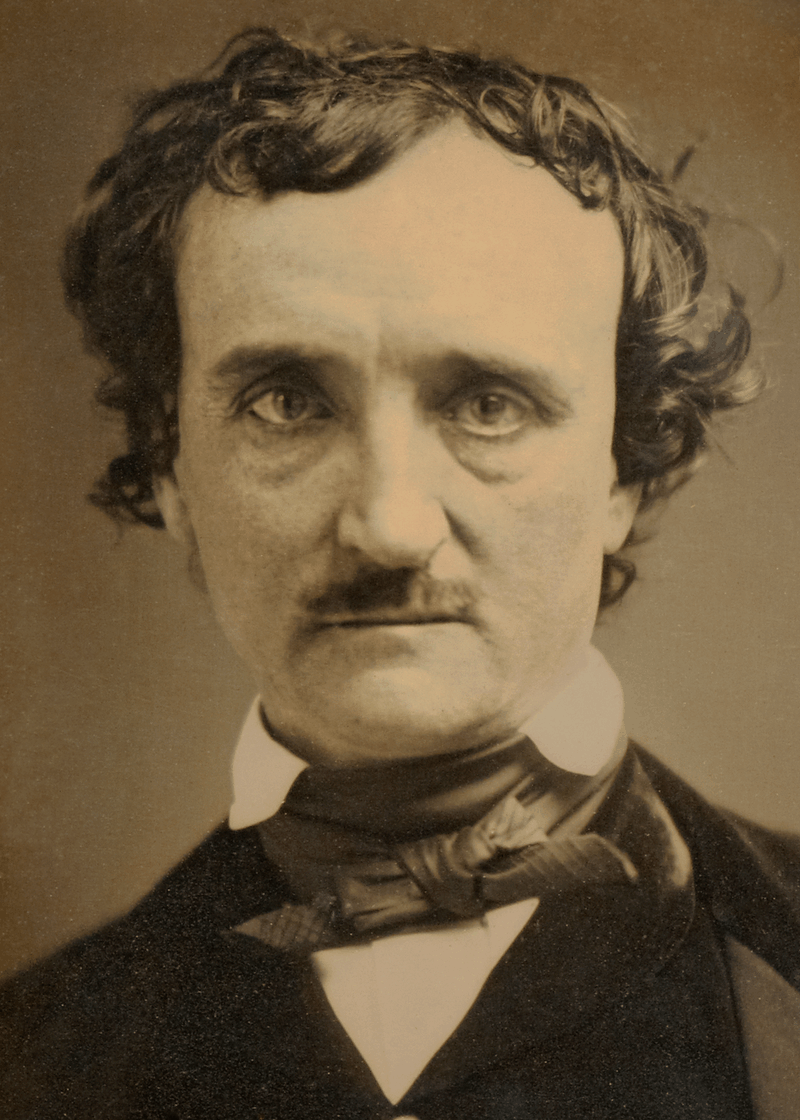 When you think of books you read back in junior and high school, a few authors immediately spring to mind for nearly everyone. Some of these authors include F. Scott Fitzgerald, Harper Lee (who unfortunately recently passed away), and John Steinbeck. One more that may come to mind is poet and short story writer Edgar Allen Poe.
Poe's life sounds like it was as dark and gothic as his short stories. Abandoned the departure of his father and the death of his mother, Poe was raised by his aunt and later married his much younger cousin. He fell into a deep depression when she died, and many of his poems are at least inspired by her, if not about her entirely. The rest of his life is a whirlwind of poverty and alcoholism, culminating in an early death in 1849 amidst murky circumstances.
Although he died at the age of 40, Poe produced a massive body of work that made a huge impact not only on Gothic fiction in America, but also on future writers of the world. His stories are visceral and terrifying, but are still a lot of fun to read, which is why they leave such a lasting impression on all of us far past high school.
So take a look at these outfits inspired by Edgar Allen Poe's spooky brilliance.
Bookstore Browsing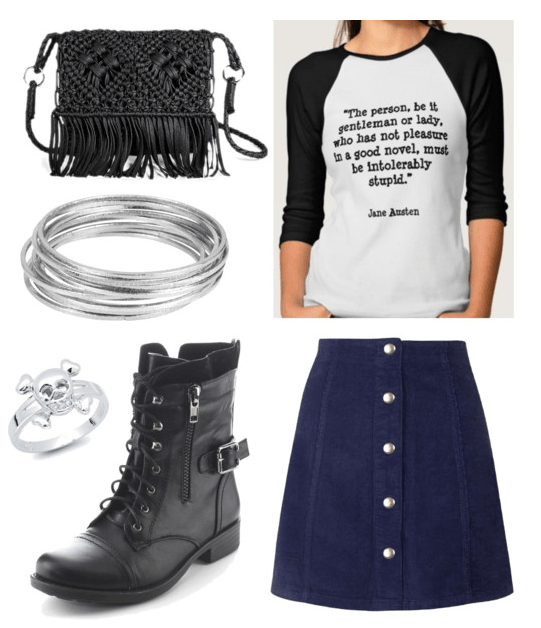 Products: Top, Skirt, Boots, Bag, Ring, Bracelets
Edgar Allen Poe was a scholar from an early age, preferring to keep accounts rather than venture out into the field during his short career as an officer. He starting writing and producing poems near this time, too, although none of them were widely read. Nonetheless, this marked the beginning of his career as a writer.
For a nice daytime look for browsing a local used bookshop, pull on your favorite t-shirt, like this one with a fabulous Jane Austen quote. Button-up skirts are super trendy and easy to wear casually, so pair one with these combat boots, silver jewelry, and a practical crossbody bag to carry your small copy of The Fall of the House of Usher and other stories.
Fear the Night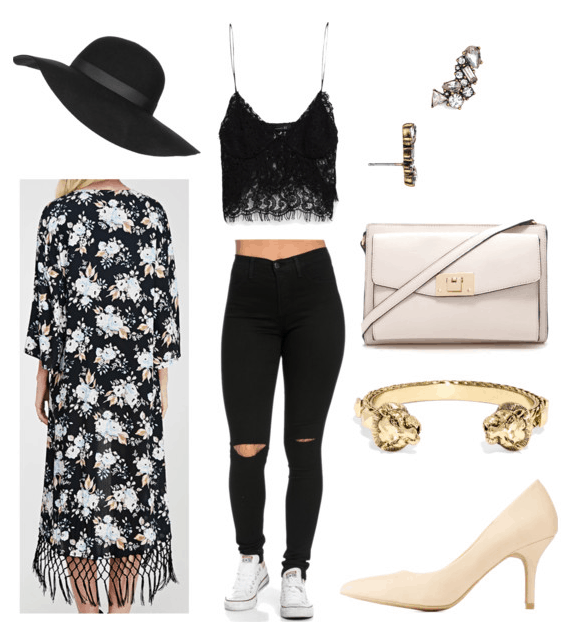 Products: Top, Jeans, Kimono, Hat, Shoes, Bag, Earrings, Bracelet
When we think of all things Gothic, black lace and flowing clothing comes to mind. In literature, Gothic fiction is the mother of many splintering genres, including science fiction à la Mary Shelley's Frankenstein, and horror à la Bram Stoker's Dracula. While Poe didn't influence these authors directly, he did impact many other writers like them. So celebrate the elements of Gothic fiction with this trendy look.
You could make an all black ensemble by wearing black shoes with this lace crop top and these ripped jeans, but nude heels give the look a touch of elegance. Next, add elaborate accessories like this lion bracelet and these gemstone earrings, then balance them with a simple bag. This long kimono adds some modestly while being a dramatic standout piece. Finish the look with a floppy, witchy hat.
Unnatural Pursuits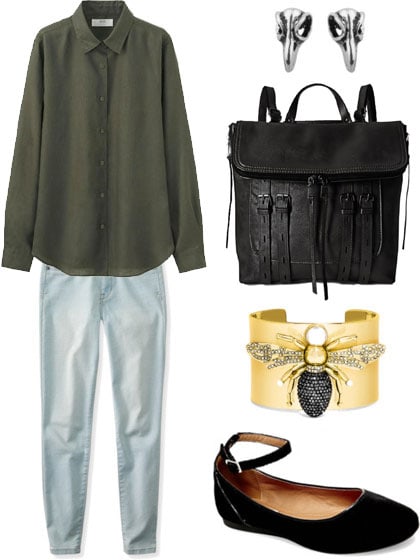 Products: Shirt, Jeans, Shoes, Backpack, Earrings, Bracelet
Supernatural elements and mystery are ever-present in Poe's works. There is also often an undercurrent of madness, particularly in the short stories The Black Cat and The Tell-Tale Heart. Poe found inspiration not only in mysteries of the body, but also mysteries of the mind, so get inspired by mixing earthy and flashy.
Lay the foundation for this look with an olive green button-up and some light wash jeans. By far Poe's most famous poem is The Raven, so pay homage to it with some cool raven skull earrings. This backpack is classic and practical enough to carry your laptop, while these velvet shoes add some luxury. Pop on a sparkly bracelet and you're good to go to class.
Scarlet Seductress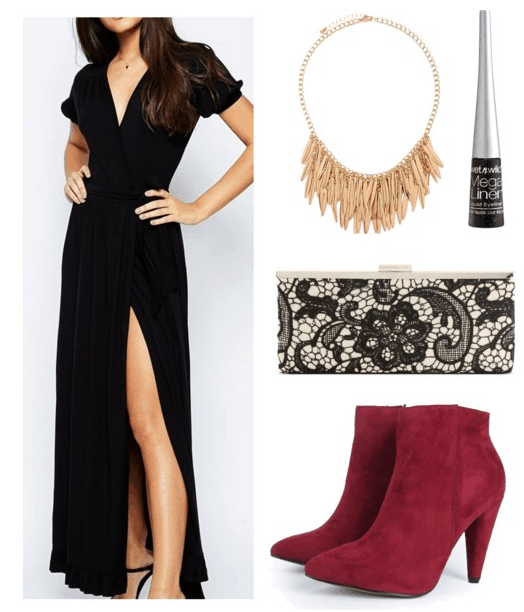 Products: Dress, Shoes, Necklace, Clutch, Eyeliner
Even though Poe deals with some grisly subjects, that doesn't mean there's not a touch of glamour in some of his stories. Some of his tales are about doomed wealthy nobles whose riches can't save them from terrors of the supernatural and the ordinary.
Glam up with this wrap dress that's dramatic yet uncomplicated and easy to accessorize. A statement gold necklace adds interest to your face, as does a sweet cat-eye. Finish off with a lace clutch and these scarlet booties, perfect for strutting into a party. But don't ruin the party by killing everyone, as in The Masque of the Red Death. That'd just be rude.
Final Thoughts
Edgar Allen Poe is remembered as the typical "tortured artist" whose genius was too great for his time. But his influence has been far-reaching and continues to touch all of us. So next time you want a short read about a cursed castle or a growing madness, pick up some Poe.
So what did you think? What outfit did you like the best? What's your favorite Edgar Allen Poe story? What author would you like to see next? Let us know in the comments below!