Fashion inspiration can be found anywhere, and books are incredible sources for style innovation. Book-Inspired Fashion explores these treasure troves, and brings them them to you in looks inspired by vibrant characters, far away lands, brilliantly woven plotlines, and more.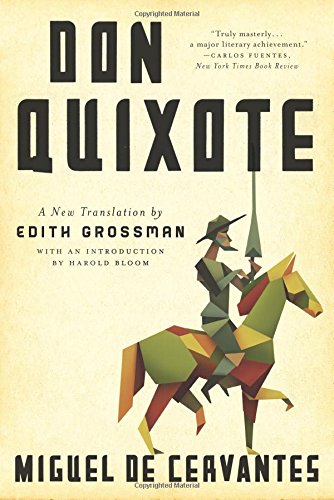 You guys guessed it – it's a Don Quixote fashion post! This week's article is based on the first modern novel of Golden Age Spanish literature: Don Quixote of La Mancha. It's one of the first works I read completely in Spanish back in high school, and I can still remember how much fun I had learning about not only the plot, but also the book's history and context.
Without further ado, let's get some background information!
Reading Between the Lines
Don Quixote (or Quijote) de la Mancha was published by Miguel de Cervantes in two parts: the first in 1605, and the second ten years later in 1615. It was innovative, original, and unlike anything that had been seen in the literature of Spain's Golden Age. As such, it didn't fit into any of the established genre molds of the time.
The protagonist is, of course, the eponymous Don Quixote, who actually starts out as a 50-something man named Alonso Quijano. Ironically, Alonso reads so many books that instead of becoming knowledgeable and wise, he grows so deluded and obsessed with stories of knights errant that he takes the name "Don Quixote of La Mancha" and goes out into the world. He seeks the romance of adventure and old chivalry, believing in it whole-heartedly and basing his journeys upon this ideal.
He doesn't, however, explore alone. He is accompanied by Sancho Panza, a local farmer whose straightforward perception of reality sharply contrasts with Don Quixote's delusional imagination. The best-known episode of this novel is that of the infamous windmills, which Quixote sees as monstrous giants ready to attack, despite Sancho Panza's insistence that they are just normal windmills.
While the novel pokes fun at the protagonists and the old standard of chivalric novels, it also provides an important critique of the reading experience and of books during this time. In the early 1600s, Spain was swept up by the Counter-Reformation, which pushed for a return to older, more traditional Catholic beliefs that scrutinized the literature of the time. Don Quixote, therefore, is an example of a reader that got too overwhelmed by the unrealistic plots of old chivalric tales, and lost his mind.
The nature of the narrative is very episodic, so rather than choosing quotes based around plot points, I chose quotes that stood out to me because of their beauty, wit, and/or profundity.
Also, no caution needed for this post, because there aren't going to be any spoilers!
1. Floats on Water
"The truth may be stretched thin, but it never breaks, and it always surfaces above lies, as oil floats on water."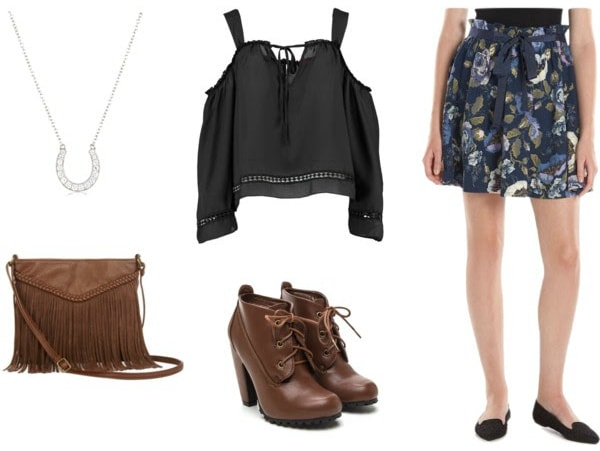 Products: Top, Skirt, Shoes, Bag, Necklace
This outfit is inspired both by the quote itself, with the image of truth rising above lies, and Don Quixote's character, as an earnest if confused man.
On a purely visual level, I wanted the skirt to be reflective of water in some way, hence the printed blue floral number. As for the top, I imagined black oil rather than the yellowish oil most might recall, and therefore chose a top that is loose and allows for movement, but is completely black and inky.
I purposely chose brown shoes and a brown bag, because brown and black don't have to clash in an outfit. Don Quixote takes risks, and so should readers! (That's something I'll touch on in each of these three outfits.)
The horseshoe necklace references Rocinante, Don Quixote's tired horse, and adds a simple final touch to the look.
2. Fixed Upon Beauty
"Do not forget, Sancho," replied Don Quixote, "that there are two kinds of beauty, one being of the soul and the other of the body. That of the soul is revealed through intelligence, modesty, right conduct, generosity and good breeding, all of which qualities may exist in an ugly man; and when one's gaze is fixed upon beauty of this sort and not upon that of the body, love is usually born suddenly and violently."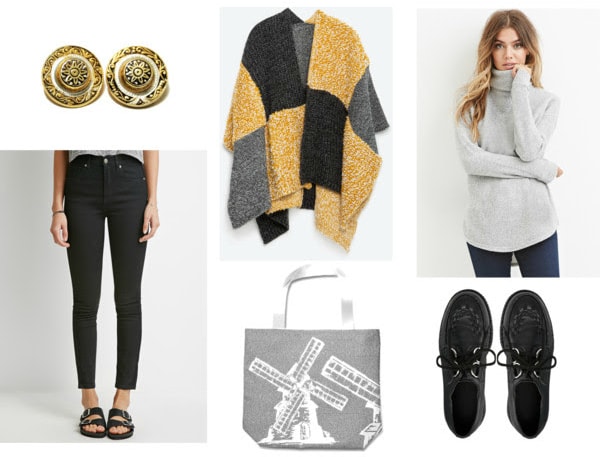 Products: Sweater, Jeans, Top, Shoes, Bag, Earrings
I found it difficult to encapsulate the love, beauty, and ugliness described by this quote. In the end, I went with a look that involves a lot of risk taking, because Don Quixote is not the type to think his actions through.
While the overall look is fairly put-together, some of the pieces have small deviations that set them apart from regular, classic items. The oversized, patchy poncho, for one, stood out to me right away. It would take a bold person to pull it off confidently while retaining a relaxed attitude.
The shoes, at first glance, look like regular sneakers, but are actually creepers. Definitely a fashion risk, they add a little edge to the look.
The tote is actually made completely out of the text of Don Quixote, and depicts the famous windmills of La Mancha, also setting it apart from a regular bag. Finally, the earrings are of a vintage Spanish style, and are cute without being ostentatious.
3. Who I Am
"I know who I am… and who I may be, if I choose."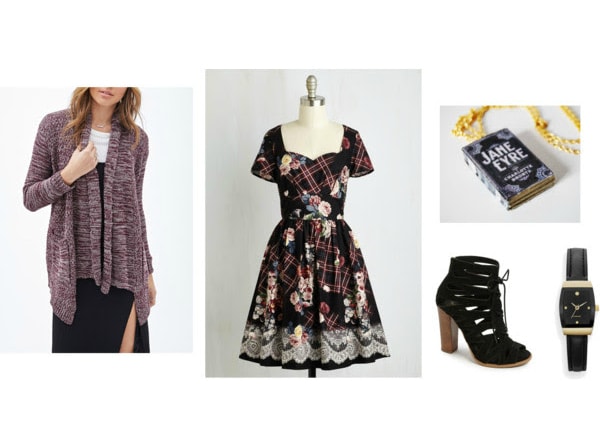 Products: Dress, Sweater, Shoes, Watch, Necklace
To sum him up in one sentence, Don Quixote is a (minor) nobleman who loves books more than most everything else in the world. Despite any identity crises, he is, in fact, a hidalgo who decides to take on the world with little preparation.
What I love most about this quote is that it seems that Don Quixote is doing exactly what he wants to do, and displays a subtle sense of awareness that isn't entirely developed in the book. He is, without a doubt, a complex and unforgettable character who breaks convention and is full of paradoxes.
This dress, therefore, represents an interesting combination of formality, from its form and cut, and casualness, because of its mixed print. The sweater adds another casual layer, but the heels keep the look from becoming too everyday.
As for accessories, I added a simple watch to reference Don Quixote's apparent obliviousness that knightly chivalry has already come and gone. And as a final touch, I threw in an adorable book necklace to represent his true love of literature.
In the next Book-Inspired Fashion post…
I'm going to cover the first book in a series that was successfully adapted into a TV show that completely changed the face of fashion inspiration from fictional characters. It follows the lives of wealthy, privileged high school students in New York, and all of the drama that surrounds them.
Hint: XOXO
Your Thoughts?
How do you feel about Don Quixote and his adventures? Have you tackled it in the original Spanish? Let us know in the comments below!