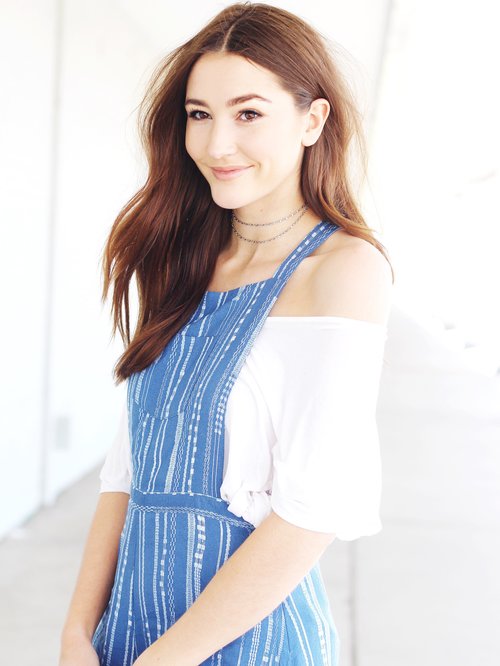 For most college students, fashion blogging can seem like a pipe dream. Balancing school, life, and work alone can be tough – so to add maintaining a fashion blog to all of that? It's not an easy task.
Emma Walker, a sophomore student at The University of Denver, understands. She runs the successful fashion blog With a City Dream. Emma collaborates with brands and shares her style with thousands of people – all while attending college full-time.
Keep reading to find out how Emma got started, and to see her tips for fashion bloggers in college.
CF: How did you first get involved in blogging?
EW: I started my blog in high school. At the time, I was reading lots of good fashion blogs and really wanting to start my own. I was really into photography, so mostly I liked and focused on taking pictures of clothes that I liked…very basic fashion blogging. I loved talking about what I was wearing.
Towards the end of my senior year of high school, blogging started to become more trendy. My blog was starting to become more noticed as well – I started getting asked to promote things and do things, which was really fun, but terrifying.
My blog was such a small, personal thing, so being asked to promote and talk about brands was totally different than anything I had done before.
The summer before my freshman year of college, I actually started spending time investing in the whole blogging process.
CF: Where does the inspiration for your blog come from?
EW: Instagram. I loving following people's Instagrams, and seeing how they are putting together outfits in a unique way. Back in high school, I went on Pinterest a lot more, and now I barely get it on it.
I love Instagrammers like @amberfillerup, @amandasteele, and @hellofashionblog, as we have similar style[s]. I love following Instagrammers with a quirky or unique style, and putting my own spin on the looks so they work for school.
CF: How do you balance school, work, and blogging?
EW: (laughs) I don't. I try my best to get my school work done before the weekend, so I can spend the weekend taking new pictures, and pre-writing my posts that I will publish. Writing your blog posts ahead of time is essential, so during the week all I will really have to do is share and promote on social media.
CF: Tell me about your social media content – how do you attract followers and build a brand around your blog?
EW: Social media is stressful because it is important to find a balance between sharing my blog life and my personal life while maintaining a feed that satisfies all of my followers. Not everyone who follows me wants to see my personal life – my college pictures – they are there for my fashion blog pictures. I am very purposeful with my posts, I want to share something that is meaningful to me or that I am proud of.
When I first went to college, all my friends in school were posting pictures of their Friday nights, and I was posting pictures of my Sunday mornings.
I don't think I find inspiration for my feed, but I am obsessed with white. I love it being white and bright and clean looking; it has become my main hobby to edit my Instagram pictures in an overexposed way. Consistency is key, especially with a theme.
https://www.instagram.com/p/BSUN0rXg_nN
CF: Your favorite thing to wear to class?
EW: Athleisure. That's a fashionable way to say it.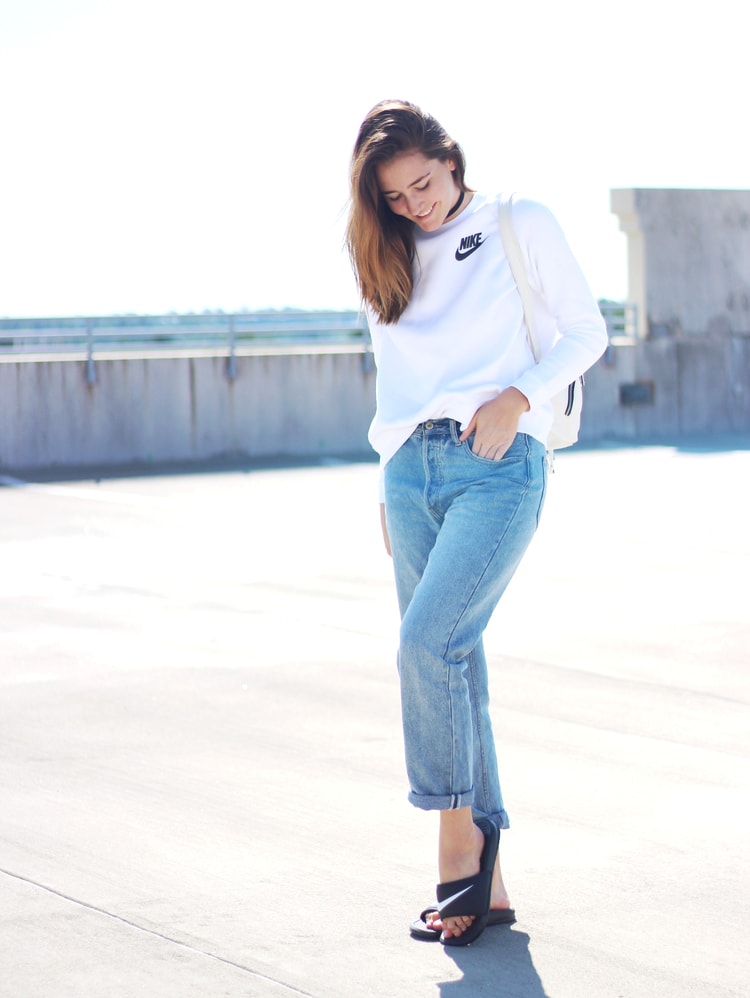 CF: As a college student, how do you stay on a budget while still running a fashion blog?
EW: My two biggest tips: First, buy your denim from thrift stores. I always do. It's very trendy right now, and denim looks better worn-in anyway. My second one is to shop collaborations – H&M and Target do clothing lines with big designers. The vest I'm wearing right now, I got last season from Target – so low prices but designer items.
I invest in things that will last more than one season, and can be worn year round. Something I really like to invest in is jackets, because I feel like you can wear a nice jacket over a $10 tee shirt and still look edgy and cool. I like to invest in bags; that is one of my things – when you pay for a nice bag, it is going to last longer, and most bags are not going to go out of season.
CF: What would you recommend for people wanting to start a fashion blog, but not sure how to?
EW: I would say – honestly, don't look at other people's blogs, don't look at their "how to start a blog" pages – just get a webpage, and post content that you like. The most successful blogs are the ones who are always authentically themselves.
CF: Most exciting moment for you?
EW: My senior year of high school, I went to New York to go to a Teen Vogue fashion seminar. Back then, they held a weekend-long discussion on various topics.
I was in New York, I was out with my mom, and I got a call – and it was Teen Vogue, They said something along the lines of: "We've seen your Instagram, and we are really impressed. We would love to partner with you this weekend."
I was in high school, and people were making fun of me for having a blog and being really into social media. It was really cool to be validated by people I respected, telling me; I like what you are doing, keep doing it. I'm still giddy about it.
Another incredible moment was going to my first fashion week and realizing that you can get into shows just by being a blogger. It was always something that felt out of reach, and actually being there and sitting at the shows, it was surreal.
CF: Number one mistake most new bloggers make?
I think the number one mistake is being obsessed with follower count and growth.
I think it is easy to get wrapped up in that, especially with social media. I've found that even if my blog's views and followers are half as much as another blogger's, brands still want to work with me, because I stick to being authentic and not trendy.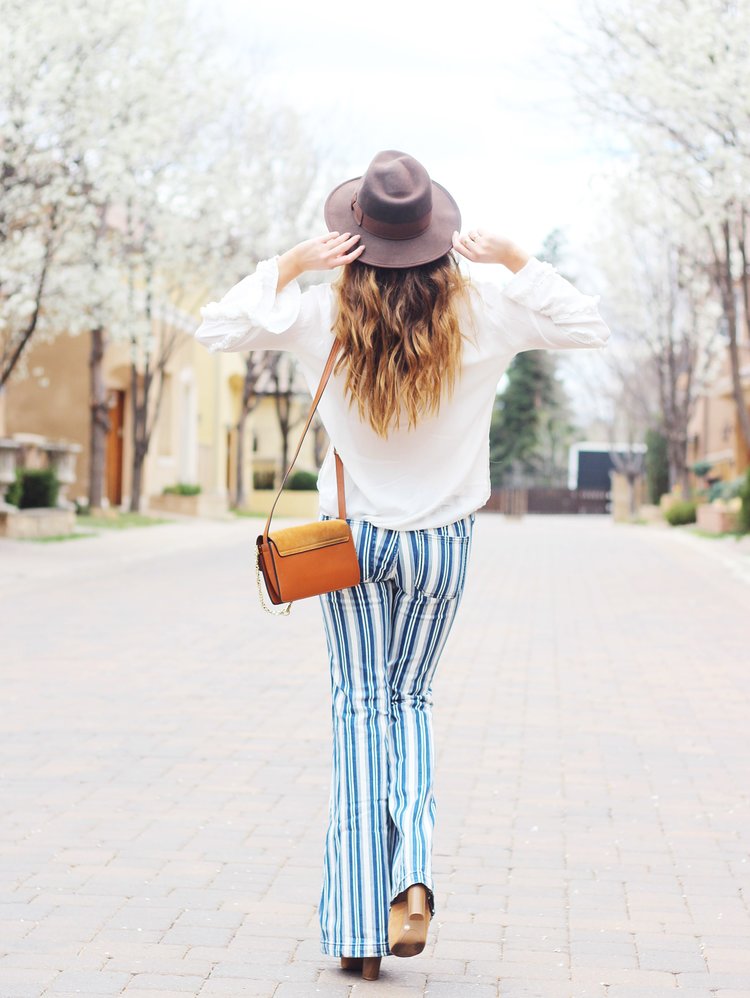 CF: Any final tips for students wanting to start a blog?
EW: If you want to blog or if you want to post pictures to Instagram, just do it. In the long run, it really doesn't matter what people think about it. And I wish people had told me that more.
What do you guys think?
Has Emma's story inspired you to start your own fashion blog while in college? What do you think about blogging on the weekends? Tell us in the comments and be sure to check out Emma's blog here!