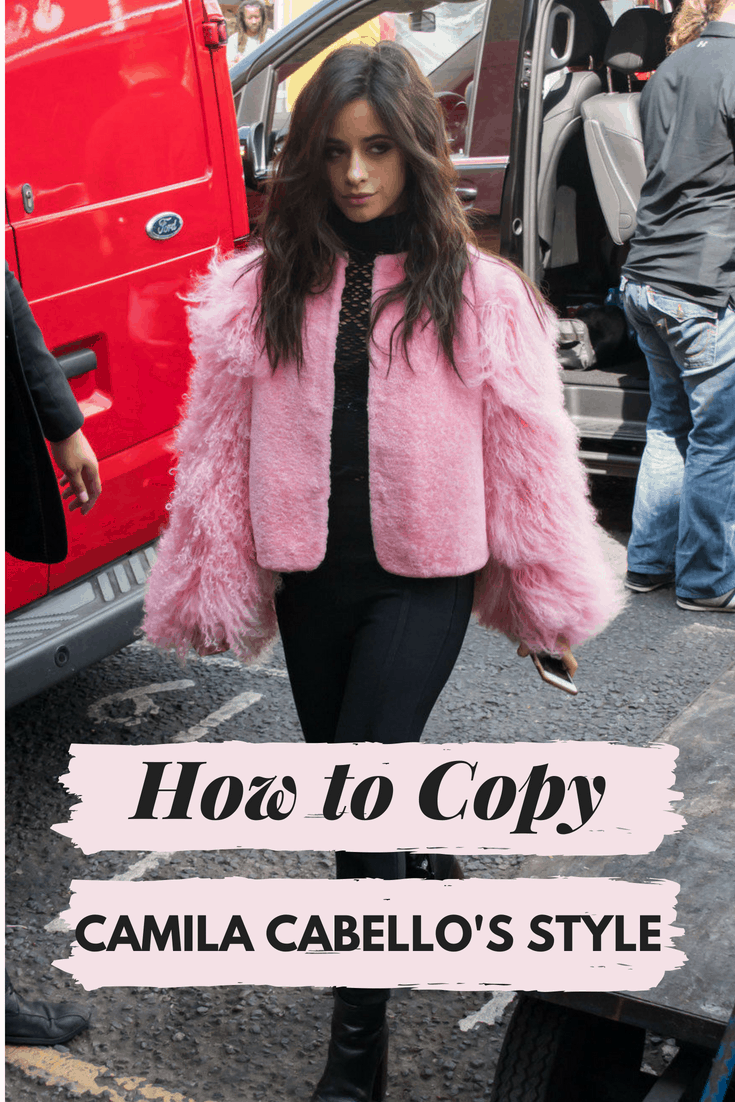 A few weeks back, we listed our favorite celebrity fashion icons, and over the next few months, we'll be breaking down each celebrity's style in depth and showing you how to get her style for yourself. Today, we're covering songstress Camila Cabello.
Camila Cabello's style is at once both young and on-the-edge, a look that represents a new side of the singer/model.
Camila has been on a path to self-discovery lately after launching a solo music career, and her style is following along. She loves to experiment with shapes, colors, and patterns, and pulls everything off with ease.
Camila Cabello's Early Life:
Camila was born in Cuba, and lived there until the age of 7, spending her childhood between Havana and Mexico City.
When Camila was 7, she and her mother packed their bags and left the comfort of their cities, families, and southern environment to chase the American dream, leaving behind Camila's father to continue his job in Cuba. Facing the trouble, anxiety, and extremely long and difficult process of being granted permission to enter the US, Camila and her mother made sacrifices and worked with the intense changes.
After working as a successful architect in Cuba, Camila's mother had to make a career change when she came to America. She took a job stocking clothes at the local Marshall's in Miami, while taking English classes at night. By chance, two Cuban woman met Camila's mother and asked about her story, learning about her struggles and her past career. As it turns out, the women knew of a job opening in architecture, and hired Camila's mother to fill the position.
Speaking in an interview about her mother and the immigration process, Camila said,
"She learned fast because she literally had to in order to survive. Immigrants have one thing in common: Hunger. I don't mean it literally, although that's true too, but metaphorically. The hunger to do the impossible because you have no choice, because you came too damn far, because you've known what struggling is, and you're not going to take an opportunity for granted. The hunger and ability to win above people with better circumstances than you simply because you want it badly enough."
Camila had always loved to sing, and at the age of 15 she convinced her parents to let her audition on the singing competition TV series The X-Factor. The rest you may know: Her gamble proved successful and Camila was introduced and added to the girl band Fifth Harmony, who finished third on the show. Equipped with a record deal and mentors such as Simon Cowell, the band flourished on the charts. However, despite a few successful years, the tension between the four girls and Camila soon became evident.
Complications with the Band
After several attempts to keep the band together, united, and working as a team for not only the fans but the business itself, Camila still decided in late 2016 to leave the group and begin her career as a solo artist. According to a Billboard interview with Ron Fair, a producer who has worked with singers such as Christina Aguilera and the Pussycat Dolls, this scenario is typical of girl groups:
"Being in a girl group is not for the faint of heart. The business is so hard and unforgiving that only a rarefied few make it to hits and awards shows and fulfillment of their dreams." Fair stresses that the ambitions of girl group members are often rooted in early childhood and through the years become "like a belief system." Once the group dynamic comes into play, however, "and as there is more and more success, it turns into, 'What about me?' We've seen it fictionalized in Dreamgirls and in the real-life story of The Supremes. Very few girl groups have been able to stay together for a protracted period of time."
Ron also elaborated on the difficulty of the choice Camila faced in leaving the group, and why it might not have been as devastating to the group as it seemed at the time:
"It's very perilous to break up the winning team. I've seen it wreak havoc. At the same time, who's to stop the kid from taking a shot or forever regretting it? When it's not a marketing or a business decision but it's someone's hopes and dreams? The key is to manage the team and keep the train on the track. But who's to say Fifth Harmony as Fourth Harmony isn't a more robust, punchy proposition than it was with the extra spoke on the wheel? Today, the song is so dominant in the success recipe that as long as the girls and their team can continue to identify those great songs, they will be on top."
Despite the drama and controversy over her decision to pursue her solo career, Camila gained the support of many fans. In the years since, she's broken out as a solo artist, and has defined her own voice, as well as her own style.
Defining Her Look: Edgy-Glam Queen
Because of her early entrance into the spotlight at age 15, Camila's style has evolved and changed dramatically since we first met her. Once neat, clean, and youthful, Camila has evolved from her obsession with bows and frills to a full on edgy-glam queen.
On the red carpet these days, Camila loves to wear feminine and girly looks. She even wore a full pink satin outfit to the 2018 iHeart Music awards, including over-the-knee heeled boots, long gloves, and a form-fitting slit dress.
And on the streets? Camila still maintains her pristine appearance, even in jeans! In the look linked here, she's seen pairing a flowing and frilly white full-length blouse with cuffed and torn straight-legged jeans, for a look that's romantic with a hint of edge.
Below, I'll share a few more looks that I think define Camila Cabello style, plus I'll show you how to copy them for yourself.
Modern & Retro
In this look, Camila somehow pulls off an odd combination of Skechers sneakers, flared button-up sweatpants, a lace bodysuit, and an extra cropped hoodie sweatshirt. Always sporting flawless makeup and messy hair, Camila makes this look appear modern with her use of lace, and the unexpected shoes give the style a more retro vibe.
Recreate this modern meets retro look by lacing up a pair of '90s tennis shoes and throwing on black pants with a black jumpsuit. Complete the look by finding a patterned, cropped hoodie sweatshirt. This can be worn to the gym, for running errands, or just lounging and studying.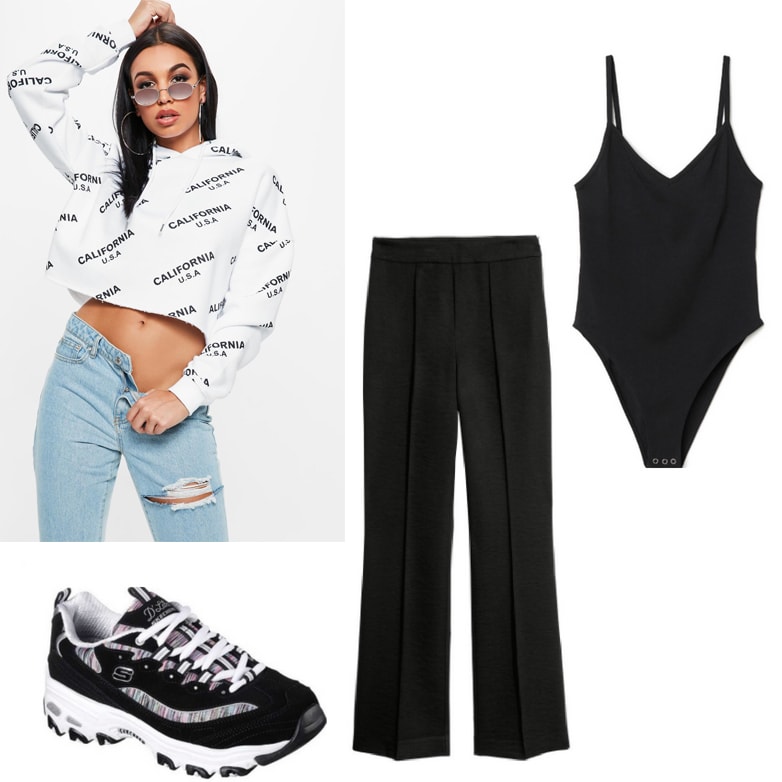 Products: Bodysuit – H&M, Shoes – Skechers, Pants – H&M, Hoodie – Missguided
Girly & Punk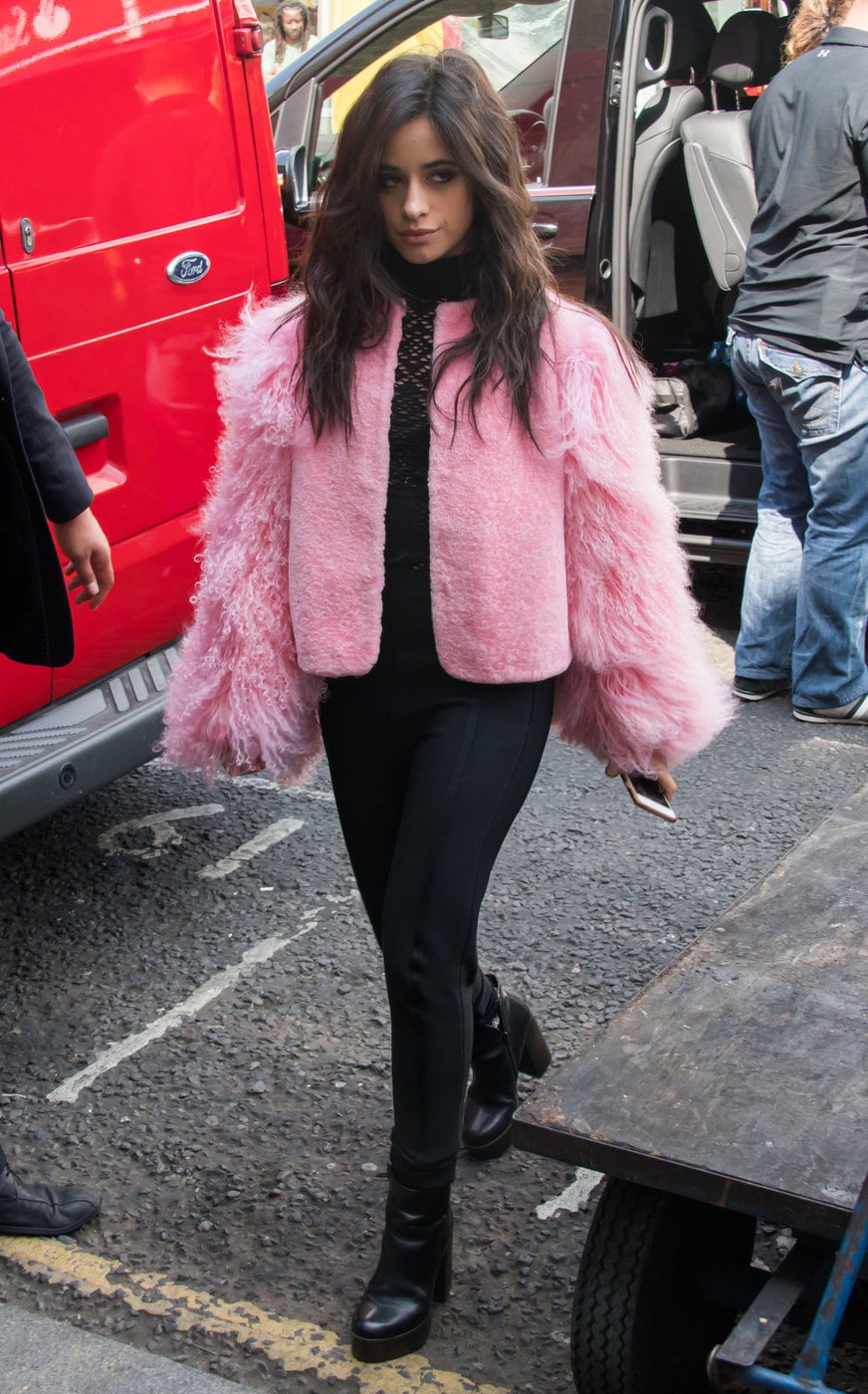 Camila serves looks with a punk rock meets feminine ensemble, throwing a furry pink jacket over a black lace turtleneck, black pants, and black heeled boots. With sultry makeup and minimal accessories, Camila knows all eyes are on her with this look.
To make this style your own, pair dark boots with tight pants (maybe even leather!), a lace tank turtleneck, and a fluffy, brightly colored jacket. The outfit is fit for a concert, a photoshoot with friends, or anytime a confidence boost is needed.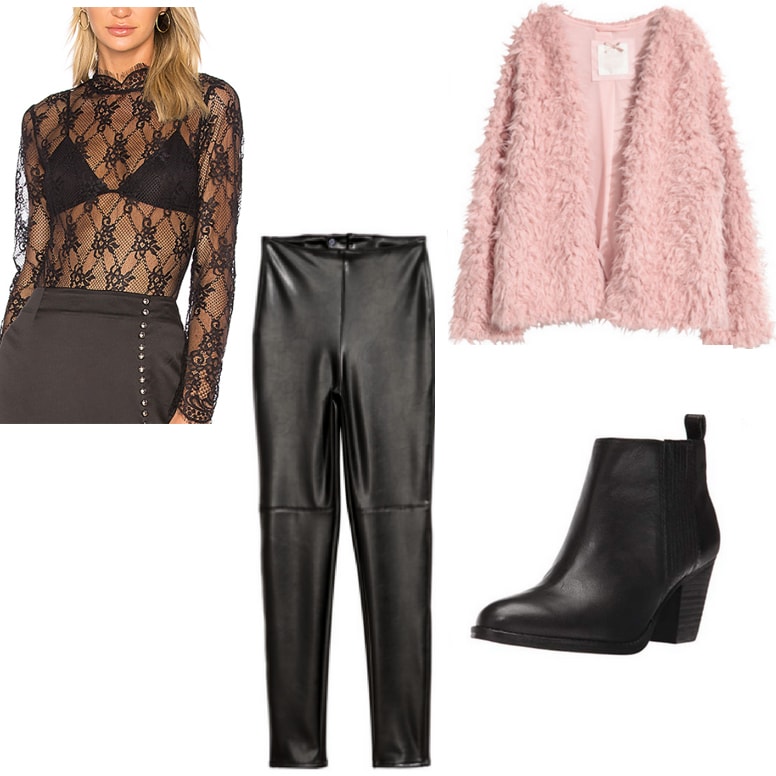 Products: Boots – Amazon, Pants – H&M, Bodysuit – Revolve, Jacket – H&M  
Mysterious & Sophisticated
Camila completely rocks this classic look (click to see it), adding twists and flavors of her own to create a mysterious and sophisticated style. A one-of-a-kind light tan overcoat flows over her simple and modern jean/blouse combination. She tops the look off with sky blue pumps and a thick belt.
To steal this look, start with the shoes: A light colored heel is ideal. Next, add bootcut ripped jeans, any standard belt, a collared white blouse, and most importantly, a mysterious and elegant jacket (though rare, you can easily find the perfect fit with a quick Google search). This outfit would spice up any cloudy or overcast day, or make an afternoon lunch polished and refined.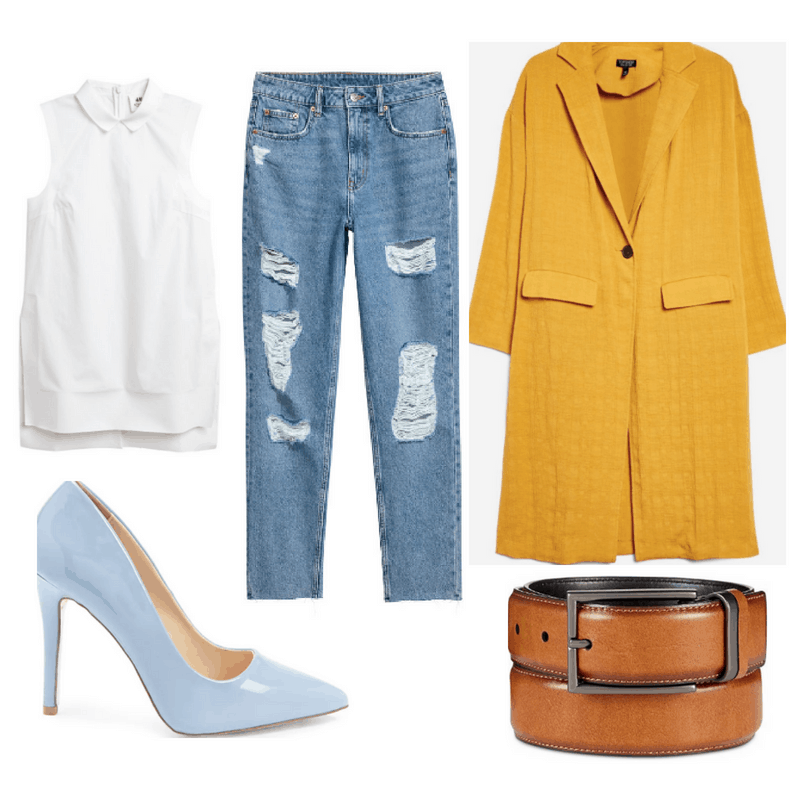 Products: Shoes – Forever 21, Belt – Macy's, Jeans – H&M, Jacket – Topshop, Blouse –H&M
What do you think of Camila's style?
Which look of Camila Cabello's is your favorite? Are you a fan of Camila's style vibe? How do you think her style has evolved over the years since she first became famous? Comment below!