If you've listened to Calvin Harris' latest album, Funk Wave Bounces Vol. 1, you know that it not only includes catchy tracks, but also features some of the biggest names in music.
One of my favorite songs from the album is "Feels ft. Pharrell Williams, Katy Perry, and Big Sean"; its easygoing, upbeat vibe, and, of course, its colorful, tropical music video, make it the perfect song to play on repeat on hot summer days.
If you haven't already, take a look at the video below, and then keep scrolling to see the "Feels"-inspired outfits that I've put together.
Calvin Harris - Feels (Official Video) ft. Pharrell Williams, Katy Perry, Big Sean
Calvin Harris "Feels" Fashion: Outfit #1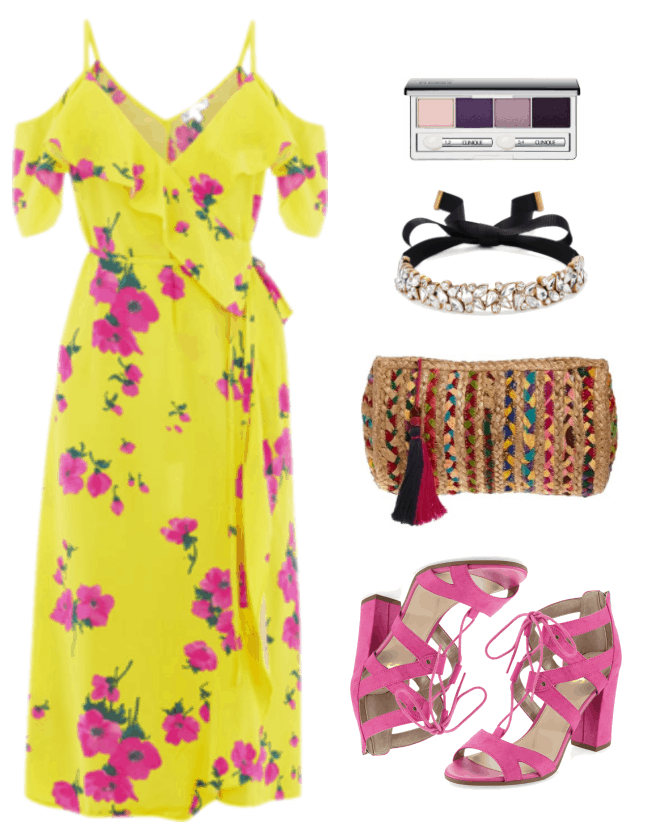 Products: Dress – Warehouse, Eyeshadow Quad – Bloomingdale's, Choker – BaubleBar, Clutch – Nordstrom, Heeled Sandals – Last Call
This look is inspired by the vibrant yellow floral dress that Katy Perry wears in the video, and would be the perfect thing to wear for a night out!
Start off by putting on a cheery cold-shoulder yellow floral-print dress. Next, add a bejeweled choker, inspired by the ones we see Katy wearing. Then grab a woven clutch. Finally, tie up a pair of bright pink strappy sandals that bring out the floral pattern in the dress.
Use this pretty Clinique eyeshadow quad to create a more toned-down version of Katy's purple eye look. (I recommend "more toned-down" because in real life, a very bold and/or colorful makeup look would clash with, rather than complement, the dress' bright colors.)
And there you have it–the perfect outfit for a summer night on the town!
Calvin Harris "Feels" Fashion: Outfit #2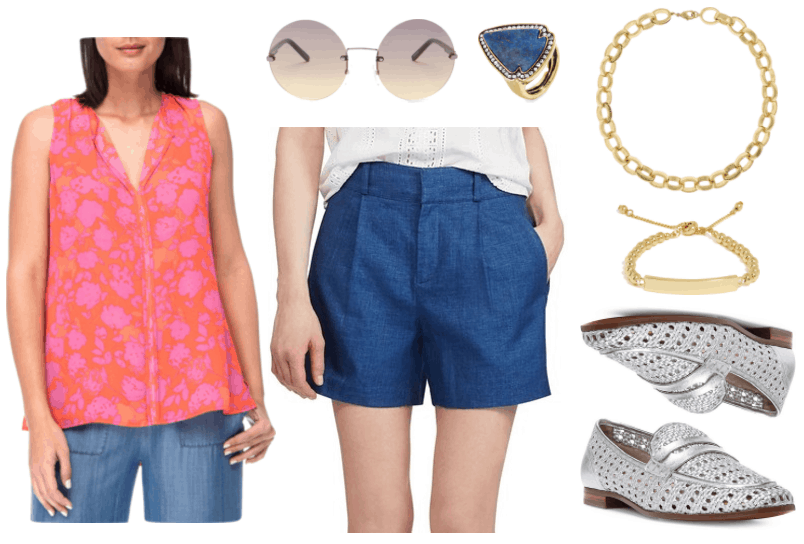 Products: Blouse – Bloomingdale's, Sunglasses – Nordstrom Rack, Ring – BaubleBar, Shorts – Kohl's, Necklace – Belk, Bracelet – BaubleBar, Loafers – Saks Off 5th
This outfit is inspired by Pharrell Williams' colorful and fashion-forward ensemble; for a similar look, put on a bright floral blouse and some chic blue shorts.
Accessorize with a stylish pair of round sunglasses, as well as some gold statement jewelry; here, I have chosen a lapis ring, a chain-link collar necklace, and a beaded bar bracelet.
To add some cool tones to the look, so as to avoid overwhelming the eye, slip on a pair of silver woven loafers.
Calvin Harris "Feels" Fashion: Outfit #3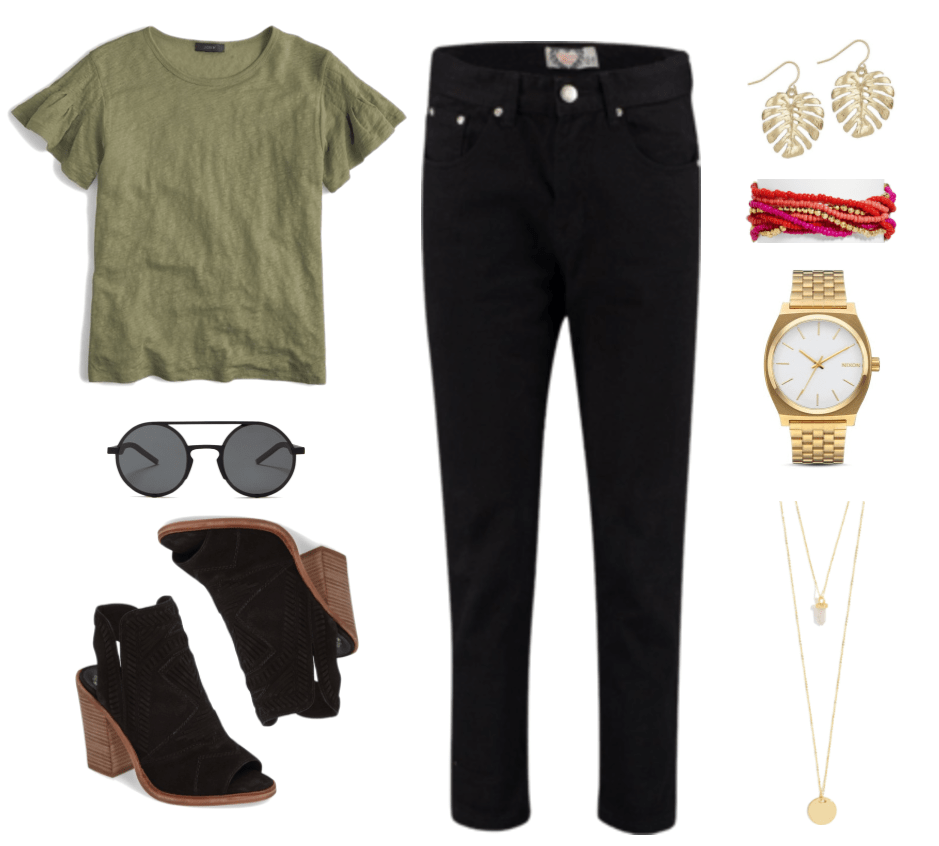 Products: T-Shirt – Nordstrom, Sunglasses – Bloomingdale's, Peep-Toe Ankle Boots – Nordstrom, Jeans – boohoo, Earrings – Lord & Taylor, Bracelet – BaubleBar, Watch – Bloomingdale's, Necklace – BaubleBar
This outfit, inspired by the look that Big Sean wears in the video for "Feels," is by far the most subdued of the bunch, but that doesn't stop it from making a statement!
Begin by tucking a breezy khaki-green t-shirt into a pair of basic black high-waisted boyfriend jeans. Next, add a cool pair of black heeled peep-toe ankle boots.
Put on a quirky pair of round sunglasses, and add a classic gold watch, a cute double-layer necklace, tropical-inspired palm-leaf drop earrings, and a bright multi-strand beaded bracelet to add a pop of color to the otherwise-neutral ensemble.
What do you think?
Which music video should I cover next? Do you like wearing bright colors, or is a more subdued color palette more your style? Which of the artists in the video inspires you most? What song are you playing on repeat this Summer? Let me know in the comments!