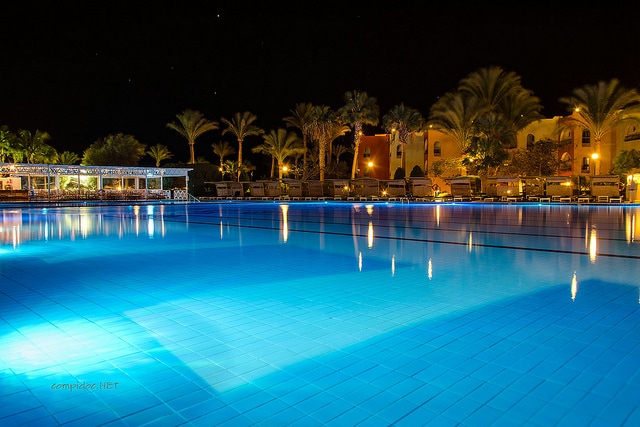 Today, we're continuing our series on fun and inexpensive activities for students on a budget. (See all of them here!) Today, we're celebrating summer with a barbecue and night swimming.
BBQs and swimming are standard daytime summer activities. But why not create a new tradition and swim after dark? Underwater lights at night are incredibly pretty.
As a bonus, both activities are fun, festive ways to celebrate summer. Somebody graduate? Nab a job? Get engaged? Grill some happy food during the day then cool down with a splash at night!
BBQ + Night Swimming Cost Breakdown
Both outings involve serious location scouting and that's about it. If you or a friend has a house or apartment with a pool, offer it up. Make sure you can use the grill and pool after hours. Somebody might have to lug in a George Foreman grill ($15) if there's no ready-to-go grill set up outside.
Let's move onto what everybody cares about most during BBQ season: the food! Ask everybody to BYOI. Bring Your Own Ingredient. Share the bounty.
For easy and healthy fare, can't go wrong with grilled chicken and asparagus (~$10). For our vegetarian/vegan buddies, enjoy balsamic grilled tofu with cilantro cauliflower rice and Sriracha mayo (~$15).
If you have a sweet tooth, grilled peaches are amazing (~$4/lb). Bring along sorbet, gelato, or ice cream ($5/pint) for dessert post-BBQ or when lounging poolside.
BBQ Outfit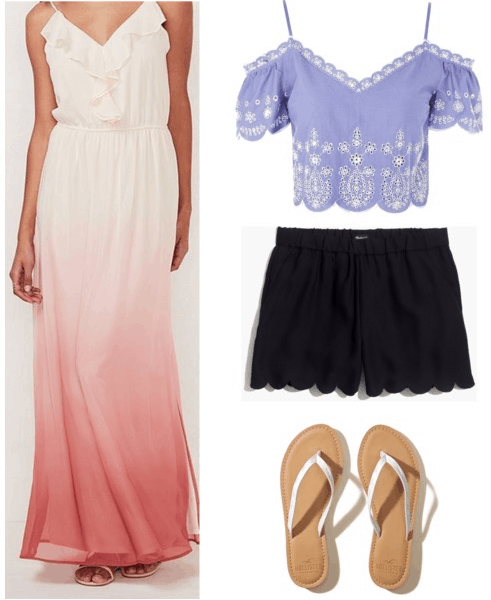 Product Info: Dress – LC Lauren Conrad (XS-XXL) | Top – Topshop (0-14) | Shorts – Madewell (XXS-XL) | Flip Flops – Hollister (5-9)
Cost: $40 for the dress // $70 for top + shorts, as of July 6th
If you love dresses, a dreamy lightweight maxi dress the color of sorbet screams summer. It's perfect for those slightly more formal events.
Dig shorts instead? An embroidered cold-shoulder blouse pairs fantastically (like BBQs and night swimming, wink) with scalloped shorts.
Night Swimming Outfit (Plus Size)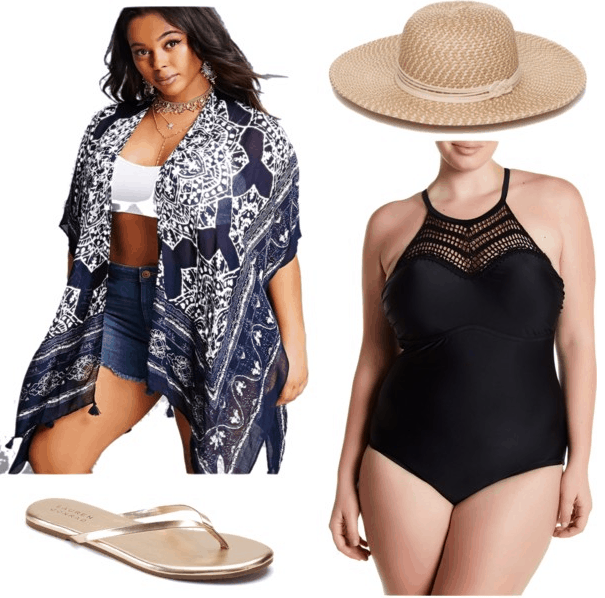 Product Info: Swimsuit – Nordstrom Rack (16W-22W) | Kimono Jacket – Forever 21 (one size) | Hat – Belk | Flip Flops – LC Lauren Conrad (6-10)
Cost: $80 as of July 6th
Little black swimsuits are a total classic. Throw on a modern kimono jacket as cover-up instead of wrangling around a scarf. It might be nighttime but you can still feel fabulous with a beach hat and metallic gold flip flops.
Your Thoughts?
What is, in your opinion, the best food for BBQ? Have you ever gone swimming at night?