Fashion inspiration can be found anywhere, and books are incredible sources for style innovation. Book-Inspired Fashion explores these treasure troves, and brings them them to you in looks inspired by vibrant characters, far away lands, brilliantly woven plot lines, and more.
I'm the first to say that a book needn't have won a lot of prestigious awards to be worth your time. Wit, however, deserves all of the recognition that it has received, because it is a truly moving account about a woman who falls from resilient, cold independence to fragility and helplessness within the span of 80, incredible pages.
Reading Between the Lines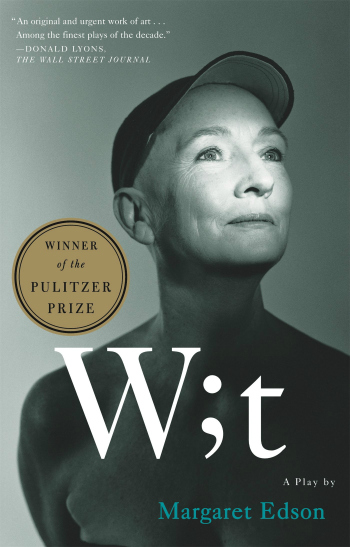 Wit – stylized as W;t – was written by Margaret Edson in the 1990s, originally opening on stage in 1997. It follows the journey of English Literature professor and specialist of John Donne, Vivian Bearing, as she discovers that she has stage four ovarian cancer and undergoes radical treatment, in part for the sake of research.
Throughout this taxing treatment process, Vivian reflects on the similarities between research-minded academics and research-minded medical professionals, noting the lack of emotion and humanity that shaped much of her career despite her brilliance as a scholar.
As indicated by the title of the piece, Vivian's wit in language is a key aspect of her humor and spirit throughout the play, and the way in which she ties literature to medicine is truly fascinating.
Because Vivian is such a powerful and increasingly sympathetic character, I created three outfit sets revolving around independent career women who, like Vivian, are tough enough to carve out their own space in the world even when they feel as if they are all alone.
1. Bright Young Woman
E.M.: Vivian. You're a bright young woman. Use your intelligence. Don't go back to the library. Go out. Enjoy yourself with your friends. Hmm?

Vivian: I, ah, went outside… There were students on the lawn, talking about nothing, laughing…

I went back to the library. (15)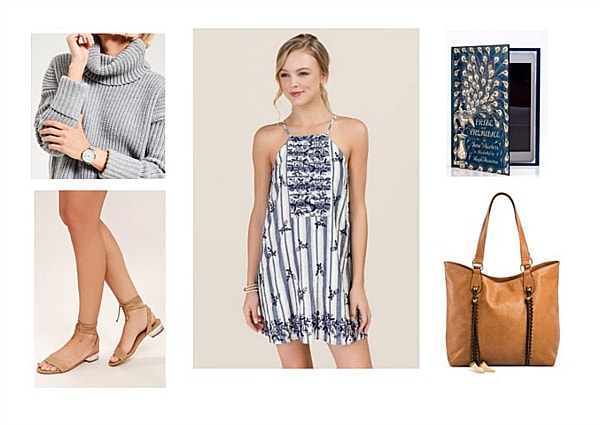 Products: Dress – Francesca's, Watch – Missguided, Shoes – Lulu's, Bag – Target, iPad Cover – Etsy
E.M. Ashford, Vivian's mentor, tells Vivian in a flashback to not live life within the walls of a library, and to instead enjoy the world beyond poetry and John Donne. Vivian, however, is unable to let go of her literary revelations and continues to throw herself into academics and research. This, of course, is what leads Vivian to be a disliked (but respected) English professor without friends or family by the time she receives her diagnosis.
This outfit, therefore, represents youthfulness cut short by maturity and responsibility by bringing together a feminine dress that is perfect for college-aged girls, and heavier accessories: an oversized bag rather than a more youthful crossbody, and a nondescript watch that is silver instead of a brighter color.
And because the love of literature started early in life for Vivian, I had to include the Jane Austen-inspired iPad cover.
2. So Still
You cannot imagine how time … can be… so still. It hangs. It weighs. And yet there is so little of it.

It goes so slowly, and yet it is so scarce. (35)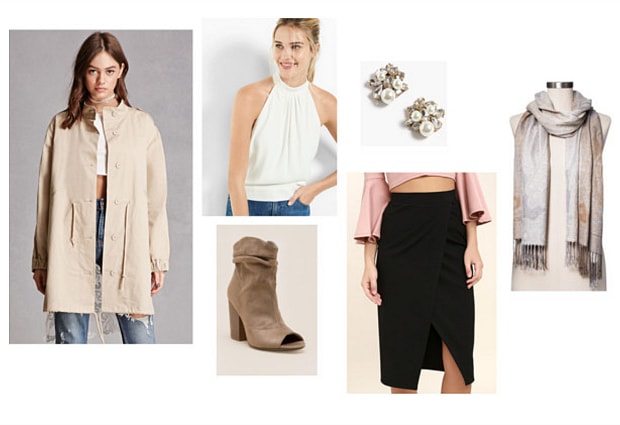 Products: Coat – Forever 21, Top – Express, Skirt – Lulu's, Shoes – Francesca's, Scarf – Target, Earrings – J.Crew
This comes from one of Vivian's many soliloquies, as she discusses the weight of time, especially as it relates to the torturous, dragging process of undergoing so much suffering in the hospital. She is also referring to the scarcity of the remainder of her time, especially as she realizes that her attitude towards other people – particularly her students – has often been apathetic and cold.
To express Vivian's conflict of the slow weight vs. the scarcity of time, this outfit balances lightweight and heavyweight material. The coat is the centerpiece for this look because it is sturdily structured but has a lace back panel. The top is a lightweight, backless blouse that is countered by a thicker midi skirt with a front slit. The shoes also have a thick heel and taller shaft to indicate weight while retaining attitude and spirit.
The scarf is two-toned, with a lighter cream shade and more substantial, jacquard gold accent. The earrings then finish off the outfit by being large, heavy clusters that are literally a weight on Vivian's head.
3. Not the Way She Did It
Susie: She's not what I imagined. I thought somebody who studied poetry would be sort of dreamy, you know?

Jason: Oh, not the why she did it. It felt more like boot camp than English class. (75)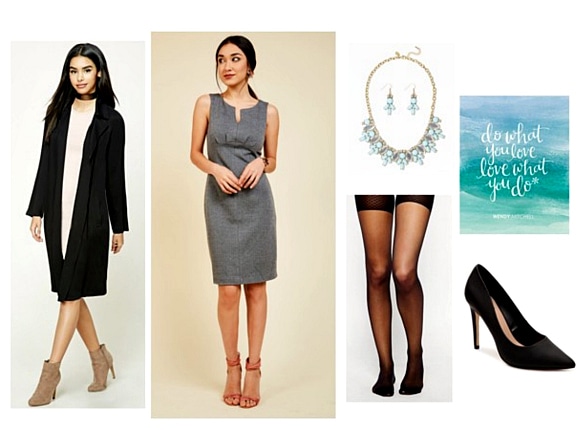 Products: Dress – Modcloth, Jacket – Forever 21, Jewelry – Charming Charlie, Tights – ASOS, Shoes – DSW, Planner – Erin Condren
Among other things, Vivian is direct, determined, and intimidatingly intelligent. We immediately learn about the level of difficulty of her class, particularly for Jason, her former student-turned-physician. Vivian has created her own path, and although this independence begins to crumble after months of cancer treatment, it still cements her as one of the most powerful female figures in recent literature.
This outfit is business-appropriate while remaining body conscious and traditionally feminine. Vivian is not successful because she becomes masculinized; rather, she is able to be a strong, independent woman who does not see her gender as a handicap.
The life planner, with "Do What You Love" emblazoned on the cover, is perfect for a woman whose career is the most important thing in her life, and the rest of the outfit is great for most business occasions.
Also, there's just enough attitude in the outfit that it complements the wit of the stereotype-breaking woman wearing it.
Your Thoughts?
I actually read this for the first time in one of my college English classes. Are there any books that you've truly enjoyed that you encountered in a college class? Let us know in the comments below!