Fashion inspiration can be found anywhere, and books are incredible sources for style innovation. Book-Inspired Fashion explores these treasure troves, and brings them them to you in looks inspired by vibrant characters, far away lands, brilliantly woven plotlines, and more.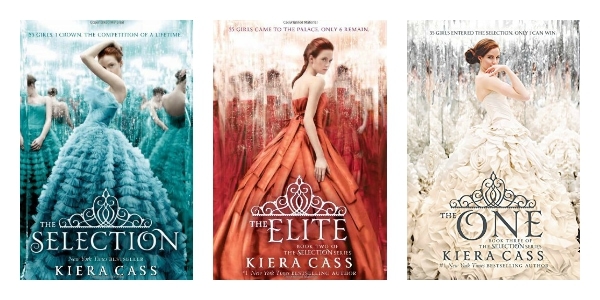 I've seen this trilogy all over the internet and in every bookstore I've walked into, and I understand why it's so compelling: a futuristic version of The Bachelor involving royalty and social castes sounds like the fairy-tale spin on The Hunger Games we've all been longing for.
Did it meet my expectations? Not entirely, but the popularity of the books, as well as the gorgeous book covers and magical setting, inspired me to find lots of incredible fashion inspiration in a surprisingly short amount of time.
Reading Between the Lines
Young Adult romance The Selection was published in 2010 by Kiera Cass to heavy anticipation and overwhelming interest. It became a huge bestseller (along with the second and third books of the trilogy), has spawned several spin-off novellas, and was extended this year to include two more books with a different protagonist. The movie rights were also purchased by Warner Bros. just a few months ago, so expect lots of expansion in the world of The Selection.
The series revolves around a spirited girl named America, who comes from one of the lower castes. She is from the artists' caste, and is therefore a singer whose sole experience with the life of the upper castes comes from being hired to perform at their lavish events.
Her life is completely changed, however, when she is successfully selected as a potential candidate for the prince's future bride.
There's a love triangle from the very beginning, involving her former boyfriend, Aspen, with whom she had shared a secret romance due to his even lower social position, and the man of everyone's dreams, Prince Maxon.
As to be expected, there's a lot of drama amongst the girls in the Selection, and the futuristic setting brings about rebel groups whose uprisings threaten the lives of all of the Selection and the existence of the caste system.
The second and third books in the series, The Elite and The One, build off of the first novel by increasing the competition and raising the stakes with the rebels, but they are relatively predictable in a way that works well for these books. I got what I expected from them (although I found the comparison to The Hunger Games a little too far off the mark), and they are a fun read.
I'm going to admit that I squealed for every cover reveal because the book covers really do finish the books off in an attractive package that promises romance and glitziness. So, I'm using the three distinct color schemes of each of the books in the outfit sets I've created.
Spoiler warning: the third set will reveal who America finally ends up choosing, so stop there if you want to avoid any major spoilers!
1. Radiant, Hopeful, Beautiful
"Miss America Singer of Carolina, Five.

I whipped my head back around, and there it was. The picture of me just after I'd found out Aspen was saving up to marry me. I looked radiant, hopeful, beautiful. I looked like I was in love. And some idiot thought that love was for Prince Maxon. (The Selection, 56)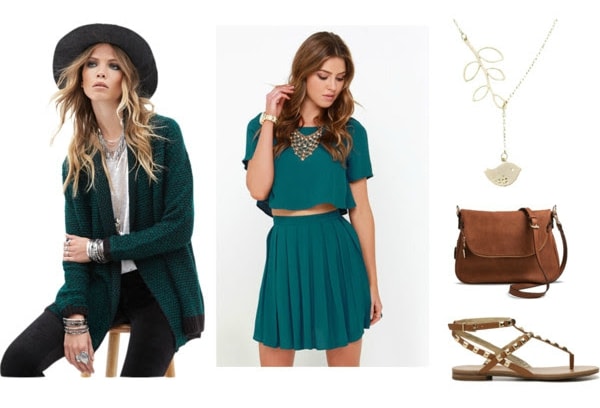 Product Info: Dress – Lulu's, Cardigan – Forever 21, Bag – Target, Shoes – DSW, Necklace – Etsy
This is the exact moment America and her family discover she is one of the 35 girls chosen to compete in the Selection, and it immediately causes a major internal conflict for America, who never wanted to be a part of it because of her love for Aspen.
I chose this scene because it represents a bit of America's rebellious yet humorous attitude. Yes, the moment was cliché and expected, but the sardonic acceptance of ironically being chosen for an unwanted role that thousands of other girls were dying for lightened up the entire scene.
The bright teal two-piece dress featured in this outfit is, of course, inspired by the cover of The Selection, and I appreciate how eye-catching and adventurous the color is. It's important to note, however, that America immediately wore one of her plainest gowns, in contrast to the other girls that donned their flashiest, setting her apart from the beginning. This dress, therefore, has a simpler, more casual shape than a formal dress and is toned down with accessories that make this look more accessible and easier to wear.
The cardigan is a slightly darker shade of teal, but I like how it exaggerates the teal color anyway. It makes the outfit cozier, and finishes it off without being as unwieldy as the enormous ruffles on the book cover.
The bird necklace is a reference to America's beloved songbird necklace her father had given her, and makes the outfit just a bit more cheerful.
2. Fire of Happiness
The girls hooted, thinking this toast might be especially for each of them, but I knew better. As everyone tipped their glasses back, I watched Maxon– my almost fiancé– who gave me a tiny wink before taking another swig of champagne. The glow and excitement of the entire evening was overwhelming, like a fire of happiness was swallowing me whole.

I wouldn't imagine anything strong enough to take that happiness away. (The Elite, 83).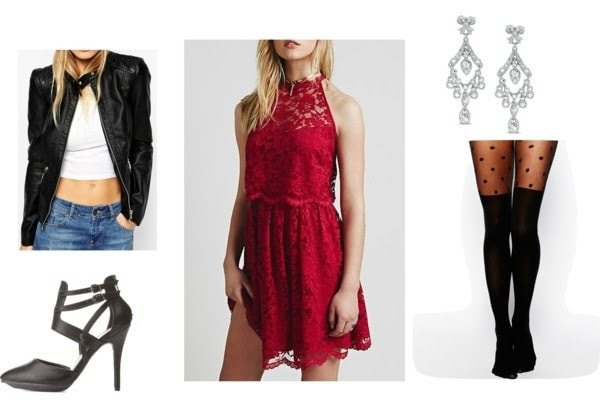 Product Info: Dress – Free People, Jacket – ASOS, Tights – ASOS, Shoes – Charlotte Russe, Earrings – Zales
I'll be the first to admit that The Elite's biggest issue is America's inability to decide if Aspen or Maxon is the better choice for her, to the point where she almost literally runs from one to the other.
If you look past that, however, you'll find that the competition is heating up and America becomes stronger with every passing day and challenge. And she does, in fact, steel herself to not leave the competition without a fight, and this determination is reflected in the stark red of the dress I've chosen. The red is also representative of passion, because, as seen in this excerpt, America experiences major emotional highs and lows.
The cover of The Elite also takes away all the flashy frills and instead has armor-like ribbons that serve to indicate the increase in ferocity in the competition, as well as outside palace walls. I went with a lace pattern instead, which is just as attention-catching.
And with all the drama swirling around in this book, the overall look I aimed to achieve is something chaotic, with mixed textures, that still manages to hold its own as an individual. The earrings, tights, and shoes are very feminine, but the jacket toughens up the look without dramatically taking away from it.
Final warning: spoilers ahead!
3. Solely for Me
"I feel like punching you for calling me 'my dear' mostly." I poked his bare stomach.

Smiling, he crawled to sit over me. "Fine then. My darling? My pet? My love?"

"Any of those would work, so long as you've reserved it solely for me," I said, my hands mindlessly wandering his chest, his arms. "What am I supposed to call you?"

"Your Royal Husbandness. It's required by law, I'm afraid." (The One, 275)
Product Info: Dress – Lulu's, Headband – Urban Outfitters, Shoes – Charlotte Russe, Rings – Etsy, Clutch – Zappos, Jars – Etsy
There are so many lovely, romantic quotes I could have chosen from The One, but I ended up choosing a sweet but comedic scene, because I think this is where author Kiera Cass shines most. Yes, all of us knew America was going to end up choosing Maxon, but it's the funny moments that guide us to the happy ending that really makes this book stand out.
This scene doesn't actually come from the very end, and America faces the most violent, terrifying moments of her life soon after this moment, but it's her love for Maxon that keeps her strong and determined.
I love the detailing on the dress on the cover of The One– roses! A little bit hard to make out at first, but the skirt of the dress is basically made up of lavish roses, so I had to include little floral details in all of the accessories. This dress is a simple, floaty white dress that is versatile and feminine, because I didn't want the dress to overwhelm the accessories at all.
And while a tiara would be too much for most of us in the real world, I thought this gorgeous floral headband would be much more appropriate, and the tiny daisy rings are dainty but not over-the-top. Unlike the ring she actually receives, of course!
I also included wedding-themed floral mason jars, not just because of America's wedding, but also because of the jar and penny she kept to symbolize her relationship with Aspen. I love how she stayed close to him to the end, valuing him as a loving family member rather than as her first love (although I was secretly Team Aspen to the end!).
In the next Book-Inspired Fashion post….
Next time, I'm covering an entirely different type of book. Viewed as a modern classic, this book deals with the brutality of nature and the wild, and is often part of English curriculum because of the literary value and rare topic matter of a dog protagonist.
Your hint is: the wild, which is a part of the title of this book and a major force in the plot and story.
Your Thoughts?
Have any of you succumbed to the world of The Selection? Are you Team Maxon or Team Aspen? Did these outfit sets meet your expectations? Let us know in the comments below!