Fashion inspiration can be found anywhere, and books are incredible sources for style innovation. Book-Inspired Fashion explores these treasure troves, and brings them them to you in looks inspired by vibrant characters, far away lands, brilliantly woven plotlines, and more.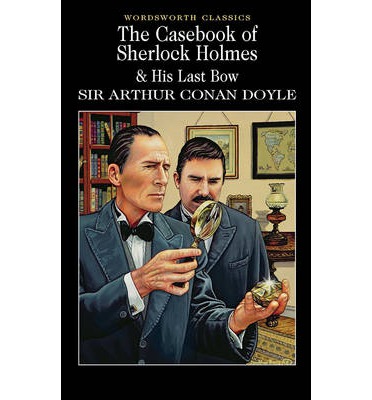 I'm doing things a little bit differently this week, because I'm not going to use quotes to create outfit sets – the Sherlock Holmes universe is far too big for that. Instead, I'll be using three characteristics of Holmes' unforgettable personality to construct his character across the many works in which he has appeared.
Reading Between the Lines
Sherlock Holmes, one of the most beloved literary characters of all time, is the invention of Sir Arthur Conan Doyle, who published the first Holmes work, A Study in Scarlet, in 1887. This was followed by more novels and many short stories, resulting in a phenomenon that laid the foundation for the detective fiction genre in the decades to come. The last of the Holmes stories were published in the 1920s, but the popularity of Sherlock Holmes has never really died down. Today, there are many film and television adaptations that feature Holmes, but I highly recommend reading a few of the original short stories to capture the unique presence and personality of Holmes as Doyle intended.
It has to be said that the character of Holmes is far from perfect. In fact, his flaws and vices are vital parts of his character, and make him all the more fascinating to follow.
1. Arrogance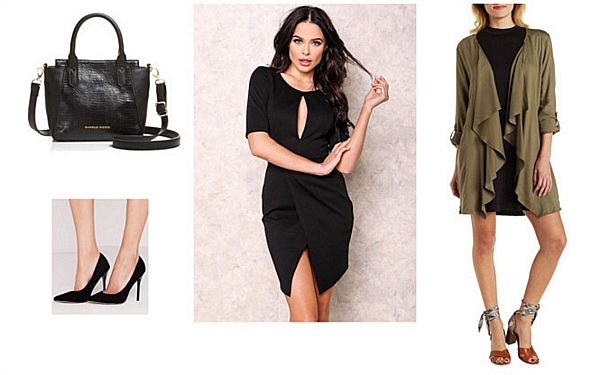 Product Info: Dress, Heels, Bag, Jacket
Although Sherlock Holmes is not initially financially stable, he is eventually able to accrue the connections, reputation, and support to live comfortably between cases. It's not his success, however, that creates the sense of near-arrogance within Holmes – it was there all along, noticeable in his minute actions and interactions with other characters. He is confident and unafraid to tackle any case (and is especially unwilling to back down from one).
This dress toes the line between professional and night-out, but maintains the poise and confidence of someone aware of their worth. It's a dress that suggests that the wearer is in control, and possibly takes an unconventional path to solve cases (see Outfit #3). The jacket emphasizes comfort, yet its style still appears polished.
The accessories are workplace appropriate, although the dress is probably not – but if you're Sherlock Holmes, you're your own boss and can wear what you want.
2. My Dear Watson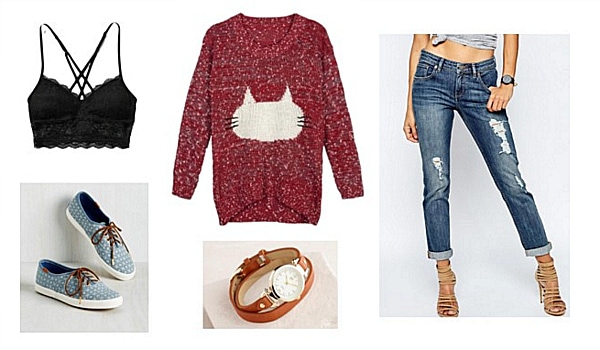 Product Info: Sweater, Jeans, Bralette, Shoes, Watch
Watson is my favorite character in the Holmes universe, and is not to be underestimated or overlooked. As the narrator of the majority of the stories, Watson is the frame through which we observe and understand Holmes. The relationship that he has with Holmes is compelling because while it does fit into the "sidekick" mold, the rare domesticity shared by the two makes it unique.
This outfit is all about comfort, because I imagine that if I were Holmes, Watson would represent comfort and friendship. The jeans are distressed, representing the amount of time they've been with each other, and the sweater is adorable and represents a perfect "home" piece. Finally, I included the bralette, because I find them far more comfortable than underwires (although if you need the extra support, adjust accordingly!).
3. Unconventional Wisdom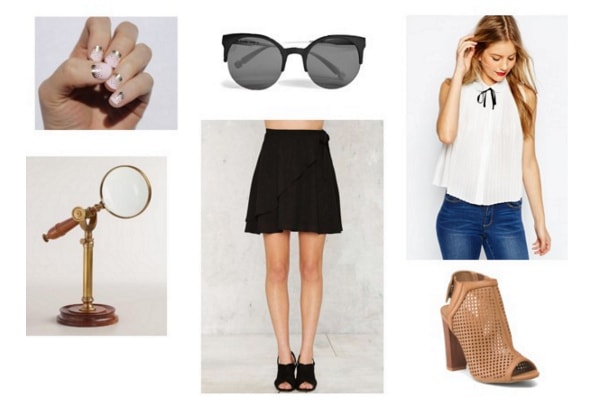 Product Info: Shirt, Skirt, Shoes, Sunglasses, Nail Art, Magnifying Glass
It's important to note that although Holmes is indeed able to solve most of his cases because of his wit, concentration, and reservoir of knowledge, he does not actually display any superhuman skills or talents. Instead, Holmes looks at the world differently from others and consistently perseveres with small clues until they reveal their larger significance. He is not afraid to go in the wrong direction with a clue, and will simply start over if a certain trail of thought yields an incorrect deduction.
Holmes will also go to great lengths such as disguising himself in order to gain more information about a case, and his energy and enthusiasm during such cases shows a different side of him that is less cold and more alive.
This outfit is understated, but extras like cool sunglasses, stylish nail art, and a magnifying glass (okay, it's more of a decor item than an accessory) give it an unconventional edge. On the whole, however, I didn't want to include anything obviously unconventional because that's not a physical characteristic of Holmes as much as a mental one. On the surface, he's a cold, determined detective, but that doesn't reveal any of his hidden quirks.
Your Thoughts?
What's your favorite adaptation of Sherlock Holmes?
We'll return to my original format next time, and as always, don't forget to send in any suggestions or recommendations!