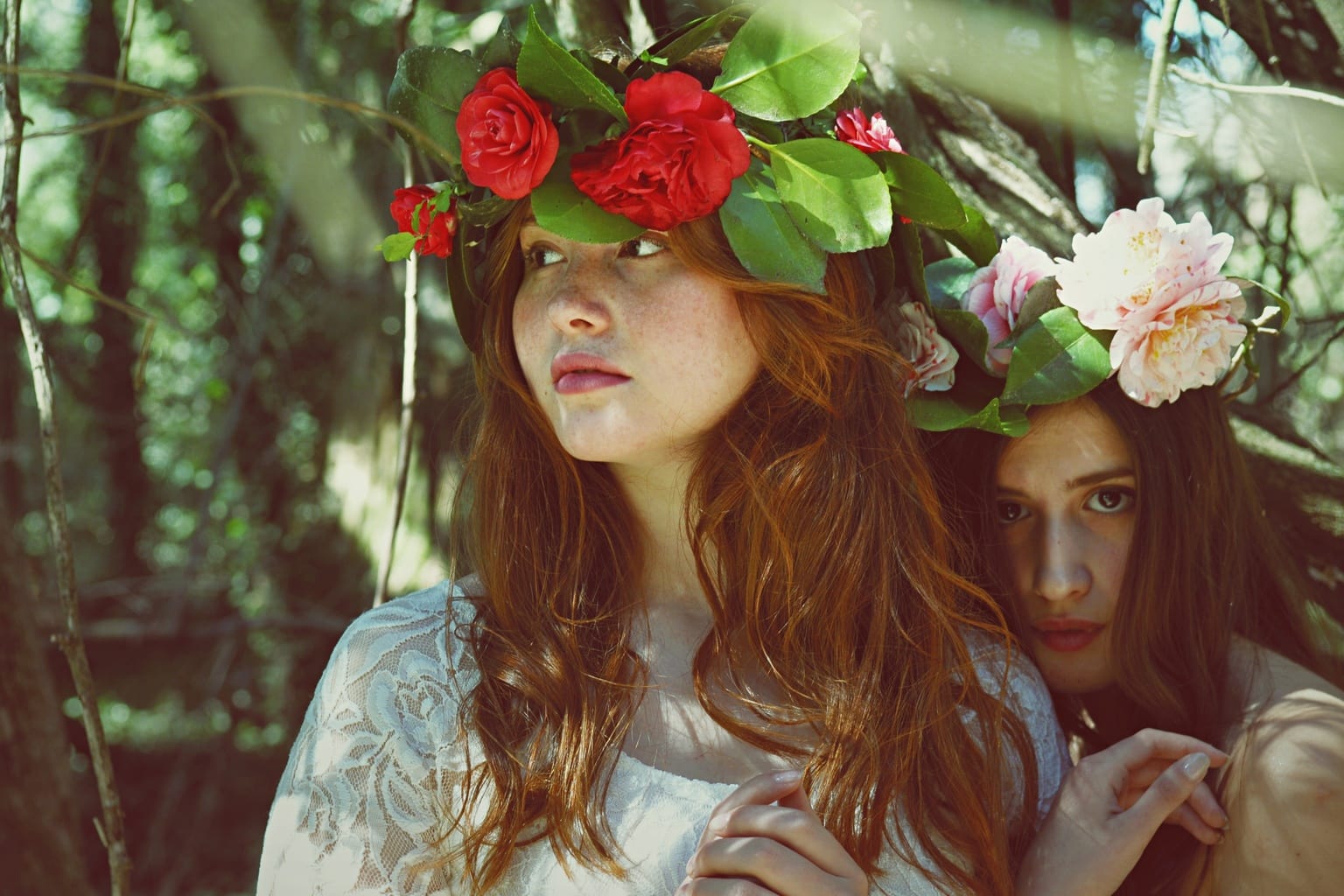 Fashion inspiration can be found anywhere, and books are incredible sources for style innovation. Book-Inspired Fashion explores these treasure troves, and brings them them to you in looks inspired by vibrant characters, far away lands, brilliantly woven plot lines, and more.
Over the past few weeks, I've seen several horror movies and they got me thinking about the appeal (read: fear) of multiple or split personalities within a single person. Being a literature nerd, I immediately thought of Dr. Jekyll and Mr. Hyde for this week's book fashion article because while not quite figures of horror, the characters embody all the creepiness and mystery of the split personalities motif.
Believe it or not, Jekyll and Hyde make great sources of literary fashion inspiration, whether your personality veers toward one or the other (or both).
Reading Between the Lines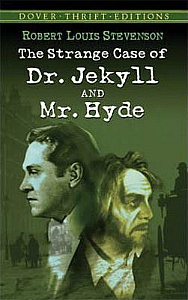 Robert Louis Stevenson, who also wrote the equally well-known Treasure Island, published The Strange Case of Dr. Jekyll and Mr. Hyde in 1886. The novella is among the most beloved and influential works of Gothic literature, and its titular characters are two of the most referenced and recognized fictional characters in Anglophone literature.
Dr. Jekyll is the upstanding gentleman that is, by all appearances, a decent, respectable man. Mr. Hyde, on the other hand, seems to be the complete opposite, and is recognized by friends of Dr. Jekyll to have an evil aura about him as he lurks around the city. The big twist, of course, is that Dr. Jekyll and Mr. Hyde, despite their contrasting stature and appearance, reside in the same space and body. In fact, Dr. Jekyll reveals that Mr. Hyde is the embodiment of his own evil thoughts and vices, although it only becomes an issue once he is unable to control his transformations.
There is so much rich detail in this novella — if you haven't read it, I recommend it! Inspired by this detail, I've created three outfit sets based around Jekyll and Hyde. I hope you enjoy.
1. Dr. Jekyll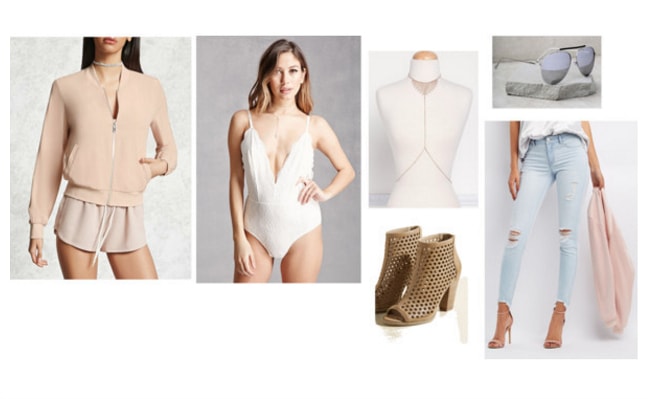 Products: Jacket – Forever 21, Jeans – Charlotte Russe, Bodysuit – Forever 21, Body Chain – Love Culture, Shoes – Modcloth, Sunglasses – Lulu's
At first, Dr. Jekyll appears to be a likable, reputable man who contributes positively to society. Before the twist is revealed, it seems as though he is a victim to Mr. Hyde's demands and threats. It's easy to assume this; after all, in the story's first scene, Mr. Hyde uses a check signed by Jekyll to avoid getting in trouble with the law. After we learn about Jekyll's part in the birth of Hyde, however, it becomes obvious that Dr. Jekyll is not actually a completely honest or moral figure.
This outfit, with its two distinctive layers, expresses both Jekyll's spotless reputation and the secretive side that he hides from everyone he knows. The lines are clean, polished, and professional, in soft, nonintrusive colors. The racy inner layer, in contrast, features a risqué lace bodysuit with a plunge back and a body chain, representing Jekyll's repressed impulses to sin.
The mirrored sunglasses, as a final touch, are an obvious symbol of the weight of the secret he is hiding.
2. Mr. Hyde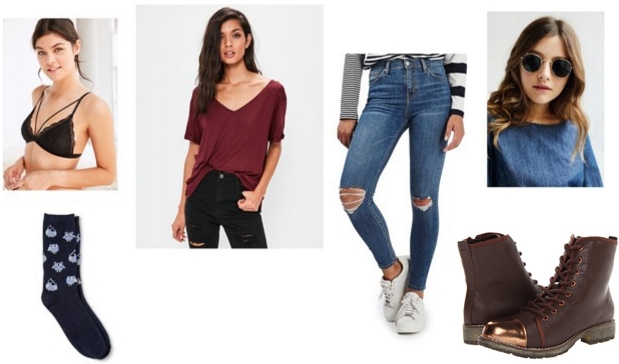 Products: Shirt – Missguided, Jeans – Nordstrom, Bralette – Urban Outfitters, Shoes – 6PM, Socks – Target, Sunglasses – Urban Outfitters
In the same way that Dr. Jekyll is not the saint that modern metaphors make him out to be, Mr. Hyde is not a one-dimensional villain. Although he commits crimes seemingly without remorse or compassion, there are moments in which he draws sympathy. After all, he is the manifestation of Jekyll's darkest desires. Also, he had been successfully controlled and manipulated by Jekyll for years before the serum stopped working.
The dark color palette, for the most part, contrasts with the lighter colors in Jekyll's look. This look is also much more casual, but the pieces themselves are purposefully similar because although Hyde and Jekyll are two men with distinct motives and agency, they still reside within the same body. Moreover, Hyde is a product of Jekyll, and I wanted that to be clear in this outfit set. I think it's often overlooked that they have a visceral connection — one unlike any other two characters from this period in literature.
These sunglasses are more bold than the classic aviators in Jekyll's look. The boots are also more casual – and appropriate for prowling the town at night. Finally, the owl-print socks reflect Hyde's nocturnal lifestyle.
3. That Man is Not Truly One, But Truly Two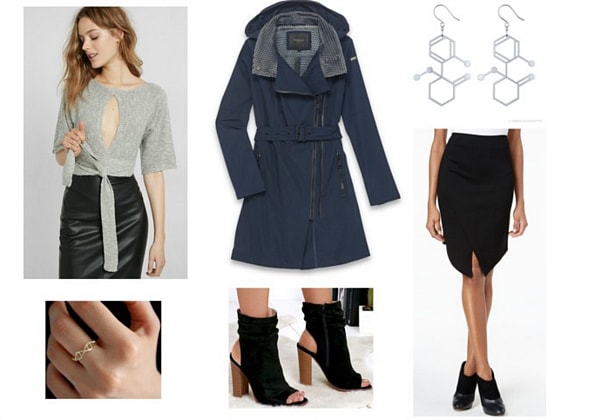 Products: Top – Express, Skirt – Macy's, Coat – Orchard Mile, Shoes – Lulu's, DNA Ring – Etsy, Molecule Earrings – Etsy
This outfit set displays a binary of both bold and reserved pieces to reference the remorseless, brazen Hyde emerging from the private, respectable-seeming doctor Jekyll.
Rather than having two opposing halves of the outfit, I tried to infuse aspects of both characters in every piece. The cropped sweater is almost professional, except for the daring cutout, and the pencil skirt is borderline not-work-appropriate because of the envelope seam. The shoes offer ankle coverage, but have both exposed heels and an open toe. The coat is a classic piece, which I used because navy blue is traditionally thought to clash with black.
The accessories are my favorite part of this look, because I wanted to pay homage to the science fiction elements in this novella. Hyde is born out of Jekyll's scientific experiments, so both the earrings and ring reference science and chemistry. The earrings are ketamine molecules, which are significant because of the memory loss and anesthetic quality associated with ketamine – fitting for the involuntary transformation from Jekyll to Hyde. The ring is a simple DNA strand that serves as a reminder that Hyde and Jekyll came from a single being.
Your Thoughts?
Please continue to recommend your favorites books to us, and don't be afraid to request specific books that you want to see covered! Let us know in the comments below!