Fashion inspiration can be found anywhere, and books are incredible sources for style innovation. Book-Inspired Fashion explores these treasure troves, and brings them them to you in looks inspired by vibrant characters, far away lands, brilliantly woven plot lines, and more.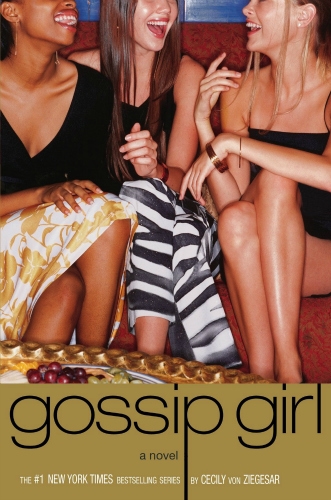 Hi all! Today I'm covering Gossip Girl, but not the characters that might immediately spring to mind. (There are already many CF articles that cover how to steal Blair's preppy look and Serena's sophisticated style from the Gossip Girl TV adaptation, plus a guide to the Gossip Girl styles that are still popular a decade later!)
I had two goals when I decided to write this article. The first was to check out the books because I wanted see if the amazing fashion we all saw and loved on the TV show was, in fact, inspired by the books. Second, I really wanted to supply fashion inspiration by channeling characters other than just Blair and Serena (Although in the end, I had to include Serena's unique style!)
Reading Between the Lines
About the Book
The first book in the prolific Gossip Girl series was written in 2002 by Cecily von Ziegesar, who based the series on her actual life experiences growing up in New York.
The book follows many characters, but focuses primarily on Serena van der Woodsen, resident it girl; Blair Waldorf, Serena's former best friend; Nate Archibald, a mutual love interest of the two girls; and siblings Dan and Jenny Humphrey, who are outsiders that provide an alternative perspective on the lives of these extremely privileged students.
My Thoughts
I can't speak for the entire series as I have only read the first book, but it was a really quick read that simply introduces us to the setting and personalities of a very large cast of characters. Even so, the high school drama is extreme from the beginning, and the gossip blogged by the eponymous "gossip girl" ranges from spiteful to outrageous.
To be honest, I was actually a lot more interested in the TV series, but there are other people who feel the opposite. I did, however, like the insight on some characters that were pretty significantly modified for the TV show.
Happily, fashion inspiration wasn't hard to find, and I relied on the heavily detailed descriptions in order to construct three outfit sets that aren't as glamorous as you would expect from a Gossip Girl article, but that stay true to the intent of the original book series.
These looks are based on characters Nate, Serena, and Jenny, and are all related to important plot points in this first novel.
1. Her Heart On His Sleeve
That night Nate was wearing the moss-green cashmere V-neck sweater Blair had given him last Easter, when her father had taken them skiing in Sun Valley for a week. Secretly, Blair had sewn a tiny gold heart pendant onto the inside of one of the sweater's sleeves, so that Nate would always be wearing her heart on his sleeve. Blair liked to think of herself as a hopeless romantic in the style of old movie actresses like Audrey Hepburn and Marilyn Monroe. She was always coming up with plot devices for the movie she was starring in at the moment, the movie that was her life. (8)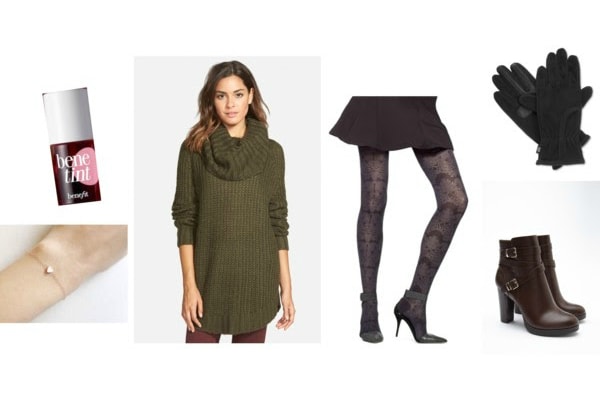 Products: Sweater Dress, Tights, Shoes, Bracelet, Blush, Gloves
This look is simple but elegant, as Nate would dress for an event at Blair's mother's house. It consists of a green sweater dress and patterned tights, as well as a functional pair of boots to keep with the practicality that (unfortunately) tends to accompany men's clothing more than women's.
The heart bracelet is delicate and subtle, and represents the gold pendant that Blair had sewn onto the sweater. Along with the rose colored blush/lip stain, these accessories reflect Blair's inner tendency for romance. Yes, she might be spoiled and used to getting what she wants, but the fact that she hides this heart in a gift to Nate speaks volumes for the shyness hidden within her outer, confident self.
This scene is also relevant to the novel as a whole because Blair contemplates taking her relationship to the next level with Nate, but this is complicated by the return of Serena, to whom Nate had secretly lost his virginity and had never actually gotten over. This is a source of distress for Nate and Blair throughout the novel, and remains unresolved at the close of the first book.
Despite all of this, this outfit might be inspired by Nate's clothing, but Blair is written all over it.
2. Pretty Shaggy
She hadn't had a haircut in over a year. Last night she'd worn it pulled back, but today it was down and looking pretty shaggy. Her boy's white oxford shirt was frayed in the collar and cuffs, and through it, her purple lace bra was visible. On her feet was her favorite pair of brown lace-up boots, and her black stockings had a big hole behind one knee. Worst of all, she'd had to buy all new uniforms, since she'd thrown hers down the garbage chute when she'd gone away to boarding school. Her new uniform was what stuck out the most…

That was one of the things that always infuriated [Blair] about Serena. She looked good in anything. (44)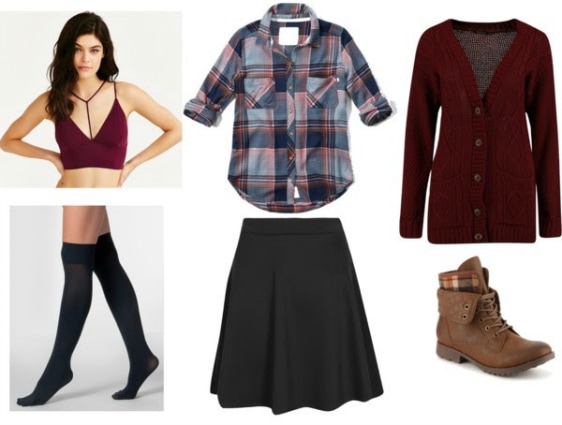 Product Info: Shirt, Sweater, Skirt, Socks, Boots, Bralette
I named this look "pretty shaggy" because of the oxymoron, and so it was a challenge to create a look that was messy enough to appear uncoordinated but retained its style and poise.
I wanted to incorporate the hideous maroon uniform without actually creating a pseudo-uniform. So, I picked out a rebellious plaid button-down shirt instead of the traditional white shirt, and added a chunky maroon cardigan on top to tie the colors together. The black skirt and socks are more subtle, but I threw in the brown lace-up boots because I really liked how Serena was attached to a pair of rather beat-up shoes despite having access to the most expensive, sophisticated shoes that money could buy.
The plum bralette, of course, is also a reference to the "purple lace bra" Serena wore under her uniform.
In the end, it's a simple blouse and skirt combination with layers, and is believable as an outfit that someone (Serena or not) could throw on while rushing to school.
3. Too Young To Wear Black
"But you're too young for black," Maureen said, frowning.

Jenny frowned back and handed the pile of reject dresses to Maureen, closing the curtain firmly in her face. "Thanks for your help," she called. She yanked the orange dress over her head and whipped off her bra, reaching for a black stretch-satin dress she had picked out herself. Braless, she pulled the dress on over her head and felt it ooze all over her. When she looked up, little Jenny Humphrey had vanished from the dressing room. In her place was a dangerous, slutty sex goddess. Throw in a pair of kitten heels, a thong, and some Chanel Vamp lipstick, and she had it going. No girl is ever too young to wear black. (150)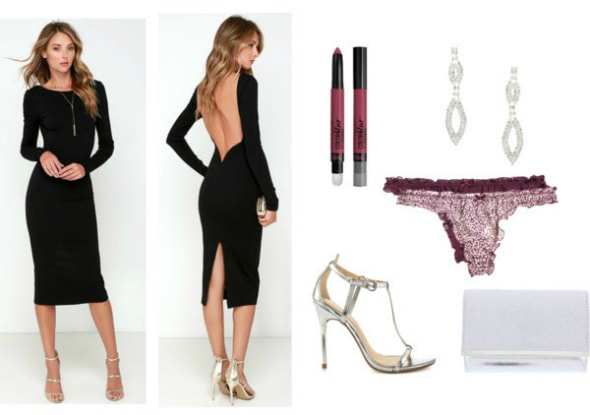 Product Info: Dress, Heels, Clutch, Earrings, Lip pencil, Underwear
I took this outfit description literally when I put together this look, and ended up using an elegant black dress that is unexpectedly sexy, like the character of Jenny Humphrey, who had only ever been a follower of other girls.
I had second thoughts about using this passage because it may come off as supporting the objectification of women as sexual creatures. After rereading it, however, I've come to the conclusion that this moment is when insecure Jenny Humphrey realizes that she is just as attractive as the other girls at her school, and can wield the same sexual power. She also asserts herself by choosing to wear black, which she had been told she was too young for.
The overall look definitely has an element of elegance because of Jenny's rare opportunity to attend a charity formal planned by Blair Waldorf.
I added a dark plum lip pencil that is a bit lighter than the referenced lipstick, because I feel that it would be a bit easier to wear, as well as more versatile than a nearly-black shade.
The heels and clutch are subtle, but necessary additions to the look, and I threw in the thong as a fun, sexy touch. Lingerie really is empowering sometimes, even without the expectation of anyone else ever seeing it, and the fact that Jenny doesn't need a bra with this outfit is even more liberating.
In the next Book-Inspired Fashion post…
Next week, I'm going to cover a relatively unknown New Adult romance that has it all: a family saga, crime, sex, a tropical island, and a touch of fragility that is both consistent and compelling. It's a book that I admittedly chose to read based on the cover, but that's not the only thing that's beautiful in the book.
I won't ask for guesses because it's not as well-known as many of the other books that I've covered, but I would certainly appreciate any comments or suggestions about what genres or types of books you'd like to see covered in the future.
See you all next time, and make sure to give me book recommendations in the comments below!