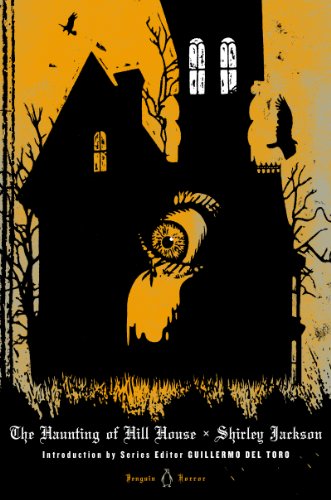 Halloween may be over, but it's not too late to have more spooky fun with a scary classic: The Haunting of Hill House. One of the best selling ghost stories of the 20th century, this Shirley Jackson novel is characterized by its psychological horror, eccentric characters, and its reinvention of the haunted house trope.
Never veering off into gory supernatural stunts, Jackson focuses on the psyche of her characters, all of whom have reason to believe that the house they are staying in is possessed.
Besides the owner of the house, Luke, there is Dr. Montague, a supernatural scientist, Eleanor, a shy woman with a reclusive home life, and Theodora, a free spirit who needs a place to stay for the summer. These four are the main characters of our tale.
For some fall to winter fashion inspo, look no further than this dark novel.
Eleanor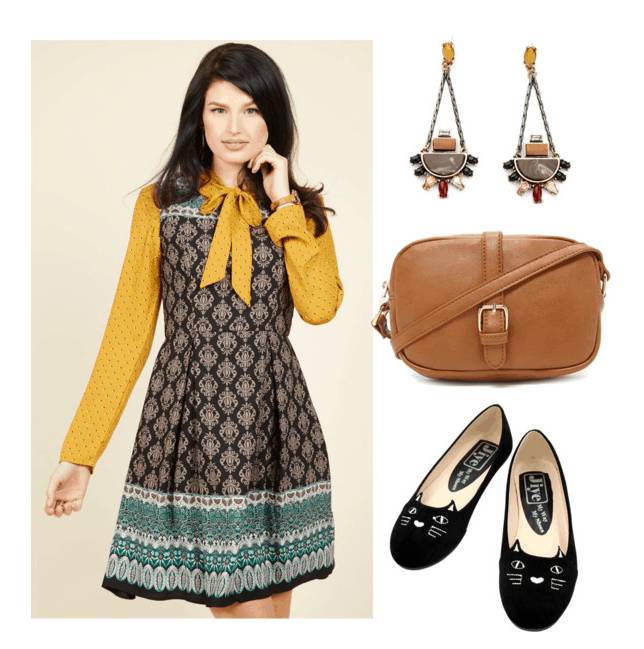 Products: Dress, Earrings, Purse, Shoes
Poor Eleanor. Of all our characters, Eleanor is the most sympathetic. In her thirties, she has only just escaped her demanding and sick mother's house after her death. Eleanor finds herself joyful, lost, and drawn to the mysterious Hill House.
The Haunting of Hill House was published in 1959, so let's start off with a vintage-inspired look. This dress is a fabulous statement piece that can be worn anywhere. Add some deco earrings, a trusty crossbody bag, and these adorable cat slippers for a twist on a mid-century silhouette.
Grand Old Things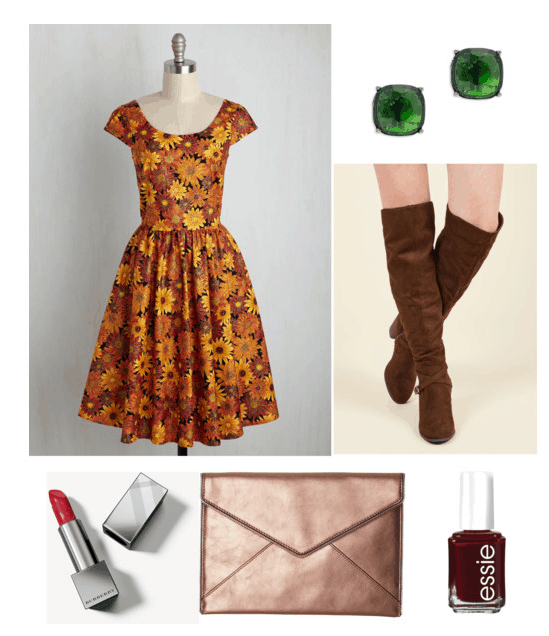 Products: Dress, Boots, Clutch, Earrings, Lipstick, Nails
There have been two film adaptions of The Haunting of Hill House, one made shortly after the book's publication, and one made in 1999. While the second one bombed, the first one is regarded as a classic. Inspired by the films and the house itself in the novel, a creepy and elaborate look is just what is needed for this season.
This autumnal dress can be paired with a surprising amount of things for this season. For example, these amazing neutral boots will add a spring to your step when paired with a bright lipstick and a metallic clutch. Emerald earrings and a bordeaux shade of nail polish add more dramatic touches to this haunted look.
The Gang's All Here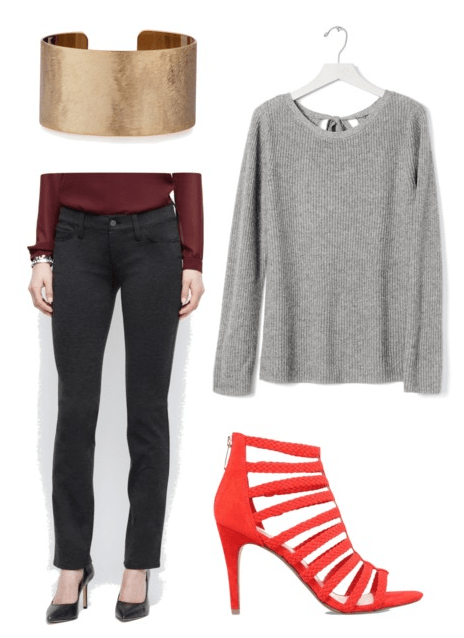 Products: Sweater, Shoes, Bracelet, Pants
This look is inspired by the other main characters of the novel: Dr. Montague, Luke Sanderson, and Theodora. There are other comic relief characters, but these three are the most important.
Start with a polished and professional pairing of a gray knit sweater and fitted pants – the combo is perfect for the winter and represents Dr. Montague. For a pop of color, representing the artsy Theodora, bold sandals make a great look. Finally, this brassy bangle represents Luke's wealthy background.
Final Thoughts
What's your favorite scary or suspenseful novel? Have you read any of Shirley Jackson's other works? Which outfit was your favorite? What books or looks would you like to see next?
Let us know in the comments below!