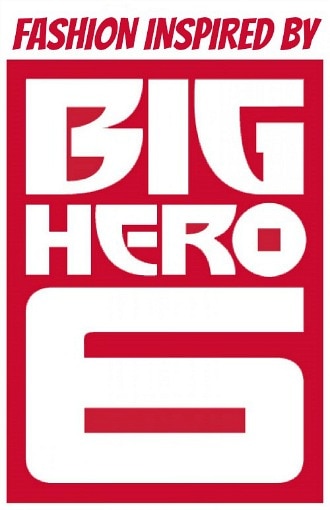 All images courtesy of the Walt Disney Company
After pretty much breaking the Internet and winning the hearts and minds of children everywhere with last year's smash hit Frozen, Disney has done it again. The studio's newest movie, Big Hero 6, has all the heart-warming magic of classic Disney and all the jaw-dropping spectacle of a Marvel movie. That's a pretty winning combination, if you ask me!
Plus, I only cried three times during Big Hero 6, which sets it squarely in the "touching, but not yet emotionally devastating" portion of the scientifically tested Disney Tear Duct Stimulation Spectrum. (For context, The Lion King is a 5, Lilo & Stitch is a 4, Mulan is a 2, and Cinderella is a 0.)
Know Your Geek: About Big Hero 6
Big Hero 6 is the first Disney movie to feature Marvel characters. While the movie utilizes the names and some characteristics of the original characters of the Big Hero 6 comics, the plot and setting of the movie differ from that of the comic.
The movie is set in San Fransokyo, a futuristic hybrid of San Francisco and Tokyo.
The story revolves around Hiro Hamada, a 14-year-old robotics genius. Concerned that Hiro is squandering his intelligence on trivial and potentially dangerous pursuits, his brother Tadashi encourages Hiro to apply to join his robotics lab at the prestigious San Fransokyo Institute of Technology.
With the support of Tadashi and his fellow students GoGo Tomago, Honey Lemon, Wasabi, and Fred, Hiro gains admission to the school.
When tragedy strikes, Hiro forms an unlikely alliance with his brother's project Baymax, an affable, inflatable robot designed to serve as a healthcare companion. Along the way, the team undergoes a series of "upgrades" that turn them into bona fide superheroes.
Outfits Inspired by Big Hero 6
They didn't set out to be heroes, but they sure look great doing it! Try out these outfits inspired by the members of Big Hero 6:
Hiro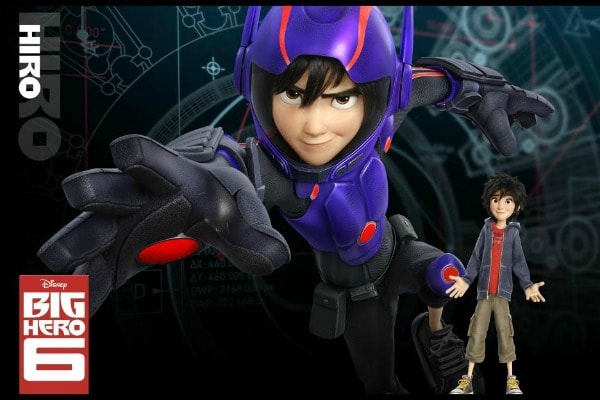 Hiro Hamada, voiced by Ryan Potter, might have an off-the-charts IQ, but he's also a kid facing the struggles of uncertainty about his future, emotional loss, and, of course, the dangerous road of puberty. He can be quick to anger and sometimes lets his emotions overpower his intellect.
Hiro has a pretty standard teenaged boy wardrobe of hoodies, t-shirts, and sneakers. After his superhero transformation, he sports some snazzy blue and red armor. Take inspiration from this pint-sized hero with a laid-back combination of a cargo jacket layered over a bright blue hoodie, slip-on sneakers, and white jeans. A practical backpack in an eye-catching color is perfect for lugging all of your books, while robot earrings allude to Hiro's passion. A blue baseball cap pays tribute to his brother, Tadashi, while a fitness tracker helps monitors your health, just like Baymax does!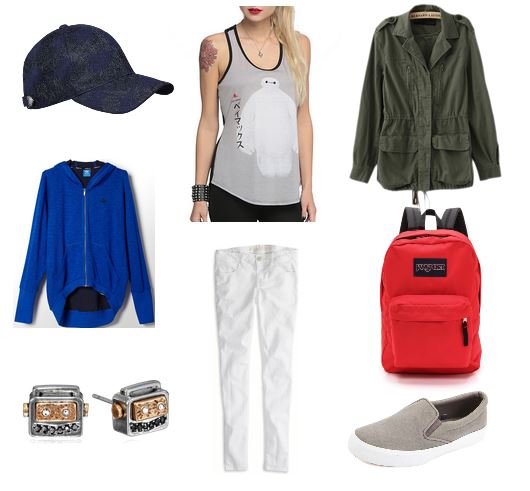 Product Information: Jacket, Hoodie, Tank, Jeans, Shoes, Backpack, Earrings, Hat, Fitness Tracker
Baymax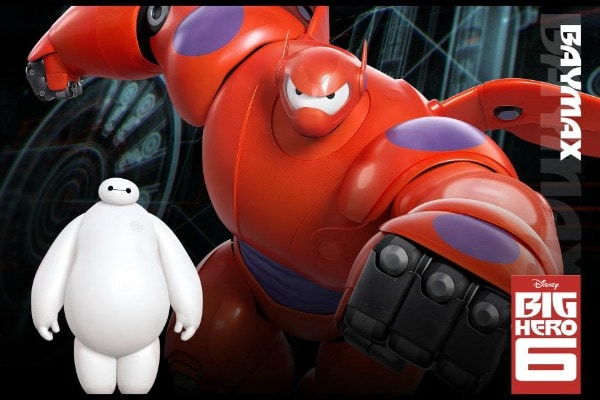 Baymax, voiced by Scott Adsit, is a gentle, devoted nurse robot whose primary purpose is to ensure that he has offered satisfactory care to his patients. Much to Hiro's initial annoyance, Baymax is determined to heal his young patient's emotional and physical wounds. Despite his clumsy ways and lack of social graces, Baymax proves to be not just an asset in Hiro's quest for justice, but also a good friend.
With his soft puffy figure and endearing body language (modeled after that of baby penguins), Baymax is oh-so-lovable! While a full -on inflatable vinyl bodysuit would probably be incredibly uncomfortable, a Baymax-inspired ensemble of a sweater dress and ribbed tights will keep you warm and cozy. A red duffel coat maintains the cocoon silhouette of the look and echoes his armor.
Accessorize with a smiley face bracelet to indicate your satisfaction with your care and a pair of square-shaped green earrings to reference Baymax's personality disk. Finally, try out a Baymax manicure: start out with a white base coat, then use a nail art pen to draw two black dots and connect them with a thin line.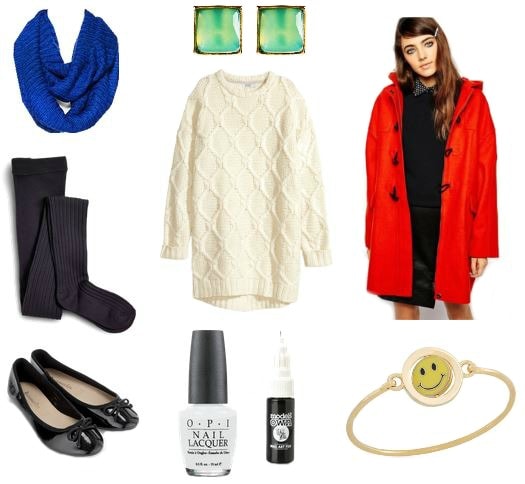 Product Information: Coat, Sweater Dress, Tights, Flats, Bangle, Earrings, Scarf, White Polish, Nail Pen
GoGo Tomago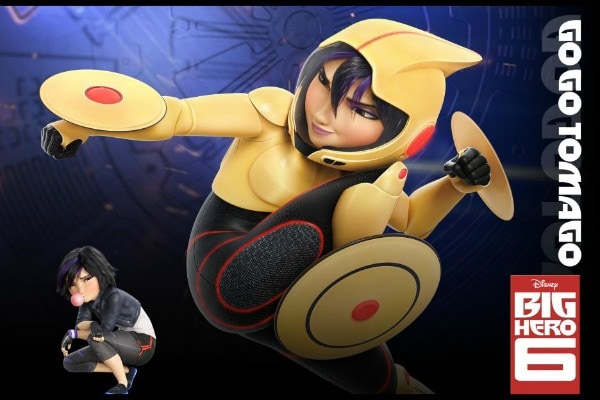 GoGo Tomago, voiced by Jamie Chung, might be tough and sarcastic when you first meet her, but this bubble gum-chewing adrenaline junkie also proves to be a loyal friend. She's working on developing a super-fast electromagnetic wheel system for her motorcycle; the technology is integrated into her superhero costume, which allows her to skate on maglev discs that can also serve as throwing weapons and shields.
Both GoGo's civilian and superhero outfits feature sporty touches, such as sneakers and workout leggings. Incorporate her athletic yet stylish look into your wardrobe with functional pieces, like eye-catching sneakers and cute workout tops that will work in both the gym and the classroom. A yellow moto jacket and fingerless gloves add a tough edge to the ensemble, while red disc earrings and a motorcycle bracelet allude to GoGo's means of transportation. Finally, slick on a coat of bubblegum-pink lip gloss to complete this GoGo inspired look!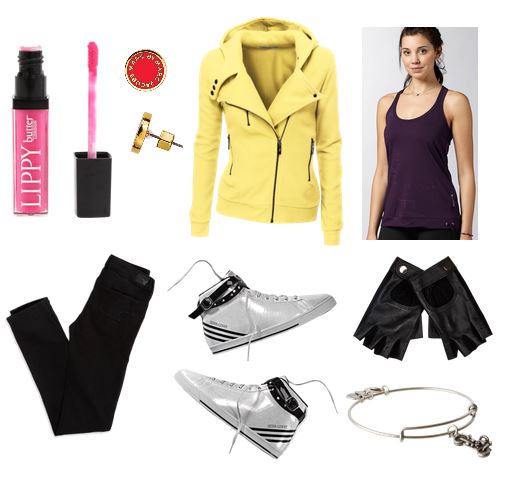 Product Information: Jacket, Tank, Jeans, Shoes, Gloves, Bracelet, Earrings, Lip Gloss
Honey Lemon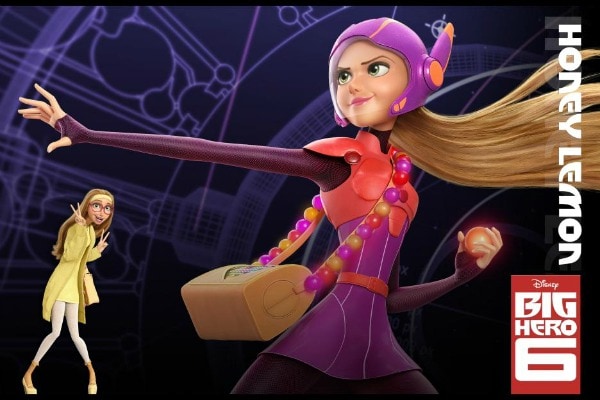 Honey Lemon, voiced by Genesis Rodriguez, is a bubbly chemist who's constantly excited, loves taking photos, and always looks on the bright side of life. Her work with chemical metal embrittlement is incorporated into her superhero gear as a variety of capsules that she can fill with chemical concoctions that serve different purposes in battle.
True to her sunny nature, Honey Lemon is often seen in yellow and other bright hues. She'd surely approve of a fun, colorful outfit like this one, featuring a pleated yellow skirt, purple tights, and a hot pink trench coat. Gumdrop-shaped earrings and a beaded bracelet are reminiscent of her "chem-balls," while a tan satchel resembles the one she uses as a mini chemistry lab in the movie.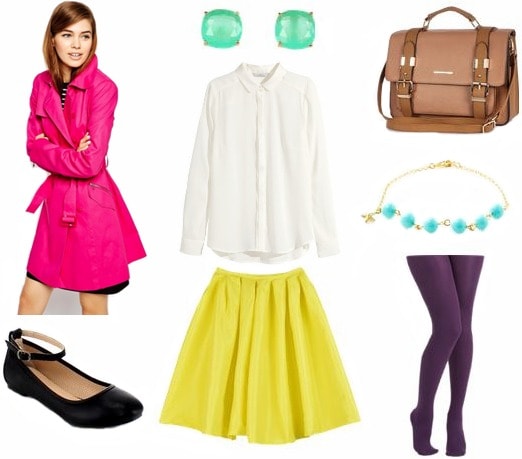 Product Information: Coat, Top, Skirt, Tights, Flats, Satchel, Earrings, Bracelet
Wasabi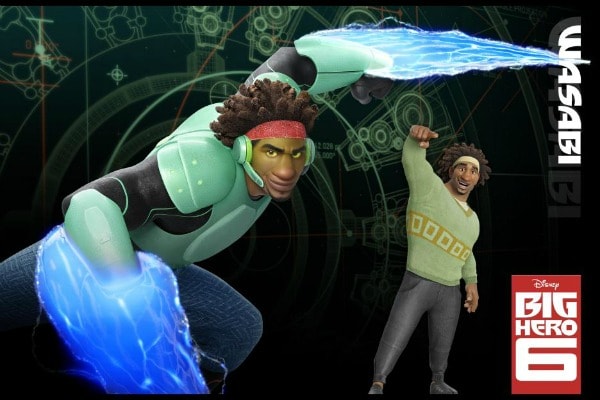 Wasabi, voiced by Damon Wayans, Jr., is a physics student and martial arts enthusiast who also happens to be a bit of a neat freak. His cautious and slightly neurotic nature, along with his tendency to go by the book make him rather apprehensive about the possibly dangerous mission at hand, but he's also a dedicated and courageous member of the team. He calls upon his research with lasers to develop a supersuit with retractable plasma blades.
Whether he's in the lab or out fighting supervillains, Wasabi wears clothing in the hue of his namesake condiment, as well as a headband to push back his hair. For a winter-appropriate outfit, try out a moss-green sweater layered under a blue puffer vest. Patterned jeans spice up the look, while spiky crystal earrings allude to Wasabi's weapon of choice.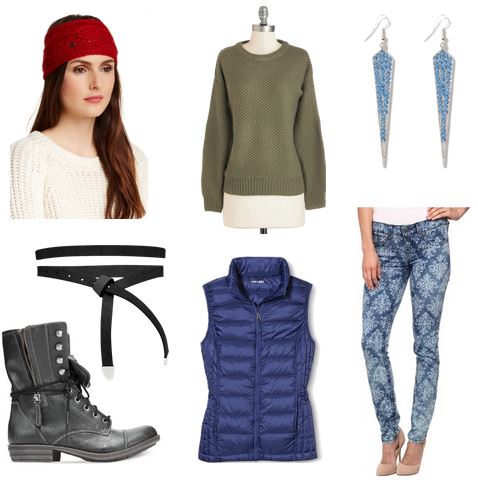 Product Information: Sweater, Vest, Jeans, Boots, Earrings, Headband, Belt
Fred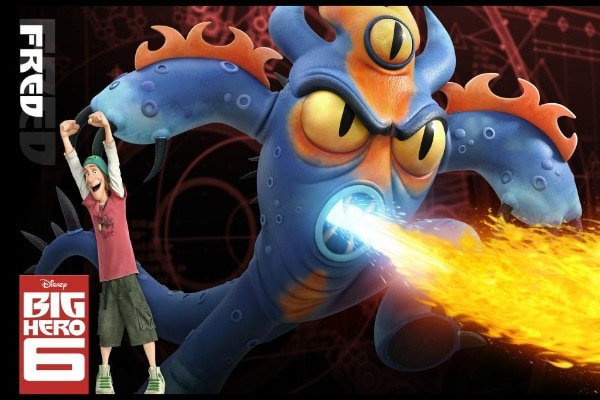 Fred, voiced by T.J. Miller, isn't actually a student at the Institute, but he is the school mascot and a self-proclaimed science enthusiast. He's also into comic books and monster movies. Fred is a laid-back dude with a kooky but lovable personality and is the one responsible for bestowing nicknames on his teammates. He also has a hilarious but yucky philosophy on how to avoid having to do laundry.
Fred's monster fantasies come true with his kaiju-inspired, fire-breathing supersuit. For a blend of his casual civilian gear and his more intimidating crime-fighting look, pair a wine-colored blouse with a pair of cargo pants. Reptile print slip-ons add an edgy touch, but are also super-comfy. Fiery earrings and a flame-colored scarf breathe some dragon-fire into the look, while a teal beanie keeps it cool. Last but not least, invest in several pairs of underwear – no need to adopt Fred's philosophy on this particular topic!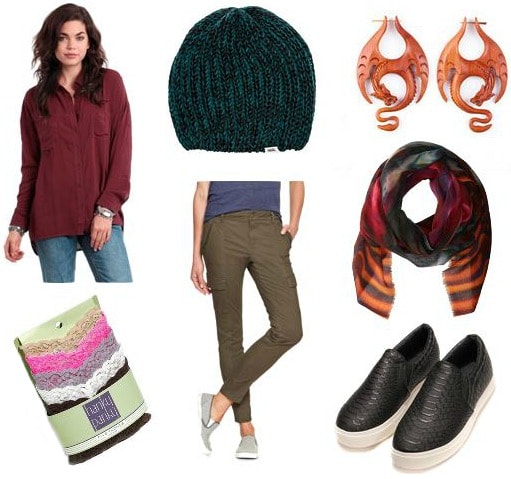 Product Information: Top, Cargo Pants, Shoes, Beanie, Underwear Set, Earrings, Scarf
What did you think?
Have you seen Big Hero 6? Would you wear these outfits? Which one is your favorite? Let us know what you think by leaving a comment!